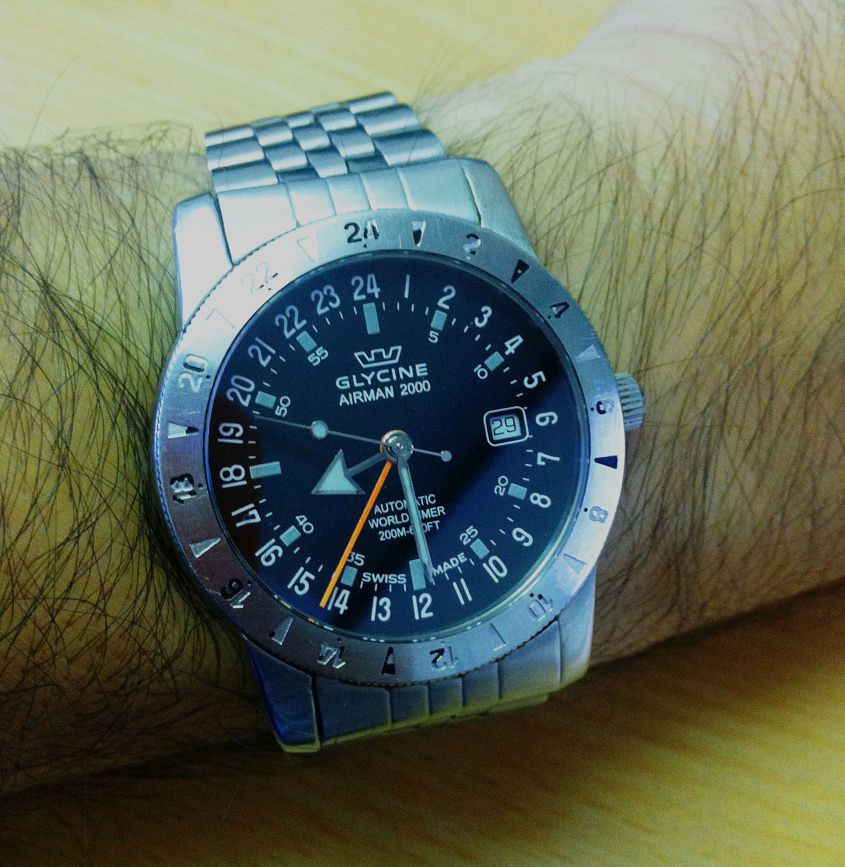 Name: SeverinoWatch: Glycine Airman 2000
What's the story behind your Glycine Airman?
My eye was drawn to Glycine when I was travelling in Australia and saw a Glycine Airman SST. I had never seen a 24 hour watch face and thought the idea very attractive with the time zone function and the very elegant display caseback. That image of the watch stuck with me for a couple of years. Then I moved from Australia (Brisbane) to The Netherlands where I met a man called Simon – originally from Rhodesia (he still has the passport) and he was a watch fanatic. I mentioned the Glycine Airman to him and that was it – he insisted that I go to a watch fair to see what was available. The fair really blew me away, the wide range of watches, the care people took of them and the amazing knowledge people had about their watches. During that time I started to look at other watches, such as the classic Panerai, but I ended up returning to the Airman and focused on the 2000, which I still own today and use as my day to day watch.
When – did you get this watch?
Not long after that first watch fair I bought this Glycine online.
Where – has this watch been?
The Airman has followed me since I bought it into Libya, Kuwait, Bahrain and now into Oman. In these travels the advantage of the watch is that whenever I am in a watch shop and looking at watches I basically see if the salesperson recognizes the watch. If so then I will stay longer and see what they have to sell – if not I tend to walk out immediately as I feel they do not have the depth of knowledge I am looking for.
Why – do you love this watch?
It does everything that I wanted from very well and still has the appearance that I admire about the brand.  Having said all that I am now looking to by another Airman – the Chrono 08.  A little more hardcore as a 24 hour watch and some may say a little too bling – but the added third time zone function and open back is watch I am looking for.
Who- What does this watch say about who you are?
I am somewhat anally retentive (phones these days replace all the functions of a watch). I love the engineering precision of the watch – despite it losing some time. The sweep of the second hand is very sexy – it really adds to the charm of the watch. I am a very tactile person and the feel of the watch is comforting.
If you could buy any watch tomorrow what would it be, and why?
I admit that I am not a true Watch Nut as the Airman is my day watch. I do have an Omega – but it is the dress watch my father owned since 1960 and gave me many years ago, so only for special occasions. However I am looking at the Glycine Chrono 08 – that comes to mind first. If money was no object then I would be very tempted by a Panerai Luminor Submersible 1950 (3 Days Automatic Titanio). I would never go for a delicate watch that needs too much care as I would pretty much use it as a day watch and as such it needs to be robust.