Watch collecting can often lead people down increasingly specialised, niche paths. One such example is Loh AKA @Super.Corgi – a collector from Singapore. He lives with his wife, two grown-up kids, a corgi and a French bulldog. He also has a thing for Disney characters on watches …
Hi mate, what's your daily watch and why?
I don't have a fixed daily watch. Every morning I get up and pick a watch in my collection to wear. I try to give every watch some wrist time.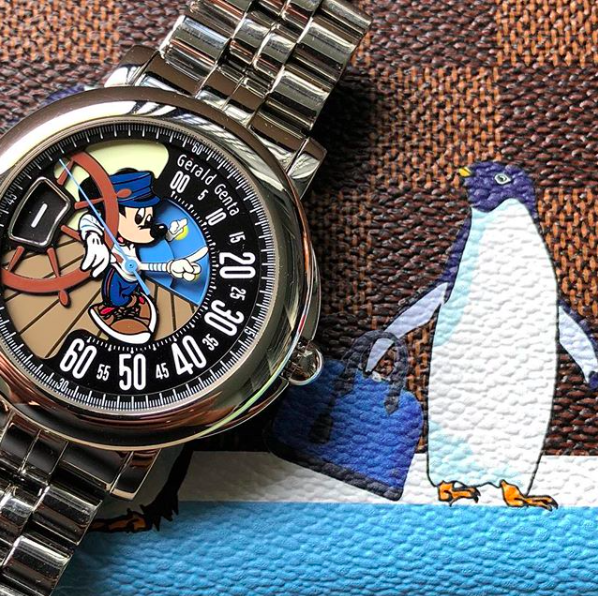 What else is in your collection? Have you got a favourite?
I own watches in various Disney characters. My most important piece is a Mickey Mouse Classic I bought for my wife. My personal favourite is the Mickey Sailor (Mariner/Navigator).
When it comes to buying watches, the number one thing I look for is obtaining the best condition within my budget. I try to buy the best condition I can afford.
How did you find yourself collecting Gérald Genta Disney watches?
I first learned about Gérald Genta Disney watches around 1993 when my wife (then my girlfriend) took me to a retailer and told me she was saving to buy that watch with a big Mickey Mouse on the dial. I looked at the price tag and was shocked that a funny-looking watch cost a few thousand Singapore dollars. Back then that was many months of my wages — a tremendous sum of money for me at that time.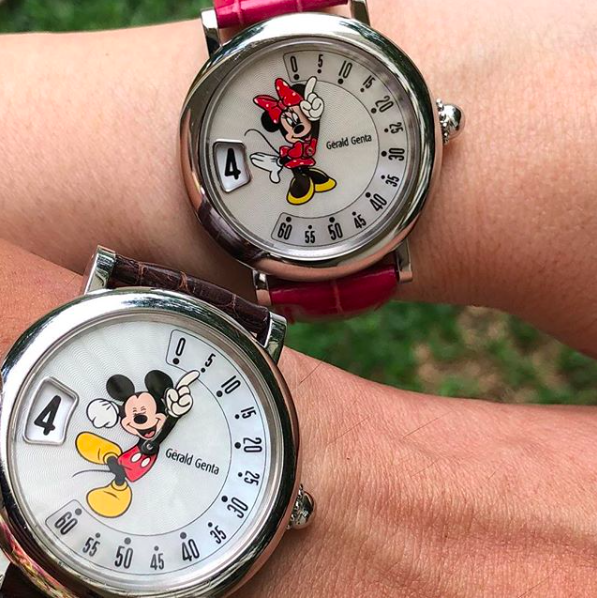 It was not until around 1996, during our vacation in Tokyo, that I found some great bargains in a pre-owned shop, and bought for my wife the first Gérald Genta Mickey Mouse watch. The memory of that first purchase is still as vivid as ever. After purchasing the first watch, I became fascinated with Gérald Genta Disney watches. The search for other Disney characters and designs soon followed.
I love these Gérald Genta Disney watches because they are a phenomenal amount of fun, although they might look funny to some people. None of the other Disney watches in the market came close to Gérald Genta in terms of quality and rarity. They are genuinely collectable because some of the designs are extremely hard to find, not something you can just walk into watch shops and get to choose and pick
How many do you own, and do you have any other friends who also collect Disney pieces?
I own 25 pieces of Gérald Genta Disney watches. I only have a couple of friends who collect Disney pieces. They are a very niche collection.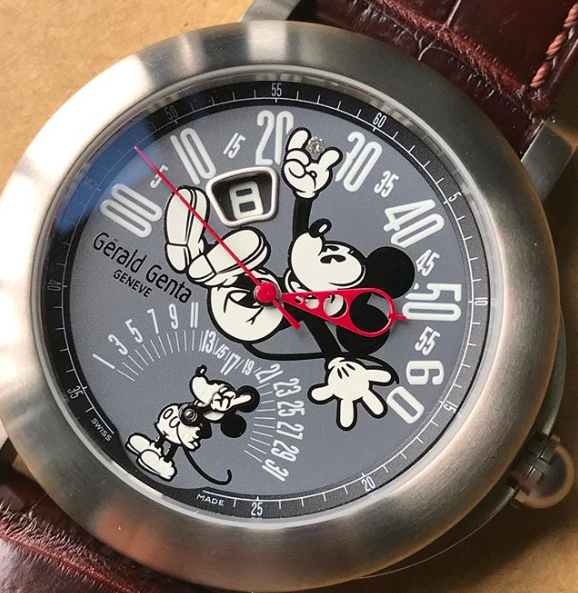 For those who don't know, what was the relationship between Genta and Disney?
In the 1980s, Gérald Genta obtained the rights from Disney to put selected Disney characters on his watches, initially produced in response to a request from a private client. He subsequently produced these luxury Disney watches for the public named the "Fantasy" collection. From simple time-only analog design to complications including retrograde minutes, jumping hours and even a tourbillon, they all have common characteristics, which is using a famous Disney character to tell time. While Gérald Genta is famed for some designs he made for others (for example, AP and Patek), his own Gérald Genta brand was largely pedestrian except for his "Fantasy" collection, which was one of his more memorable products.
To you, what is the most important design element on the Genta Disney watches?
Integrating a Disney character into jumping hour/retrograde minute complication is magical! It tells time in a fun way. It gives life to the character.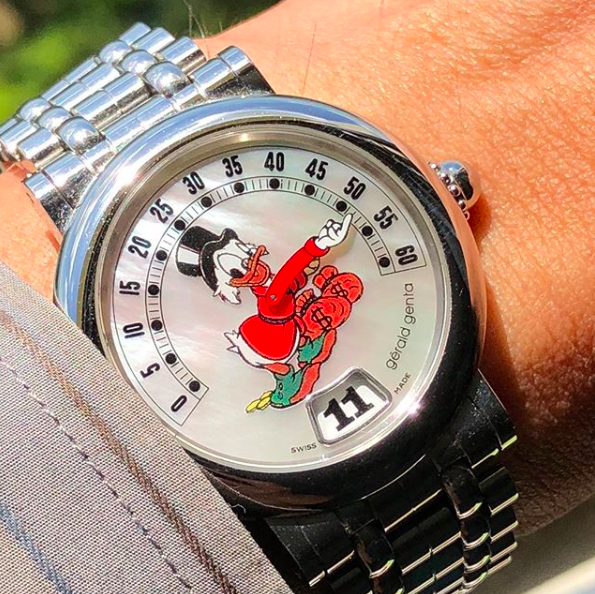 Your collection of these Genta pieces is extensive, do you collect any other timepieces?
In addition to Gérald Genta Disney watches, I am a passionate collector of vintage Tudor watches, under my other Instagram account — @Vintage.Tudor. I also collect other brands focusing on divers and chronographs, including watches from Heuer, Zodiac, Longines, Enicar, Bulova, Croton, Rolex and Patek. Watch collecting can be an addictive hobby. I keep adding new pieces, and I love it.
These Genta Disney watches commonly use a Disney character's arms to display the time, often playing some sort of sport. What is your favourite activity being depicted?
My favourite activity is definitely the Sailing design, which has Mickey Mouse, in a vintage sailing uniform, at the helm.