We recently caught up with longtime watch instagrammer @PBANDWATCHES about his passion for the finer things in life, and were joined by his lovely wife, 'Mrs PB', to hear her perspective on the crazy hobby that is watch collecting.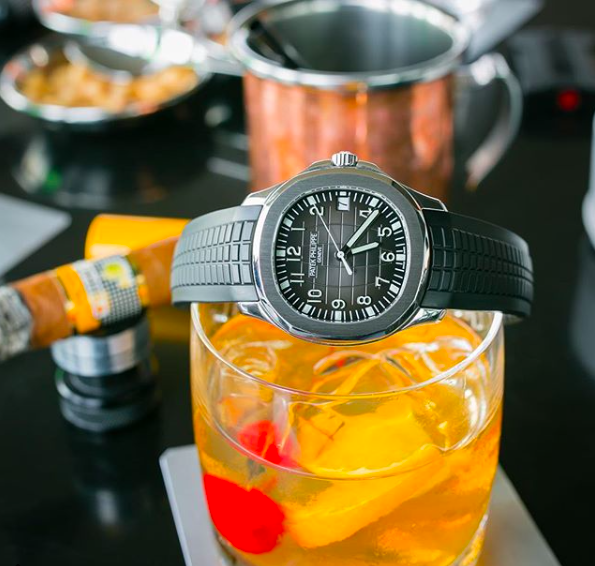 Hi, Mr PB, what's your daily watch and why?
I don't really have one particular daily watch, but I probably grab my Pam 510 or Sub more than any others. It could be because both are no-date watches and very quick to set, but I find myself wearing them often.
How do you unwind?
Make myself an Old Fashioned, grab a nice cigar and sit by the fire in the backyard. The fact that it's currently -22 degrees outside right now and I can't unwind is about to make me go crazy.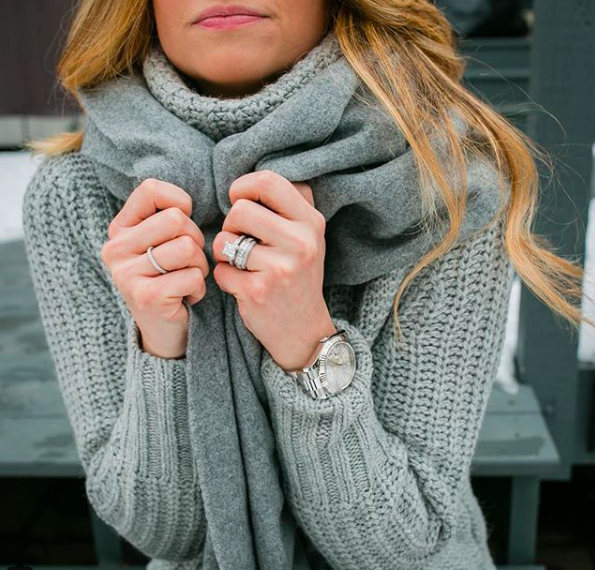 What about you, Mrs PB?
My go-to is the Rolex Datejust II. I like a watch that looks like jewellery, so it generally wins out for work.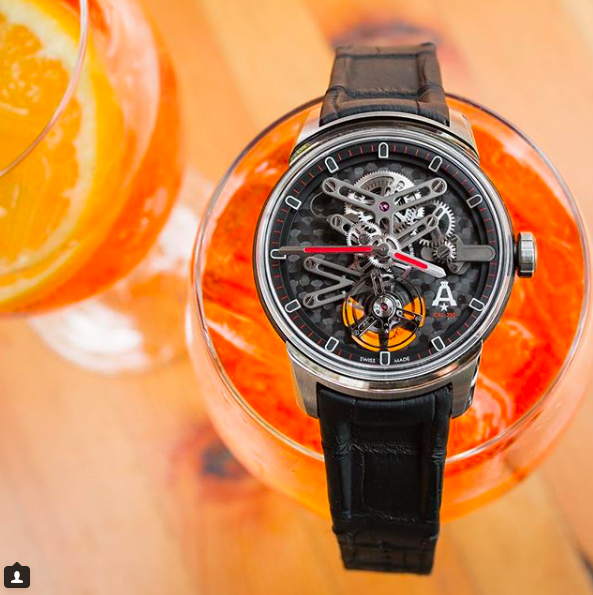 What else is in @PBandWatches' collection? Have you got a favourite?
My collection casts a vast net because I collect off emotions. Patek 5164A, AP Royal Oak, Breitling Navi, Rolex Datejust II, MeisterSinger Salthora (jump hour) just to name a few. My favourite would still be my Pam 510. It was a gift for my 5-year wedding anniversary, and the only time Mrs PB has EVER truly surprised me. It's the single piece in my collection that money couldn't buy.
How about you, Mrs PB?
I remember when I used to get in trouble wearing fashion watches, so instead of fighting it, now I just don his. I'd rather the investment be spread across two wrists anyways. My personal favourites are the Panerai and AP. Not only because they're beautiful pieces but because they both represent something special for us — one a personal milestone, one an achievement.
So Mr PB, what's that next piece you're looking to buy?
Like most collectors, I have a giant list, but recently I've been seriously thinking about an Audemars Piguet Royal Oak Offshore Elephant Grey Dial. I have a lot of black dial watches and think it's time I added a grey dial.
Regarding criteria, what do you look for when buying a watch?
Honestly, I don't have specific criteria when buying a watch, and if I see something I like I'll do a silly amount of research and start hunting.
I see a lot of whiskey in your feed. What's your drink of choice, to enjoy with a nice cigar?
My go-to would be an Old Fashioned. Six or seven years ago I decided I wanted to be able to make 4-5 excellent cocktails for when people came over and I haven't stopped mixing since.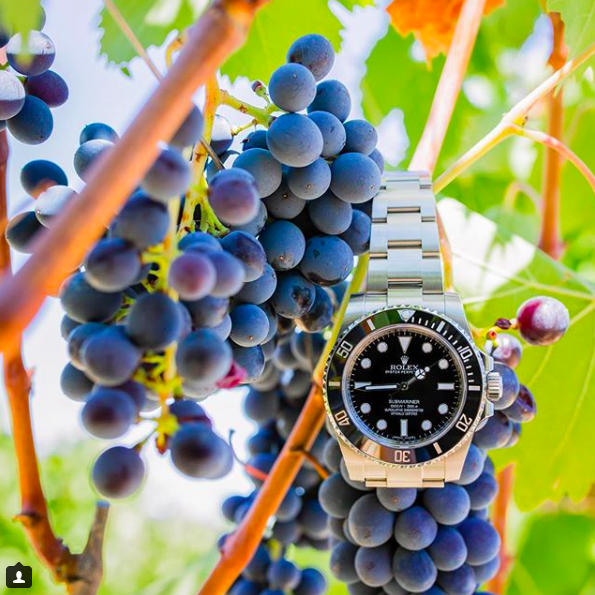 Your Instagram account, PBandWatches, has been around for a long time and amassed quite the following. How did your passion for sharing watches on Instagram start, and how did you choose this handle?
I had been collecting watches for some time and started posting a few shots on my personal feed. An old friend of mine (clearly no longer a friend) called to tell me that no one wanted to see my stupid watches on Instagram and BOOM PBandWatches was born. Sometimes you need to take those lemons and make some unbelievable bourbon sours.
The name PBandWatches came from an old photography hobby of mine called PBandChip (which is also my favourite sandwich), and PBandWatches was the natural progression.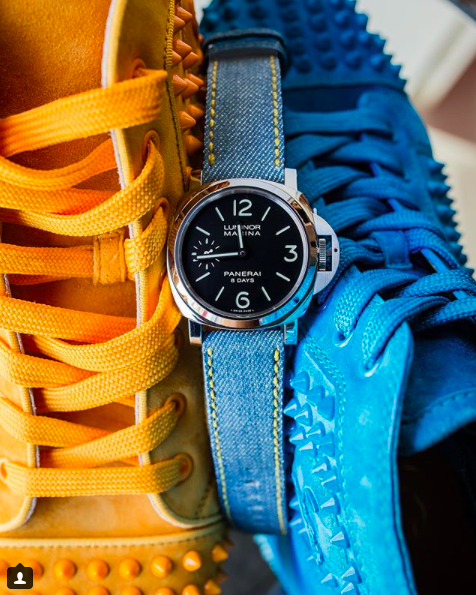 You've mastered your unique style of photography, incorporating lots of vibrant colours and context within your shots. What makes the perfect watch shot in your opinion?
When I figure that out, I'll let you know. If we get to hang out anytime soon you'll understand that I just throw my watch down during whatever I'm doing that day and snap a picture.
What's your number one photography tip for someone looking to up their wrist shot game?
ALWAYS clean your lens before taking a photo, it makes a huge difference.
We know PB's biggest fan is his Mrs, so let's dig deeper into what it's like to have a watch collecting spouse. Mrs PB, at what point did you realise this was more than a regular hobby?
I remember getting him a watch (a Tissot, almost 13 years ago) and he immediately told me what his next watch was. I immediately knew I was in trouble. I also learned a valuable lesson in not engraving watches with that one … times change, and some watches go … they can't have our initials on them when they do.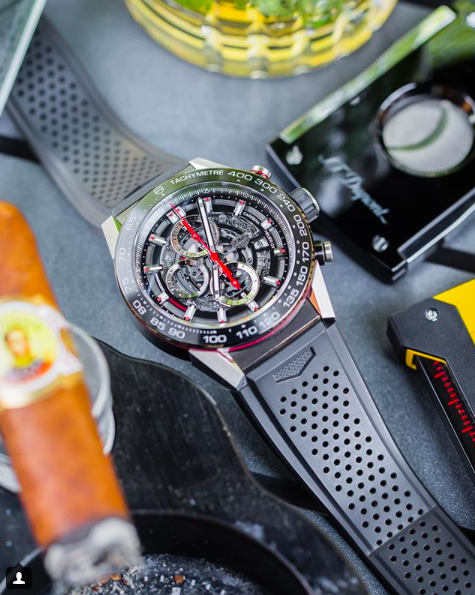 Do you get embarrassed when he's continually taking watch photos?
I still do, given I'm often the light blocker, light creator, body part, watch-theft alarm … but we met some very dear friends because of it, so I try and embrace it for him (I'm the hard introvert, Mr PB is the extreme extrovert). We were in our favourite restaurant in Florence, and he slammed his watch into his pasta and started snapping. The table next to us looked over, of course. I made eye contact with the wife, and she immediately said: "Don't worry, my husband does it all the time." Mr PB and him got chatting because of this (Mr PB had stolen his Patek for a photo), and we found out her husband was already an avid PB follower … the rest is history. We meet them yearly in different locations, and they hold a special place in our hearts. All because I was making my embarrassment so very known.
Do you find yourself stealing any specific pieces from his collection?
My major thefts are the Rolex Datejust II, Omega Dark Side, AP Royal Oak and Patek Philippe 5164. Datejust and Dark Side are most frequently on my wrist … because I love them (and can set them) but also because I have to get Mr PB to size the AP for me before I can wear it (good thing for me he doesn't mind being woken up for a watch sizing in the morning).
Tell us one thing about PB that most people wouldn't know?
Aside from being genuine and authentic (it's hard to trust on social media, but that really is the guy I'm married to), he also researches everything to death so when he says it's the best … he has his facts as to why he thinks so. Which is why I believe the watch community is drawn to him, and why I adore this community he's found of knowledgeable people, just loving a shared passion.