Floyd Mayweather looks straight down the barrel of the camera as he waves around a watch that's not so much dripping in diamonds as drenched to its blinding core.
The watch is the Jacob & Co Billionaire watch, a one-of-a-kind piece produced with Italian businessman, fashion label owner and Formula 1 personality Flavio Briatore. The 47.5mm case and integrated bracelet are bedecked with 239 emerald-cut baguette diamond stones while a manually wound tourbillion beats within. Over the top? Yes. And then down the other side before spiralling into a high-speed blur of double loops.
"Over $15 million or under $15 million?" asks Mayweather, the man commonly regarded as the best defensive boxer of all time.
The question is posed as part of a new video series entitled "The Ice Is Right". Sitting alongside celebrity jeweller Greg Yüna (AKA "Mr Flawless", who we interviewed in this story), the video is part of a recent partnership with online sports betting company BetOnline.ag that showcases some of the most decadent pieces in Mayweather's insane watch collection. Punters can bet on how much they estimate the true value of each piece of bling. (For anyone planning to wager, the price tag of the Billionaire is considerably over — the original retail price was US$18 million).
The video begins with the retired boxer revealing a pair of Audemars Piguet Royal Oaks. One is a chronograph in which the case, bezel and bracelet are iced-up with a blizzard of white and yellow diamonds. The second is a time-only piece that also flaunts a diamond-encrusted dial.
"Right now a lot of people in the industry are getting the bust down," Mayweather explains (that is, they're getting their watches customised with additional diamonds after purchase). "Whereas these two are all factory [set] and I've been wearing these type of watches for over 10 years. I'm talking about the all-factory AP watches."
Mayweather then sets the challenge – asking punters to assess whether each watch costs over or under $1 million.
Another of his watches that nestles into the "over or under $1 million" price range is his Hublot Big Bang Unico Haute Joaillerie, one of 10 one-off pieces from the collection the brand released in 2015 to celebrate the 10th birthday of the Big Bang. Mayweather's pick? The white-diamond version that glints with 653 baguette diamonds across the case, dial and bezel. "I feel like everyone should have a Hublot in their collection," Mayweather says.
Next up is another one-off piece, a Jacob & Co Rainbow Tourbillon ("Over $2 million, under $2 million?" Mayweather asks. "Talk to me…").
Then it's the grand finale as the aforementioned Jacob & Co Billionaire is rolled out. "This a real chandelier, guys," says a wide-eyed Yüna. "You could hang it up in your home."
It's a jaw-dropping display of wealth from the man who famously changed his boxing moniker from "Pretty Boy" to "Money" after notching up an undefeated record of 50-0. But it's also hardly surprising given his former earning power. Mayweather made around US$300m from his fight with Conor McGregor and US$250m against Manny Pacquiao. Those two fights amounted to just 72 minutes, meaning he earned around US$7.6 million every minute he was in the ring.
Interview with Floyd Mayweather's jeweller, Greg Yüna
Once known as 'Mr Flawless', Greg Yuna is an entrepreneur and custom jeweller to celebrities like Drake, Floyd Mayweather Jr and Meek Mill. We talk custom watches with Greg, to gain some insight into one of the more controversial parts of the watch industry.
How did you get your start customising watches?
I started with working for my uncle about eight years ago. From there, I started creating and icing out these watches. Here in NYC, it's very popular, because of the culture. What's going on right now is a race to see who can take the biggest, baddest watch and ruin it. Who has the balls to ruin them first, and that's where I come in. What I try and do is get the most popular, hottest watches, as soon as they come out – and ice them out, to have them on the market before anyone else. I recently opened my store in July; before that I was known as 'Mr Flawless'. Back then, I was working with my uncle, and eventually we parted ways.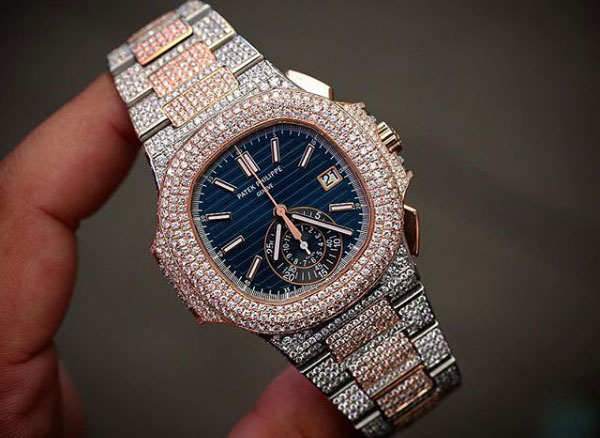 Do you have a favourite brand or particular watch to customise?
I love working on Audemars Piguet and Rolex, those are my two top pieces, but I could work on anything. Although I do not like touching the Richard Milles because it's just a work of art – something I just don't want to touch.
What do you love about working on these two brands, from a customisation perspective?
The canvas is just unique, it's fun to work on. Regarding Rolex, my favourite piece to work on is the Yacht-Master II or the Sky-Dweller – I like the size. But, that being said, for my work, size doesn't matter — we can work on anything. But as far as me and my personal favourite watch, I'd have to say the rose gold Sky-Dweller, with the chocolate dial.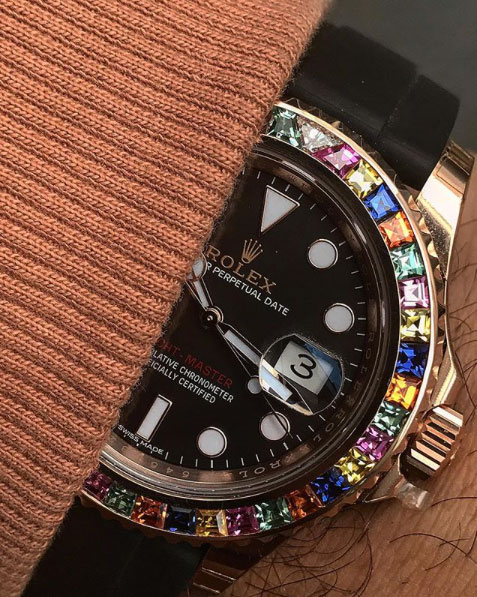 Do you have any popular requests from your customers?
Right now, it's the Audemars Piguet Royal Oak Openworked, in steel; those are popular at the moment. I get requests for those in both rose gold and stainless steel. They're impossible to get, and guys like me ruin them, so it makes the value of the 'stock' ones go up! And listen, when I say 'ruin', I know what I'm doing – from a traditional perspective, I'm ruining a watch. You'd have to be an idiot not to understand that. But we ruin them to perfection.
So, what watch does Greg Yuna wear every day?
Right now I'm actually wearing an AP Skeleton, with diamonds all the way around. It's my own, personal watch.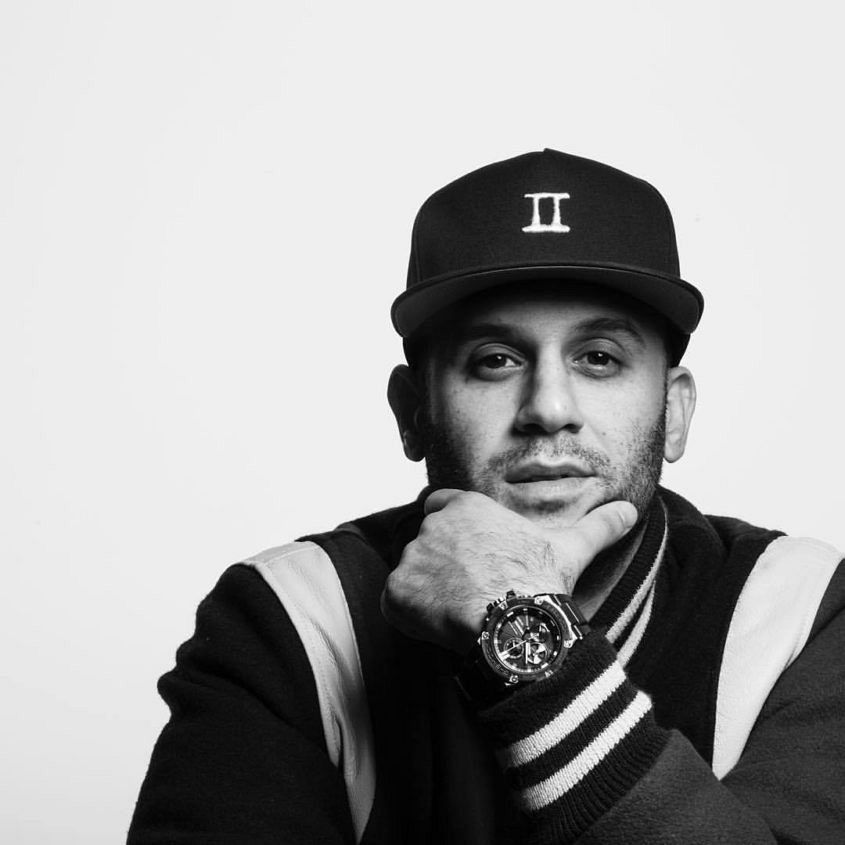 What else is in your collection?
Aside from the Audemars, I have the Rose Gold AP ROO and the Rolex Yellow Gold Day-Date II. All of my watches are iced-out, all the way around.
What do you appreciate about those models? Would you call yourself a watch collector?
I mean, I'm a watch collector, but I'm not a watch hoarder. I collect them, I play with them, and then I move them on. I try not to get too attached. I'm in the business of selling.
At the moment, I'm looking for a Rose Gold AP Skeleton, which I might leave alone. I think I might have to just leave it plain.
Is there anything you've customised recently that you particularly enjoyed?
I recently finished a Rolex Sky-Dweller. You might've seen the bracelet up on my Instagram, which for me was so nice. We did baguette diamonds; it was tedious work, and the presentation and execution were the best.
Can you expand on that, and tell me about your favourite piece of jewellery that you've created?
I made a piece for Floyd Mayweather, a 34ct Diamond Canary Stone, 'Money Sign'. It looked like a dollar bill, and in the middle of it was a big 34ct stone. It was fun creating it and bringing it to life, and it was cool to go from drawing it to finishing.
You're very social media-savvy, although I've read you've got a strict policy on giving out your work for free. Tell me about that.
Listen, if I wanted to work with everyone in the industry then I could just give away pieces of jewellery, and anyone would work with me. But I don't feel like it's respected. I feel like if I were to give out a piece of jewellery then the person would only be cool with me until the next person came along and gave them something. So you don't earn respect, you're buying it. So if I keep low, and let my work speak for itself then eventually they'll come – and if they don't, then they're missing out. And if I do give out a piece, then it's to a friend that I've worked with, who has spent money with me – not just an Instagram shout-out.
Have you seen any trends in the past 12 months in the custom watch space?
I feel like the Richard Milles are blowing up. They've always been hot, but I feel like they're blowing up. In the custom watch space, people are just desperately trying to get their hands on any model they can. The harder to get the piece, the better.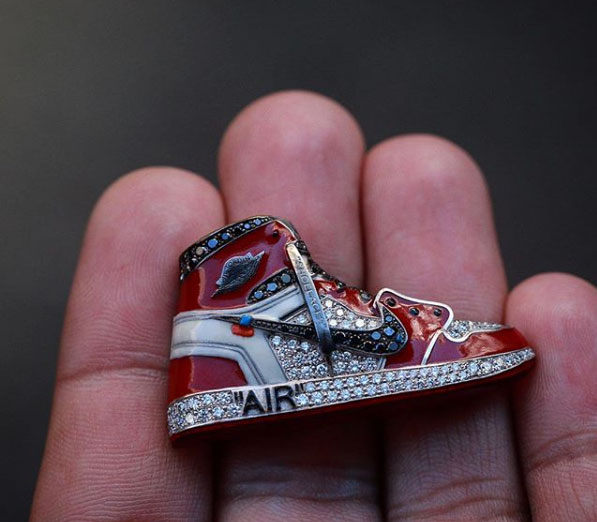 What's the big piece you are working on right now?
Right now, I'm working on a Rose Gold Royal Oak Offshore, with baguette diamonds. I'd say there are about 43cts going into this piece. Every stone must be cut to that watch, as you can't just buy a parcel of diamonds. It's much more meticulous, like a jigsaw puzzle.
Is there a watch that you just love to work on, or would love to? The dream pieces.
Aside from Ceramic, which you just can't work on, I feel like I had that when the Patek Philippe 5980R first came out. I was one of the first people to ice them out, for Floyd Mayweather, when he asked me to do it. I'm the main person responsible for the Pateks being iced-out in the United States, and I was the first person to do that.