Five takeaways from my time with the Tutima M2 Seven Seas S
Ricardo Sime
There are multiple categories of watches out there. Dress, casual, chronograph, pilot; each with their own look and prerequisite capabilities. And with these options on the table, you'll find many collectors simply pick one and begin scouring the internet for a brand's interpretation of the category. It's at this point that a good brand displays mastery in walking the thin line between self-expression and conformity. A thin line that the Tutima M2 Seven Seas S travels with ease.
Here's how they did it:
Dialled In
Before the curves and all that case work, a watch dial is the first thing that catches your eye. On the Tutima M2 Seven Seas S collection, the four dégradé dials do an amazing job of grabbing your attention and never letting go. And of the four, the red version (6155-08) really takes the cake. It adds this extra punch that completes the bold look of the diver. Though usually reserved for more dressy fare, it works well in this package.
Sitting on the Wrist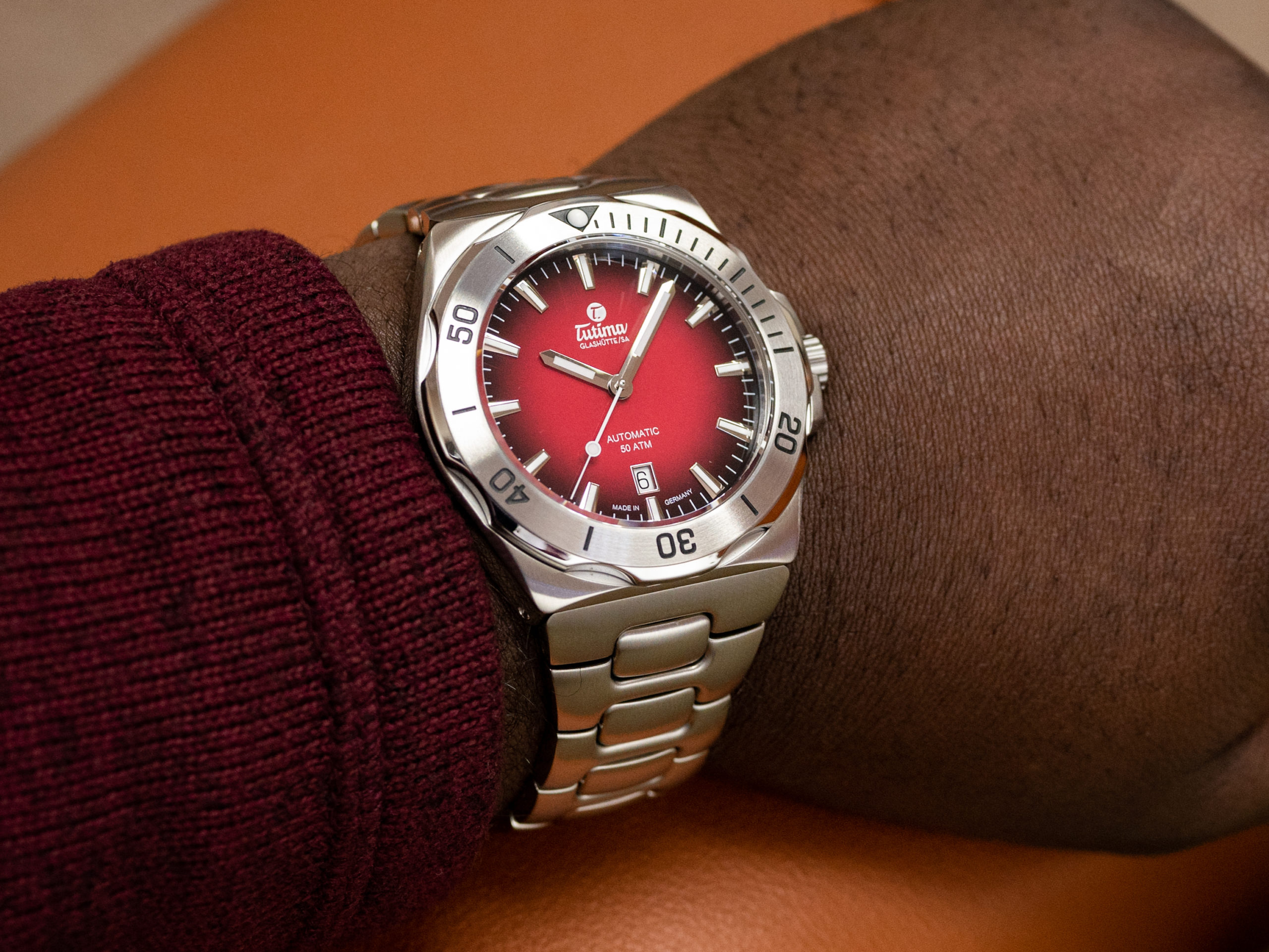 When I say this watch is sized at 44mm, I fully expect half of the room to walk out in protest. At which point I'd quickly follow up with the lug-to-lug measurement; a svelte 45mm. Suddenly, everyone starts settling back in their seats.
These two measurements, along with the weight of the watch, create a feeling that is absolutely delightful. On my 19cm wrist, this thing almost locks in place. It's akin to those letter matching wood toys from our childhood where you'd have to place A in the hole for A. And you'd live for that satisfying sound when everything lined up.
That's what this watch does on the wrist. Once the clasp is closed, it stays perfectly centered and doesn't move at all.
A Fully Finished Offering
Every decision a brand makes in how they finish a watch directly affects its perception to the wearer. Too many times, when it comes to divers, brands are a bit heavy-handed with the brushed surfaces. In my time as a collector, I've grown to realise just how important contrast is when it comes to the wearability of a watch.
That's why the mixture of vertical brushing and polishing on the Tutima M2 Seven Seas S places it ahead of many of it's peers. The polishing on the indexes, date window and scalloped bezel go a long way to making the watch aesthetically pleasing; especially when those surfaces play with light.
An Overall Experience
Between the bracelet's taper and the shrouded lugs, the Tutima M2 Seven Seas S is a great example of a brand focusing on the full experience of wearing a watch. Every thing here feels purposeful and well thought out.
The decision to shroud the lugs means a shorter lug-to-lug and a 44mm watch wearing like a 42. And tapering the bracelet, beyond just the aesthetic appeal, also means a few extra grams of weight come off what could have been an even heavier watch.
A Unique Offering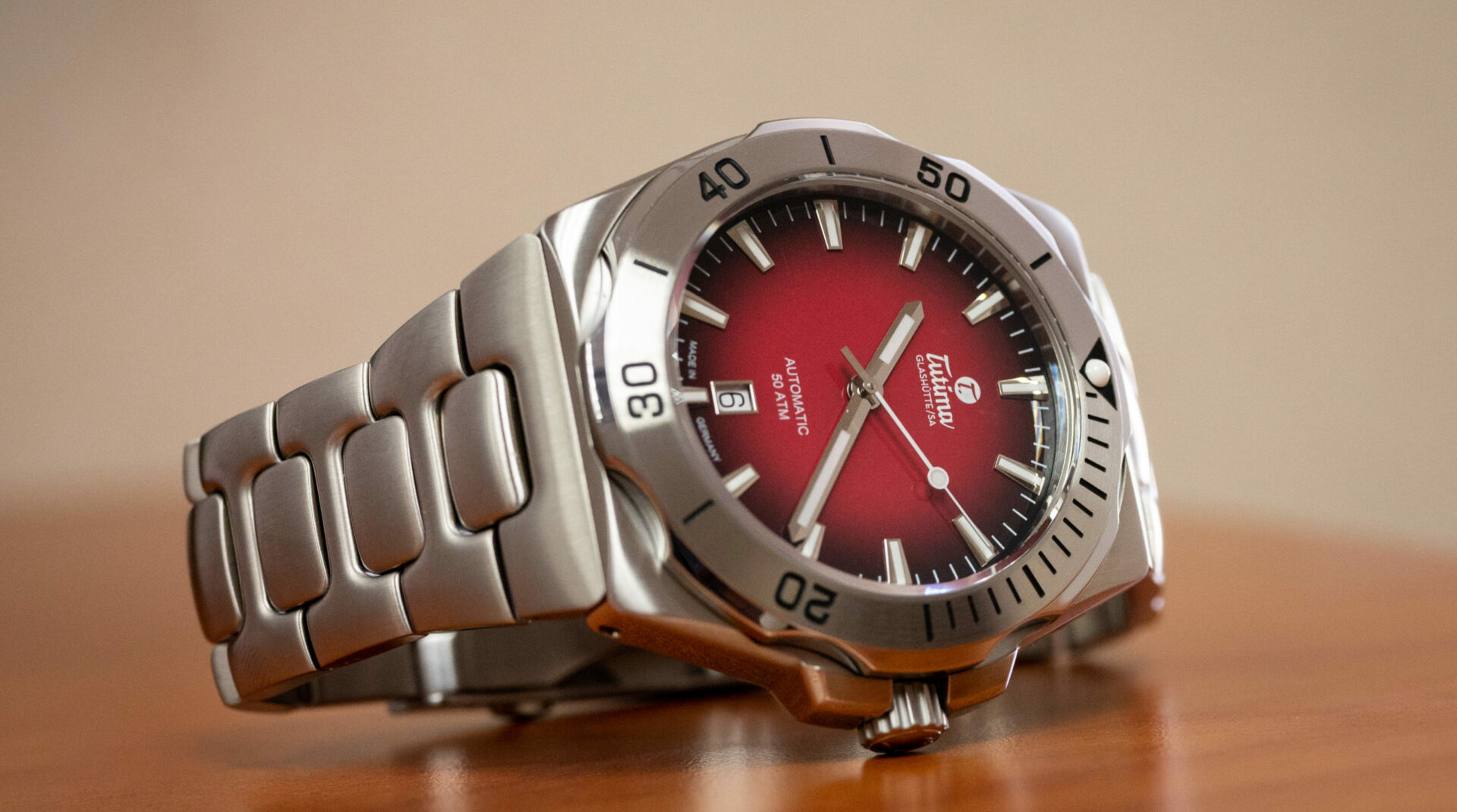 It's becoming more difficult than I would like to label a watch, especially a diver, as a unique offering. However, the Tutima M2 Seven Seas S is exactly that. It's a unique looking watch in which every aspect is coherent. Furthermore, it's a perfect evolutionary step forward from it's predecessor, the M2 Seven Seas; adding just the right amount of shine to the packaging. Overall, it's a very competitive and compelling watch at it's $2300 USD price point.
Specifications
Case Material
Stainless Steel
Strap
H-Link Bracelet (Can be purchased on a rubber backed leather strap)
Movement
Cal. Tutima 300 (ETA 2824 based)
Crystal
Sapphire (3mm thick)
Functions
500 metres of water resistance, 13mm thick
Bezel
Unidirectional Steel
Price
$2300 USD ($1900 USD on strap)