5 fresh summer flavours for a DOXA summer
James Robinson
Summer is now thankfully just around the corner, which means we can ditch the black on black garb and finally bring some colour back into our lives and, more importantly, onto our wrists.
And luckily, we're now stocking DOXA's entire collection of colourful timepieces, including the SUB 200, SUB 300T and SUB 1500T.
These watches feature vivaciously coloured dials that are perfect for December through February, and will look on point whether you're headed to the beach, rooftop bar or the bottom of the ocean floor.
We've picked out five of the hottest examples, and you better break out the sunglasses, because these bad boys are bright!
DOXA SUB 300T Aquamarine
Featuring what many are referring to as the "Tiffany Dial", the SUB 300T Aquamarine presents a powerful summer aesthetic that's sure to bring out your best when the thermostat cracks 30 degrees. $2990
DOXA SUB 1200T
This wouldn't be a list about DOXA watches without mentioning a timepiece with a "DOXA Orange" dial. This SUB 1200T is a special wristwatch, not least for the fact that it's limited to just 1200 examples worldwide, and it features the famed helium escape valve. $2990
DOXA SUB 1500T Searambler
This SUB 1500T Searambler is not for the faint of heart, nor is it for the slight of wrist, thanks to its ample 45mm case size. There's no denying this certainly is an extrovert of a timepiece, especially with its shimmering silver dial with orange minute hand, but that's exactly what a summer should be – an extrovert. The Divingstar stands out in all the right ways. $3850
DOXA SUB 300T Caribbean
One of my personal favourites, the SUB 300T Caribbean really pops on the wrist thanks to its arresting navy blue dial, white accents and highly contrasted orange minute hand. Nothing against the beads of rice bracelet this watch comes on, it's great, but can you imagine the watch on an orange NATO or tan brown leather strap? Major summer vibes. $2990 
DOXA SUB 200 Navy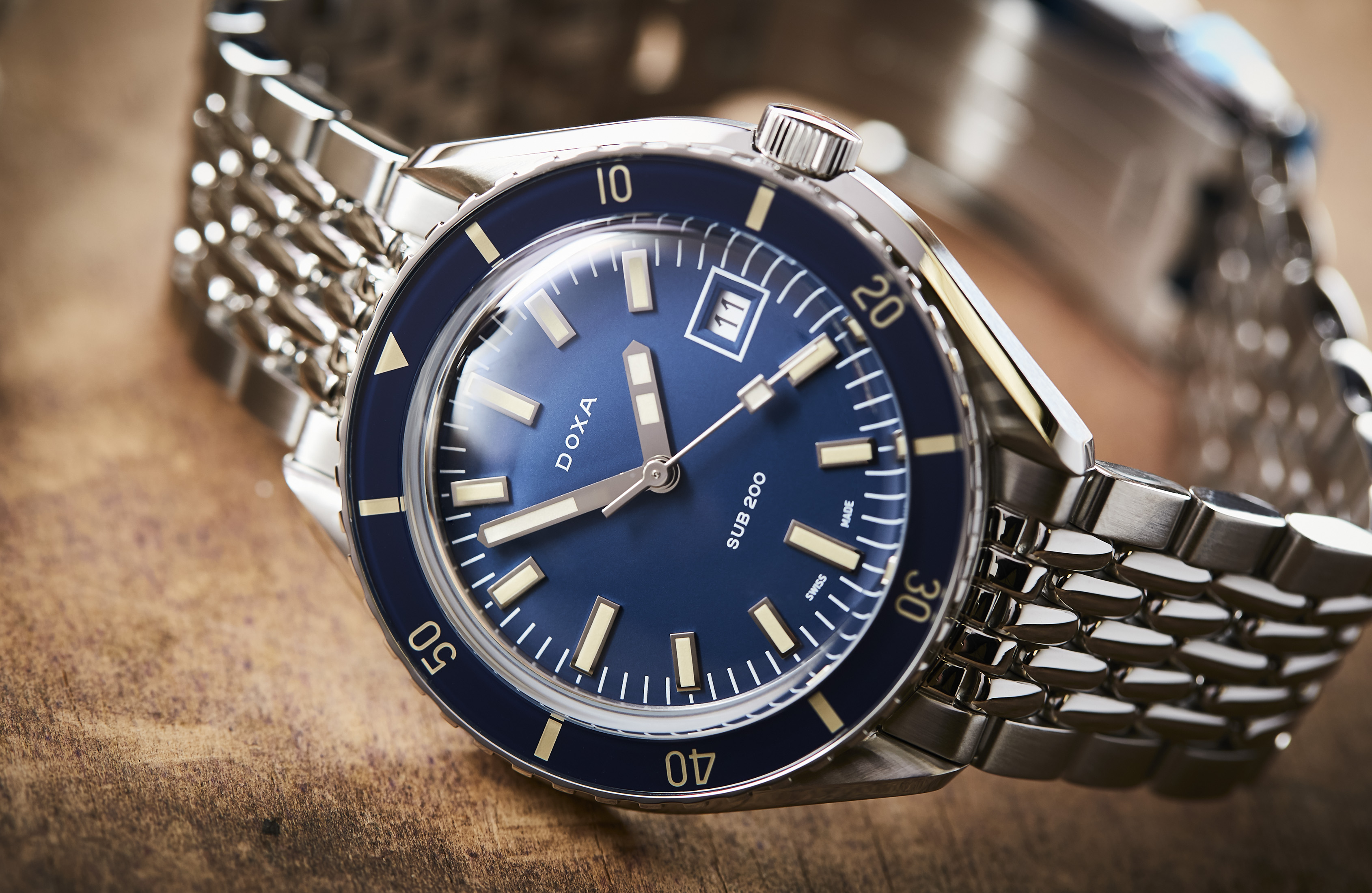 There's something about the navy blue tones of the dial on this SUB 200 … it is just so gorgeous. I'm not sure if it's the gold accents on the bezel, the thick lumed hour indices or just the way that the dial itself catches the light and changes colour. Whatever the case, this watch offers distinctly classy summer savoir-faire. $1590