5 of the best watches worn by women on-screen
D.C. Hannay
There's no shortage of great timepieces in film and television, from the Rolexes and Omegas of the James Bond films (featuring a slate of deadly accoutrements), to the Speedmaster worn by Tom Hanks in Apollo 13, but what about the wristwear of women on-screen? It's out there if you're looking, and there's a lot to discover, with some real gems amid all the action.
A Hamilton Flintridge belonging to Marlene Dietrich's character in 1932's Shanghai Express was one of the first wrist watches seen on film, and another iconic Hamilton, the "Murph" Khaki Field watch worn by Mackenzie Foy and Jessica Chastain was almost a central character in Christopher Nolan's sprawling sci-fi epic Interstellar. What follows is a rundown of some of the best watches worn by women on-screen.
Honor Blackman: Rolex GMT-Master ref. 6542
We can't start off a list of strong female characters without a mention of British actress Honor Blackman. Rising to television fame as Dr Kathy Gale in the British spy drama The Avengers, Blackman found worldwide fame as henchwoman/pilot/judo expert Pussy Galore in 1964's Goldfinger opposite Sean Connery. Not the stereotypical "Bond Girl" of those early films, she was easily 007's equal, and even his ally toward the end of the film. As a pilot, it was wholly appropriate for Galore to wear a Rolex GMT-Master, which she does with great style, despite its categorisation as a "men's watch".
The Bakelite-bezelled GMT-Master, with its iconic "Pepsi" colourway, was originally designed for Pan Am pilots to keep track of two time zones during transatlantic flights, so it was a perfect choice. In fact, the 6542 reference is so closely associated with the character, it's since been nicknamed the "Pussy Galore", and is one of the most sought-after vintage GMT-Masters.
Sigourney Weaver: Seiko 7A28-7000
Another great watch worn by a strong female character is the Seiko 7A28-7000 on Sigourney Weaver's wrist in James Cameron's masterclass of high-stakes intensity, 1986's sci-fi thriller Aliens. A uniquely configured quartz chronograph, it was the brainchild of famed Italian automotive designer Giorgetto Giugiaro, renowned for four-wheeled icons like the Maserati Ghibli, Volkswagen's Golf and Jetta, the Saab 9000, and the sleek Lotus Esprit, as seen in the James Bond flick The Spy Who Loved Me, modified by Q Branch to transform into a submarine. Giugiaro even designed the stainless-bodied DMC DeLorean, made famous as the time machine in Back To The Future.
Nicknamed after Weaver's character, the steel and aluminium "Ripley" watch features an asymmetrical design with the crown at 8, and a rectangular bar on the right side of the case, with chrono pushers on either end. The mixture of angular and curved elements perfectly complemented the aesthetic mashup of organic and industrial shapes envisioned by Swiss artist H.R. Giger's original look for the spacecraft and alien xenomorphs. Along with its uniquely textured bracelet, the watch is at once futuristic and retro, like many of Giugiaro's best car designs, and is so popular among collectors that Seiko saw fit to release a limited-edition reissue in 2015.
Lashana Lynch: Omega Seamaster Aqua Terra 150M 38mm
Next on the list is the watch worn by MI6 agent Nomi from the most recent film in the Bond franchise, No Time To Die, played by Lashana Lynch, and her choice of wristwear is spot-on for a spy of her considerable abilities. After Bond is presumed dead, Nomi replaces him in assuming the 007 mantle, and the 38mm Omega Aqua Terra 150M is an on-brand choice that suits her tactical style perfectly.
Worn on a no-nonsense black NATO strap, the Aqua Terra features a stealthy black dial, the classic Omega lyre lugs, a Certified Master Chronometer calibre 8800 movement, and is resistant to magnetic fields of up to 15,000 gauss, making it more than mission-ready. In the end, the rivals work together in taking down Rami Malek's Safin in his plot for world domination, even at a bittersweet cost to everyone concerned. Everyone apart from Omega, that is, who adds another great watch to the Bond canon.
Jennifer Connelly: Rolex Explorer ref. 1016
This summer's blockbuster reboot, Top Gun: Maverick, has no shortage of technological eye candy, including a bevy of drool-worthy IWC pilot's watches, but one of its most striking timepieces is a classically understated vintage reference. Penny Benjamin, portrayed by Jennifer Connelly, is a single mom and bar owner, who rekindles a love affair with Tom Cruise's Lt. Pete "Maverick" Mitchell. She's obviously a strong woman, juggling the roles of single parent and business owner, and her style game is on point as well, including her wristwatch.
Perhaps a family heirloom, her tropical-dialled vintage Rolex Explorer 1016 is a classic beauty, and it would make sense that it was possibly passed along as a gift from her admiral father. Its timeless design is simple perfection, with everything you need and nothing you don't in a time-only watch. Whatever the backstory, it's a note-perfect choice for someone of her character and substance.
Sadie Sink: Swatch "Yellow Racer"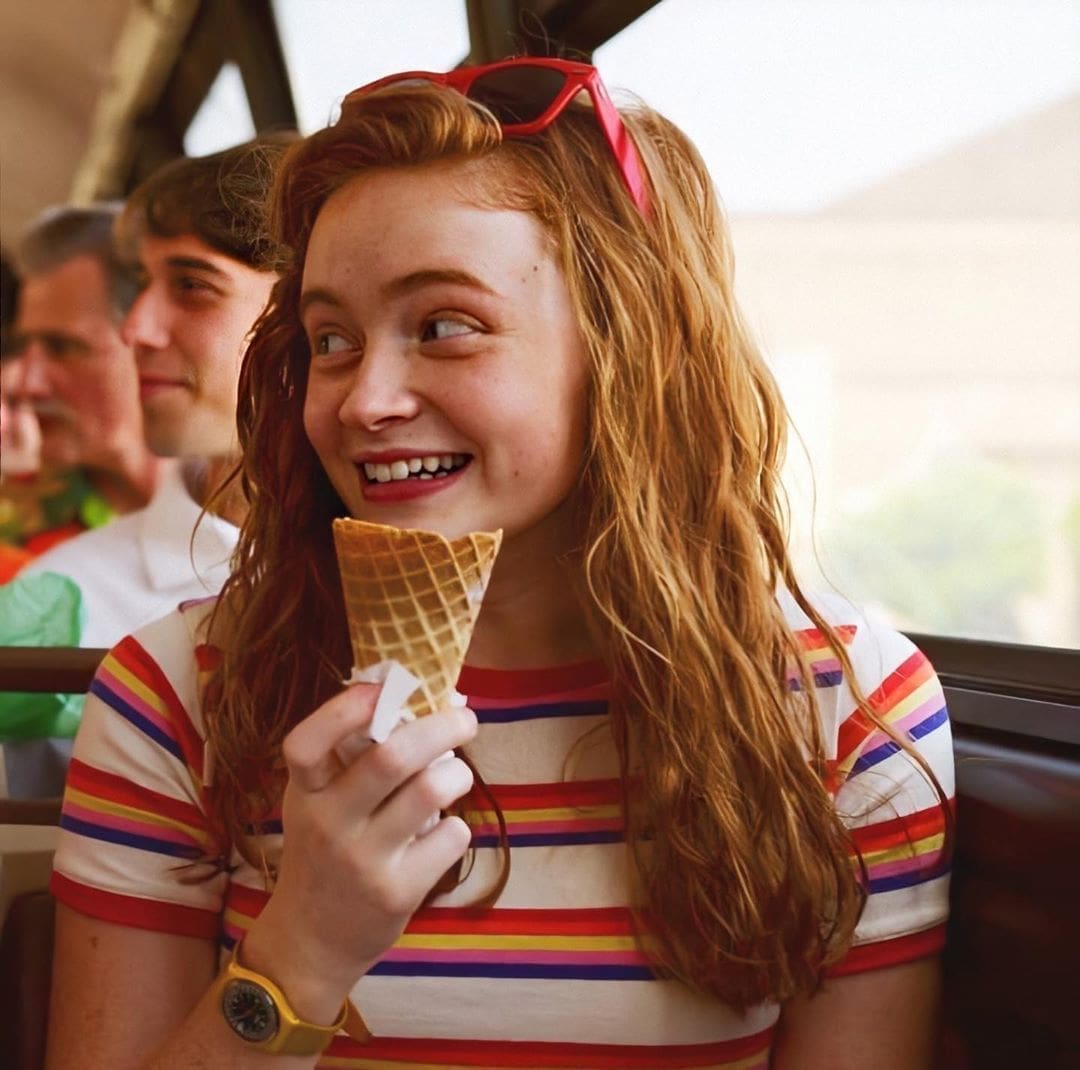 The final entry on the list belongs to Stranger Things' breakout star Sadie Sink, who rocks an era-appropriate Swatch "Yellow Racer" in the Netflix retro thriller. Set against the brightly coloured backdrop of the 1980s, the show really allows Sink's role as Max Mayfield to shine during season 4, and along with Millie Bobby Brown's Eleven and Priah Ferguson's Erica, they're among the strongest young characters in Stranger Things' expansive cast. Max herself is a total girlboss, a skateboarding, BMX-riding badass who can more than take care of herself and her friends.
Max's Swatch was first released in 1984, and was available in both ladies and gents sizes. And, of course, Max rocks the bigger gents model, because why shouldn't she? A typical time and date Swatch of the era, it's a great choice by the wardrobe team for a teen's watch, with a sunny yellow case and strap (to match the mag wheels on her sweet Mongoose bike), and a roulette-like dial of red, white, black, and green, perfect for the go-go MTV age. If you're keen to pick one up, you're in luck: Swatch has reissued the Yellow Racer as a Bioceramic model with a 34mm diameter case size.
As the proud dad of our own strong daughter, it heartens me to see great, strong female characters serving as role models for the young. And as a watch fanatic, I love that they're wearing some truly epic timepieces in their roles. And I suspect that all this is rubbing off on our own daughter (a boss in her own right), who has taken to liberating a selection of Casios from dad's collection, including the Marlin/Duro dive watch she wears on a NATO, and her fave, the "Casio Royale" Worldtimer on the bracelet. I love it, and couldn't be more proud.