5 of the best "old money" stealth wealth watches
Tom Austin
Old money style is characterised by focusing on classic, timeless elegance that's executed with subtle sophistication and a sense of effortlessness. Often the world of luxury watches can be misinterpreted as vulgar, and sometimes it's easy to see why when some of the most expensive contemporary timepieces in the world appear shameless in their ostentation. However hiding in plain sight are the real stealth wealth watches, the ones that ooze refinement and embody quiet luxury without even trying. These are the watches you see on the wrists of the Loro Piana and Brioni wearing tycoons of industry and their families when they're relaxing in the idyllic port towns where their boats are moored. Not that you'd notice, of course, and that's the point: these are not watches worn for others to see. Their purpose is not to seek attention but to symbolise a personal statement of taste and exclusivity.
Philippe Dufour Grande Sonnerie
Upon first glance, this is just a gold wristwatch. It could be a vintage piece from any brand at all, with simple, classic proportions and nothing obvious that stands out as special to most people in the wild. But, of course, this is the Philippe Dufour Grande Sonnerie, a watch steeped in history and an example of the finest craftsmanship ever seen in watchmaking. The solid gold case, features subtly tapered lugs and a smooth domed bezel. It's beautifully matched with a simplistic yet classic fired enamel dial with finely printed roman numerals and a stepped small seconds sub dial, all artisanally crafted by Dufour's own hands. The real show begins when you open the hinged, hunter case back, revealing the stunning Grande Sonnerie movement, not to be confused with a minute repeater, this movement will chime to a schedule of hours and quarters, rather than just on the hour every hour. This watch is the epitome of silent luxury.
Cartier Tank Louis Rose Gold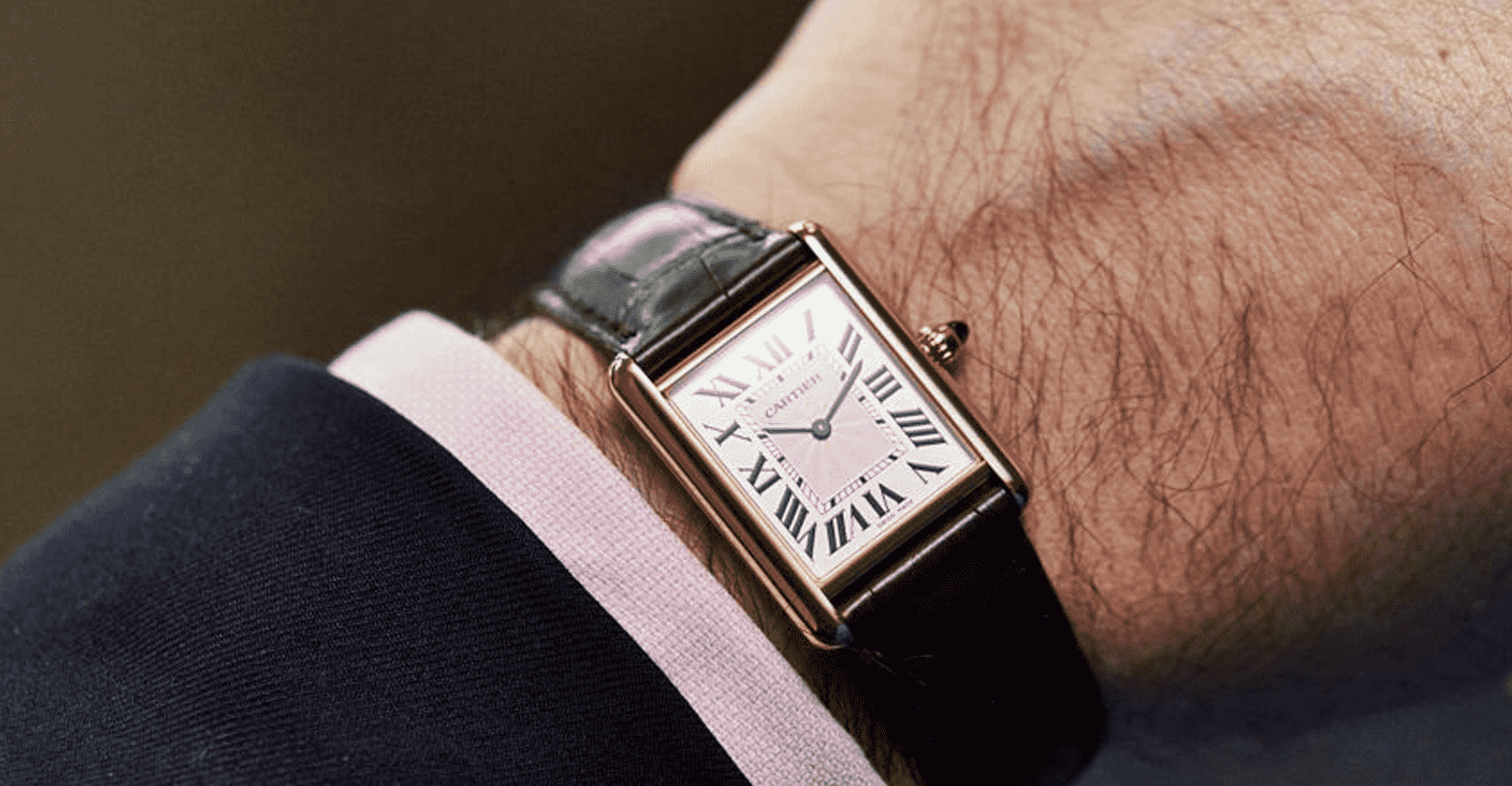 Like most watches in this list, the Cartier Tank Louis has a rich history. It's a watch based on the original creation from Louis Cartier in 1917, essentially representing the foundations of the brand's wristwatch heritage and as such, became a horological icon. The Tank has been worn by some of the most legendary figures in history, but doesn't shout about it. Its small proportions mean it slips under the cuff quietly and doesn't draw attention to itself. The rose gold iteration probably does this old money thing best, giving a rich, deep colour to the case work, almost ageing it to the point where you'd be forgiven for forgetting this is a contemporary Cartier timepiece. It's a timeless classic that belongs on the wrist of anyone who doesn't want their luxury wristwatch to draw unwanted attention.
Vacheron Constantin Patrimony 1110U/000G-B086
What would a watch worn by Emperors and Kings look like? As it happens, it would be a Vacheron Constantin. Since its inception in Geneva in 1755, Vacheron Constantin have been long associated with being worn by nobles and royalty like Louis XIV, Czar Alexander II, the Maharajah of Patiala, and even Napoléon Bonaparte and Queen Elizabeth II. This has earned the brand its position in the Holy Trinity of horology, but looking at models such as the 1110U, you wouldn't immediately notice. It's another perfect example of the Patrimony's unassertive elegance, with everything you would expect from a subtle timepiece which hides all its details in plain sight. The case is solid white gold, to keep it low-key, the dial is delicately laid out, but the attention to detail is in the quality and finishing, everything here is crafted to perfection. It stands out as one of the "if you know, you know" watches and as a result, its spot on this list is well earned.
Rolex Perpetual 1908 White Gold Black Dial
This year saw Rolex retire the Cellini line and introduce its latest interpretation of a classical wristwatch, the Perpetual 1908. Its name marking the year the brand was created, the 1908 ushers in a new period in Rolex's timeline looking to recapture its appeal to a more "horologically mature" audience. Love them or loathe them, Rolex's don't tend to sit in the subtle category, they tend to be relatively large, often with distinctive colours and materials, whereas the 1908 drops that act. It still features things like the trademark fluted bezel, but it's so thin you have to really look to see it. The 1908 does a great job of being a subtle understatement, especially in the white gold and black dial variation, and appears to carry a definite amount of class and unassuming comfort with its 39mm case and un-Rolex like leather strap. It says "yes, it's a Rolex, but don't make a big deal about it, ok?".
Patek Philippe 5236P Grand Complications
There's nothing quite like perpetual calendar complications in a wristwatch, some even consider them the pinnacle of contemporary watchmaking, however Patek Philippe felt there was a problem with it, they felt that perpetual calendar dials were difficult to read, and as such, went about creating the 5236, a watch that was touted one of the brand's best releases by a Patek expert. An in-line perpetual calendar with the day, the date and the month all in the same line, subtly positioned on the dial so as to not draw too much attention to the watch. Encased in platinum, adorned with a brushed and graduated blue dial, the 5236 features all the major aspects you'd expect from a Grand Complications piece, but in this watch they're packaged in a way that they almost disappear. The date window and moonphase display, the day night and leap year indicators are all positioned carefully so as not to steal the show, and yet the amount of craftsmanship it takes to achieve this is staggering, and that's its beauty. The 5236P is maximum elegance in technical design and luxury, but done with complete unpretentiousness and effortless style.