Fired up: The best watches spotted on Hot Ones
Zach Blass
Hot Ones has blossomed from a humble web series to one of the most watched YouTube formats in the world. Interviewer Sean Evans is known for being incredibly thorough in his research, hosting some amazing conversations with his celebrity guests while punishing them with increasingly spicy wings.
Perhaps the heat of the wings focuses the guests' caution on the wings rather than the questions and, as a result, some really awesome insights into each guest find their way into the episodes. Also often finding their way into each episode are killer wrist-cameos – serious heavy-hitting timepieces going along for the ride. So, here are some of the best watches we have spotted on Hot Ones over the last 17 seasons.
Kumail Nanjiani: Patek Philippe Aquanaut 5167R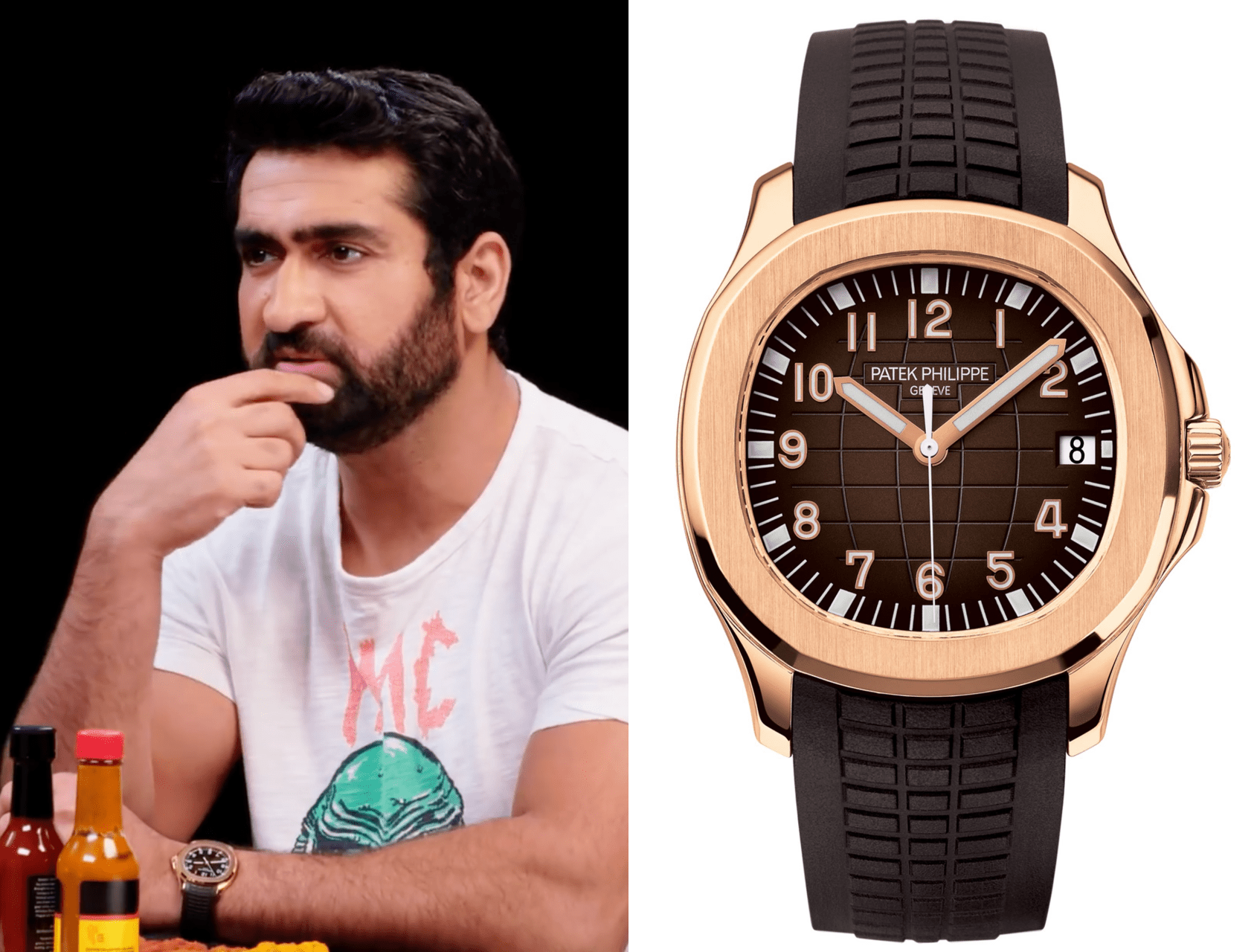 We recently covered Kumail's AP flex in the Marvel film Eternals, but one watch the actor notably wears often from his own personal collection is the Patek Philippe Aquanaut 5167R. Of all the watches in this list, this is likely the one I would want to add to my collection the most. The Aquanaut is such a casual flex, even in rose gold, and it carries such a versatile aesthetic – both formal and functional.
John Mayer: Rolex Daytona ref. 116599 Rainbow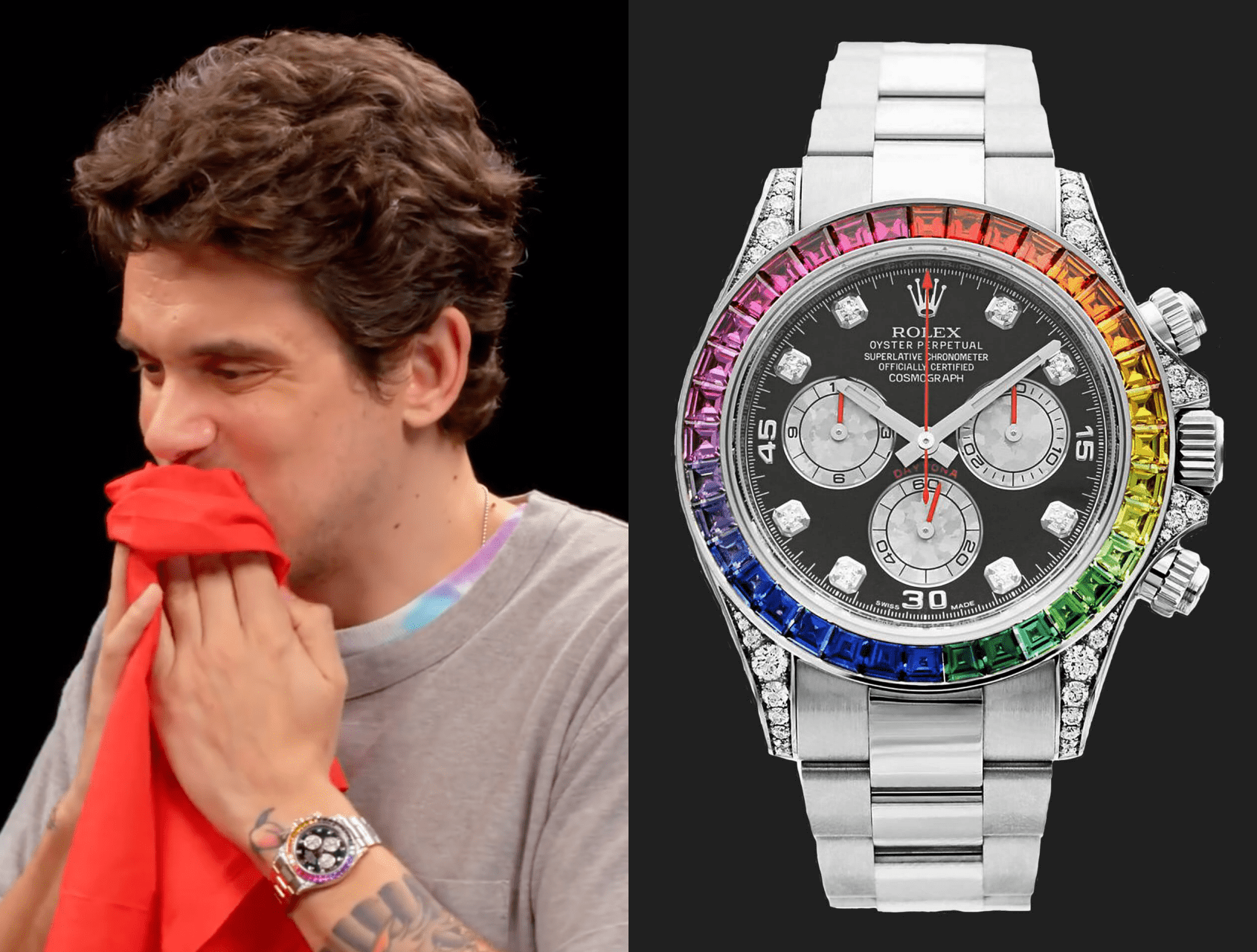 Probably the most market-influencing celebrity watch collector, Mayer was the first guest on Hodinkee's Talking Watches series. On each of his two videos with them, many of the references he discusses ultimately see a surge on the secondary market in the wake of the video's release. Here John wore a highly sought after and valuable Daytona ref. 116599 Rainbow in white gold to subtly match the tie-dye shirt beneath his sweater.
Ed Sheeran: Patek Philippe ref. 5270G-019
Ed is a well-known quantity in watch collecting, owning everything from top-class Patek Philippes, APs, and Richard Milles, to accessible pieces like the groundbreaking MoonSwatch. During his time on hot ones, Sheehan opted for a modern classic from Patek – the 5270G-019. It is the white-gold sibling of the 5270P, but instead carries a modern blue sunburst dial in favour of vintage-inspired salmon.
Megan Thee Stallion: Rolex Sky-Dweller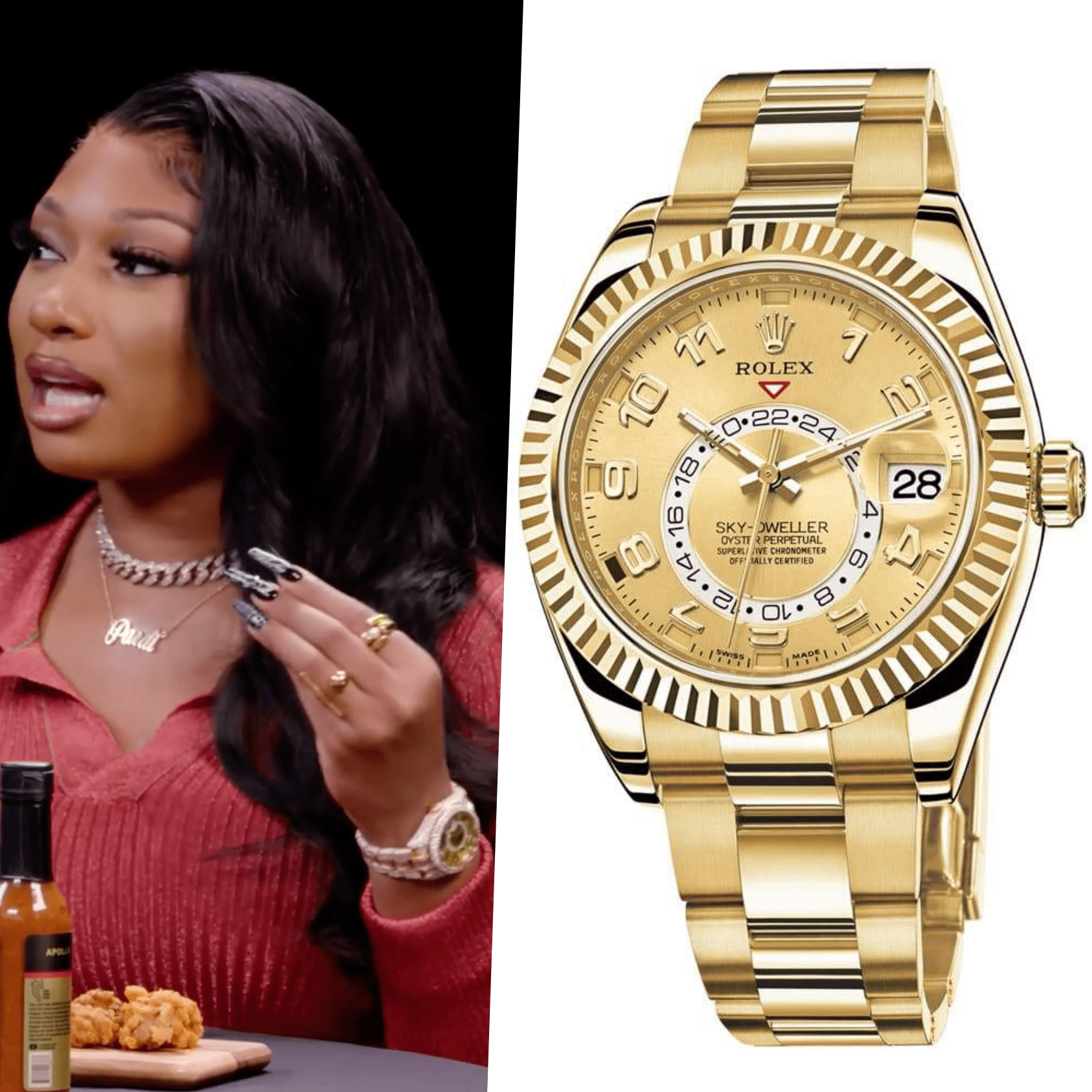 Megan, was able to remain cool thanks to her Houston, Texas upbringing and the iced-out Rolex Sky-Dweller on her wrist. The Rolex Sky-Dweller, arguably Rolex's most complicated modern watch, is by no means a dainty timepiece. In fact, it is one of the larger models in the catalogue clocking in at 42mm in diameter. The watch is known for being the latest take from Rolex on the ultimate traveller's watch, with two timezones, date under a cyclops magnifier at 3′, along with the month via apertures framing the hour indices – or in the case of Megan's discontinued variant of the ref. 326938 bold hour Arabics. The giveaway that it is, in fact, this reference is the dual-time ring rendered in white, something you would not find on other models such as a Datejust.
Jack Harlow: Rolex Sky-Dweller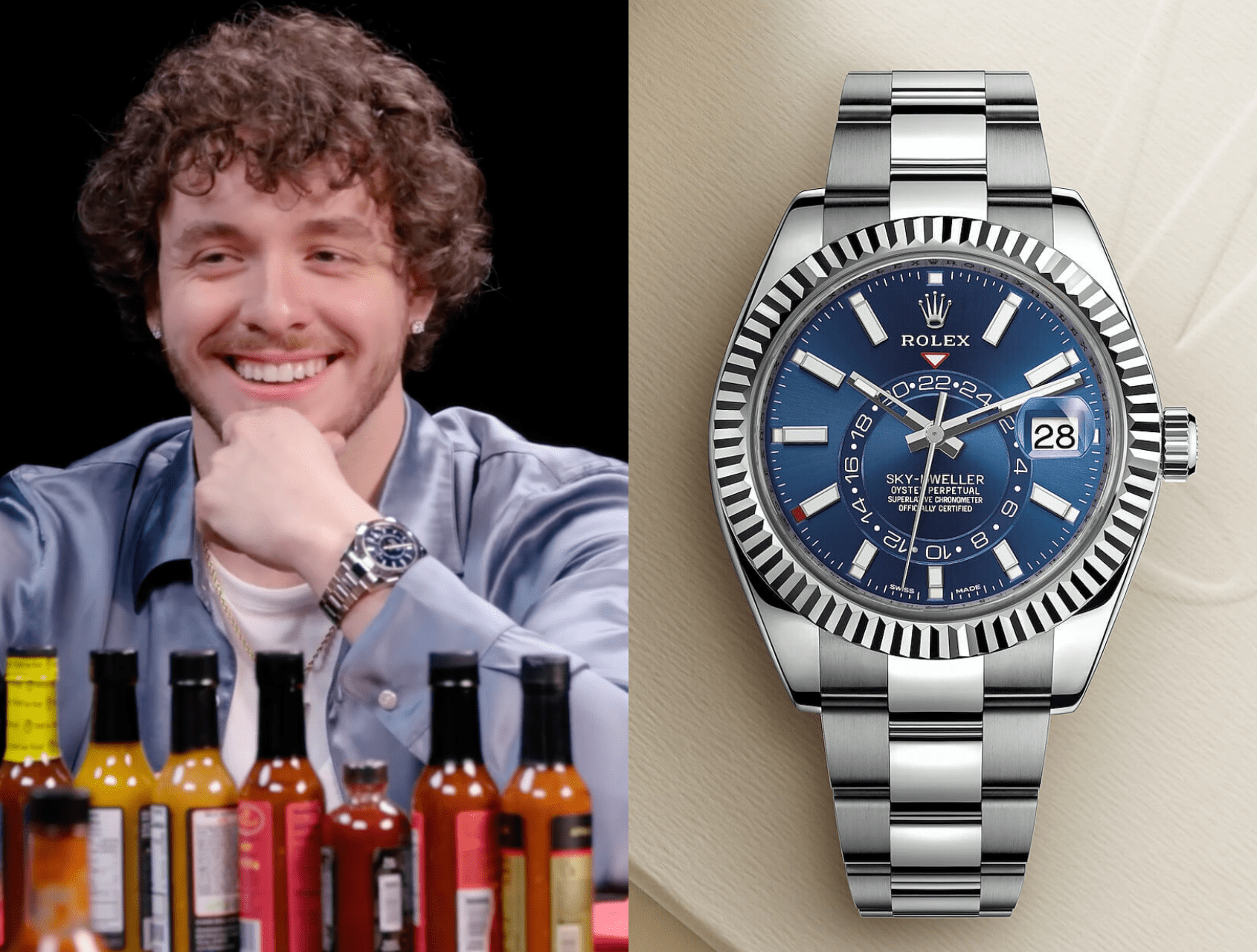 American rapper Jack Harlow also wore the complicated Rolex reference, but instead opted for arguably the most in-demand configuration in stainless steel with bright blue dial.
Jacob Elordi: TAG Heuer Monaco
View this post on Instagram
Euphoria's conflicted dreamboat, easy on the eyes externally but a whirlwind internally, Nate, played by the much nicer in real life Jacob Elordi, opts for his trusty TAG Heuer Monaco to join him on his journey to summit spice mountain. It is an iconic Chrono, the first automatic and squared chronograph, that, perhaps, shows an admiration for heroes like Steve McQueen.
Quavo (Migos): Audemars Piguet Royal Oak Chronograph
Some will scoff at the bussed-down bling, but rap superstar Quavo, of The Migos, traded in the brushed surfaces of his Royal Oak Chronograph in pink god for over 70 carats of diamonds that were set not only in the case, bracelet, and crown, but also the dial as well.
Simu Liu: IWC Portugieser Automatic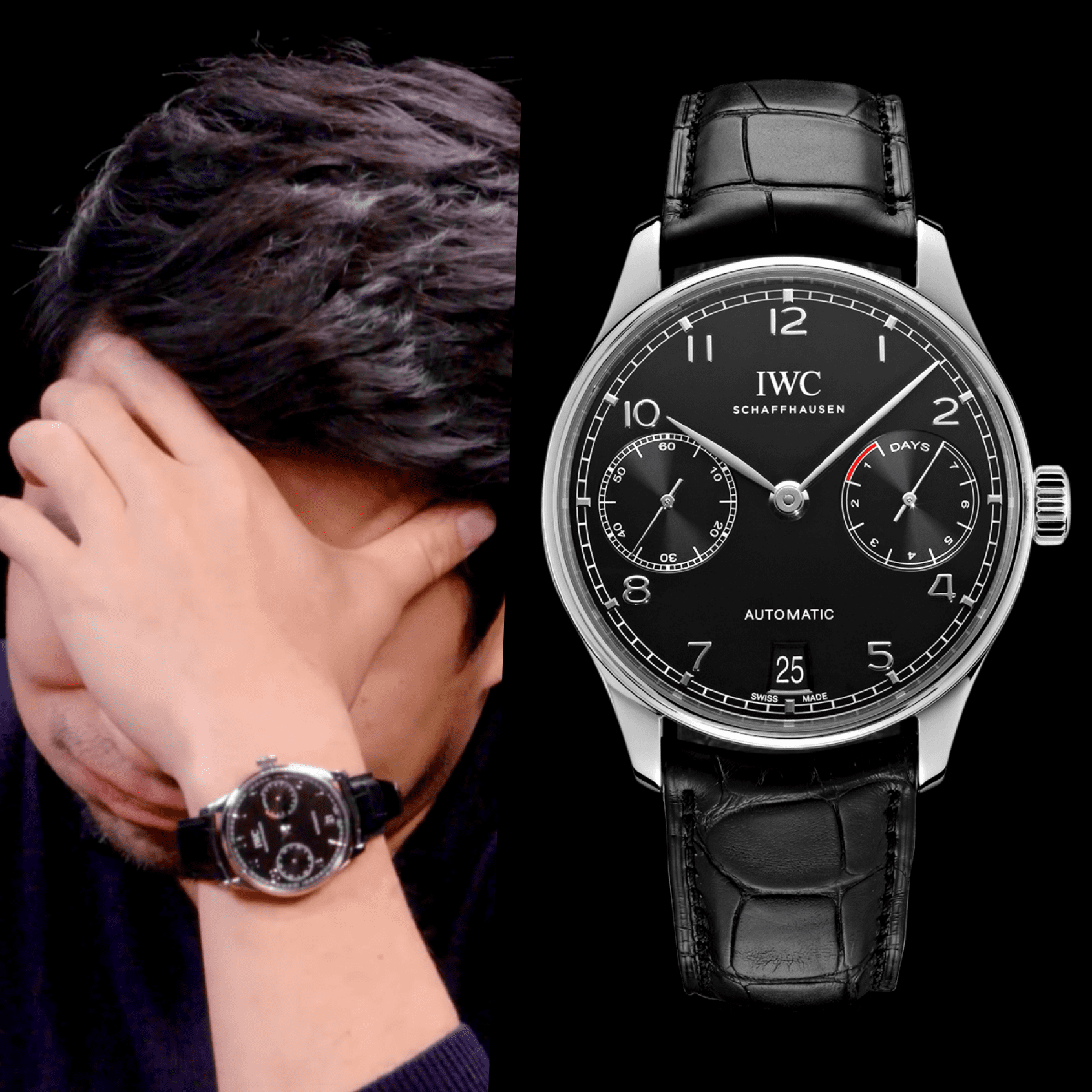 Sime Liu, on his episode of Hot Ones, rocked the IWC Portugieser Automatic. The more approachably sized (42.3mm x 14.1mm) features a polished case, 168 hour power reserve automatic caliber (52010), and calendar date and power reserve complications.
Courtney Cox: Rolex Oyster Perpetual Date
The most understated watch on this list, the sitcom superstar wore her Rolex Oyster Perpetual Date with a champagne or silver dial. The tell it is an Oyster Perpetual Date versus a Datejust is the entirely brushed oyster bracelet.
Kevin Hart: Audemars Piguet Royal Oak Offshore
Kevin Hart has become one of the most successful comedians of all time in recent years, and has since accrued an incredible collection of Rolex, AP, and Patek Philippe pieces among others. His time on Hot Ones was spent wearing a ceramic and pink gold Offshore, the most robust form of the Royal Oak ready to take on the spice challenge.
Gordon Ramsay: Rolex Submariner ref. 1680 and IWC Mark XI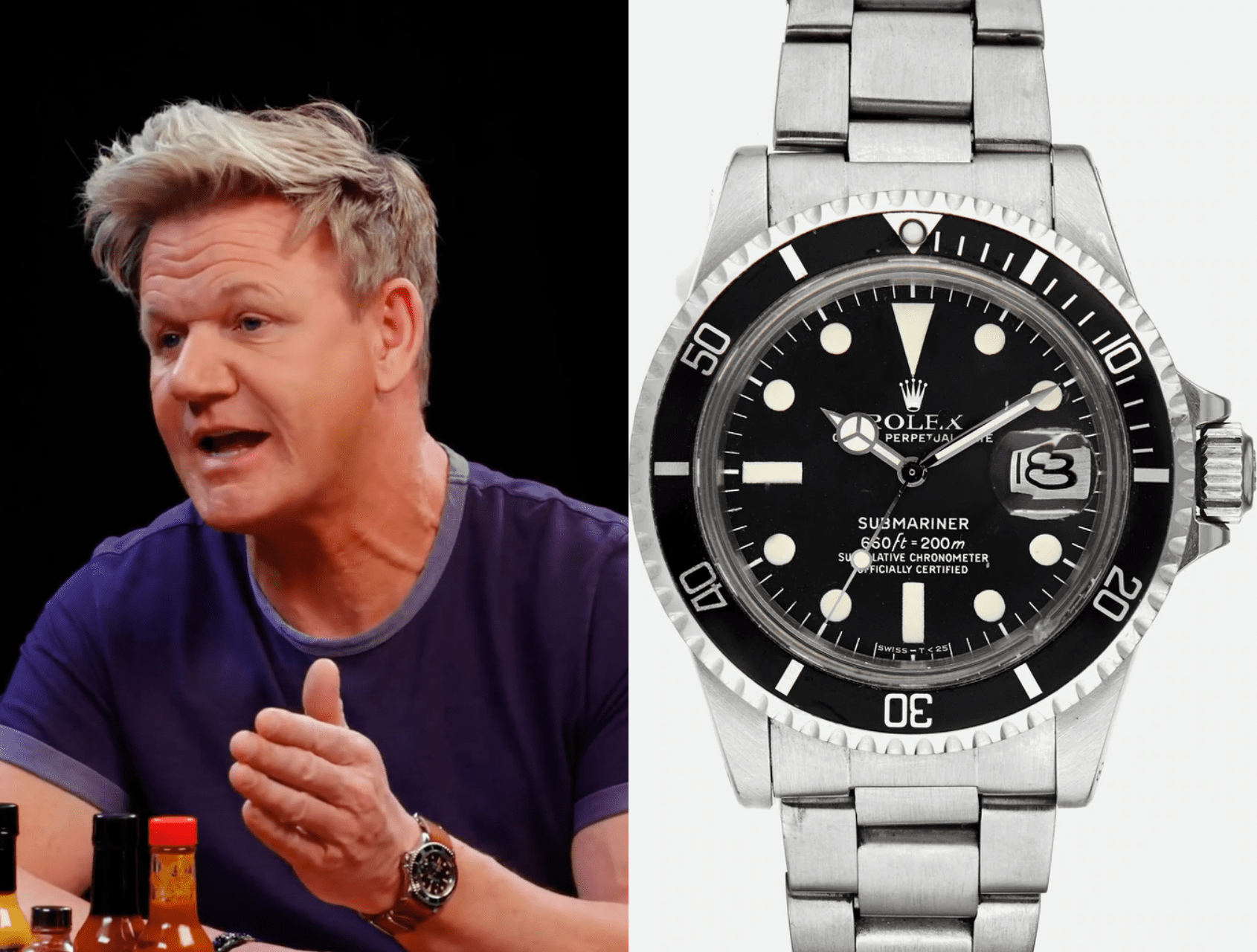 The no-nonsense chef, comes ready for battle with a Rolex Submariner ref. 1680 on an aftermarket leather NATO strap. Personally, I hate the idea of a diver on leather. But, knowing Gordon, I don't think I would have the cojones to argue with him in person.
The vintage theme continued even on his second appearance on the web series, this time an IWC Mark XI on a fabric NATO. It is likely Gordon is fond of the reference due to its ties to the Royal Air Force and its usage by their pilots once upon a time.