It's a fitting time to publish our first ever Female Wind Down, in place of the usual Friday Wind Down. New websites are launching, collectives are forming and congregating on Instagram and Clubhouse, and the noise level questioning many of the fundamental tenets of the watch industry – stemming from the one that designates it primarily a playground for men – is reaching quite a pitch. Meanwhile, everywhere we look, the patriarchy is crumbling. What a time to be alive.
If the watch industry were a band venue, there's that same sense of nervous anticipation before the main act comes on. You know the vibe. It starts as a murmur, then a curtain moves, a kick drum rings out, and it's noisy as hell, it's on. But instead of Nirvana, it's Veruca Salt. Instead of The Ramones at CBGBs, it's Shonen Knife at an art gallery in Ginza. We are seeing new leaders in the industry and in the media emerge, and for me, it's as refreshing as a cold glass of water on a hot day. It does take me back. Please indulge a memory. In our first printed material for Time+Tide, in the way, way back of March 2014, we published a column by a local watch writer, Yiah Chan. It was titled 'THE FUTURE: ENGINEERED FOR WOMEN?'
In it, Yiah say: "…in today's male-oriented watch world, women fall by the wayside… Not all women want the same types of watches any more than all men want the same – variety is a good thing, and in this regard, the watch industry is letting women down."
The column concludes with a challenge: "Over to you watch brands." It's exactly SEVEN years later, and it's fair to say if that was a baton pass of sorts, then the baton is only just now, in the last 12 months, getting properly dusted off and into the hands of some pretty inspiring agents of change who are kicking arses and taking names. We thought we'd compile five new ways women can get into watches today, that will introduce them to a sparklingly new view of the hobby we all call home.
Have a great weekend, and if I missed anything at all in terms of women moving the watch world forward, please let me know: andrew@timeandtidewatches.com
Andrew
P.s – If, by chance, and I'm just guessing here, it's an email warning us against become social justice warriors and to "stay in our lanes", please direct it to gofckyourself@hotmail.com
Sandra comes at this from a new place, blaming not the labels themselves, but the quality and diversity of the watches released each year. Read her full article right here. And in case you're wondering, or missed the watermark, that's the brilliant work of @dianaevansillustration
Join Clubhouse and engage with some of the great conversations taking place within the industry
Clubhouse is rocking, and it's a good time to go a-knocking if you want to listen in on and contribute to some conversations that are shaping the industry as we speak.
Follow @watch_femme and @dimepiece.co for a super fresh take on what's going on
Two killer accounts! @dimepiece.co has been going since March 2020, and features lots of legendary women and the watches they wear. @watch_femme is new, and out of the blocks strong, with loads of engagement and opportunities to be involved.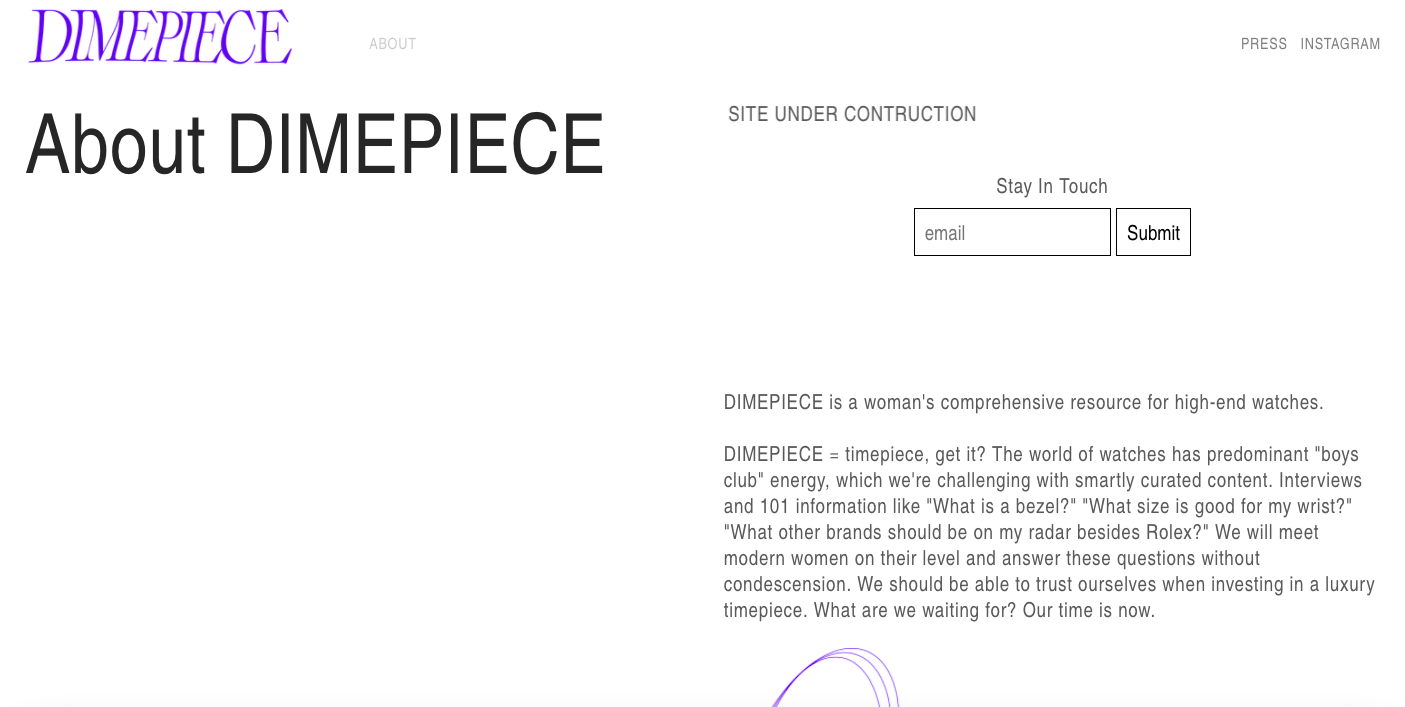 Everything about the aesthetic of this new media brand is fresh, clean and feisty AF, with a clean fashion aesthetic and a different flavour to any other watch site on the net. Check it out right here.
Check yourself in the watch circles you move in
As Sandra says, we can defer responsibility to the brands, and their marketing and R&D departments to a high degree, but if the goal here, with this renewed push – aside from a better selection of watches for all every year – is more women in watches in general, then it's largely about the way women are received in the industry and in the community. It's about the attitudes and atmosphere of all those places. That puts it back on all of us. And yes, that means you too, comments section.
Lastly, let me quote Sandra one more time. Have fun, and for the love of Mary, take a leaf out of these three punk rocking champions in Shonen Knife, and rock on with your watch on.