My three favourite Bulgari releases of 2020
Zach Blass
Bulgari has enjoyed a real hot streak over the past few years, throwing their hat into the ring of haute ultra-thin watchmaking. The Octo Finissimo has delivered the most refreshing entry into the integrated-bracelet watch category with its distinct, architectural design unlike anything else in the market. To some, Bulgari designs still remain a matter of love or hate with no in between. But this polarising effect is primarily the result of  the brand's success in creating genuinely original designs. The brand's creativity and willingness to risk departing from the usual horological templates are qualities that are ultimately much needed and welcomed in the watch world. Here are my three favourite Bulgari releases of 2020.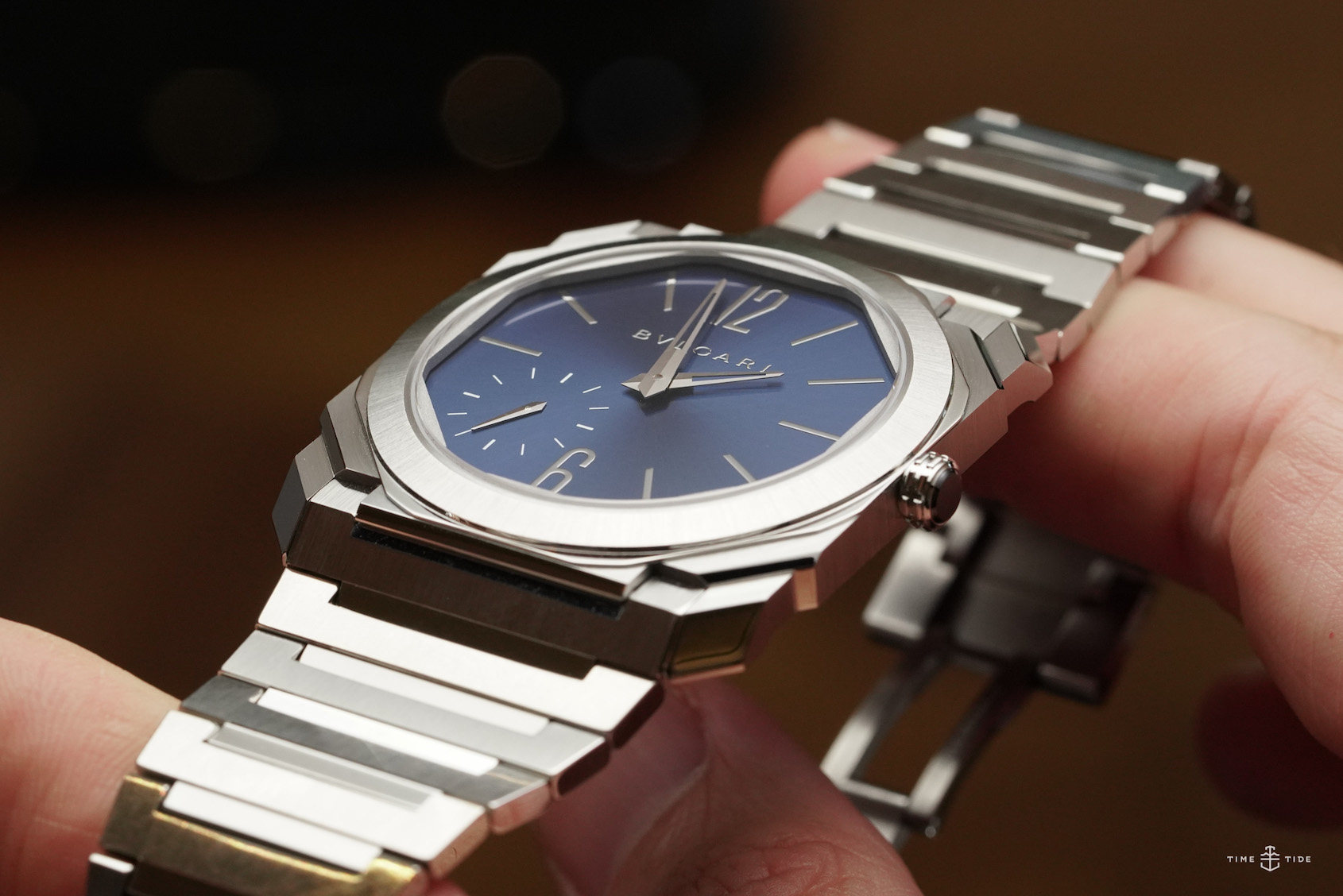 The Bulgari Aluminium Watch
While a revived design, the Bulgari Aluminium is still a very original watch that other manufacturers have never dared to imitate. As an offering, it presents great value to collectors looking for an entry-level luxury watch. It strikes a balance between robust sportiness and elegant design, its case and strap form distinctly expressing the Bulgari flavor. The lightweight aluminium results in an incredibly pleasant daily wear experience while the rubber bracelet interlaced with aluminium links conforms well to the wrist and provides a winning tactile combination. This is a watch that's fashionable, tough and a great piece to stand out from the crowd.
The Bulgari Octo Finissimo Chronograph GMT White Light for Revolution & The Rake
While a limited edition, the fact Bulgari was willing to make such a configuration is hopefully a sign of the playfulness and confidence to come. The Bulgari Octo Finissimo Chronograph GMT White Light for Revolution & The Rake stands out from other Octo Finissimo watches with its unique albino dial – a 0.2mm thin disc coated entirely with luminous material. Rather than have luminescent coatings on the hands and markers, Bulgari goes above and beyond by imparting a display that is positively eye-catching. This means the black hands and markers are made legible in their darker setting by its glowing dial. The watch is very complicated, featuring a column wheel chronograph and GMT complication, and is record-thin at 6.9mm thick. It's a watch that has surely left many  collectors wishing it were a standard production model.
The Bulgari Octo Finissimo with a blue dial and both satin and high polished surfaces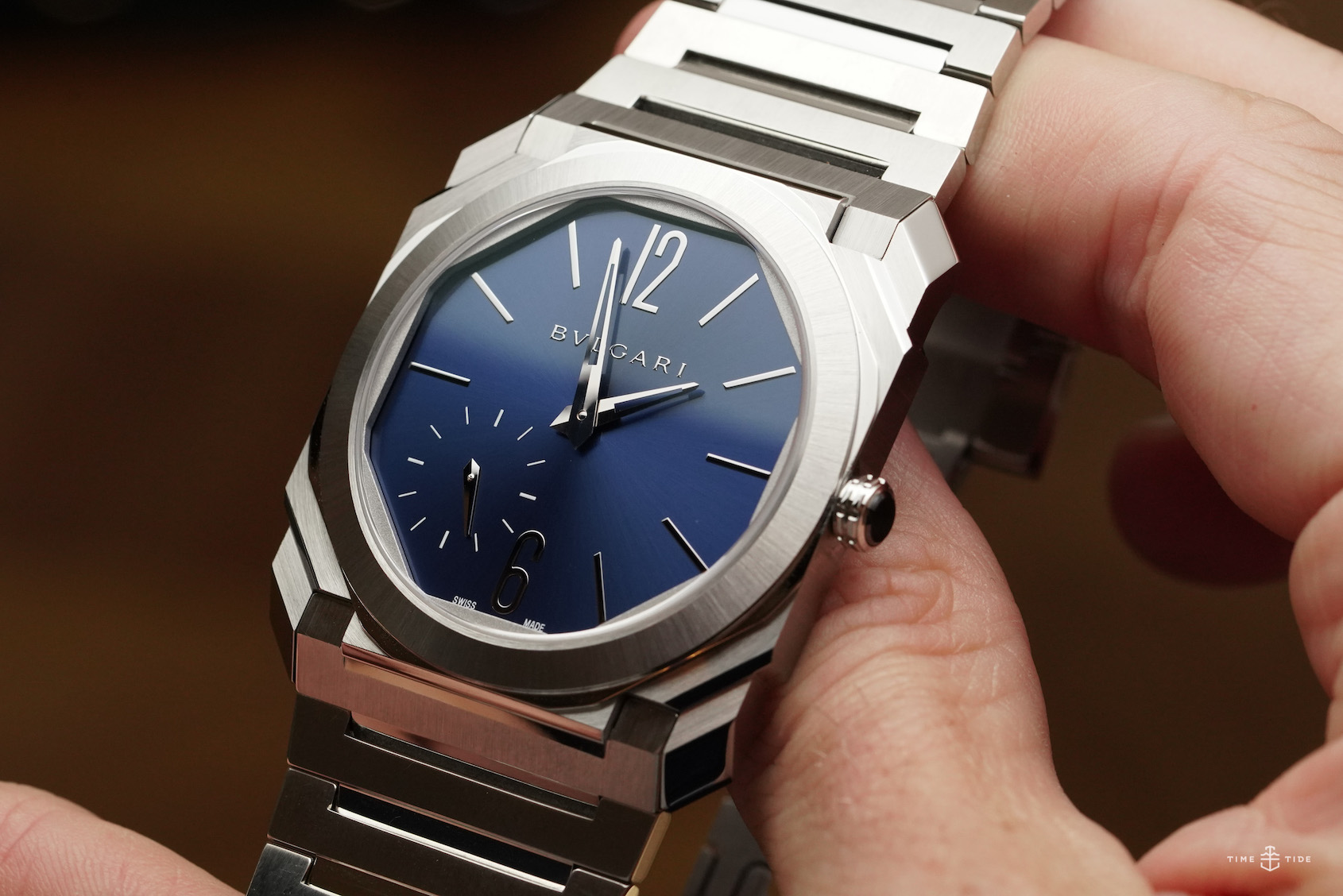 When first announced, the Octo Finissimo was an entirely satin-brushed, ultra-thin sports watch with one Achilles heel: it's water resistance. But nobody faulted its design with it's original and refreshing aesthetic greatly outweighing its splash resistance. While many praised the uniform matte/satin surfaces of its designs, it's faceted structure was ripe to display a harmony of contrasting finishes. The Octo Finissimo Blue Dial took an already hot watch and made it even hotter – edging the temperature from the red tip of a flame to its blue core where it burns most fiercely. Not only did it finally introduce a gorgeous gradient blue dial (in the year of blue no less),  it also brought exquisite finishes to the steel case and bracelet. In addition, there was the new screw-down crown and an infinitely more sporty water-resistance of 100 metres. On the back of these upgrades, many drew comparisons to much coveted watches like the Audemars Piguet Royal Oak and Patek Phillipe Nautilus. Better still, the comparison was not the result of its design influence, but the fact that the watch was now on a horological par with those two famous timepieces. In short, the Octo Finissimo Blue Dial is a true modern classic.