INTRODUCING: Farer's new Carnegie Chronograph Sport
Time+Tide
In its six years, Farer has never shied away from standing out from the crowd. It's a trait that has served the British brand well in the past, be it through wow factor, unique colour combinations or a daring and devilish eye for wicked dials.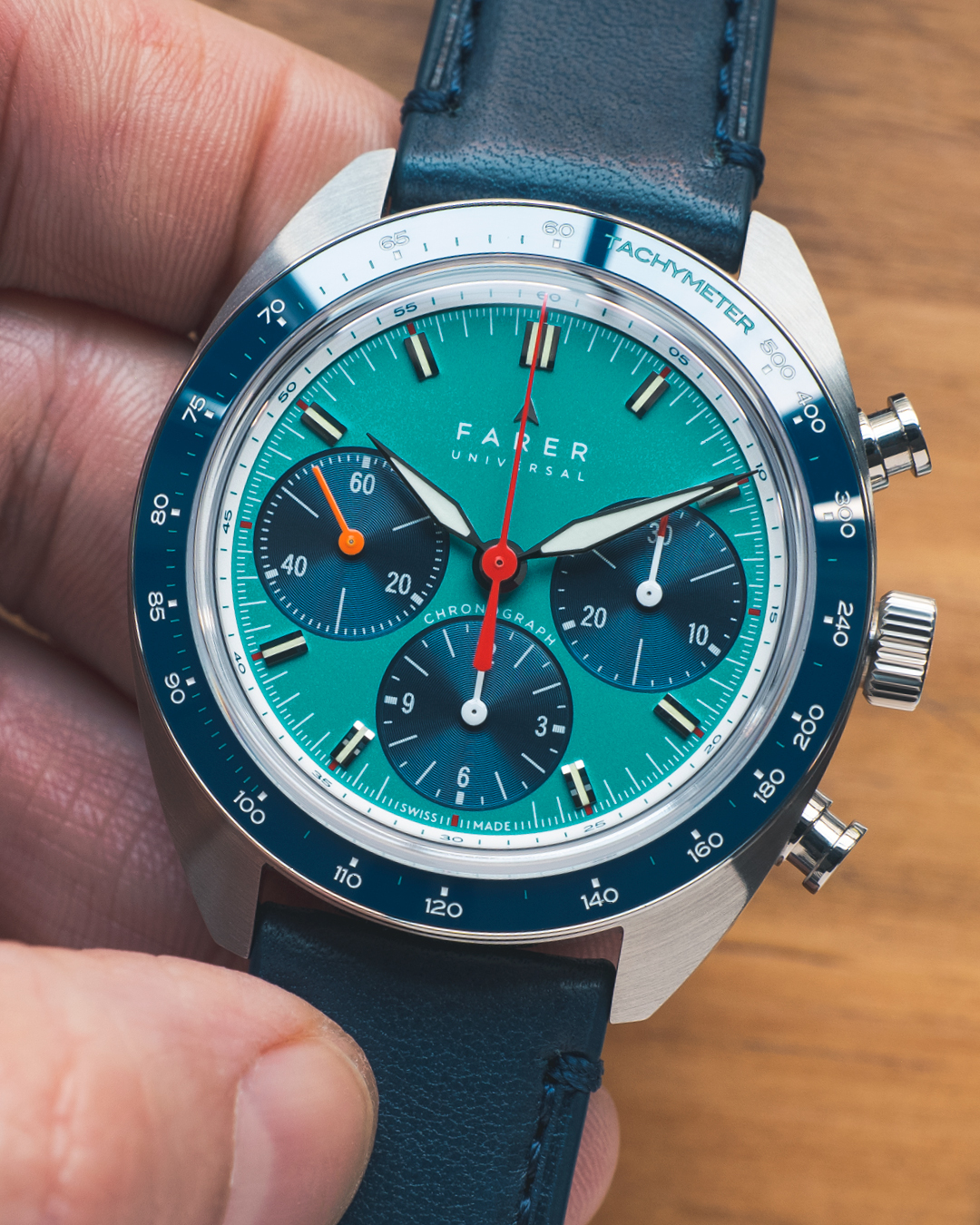 But by gosh, golly, whatever your chosen British expletive is – Farer's latest entries in the chronograph game play straight into what it initially, and ambitiously, set out to offer watch lovers around the world. For those not yet au fait, Farer's inception was a consequence of an amalgamation of a positive and a negative; a passion for vintage timepieces and a frustration at an overpriced watch market. They say opposites attract and ever since 2015, Farer's raison d'être has been to breathe vibrancy and new energy into not just British watchmaking, no, its sexy pieces are being heralded the world over.
Whatever industry or line of work you are in, it's easy enough to talk about having fun with what you do, but it's another thing entirely to practise what you preach. That is what you get from the new Carnegie Chronograph Sport, adding colour to an often two-tone category. Don't get me wrong, there are other watch brands out there toying with the pantone book on their chronos, but I count at least five different colour tones on show here. I see your Joseph's techicolour dreamboat and raise my Farer's technicolour dreamboat.
Biblical puns aside, while my eye is drawn to the rich matte teal dial set again the triple-threat sub dial layout in blue sunray finish, it's the racing red 60-second chronograph hand that really hints to its racy inspiration – namely the iconic and infamous Bernina Gran Turismo race that terrorises the Swiss Alps' slaloming roads, because we all know Farer doesn't half love an adventure.
By its very nature, the watch's design feels retro and translates as fresh, modern and adventurous. But given Farer's history of selling out previous chrono sports collections in a matter of minutes upon release, gathering any more intel on this piece might feel like we're rubbing your noses in the fact you've missed out of getting hold of such a piece. If you're a sucker for punishment though and are really in it for the love of horology, then stay put.
The Carnegie measures in at 41mm (44mm-lug-to lug) in marine-grade stainless steel with a standard depth of 11mm (12.9mm if you factor in the domed crystal). The bezel is aesthetically pleasing to the eye and touch, and being ceramic adds extra durability and sturdy qualities to a watch that will want to be worn and should demand some action.
The polished steel baton hour markers are filled with Super-LumiNova that adds lights to the camera and action of this piece, and white and orange sub-dial point hands account for the fourth and fifth colours I clocked up.
A Swiss-made Sellita SW510 BH Elaboré grade manual movement resides inside to keep everything ticking along, elegantly on show through the flat sapphire crystal case back, with an impressive 58 hours power reserve – which is no wind up, that's legit. Lastly, if you don't have any St Venere leather in your watch storage then look no further than this sports perforated strap with 316L stainless steel buckle fastening.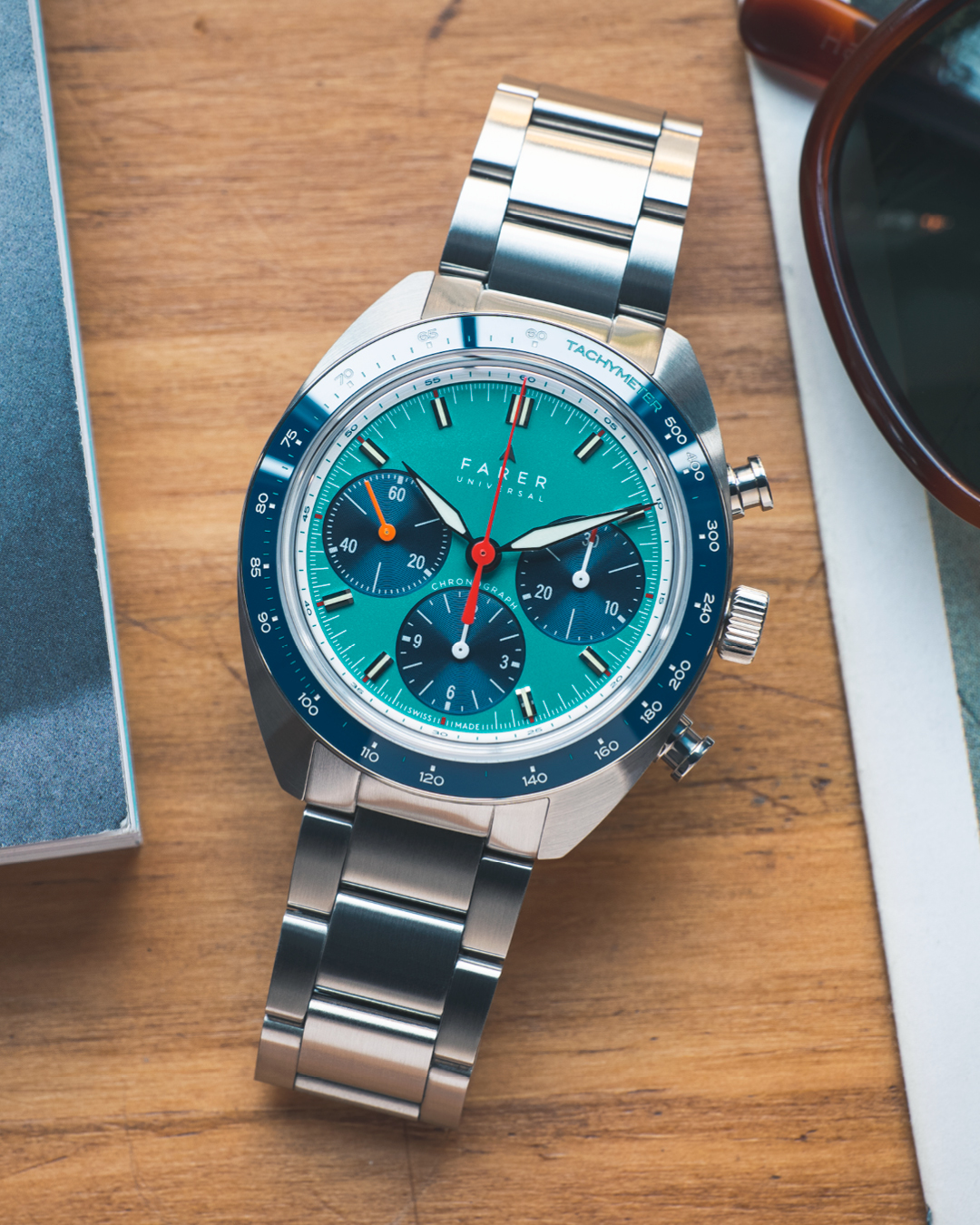 Farer's other model release is worthy of a shoutout too – drumroll, the Bernina is back after its debut in 2019 but we'll leave you to draw conclusions on what its dubbed "Farer at its boldest."
The Farer Carnegie Chronograph Sport, price and availability:
The Farer Carnegie Chronograph Sport is $1955 USD in steel. For more details, visit farer.com