Editor's note: Not everything in the watch world has to be same-samey. And the Farer Aqua Compressor Hecla is a great example of that. It's got two crowns, a big, cushiony case and style for days. If left-of-centre is your thing, you'll want to have a read of Andy's review …
A parcel recently landed on my desk. It had made the journey all the way from the United Kingdom, and it contained two pieces from British microbrand Farer Universal. Launched earlier this year, these models made waves with their colourful dials and brightly accentuated designs. So when the opportunity arose to test drive a piece, just in time for the Australian summer, I dived right in and put the Farer Universal Aqua Compressor Hecla through its paces.
The first thing I noticed was — of course — the striking blue floating dial, with a wave-cut pattern, which changed gradients with the shadows. It was the perfect base for the raised polished numerals, which added some nice sophistication to the dial. In terms of legibility, we have the extra-large handset, with white Super-LumiNova — a great colour choice given the rich blue dial. A final touch: a warm and bright yellow Farer logo arrow tip on the seconds hand.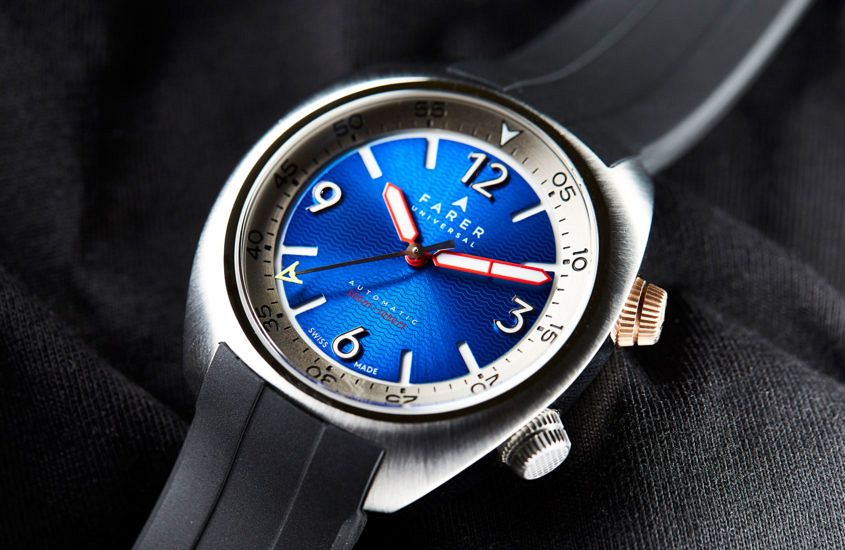 On the case, it's shaped a little differently to your standard dive watches. The curves are a little more accentuated, giving it somewhat of an elongated shape. Aesthetically, it looks a little bit unusual when not being worn, and gives the perception that it's much larger than it is. After all, at 41.5mm in diameter, the Hecla is well and truly in the realm of appropriately sized divers.
Flip the Hecla over, and you'll see a clear caseback, showing off a slightly decorated, reliable ETA 2824-2 powering the watch. In line with the ocean tide motif on the dial, the rotor has been neatly engraved with a wave design. This submersible pattern has also been continued down the underside of the rubber strap. These extra details are a nice touch, and are usually ignored at this price point.
On wearability, the Aqua Compressor feels comfortable; the rubber strap is soft and hugs the wrist nicely. It's also not bulky, like I was expecting it to be. Although, being so bright and colourful, you won't catch me wearing this one around the office. It's very much a weekender.
If I could change anything, I think it'd be the internal rotating dive bezel, which was a little tough to use. Overall, both crowns were on the stiffer side, and at this price point I'd like to see that ironed out. I'm not a massive fan of internal bezels, but if you're going to have one, I want it to work perfectly for functionality.
All things considered, this is a great contender for your next summer watch. From a functional perspective, it's got everything you need. A no-fuss rubber strap, more than adequate water resistance, and great legibility. From a design perspective, it's bright, fun and colourful — without being obnoxious. Considering the price, and what you get, the Hecla represents some solid value for money, and something to consider if you're looking for a new sports watch, and not wanting to break the bank.
Named after the HMS Hecla, a British Royal Navy bomb vessel, the Aqua Compressor represents good bang for your buck, and is priced at £1095 (a touch under $2000 AUD). The entire Farer Universal collection is available here.