6 fabulous rainbow watches released in 2020, from $180 – $5000+
Zach Blass
When you hear about rainbow watches, you are typically presented with very high-cost luxury pieces that incorporate lustrous coloured gemstones that impose a very high premium on top of already pricey precious watches. Upon closer inspection, there are actually more rainbow options than you would think – affordable options at that. Here are six fabulous rainbow watches that won't necessarily break the bank.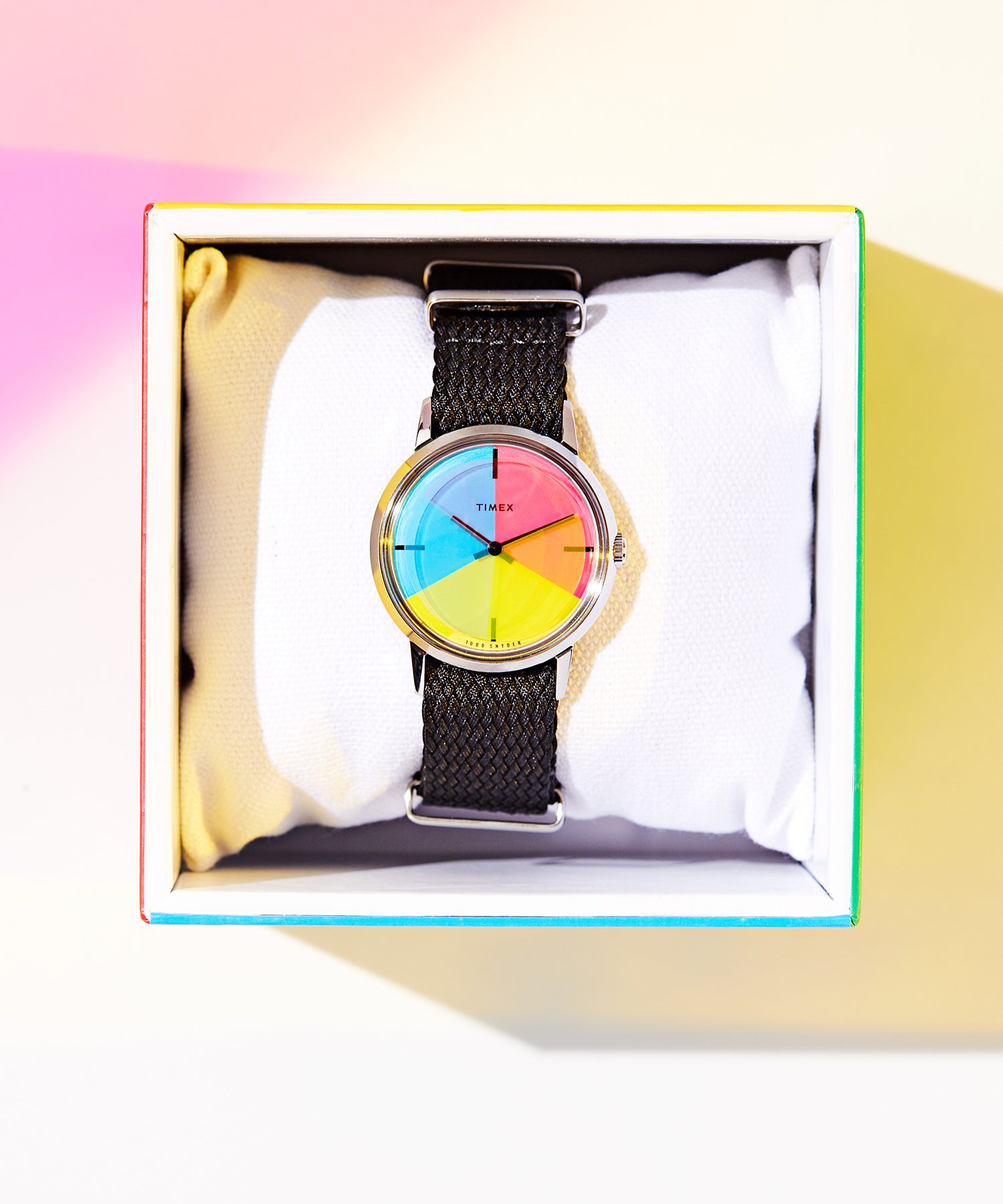 Timex + Todd Snyder Pride Watch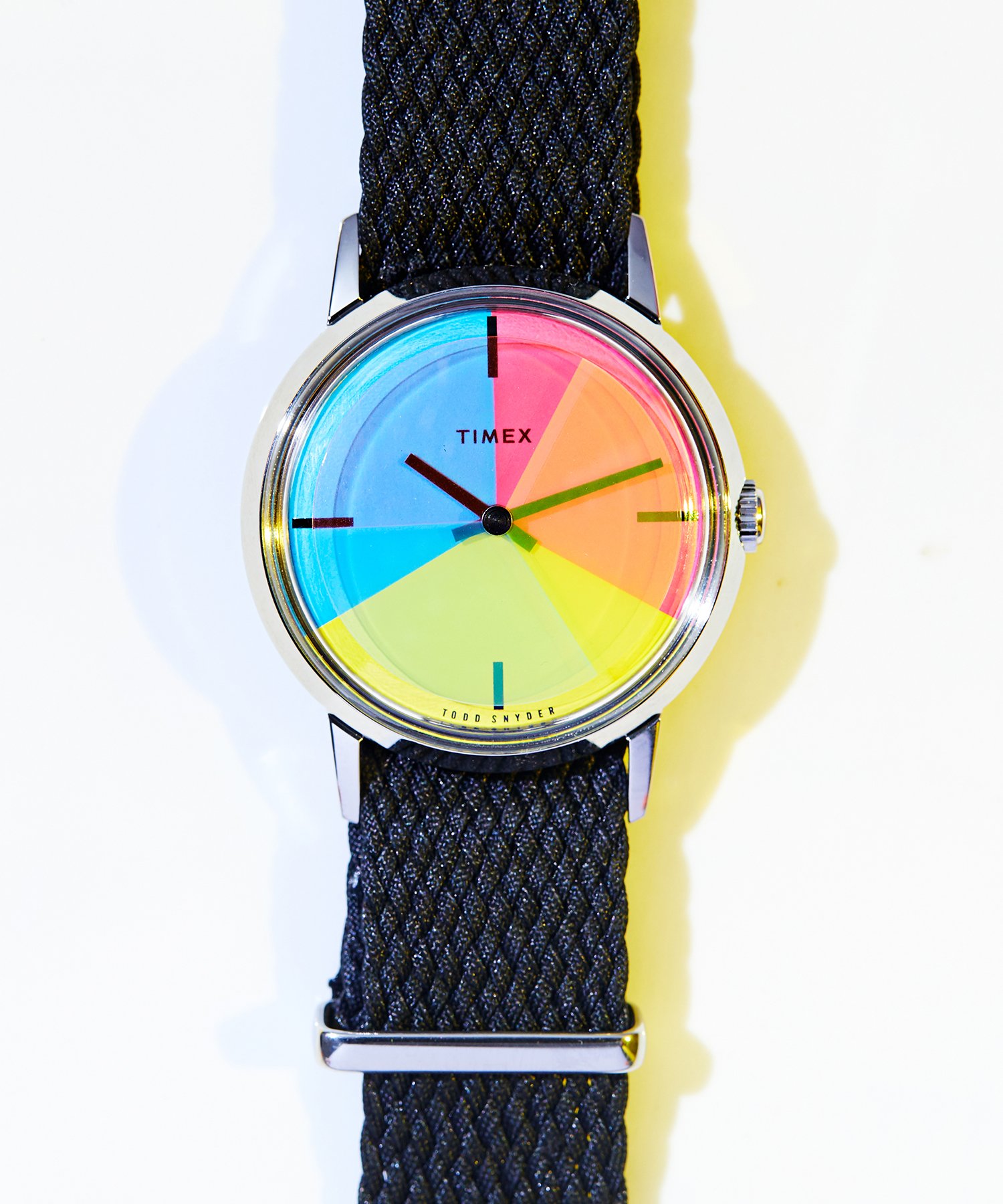 Todd Snyder and Timex have teamed up to create arguably the best value proposition in rainbow watches. The Pride Watch is a nod to the time when the Gay Rights Movement adopted artist Gilbert Baker's Rainbow Flag as its banner. Here is where things get even more interesting. According to the product page on Todd Snyder's website, "Like a colour wheel in which three primary colours (red, blue and yellow) mix to create an array of different shades, the Pride Watch is composed of three rotating coloured discs. As the time changes and the discs interact, the wearer can look through the crystal and literally see the shades change." That, in and of itself, is a unique and rare complication, and this mechanically powered manual-wind watch is only $199 USD. Kind of insane when you think about the value proposition it presents. At 34mm, this watch can pretty much be worn by anyone, of any identity. As an added bonus, in partnership with Timex, Todd Snyder will be donating $10,000 from the sales of the limited "Art of Pride" watch to be split between the Sylvia Rivera Law Project and Rainbow Railroad Foundation.
The Vollebak Garbage Watch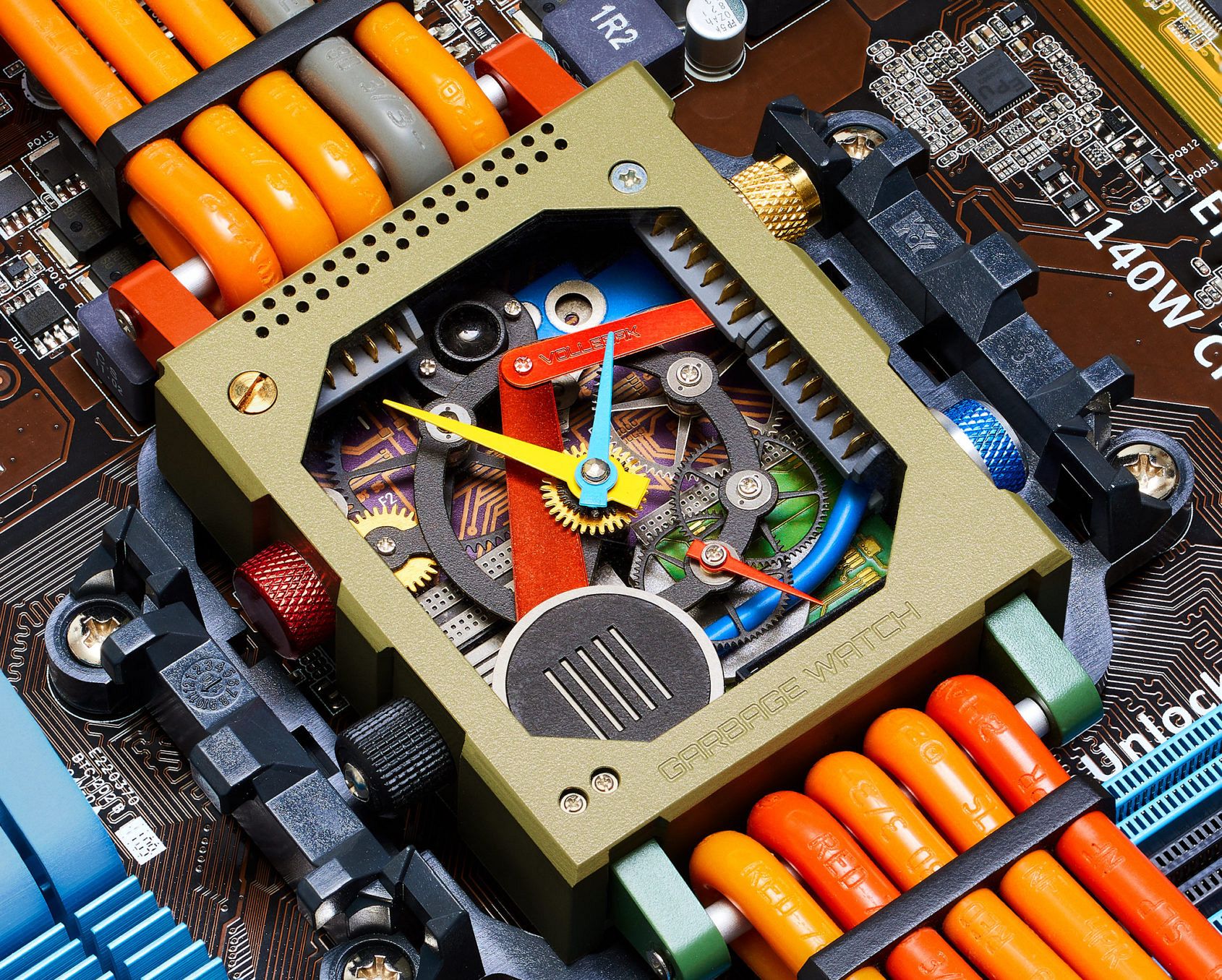 While not billed as a rainbow watch, The Garbage Watch is a rainbow-coloured hodgepodge that somehow comes together due to the watch's theme. Utilising recycled consumer electronic components — which generate tonnes and tonnes of waste each year — Vollebak, in collaboration with Re-Made, has repurposed these discarded components to create a rather artistic and environmentally conscious statement for the wrist. While not necessarily in line with everyone's taste, it is an admirable endeavour that has resulted in one of the most unique watches ever made. Vollebak is currently accepting emails for their waitlist, with the watch being released sometime in 2021.
Casio A1000RBW-1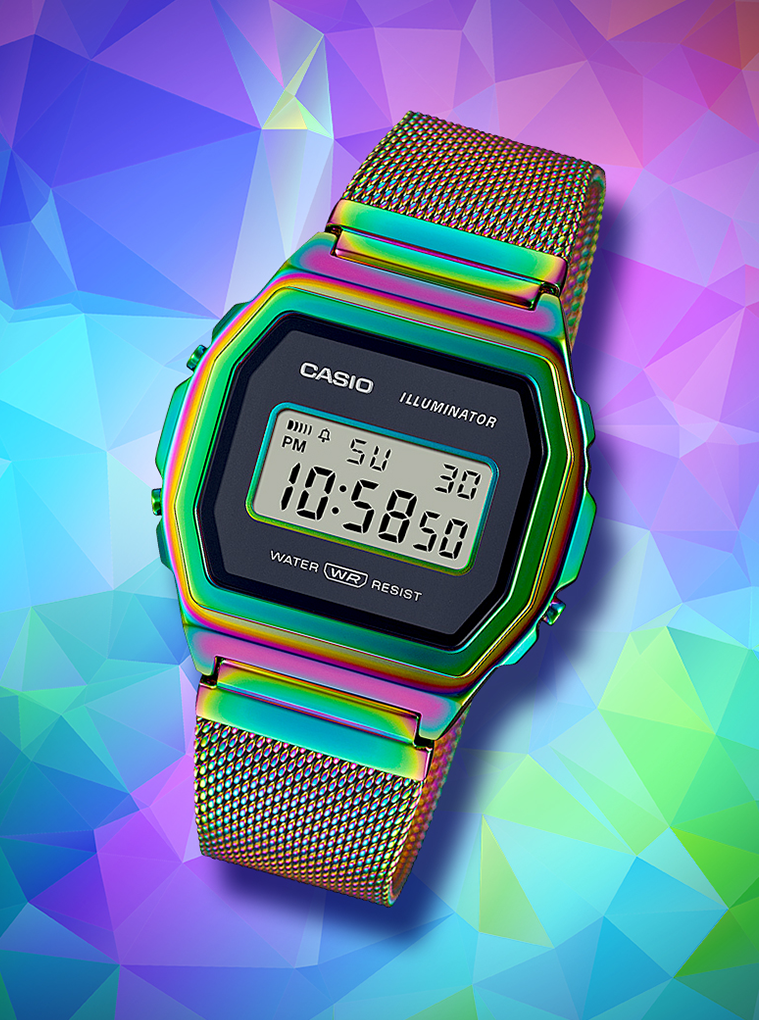 The Limited Edition Casio A1000RBW-1 vintage watch is a hassle-free daily wearer. This particular take on the module leverages a rainbow IP coating on the band and case to make this watch really pop. Additional features include daily alarm and super LED light for low-light visibility. For $180 USD, the watch is an affordable way to inject colour into your collection.
G-Shock GM110RB-2A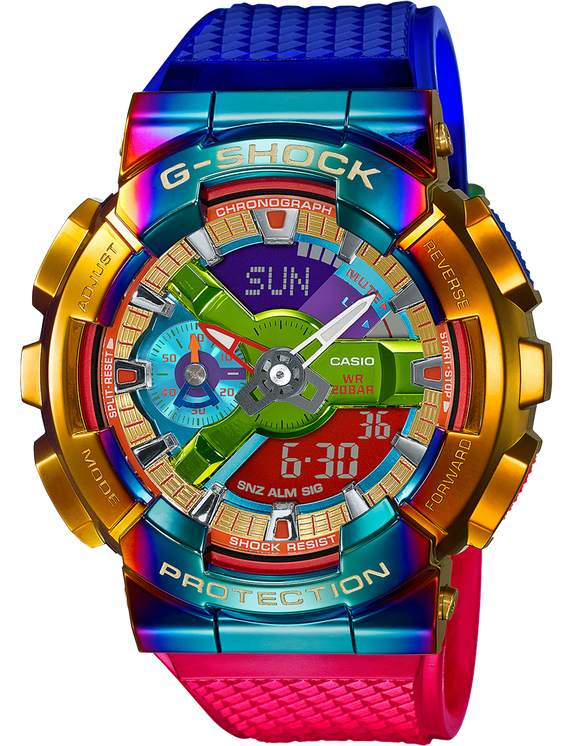 If the above Casio seems a little to dainty for your taste, don't worry … G-Shock has got you covered. The G-Shock GM110RB-2A is a bold, beefy and beautiful piece of rainbow wrist wear. Each piece is unique in a way, as the industrial process utilised to create the colour is never the same with each model – causing subtle but distinct variations to the colour of each watch bezel produced. Its case size may seem intimidating, but its listed dimensions of 51.9×48.8×16.9mm means that the vertical length of the watch is actually in line with watches such as the Omega Speedmaster and Rolex Submariner. The wearer gets the best of both worlds with this watch, having both an analogue display as well as digital with all the features consumers have come to love with G-Shock creations. So how much do you need to cough up for this beautiful beast? $280 USD.
Mido Ocean Star Decompression Timer 1961 Limited Edition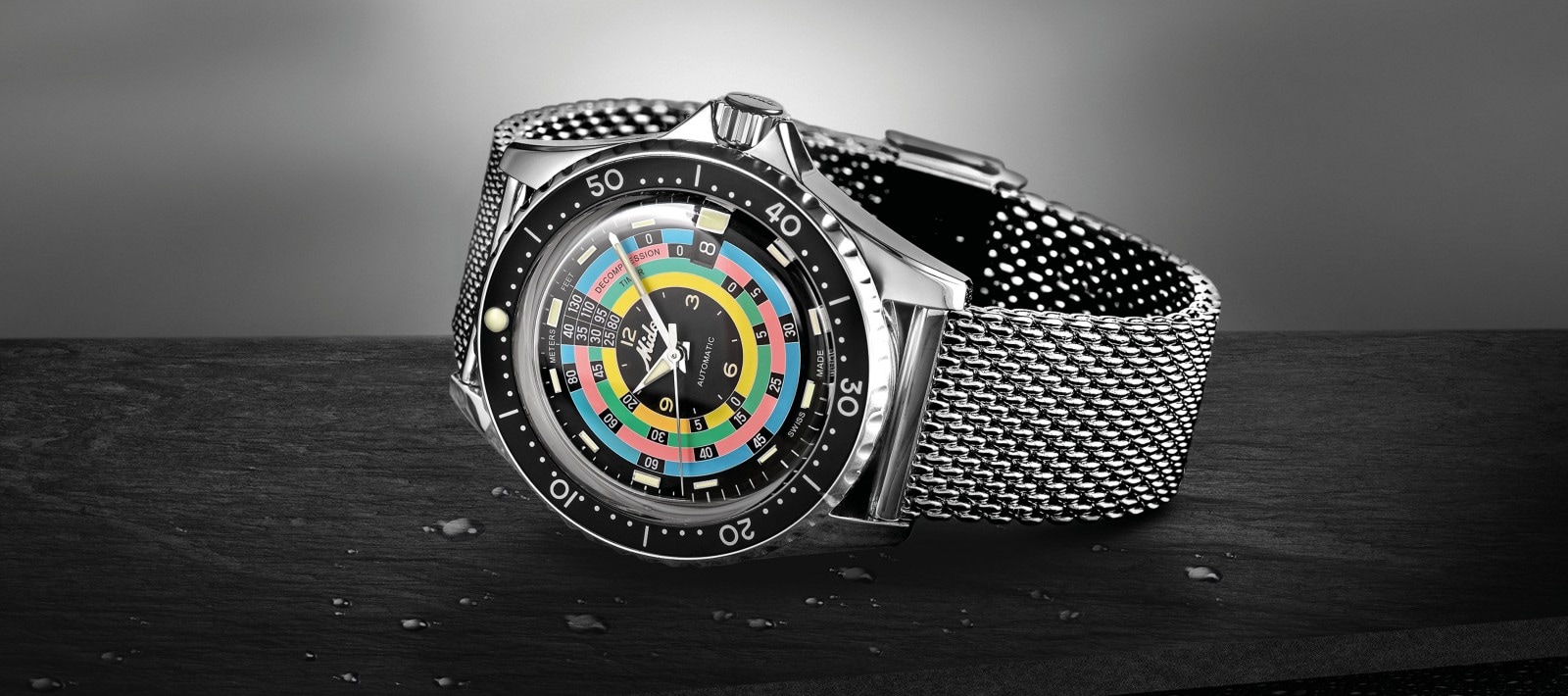 OK, now we are going to go up in price a bit, at $1,250 USD, but there is still a lot of value to be had here. The Mido Ocean Star Decompression Timer 1961 Limited Edition is a solid and subtle take on the rainbow aesthetic. Inspired by the Ocean Star Skin Diver Watch, a popular Mido diver from the 1960s, Mido has tastefully modernised the watch with a 'glassbox'-style sapphire crystal and with its Caliber 80 movement that provides a whopping 80 hours of power reserve (take that, Rolex!). The rainbow aspect of the dial is not actually meant to be playful, it actually means business. The dial configuration serves as a highly legible precious diving tool through its multicoloured display of decompression stops on the dial. The watch also features a rotating bezel with countdown timer. Each model comes with three easily interchangeable strap options that allow the wearer to keep the watch aesthetic fresh.
Breitling Superocean Heritage '57 Limited Edition
Even more proof that less can be more, Breitling injects a hint of rainbow fun into its prestigious Superocean '57 lineup with its recent limited edition. At $5025 USD, this is the most expensive watch included in this list – but that does not mean it does not present good value. Priced in line with its standard production peers, this limited edition is a great way to add a bit of fun to a watch you may have already been considering for your collection. It is under-the-radar rainbow fun that does not necessarily peacock as much as the other watches listed above. That being said, it is a tasteful take on a heritage-driven collection that presents a fun aspect of play to a typically more tame lineup.
Final thoughts on fabulous rainbow watches
The above watches are proof that you don't have to enter the world of precious gemstones and materials to add some rainbow fun to your collection. They are also proof that rainbow does not have to be a uniform look. Instead, it can be a dynamic injection of play and fun that varies from subtle to sensational rainbow.