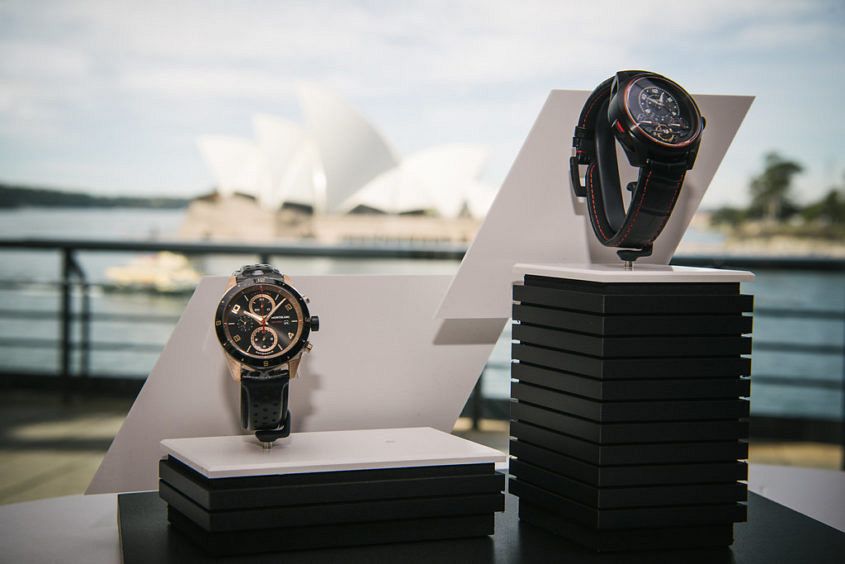 Last week, with Sydney turning on weather that thawed the cold, cold hearts of all Melbourne people present, Montblanc hosted a lunch at Quay Restaurant to launch the new 're-tooled' TimeWalker. The intimate event combined fine dining, fun storytelling, and a wide range of watches – from accessible new TimeWalker models to the extremely limited Rally Timer. The entirely hand-fashioned Minerva movement, visible through the caseback, drew audible gasps from the watch-aware in the audience, and looks of curiosity from those to whom the intricate movement architecture just looked pretty.
It all took place in a location that is about as Australian as it gets – with a 180-degree view of the Bridge, the glittering Sydney Harbour and the Opera House. Look, let me not feign surprise, we make regular visits to this most spectacular of the world's stages, but even still, wow, Sydney, you outdid yourself this time.
While the day was divine, to begin, Montblanc GM Randall Foote went back in time. He described the connection between Minerva and Montblanc and why the somewhat mythical manufacturer and chronograph-maker, which has been continually producing watches since 1858, is beginning to radically reshape Montblanc's watch collections in terms of their movements, their designs and their backstories.
"A lot of people are trying to understand the connection between Minerva and Montblanc," Randall said. "We acquired Minerva in 2006. We were determined as a young watchmaking brand that had started in 1996 to bolster our heritage and our tradition. Minerva gave us that. In the time that Minerva has been part of the Montblanc group, we've come to realise that the huge heritage that comes with continuously producing watches since 1858 – and Minerva is one of the very few brands to be able to claim that – makes them the guardians of our traditional values in watchmaking. For the first time, we've been able to overcome the challenges and have a product line that combines both manufactures – TimeWalker Sport is really the new representation of that harmony between Montblanc and Minerva."
Montblanc chose three watches to represent this important nexus and also to show the different degrees of heritage and modernity that exist in the latest product, which could be said to span "from 1858 to 2017", starting with the Rally Timer. Randall explained.
"Making a Rally Timer takes around about four and a half months. A lot of painstaking polishing and cutting and fine tuning. It's a limited edition of 100 pieces, created at Minerva Manufacture in Villeret. It is the emotional interpretation of the type of watch that timed Grands Prix, Olympics, all kinds of sporting events from the 1930s — when people competing against each other and against time were heroes.
"This heroism we believe really shines through this product. This piece here is completely unique, completely handmade. The second piece is the ExoTourbillon, which is a blend between technology and classic watchmaking – the tourbillon is made in Villeret, then it's sent to Le Locle for assembly, then it's sent back to Villeret for final sign-off. Because it contains something very traditional, only Villeret can sign off on it. Does it meet the code, does it meet the standard? It's really not about producing as many as possible, it's about maintaining that heritage. The final evolution at the end there is the TimeWalker Chronograph Automatic in red gold which is completely made in Le Locle – you've got this arc from that travels from 1858 to 2017 through these three pieces."
Leon Mervis, Managing Director, Montblanc Australia, joined the conversation, too: "Where Minerva shined the most going into the beginning of last century was producing chronographs. Minerva innovated a lot of the early chronograph techniques and ways of manufacturing watches. By 1910, 1911, the brand had already produced the first fifth of a second, and then very quickly a year later produced the first tenth of a second chronograph. This was huge. It was mind-breaking at the time. By the 1930s we'd produced a 100th of a second chronograph. And there lies the connection between Minerva heritage and this vintage sport style that's shining through in the new TimeWalker."