There is something invisible about sponsor branding at a sporting event, despite its ubiquity. It rings the field of play, it's on sleeves, bats, rackets, hats; it's flashed at you from every possible LCD screen to the point where you become completely unaware of it. Ads, what ads? Brands, what brands?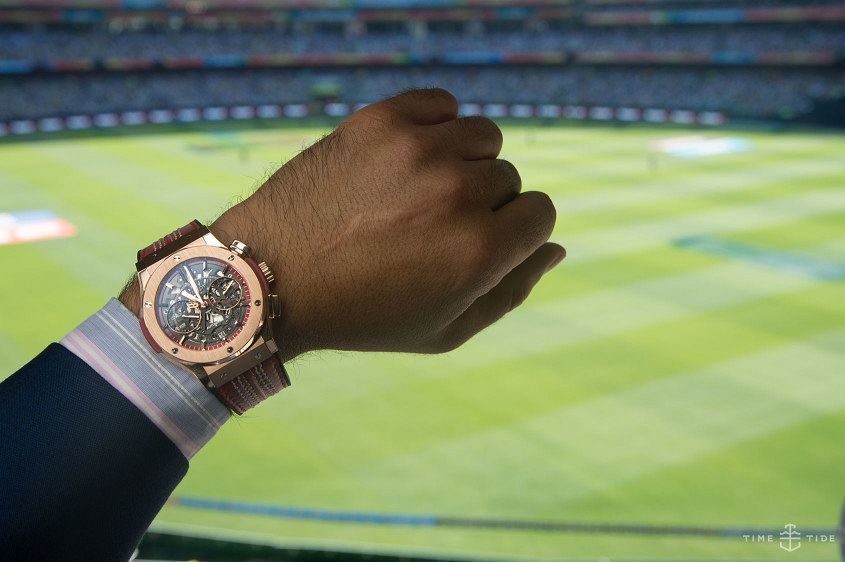 Which is why the effect of seeing the HUBLOT – pronounced 'ooh-blow', not 'hub-lot' – branding above the giant scoreboards at the 'G' at the opening match of the World Cup Cricket Final was a surprise.
It's a pretty standard logo. White text on a black background, all capitals, with the Hublot symbol to the right. Granted this might be the watch obsession factor, but seeing it there for the first time had some impact: Hublot and cricket. A Swiss watch brand emblazoned above my game, our game….
Cricket, this game that combines defending yourself from 150km/h missiles and then, in the next innings, hurling them. Hublot, this inimitably brash watch brand that singlehandedly put sex, testosterone and power back on the agenda when they launched the Big Bang in 2005.
Cricket with its powerful batsmen bashing balls 100m back into stands packed full of people. Hublot with its range of watches with power actually in the title, such as King Power to name but one…
Cricket, this required mix of brute force and elegant craftsmanship in a stroke, or delivery. Half of Australia's runs in this game were scored from boundaries. So were England's, remarkably, considering they were thrashed. There was power hitting all round. Hublot, this unlikely mix of robust construction and design with delicate fine watchmaking inside the case.
So, Hublot and cricket. Loud, proud and making perfect sense as a match made in power and in the fact that both the sport and the watchmaker combine force with finesse.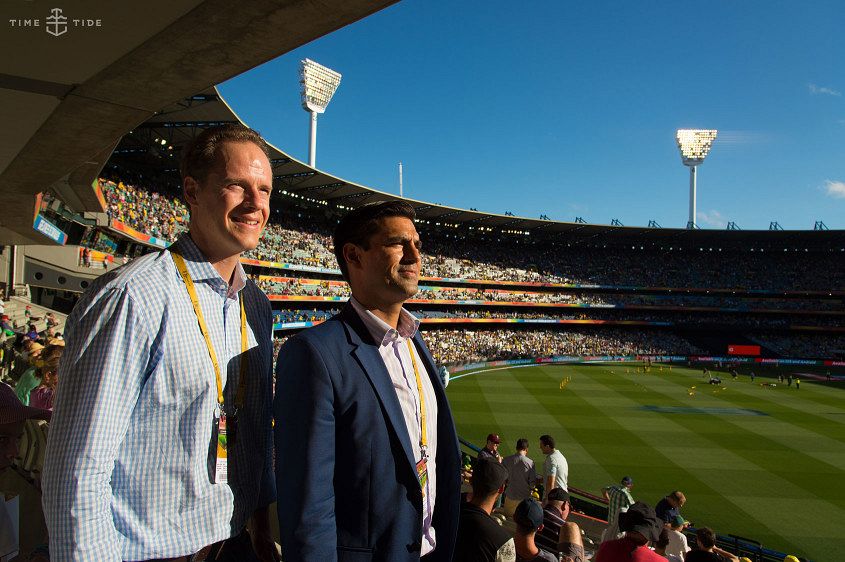 The ambassador for the new partnership is our very own 'pup' Michael Clarke. Our hosts today in the Hublot box were Hublot Brand Manager (Aus & NZ) Joel Ruiz and Hublot Product and Purchasing Director, Raphael Nussbaumer. To Team Hublot's credit there was a valiant attempt over the course of the game to understand the rules. Raphael in particular was quickly enthralled. He whooped at the right time, and learned the hand gesture for a 'four', which was handy when Aaron Finch was at the crease. He smashed 135 runs, the second highest score by a batsmen against England in a one day game.
The truth is not many Australians are yet aware of this well suited couple, but soon they will be. Especially if we win the World Cup. I mean, when we win the World Cup.