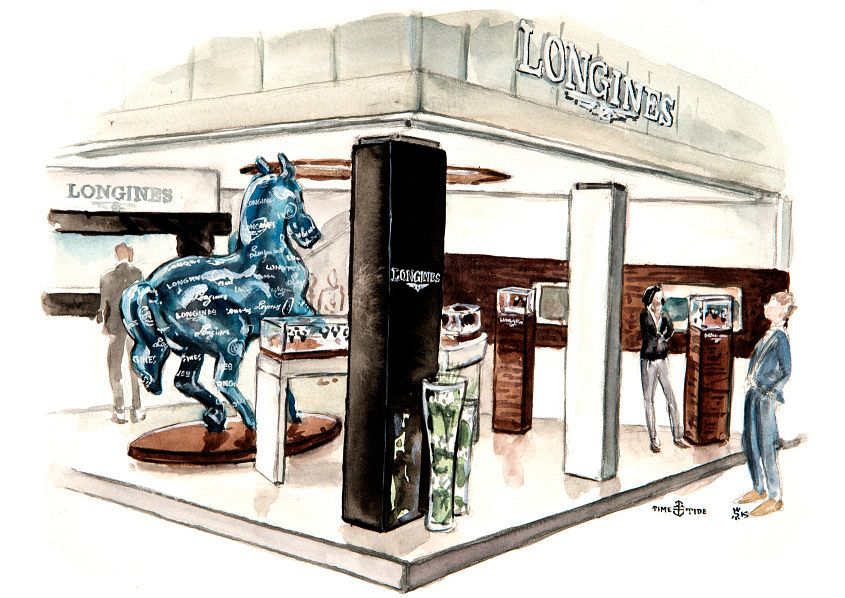 Hello. My name is Sunflowerman and I was raised in Grand Rapids, Michigan. This week I am stationed in Basel, Switzerland. My work at the Baselworld fair also happens to be my passion in life; painting people, painting places and for the first time, painting watches for Longines, a watchmaker I was introduced to by my friends at Time+Tide. They will write the reviews, as normal, but rather than photographs of the watches, I am going to paint them.
I'm not a complete novice when it comes to timepieces – but I have to admit, when I set foot inside the halls of Baselworld yesterday for the first time it was beyond eye opening. I was prepared for watches. I was prepared for grandeur and grandiosity. I wasn't prepared for the crowd to be quite so large, or so elegant.
I also wasn't expecting the giant horse in the Longines booth. This mighty steed was different to the Texan ponies I'm familiar with. For one thing it's blue. But as I'm coming to learn, you expect the unexpected at Baselworld.
The name of the collaboration is The Longines Watercolour Watch Project. The goal is to show the world of watches the way Longines sees it. Which is through a similar nostalgic filter to mine. Life looks better in watercolour. Its our shared belief that watches do too.
As for what to expect over the next five days, there will be timepieces, there will be menswear illustrations and there will be a few surprises. I can promise you that.
For a behind the scenes look at the Longines Watercolour Watch Project, I'm writing a regular diary on my site.