CELEBRITY WATCH DEATH MATCH: Ellen DeGeneres Vs. Trevor Noah, a toe-to-toe bout inc. Rolex, AP and Patek
James Robinson
Ring the bell, Celebrity Watch Death Match is back for another round of mayhem, and this time we're squaring off two of Tinseltown's most talented anchors, both of whom demonstrate an aficionado's taste in timepieces – Ellen DeGeneres and Trevor Noah. These talk show hosts are known for interviewing some of the world's biggest celebrities each and every week, and in doing so they've become mega-celebrities themselves.
However, for watch lovers, the real rockstars of both their shows are the ones attached to their left wrists. To make this a fair fight, we've designed each round to feature a single brand: Rolex, Audemars Piguet and Patek Philippe respectively. And we've limited it to a high-octane three-round battle. This could have gone deep into the twelfth, but we figured this ought to get it done. Who will win out in this war of the watches? There's only one way to find out:
Daily Beater
Ellen DeGeneres – Rolex GMT-Master II Ref. 116718LN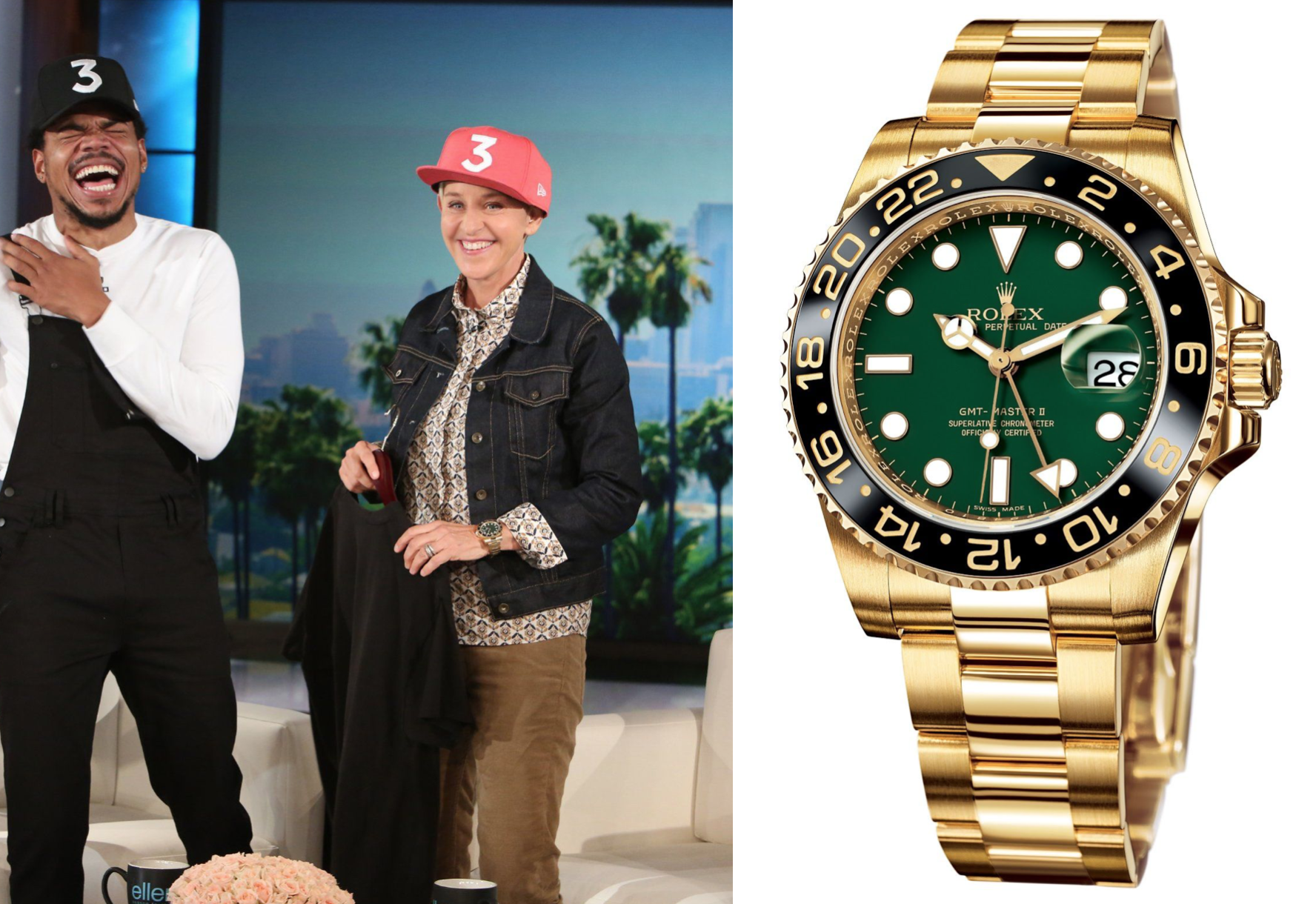 Wow, talk about a first round thwack from Ellen … it's a green and gold gut punch. Aside from this watch looking drop-dead gorgeous thanks to its arresting combo of solid 18k yellow gold case and contrasting green dial, this particular GMT-Master II is responsible for ushering in a new era for almost all Rolex professional models. Released at Baselworld (RIP) in 2005, Ref. 116718LN with "anniversary" green dial was the first sports Rolex to utilise the new "maxi" or "super" oyster case, the first to use a Cerachrom (ceramic) bezel and the first GMT ever to use the larger "maxi" dial. Historically, it's a very important watch, and it might well be the best looking iteration of the iconic moniker created, period. Ellen has definitely caught the attention of the scorers early.
Trevor Noah – Rolex GMT-Master II Ref. 126715CHNR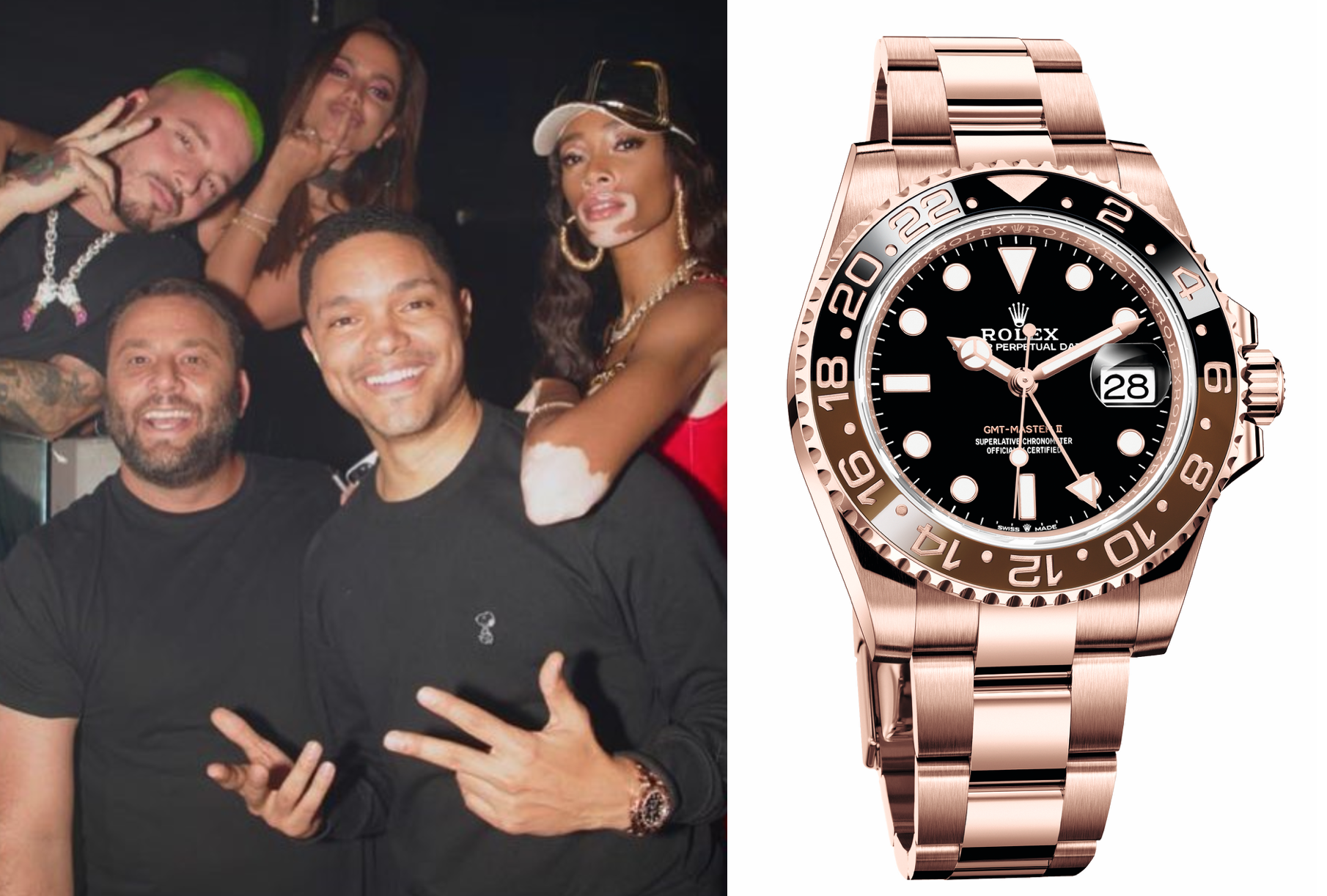 Well, I think we all now know what Noah's favourite sickly sweet, carbonated beverage is. That's right, we're talkin' Root Beer, baby! Easily the hottest offering from the current array of GMT-Master IIs, this solid 18k Everose pilot's watch is bubblier than the brown liquid it's named after. And, unlike DeGeneres's green goblin, this variant of the famous namesake is powered by the newer, superior manufacture Calibre 3285 movement. Couple this technical superiority with the funky black and brown ceramic bezel, and there's no denying that Noah is in with a shot of taking out the first round.
Verdict – Ellen's Rolex GMT-Master II Ref. 116718LN (The historical importance and gorgeous green dial are an unbeatable combination)
Weekend Warrior 
Ellen DeGeneres – Audemars Piguet Royal Oak Dual Time Ref.26120ST.OO.1220ST.03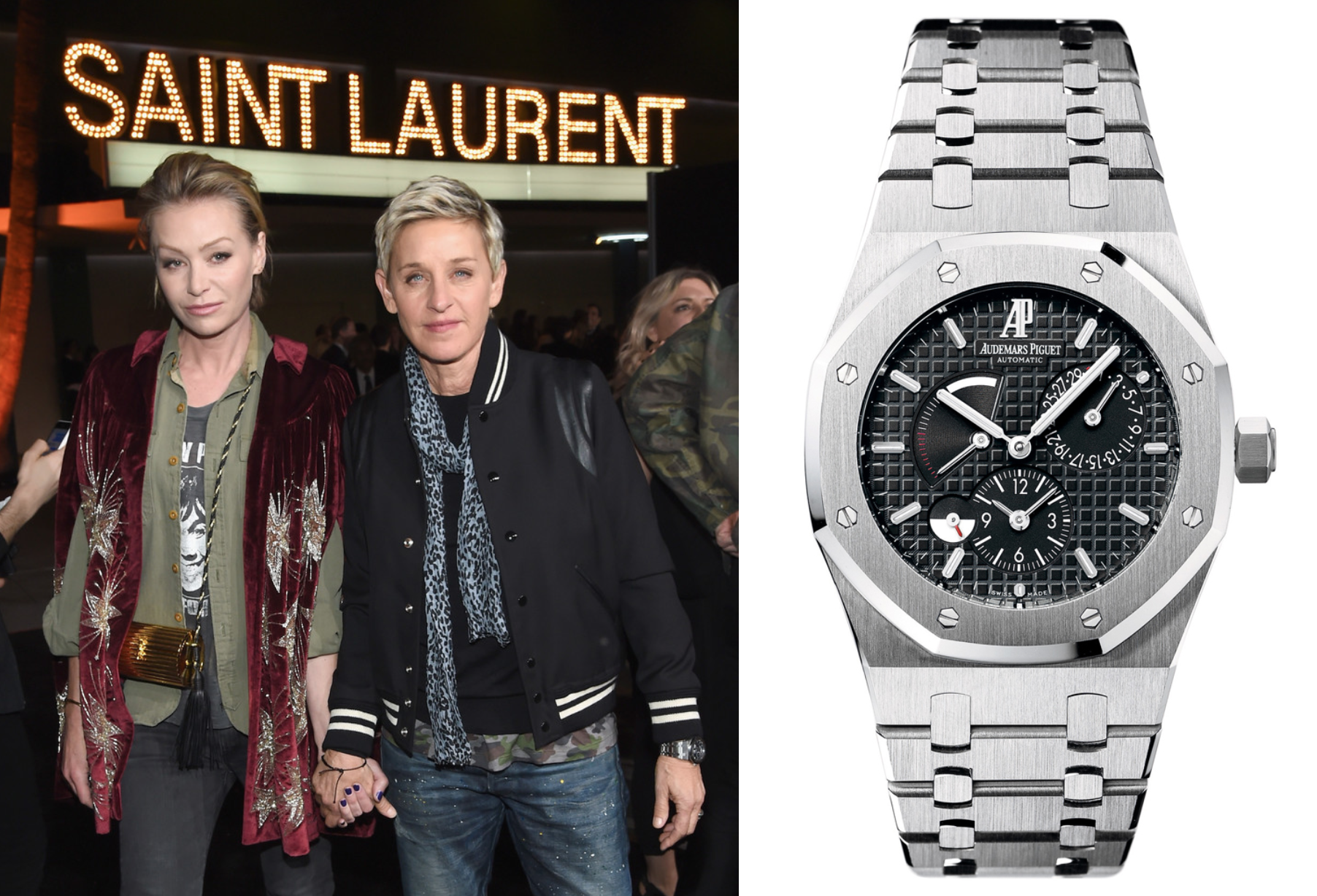 One of the overriding takeaways from DeGeneres's watch collection when you start to dig into it is her sense of taste. It is faultless. I don't think I've ever seen her wearing a watch that isn't sought after by connoisseurs. Take this AP Royal Oak Dual Time, for example. At 39mm, the now discontinued stainless steel stunner is to watch enthusiasts what Goldilocks' porridge was to a family of bears – juuuuuuuuust right. Not too big, not too small, just bang on. It's a shame that AP has, for the most part, moved away from this size for fabled Royal Oak, it really does suit it well. DeGeneres has been spotted wearing this black-dialled beauty out and about on several occasions, and as weekend watches go, it don't get much better.
Trevor Noah – Audemars Piguet Royal Oak Perpetual Calendar Ref.26579CB.OO.1225CB.01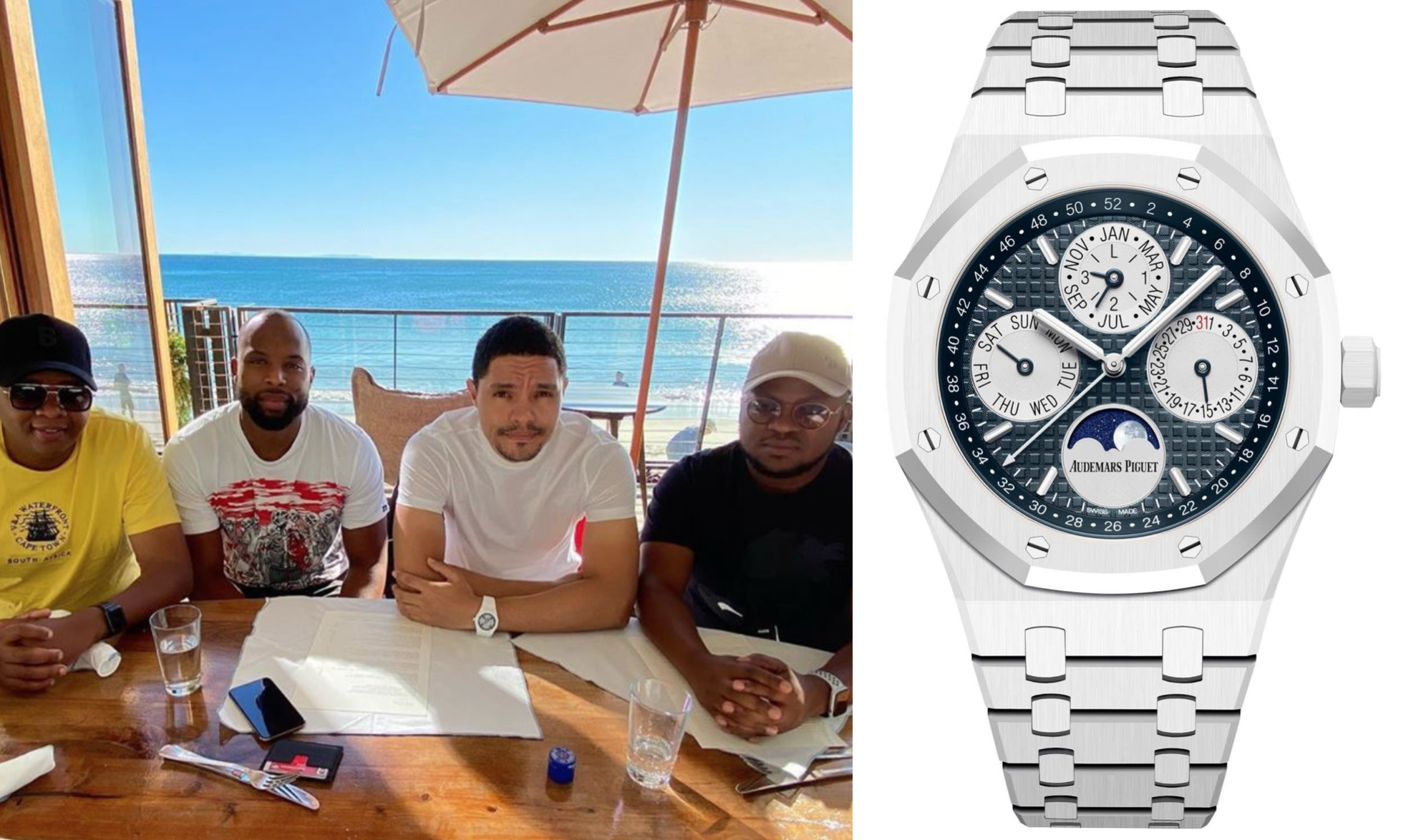 You know how I just said "it don't get much better"? … Well, it just did. I was genuinely surprised when I caught a glimpse of Noah wearing this wondrous, all-white, all-ceramic variant of the Royal Oak – despite its milky complexion, it could be one of the spiciest incarnations of the Genta-designed timepiece ever created. And aside from the awesome all-white aesthetic, the sheer levels of haute horology on offer with this timepiece are off the charts. A perpetual calendar movement, ensconced in a sheer polar white ceramic case with integrated bracelet … does it get any cooler? If ever a watch has personified Miami's South Beach, it's this. It's also worth mentioning that these things are rarer than walking down Ocean Drive and not seeing a Lamborghini. Mr Noah, you have exceeded yourself.
Verdict – Trevor Noah's Audemars Piguet Royal Oak Perpetual Calendar Ref.26579CB.OO.1225CB.01 (All white errything and fresh to death) 
Deathblow, the ultimate flex piece:
Ellen DeGeneres – Patek Philippe 5204/1R
Hailing from Patek Philippe's Grand Complications family, the 5204/1R is easily one of the talk show host's flexiest timepieces. The technical mastery of this watch is close to unparalleled, hosting not only a perpetual calendar, but also a split-seconds chronograph. Needless to say, the manufacture calibre CHR 29-535 PS Q is one of the most impressive movements ever created ­– combined with the hand-finished craftsmanship of the case, it's a brute tour de force.
Trevor Noah – Patek Philippe Aquanaut Travel Time Ref. 5650G Advanced Research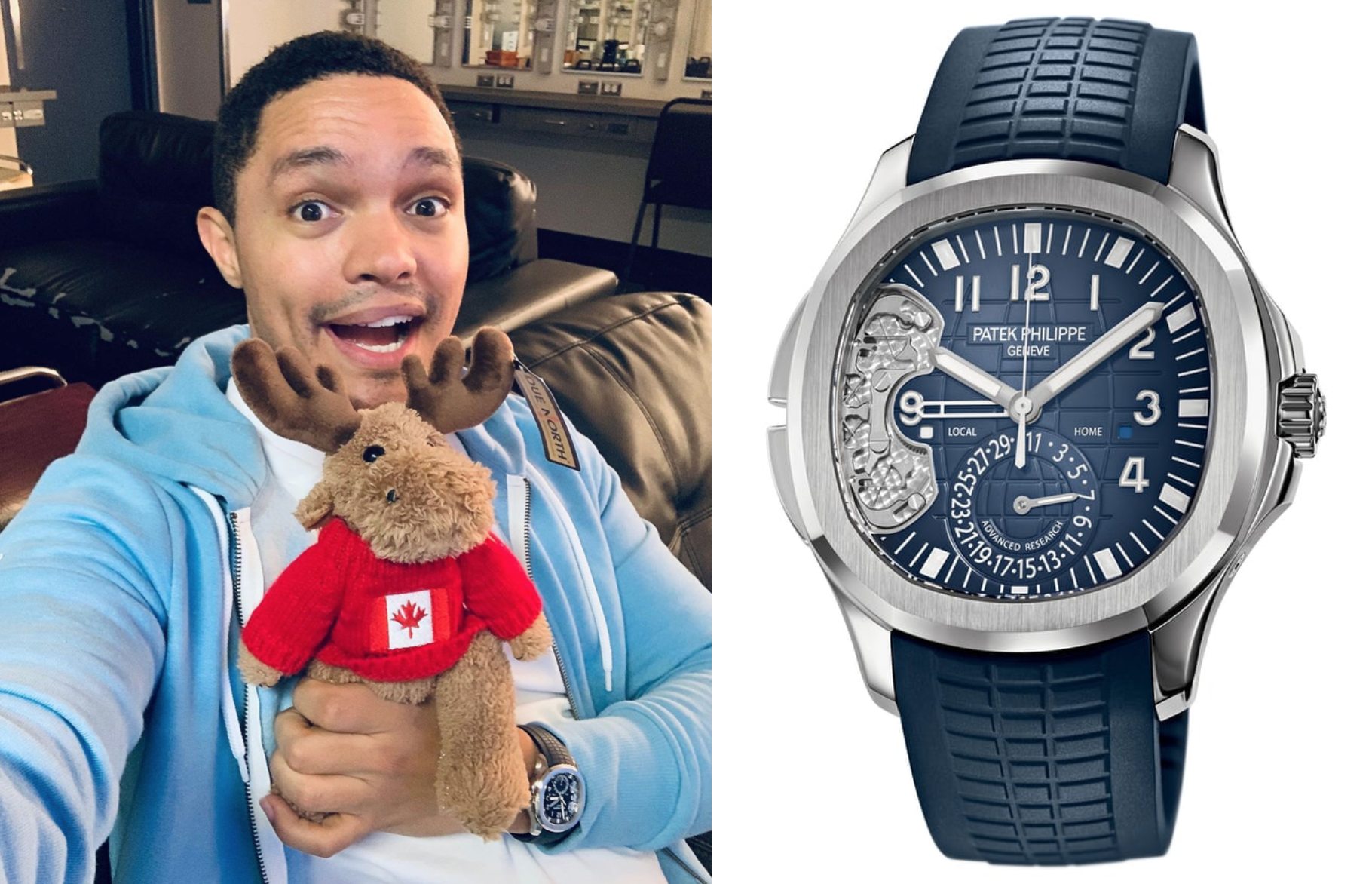 Hot damn! For every jab Ellen lands, Noah has a hook counter strike. This Aquanaut Advanced Research is as contentious as it is valuable. For a start, it is comprised of some silicon components, which is a uncommon in haute horology. And then there's the partial open-worked dial, which is just so out of character for Patek. Regardless of where you stand on the place of a watch like this in Patek's pantheon, just owning this timepiece symbolises Noah's steadfast devotion to the wonderful disease that is watch collecting. It's also a shrewd investment from the South African talk show host if he was able to purchase this Aquanaut at retail, seeing as the RRP was roughly $100,000 AUD when it first came out, and now they trade on the seconds market for around half-a-mill.
Verdict – Trevor Noah's Patek Philippe Aquanaut Travel Time Ref. 5650G Advanced Research (Rules are made to be broken, and this watch does it in the best possible way)
As the ref, I'm calling this one for Trevor, but never has a battle been more subjective and hairs split more finely. So tell us, what do you think? Watch this space for the results, and keep an eye out for our Instagram stories if you want to vote on your picks.