Editor's note: Today we revisit a golden oldie from Andrew that's as relevant today as the day it was penned: how to casually work out if someone's wearing the new Tudor GMT — without looking like a massive creep. We can all learn something here, so read on …
Watch spotting. Don't be shy, we all do it, and with varying levels of sophistication. Some among us are smooth as silk, spotting a watch half a room away, approaching the wearer with a smile and leaving shortly after with a photo, a story and the holy grail – a price. If you're not already that guy, you can be.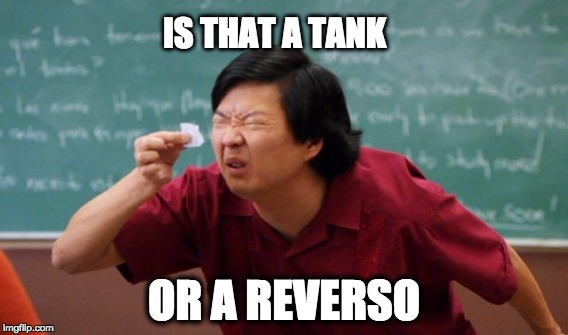 The scenario should be familiar. You're walking down the street with your beloved and you spot a beautiful creature coming towards you. Whatever spins your tourbillon cage – Ryan Gosling's junk, Nicki Minaj's trunk – picture it, and squeeze it into something tight. You look down, sideways, anywhere but in their direction. You squeeze your partner's hand tightly. All of a sudden you become intensely interested in shop displays, the pavement, birds. But at the same time you're sneaking glances, off mirrors, windows, whatever you can. All too soon, the object of your gaze passes you by. Phew. You exhale. Peace is restored to the kingdom. You get ice cream.
Wait. Is this a relationship column? No, dear reader – fellow watch tragic, this advice is for you. Trust me. The skill you are about to learn, once mastered, will help you go to the next level as a watch spotter. Because any person who loves watches knows that the instinct to scope and assess the wrist game of everyone in the room can be overpowering. And once you spot a two-tone bezel under a celebrity, or a stranger's sleeve, the urge to file it as a Rolex GMT-Master II or a Seiko diver is strong.
Sounding like you? Relax. I am here to help and I have broken the advice into three key stages, with Good, Bad and Brilliant real-life examples: Stage 1 is the initial spotting, with extra attention to how not to get caught in the act. Stage 2 is the approach, which is critical, skip straight to here if you're rushed for time. And Stage 3 is the close, which can vary depending on your purposes.
STAGE 1: SPOTTING THE WATCH
THE GOOD: MASTERING THE GLANCE
Let's kick this off by channelling Jerry Seinfeld, who advised George Costanza on the delicate issue of observing cleavage: "Looking at cleavage is like looking at the sun. You don't stare at it, it's too risky. You get a sense of it, then you look away!" Once you've chosen your target – no matter how rich the pickings in your area, start with one – wander closer and try to get a good incidental, but pinpointed glance. No matter how magnetic the draw, or how rare the piece, resist the urge to stare in a way that will arouse suspicions. The best you can hope for from this stage is a good hunch that it's worth progressing to stage two.
THE BAD: STARING IS NOT CARING
Your mama told you staring is rude. It's also just wrong. It can lead to embarrassment at best and a shirt-fronting at worst. So many examples here, because, without my glasses, I have the eyesight of a myopic bat; distinguishing a Royal Oak from an Ingenieur at two metres is never, ever going to happen. While blessed with my dad's bright baby blues, they are largely for show and don't do much, which is why I fail hard at this stage almost daily. Only last week, a woman seated opposite me at an event had either a Jaeger-LeCoultre Reverso or a Cartier Tank on and, without my glasses, all I could do was squint at her wrist from entrée to dessert. Later, when I approached her to resolve the mystery, she flashed not her watch but her wedding ring at me: "Married, sorry!" she said. #watchspotfail So bad. So awkward.
THE BRILLIANT: CATCH THEM WHEN THEY'RE LOOKING AWAY OR ASLEEP
Okay, so to clarify the second bit … Watching a stranger in their sleep only really happens in a few socially or legally acceptable situations. On public transport most mornings on the way to work (there's always one), or on a long-haul flight. There was one flight, from Australia to somewhere (everywhere but Tassie and NZ is a long-haul flight away, let's be honest) where a guy with an IWC Top Gun Big Pilot Perpetual Calendar was seated next to me. With my terrible vision and the low light I had no chance to check it out while he was awake – my guesses ranged from a JLC Master Compressor to a U-Boat or something terrible – but as soon as he was asleep I was able to get a closer look. The four-digit year indicator, amazing! Brilliant maybe, but still creepy? Definitely.
STAGE 2: THE APPROACH
THE GOOD: ADMIT YOUR INTENTIONS
I just pulled off a pretty decent approach, so this is fresh in my mind. It was in a Dan Murphy's bottle shop. The guy serving me was wearing a long-sleeve khaki green shirt but the glimmer of a fluted bezel flashed out when he scanned my purchases. "Do you mind if I ask what watch you're wearing?" I had enough of a sense of it that it was probably a Rolex, probably a Datejust. He pulled his sleeve back proudly: a 36mm two-tone Datejust with gold dial. "It's a 1990 model, I bought it four years ago. One of the best investments I've ever made." The key here is to be open about your intentions from the outset. Tell the target you come in peace; it's watch curiosity is all. The fact is, you're flattering them with the question. They'll be chuffed you've asked nearly every time.
THE BAD: ASK WITHOUT EYE CONTACT
Try any social interaction without eye contact and you'll realise how uncomfortable it makes people and how unpopular it makes you. The thing about watch spotting is that you know it's harmless, and normal, to want to know exactly what watches people around you are wearing. But remind yourself often that your target will need a little convincing. And staring at their sleeve, or wrist, intently with a slightly cocked head and quizzical expression is guaranteed to make them think you have a lazy eye, or worse.
THE BRILLIANT: GUESS THE BRAND, OR BETTER STILL MODEL
The most brilliant way to approach somebody about their watch is to guess the brand (at the very least) or the model right off the bat. As you walk towards them and catch their eye, give them a half smile and say, "Is that a vintage Glashütte Original by chance?" If it is, bingo! Nothing on earth will stand in the way of you closing in any way you please. If it's not, but it's – say – a modern Glashütte Original, you now have a foot in the door for follow up questions. If it's a TAG Heuer Carrera, you've outright failed, and should back slowly away from the target, and the watch.
STAGE 3: THE CLOSE
THE GOOD: GET A PICTURE AS WELL, "FOR YOUR INSTAGRAM"
Finding out the brand, model and story of the watch may be enough for you. If so, sit back, stop reading and go and try some of this advice in the real world; you don't need to close the deal capitan, you're done. But if you're like me, you'll want a little happy snap to enjoy later. So, when your curiosity is sated, draw your phone from your pocket in a smooth motion and just finish with a harmless query: "Mind if I take a pic for my 'gram? I have a watch geek thing happening …" Only the hardest of hearts will say no, trust me.
THE BAD: ASK HOW MUCH IT IS
There is no quicker way to spoil a collegiate watch-loving atmosphere than to mention money. "A Milsub 5517! Wow! Awesome! High five! How much!" A surprisingly large percentage of people will in fact be proud that they picked up the piece, for a steal at auction, from a dead relative for free and so on. But it's just too risky. More often than not, you'll undo all your great work in stage one and two. The discussion will end curtly, almost certainly without a price, much less a photo for your files.
THE BRILLIANT: GET A PICTURE, A STORY AND A PRICE
The holy trinity for the watch spotter is all three of the above: a picture for your Instagram, or your mates to drool over, a story to accompany it and a price. How? Sorry, there's no real magic wand here, just knowledge. If you've sailed through the Spotting and the Approach at a 'Brilliant' level – by knowing the model of the watch – you should really have a ballpark on the price. If it is in fact a genuine Milsub, you will back the win up by knowing it's going to be in the hundreds of thousands of Aussie. Again, by showing that you're a genuine watch lover, with genuine watch knowledge, you're likely to win anybody over. And they might just forgive you a faux pas or two along the way.
This article was first published in Revolution Australia.