EDITOR'S PICK: That time the T+T team picked the one watch they'd wear for the rest of their lives
Felix Scholz
Editor's note: For some reason, the days before Baselworld always fire up my acquisitive tendencies, however hypothetical. And when it comes to hypotheticals, for watch fans they don't come much greater than this. One watch. For ever. That's the question I asked the team last year, and this is what they said …
Let me be clear from the outset, this is a ridiculous challenge. It's clearly hypothetical and I'm pretty sure none of us has any plans to sell our collections and follow through with this. But having said that, it's a perennial watch party favourite, and can be pretty fun. It's also a useful challenge for distilling just what it is you like about watches – it's like mindfulness for watch nerds.
Dan's pick – A. Lange & Söhne Zeitwerk Striking Time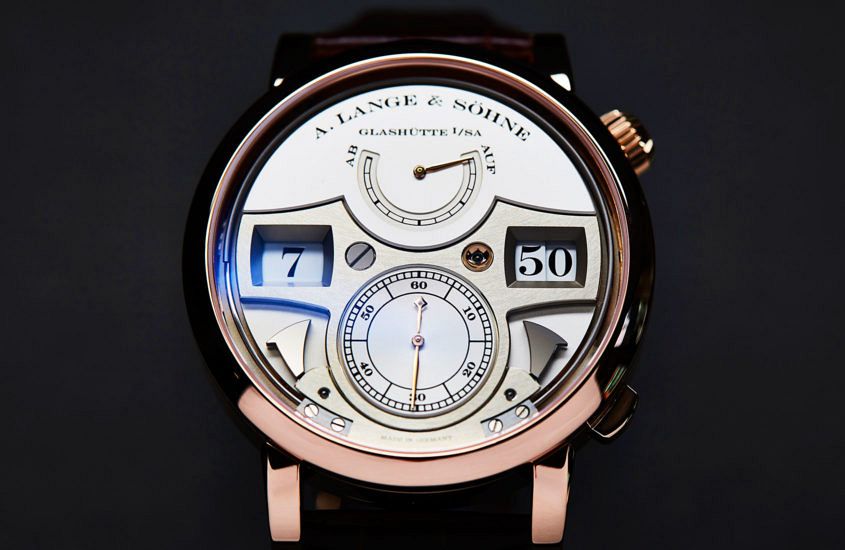 My one watch is also my Grail watch. The A. Lange & Söhne Zeitwerk Striking Time. It's robust enough for everyday wear yet horologically significant to make a statement. I would choose the white gold with black dial version as my preference. I may be forced to have this as my 'only watch' regardless – as I'd have to sell or trade everything I own (along with a kidney) to get it!
Justin's pick – Heuer Autavia 11630 GMT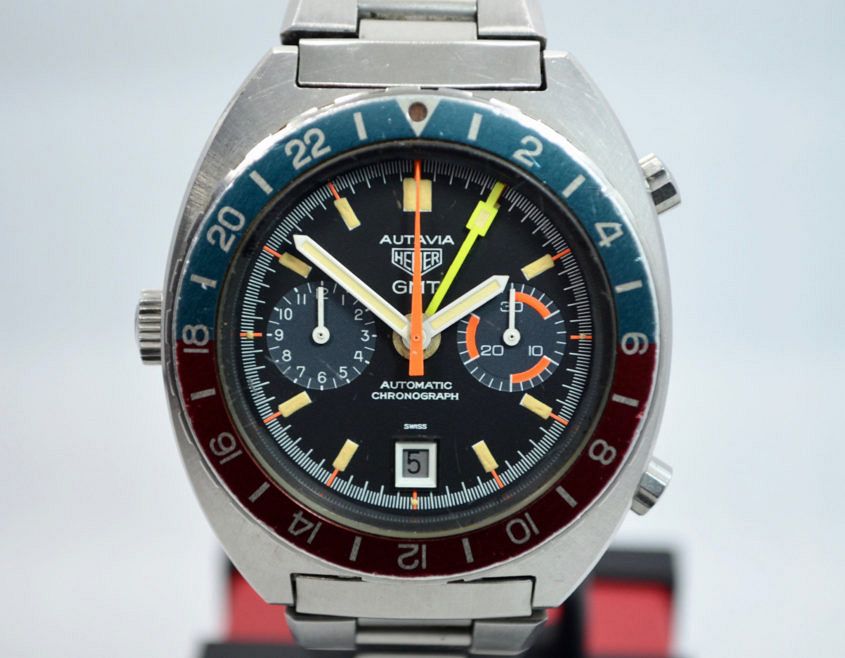 Limiting myself to a single watch for life would be a painful task, to say the least (damn you, Felix), but given the challenge I chose to work backwards based on my needs in terms of complications. Regardless of where my future takes me, both a chronograph and a GMT complication are things I would be unable to live without. With that combination in mind, my options are limited, especially considering my preference in chronographs is toward a two-register with hour and minute counters. JLC's new Polaris World Timer Chronograph could be a contender, though much as I loved it on-wrist, it is not a watch I would marry. The Bremont ALT1-WT was also a contender, but its chunky 43mm case always felt a bit too large on my wrist for me to bond with it forever as well.
It was the moment I started thinking pre-owned and vintage that my decision became much clearer. I've always had a soft spot for vintage Heuer watches, especially the chunky Autavia models that stuck around through the later years. Having first stumbled across the reference 11630 GMT Autavia when I started daydreaming about adding a "birth year" watch to my collection (this model dates to 1983), this watch simply ticks ALL the boxes for me. It's a bit chunky but not overpowering, and features my two favourite complications: a smartly placed date at six o'clock, and, of course, just the right amount of colour with its Pepsi bezel and neon yellow GMT hand. Hovering around the $10-15k USD mark these days, it's not unobtainable, nor that impossible to track down, plus it adds the "birth year" watch factor to something that's already otherwise perfect in my books. Hopefully with a fresh service and new gaskets it would also be waterproof enough to survive the occasional swim as well.
Cam's pick – MB&F Legacy Machine Perpetual titanium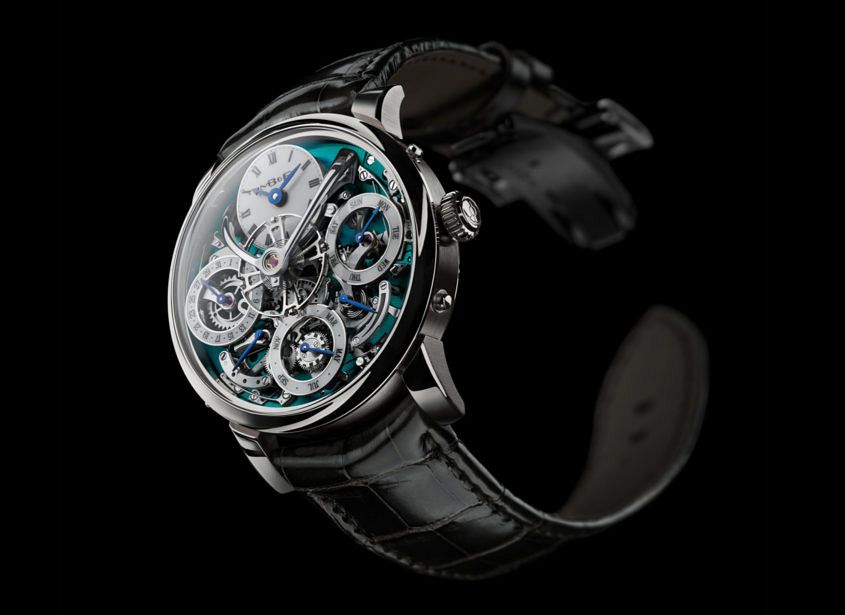 This was a tough one. I got a case of the collector's heebie-jeebies just thinking about having only one watch for the rest of my life. At first, I thought I should go something relatively practical, something that would suit my everyday lifestyle, like the Patek Philippe Aquanaut 5167 in stainless steel. It's sporty and elegant all at the same time, and there's something about seeing scratches on these that really does it for me. But then, I much prefer the blue dial and larger case size of the Aquanaut 5168G. But it's also white gold, and the thought of scratching out actual gold from the case took away some of that everyday practicality I was originally looking for. So, I decided if money is truly no object, then I'd go all out and choose the MB&F Legacy Machine Perpetual Ti. A grade 5 titanium case, fully integrated perpetual calendar with a "mechanical processor" that assures a completely trouble-free operation, and the kind of finishing and complexity I could stare at for days on end.
Sandra's pick – Urwerk UR-106 Lotus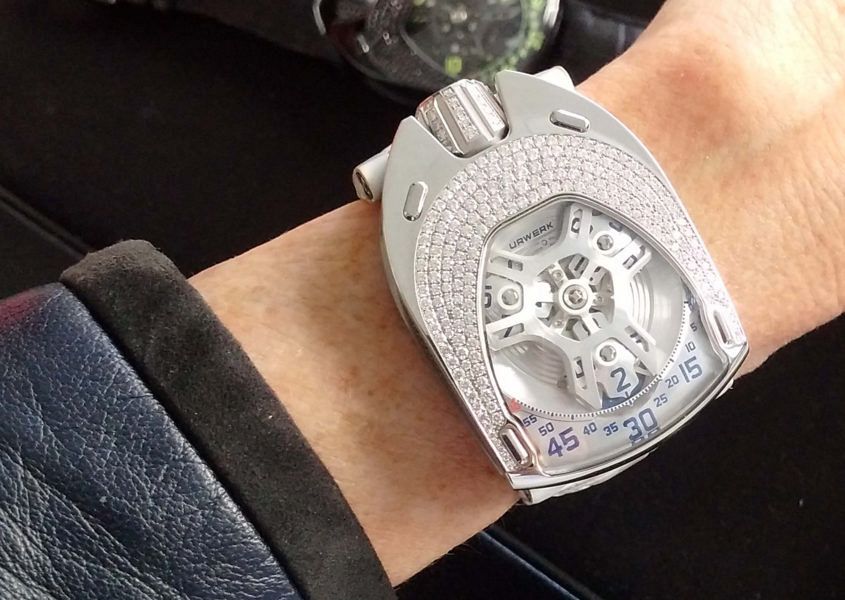 Ah, the unanswerable question. Over the years I've met a lot of watches that I'd be glad to date (among countless frogs that I wouldn't dream of kissing) and, once in a while, a watch I'd marry. But monogamy was never part of the deal and my (theoretical) marriages are now in double figures. So, a constant companion, to wear every day? Having very small wrists helps, by narrowing the field a lot. (But forget little "girly" watches.) Generally, I prefer the non-mainstream to the everyone-knows-it brand and – since the rules include "budget isn't an issue"– I can think of no greater privilege than to be a patron of an independent, artisanal watchmaker. The watch must, of course, pack in some serious mechanical sophistication and the hand-finishing has to be top-notch. So, Urwerk's UR-106 Lotus it is. "Whaaaat? That's not for everyday wear!" I hear you say. But why not? The titanium case is light and robust, the diamonds (surprisingly) don't look blingy, and the design blows my mind every time I look at it. (I almost went for a more "sensible", i.e. classical, watch that ticks every other box but – hey – if it has to be only one …) The satellite hour mechanism will keep me endlessly intrigued (and surely will be a great conversation-piece with other watch people) and it has a moonphase display as well. Bonus points for the white-metal-blue-numerals combination lending itself to differently coloured straps (a bespoke job, that). With indies, you get to know the people who made your watch – and wearing the Lotus would remind me every day just how darned nice the Urwerk people are. Finally, if there is a time when it's really not a good idea to wear the Lotus, I will simply not wear any watch.
Andy's pick – Patek Philippe Nautilus 5740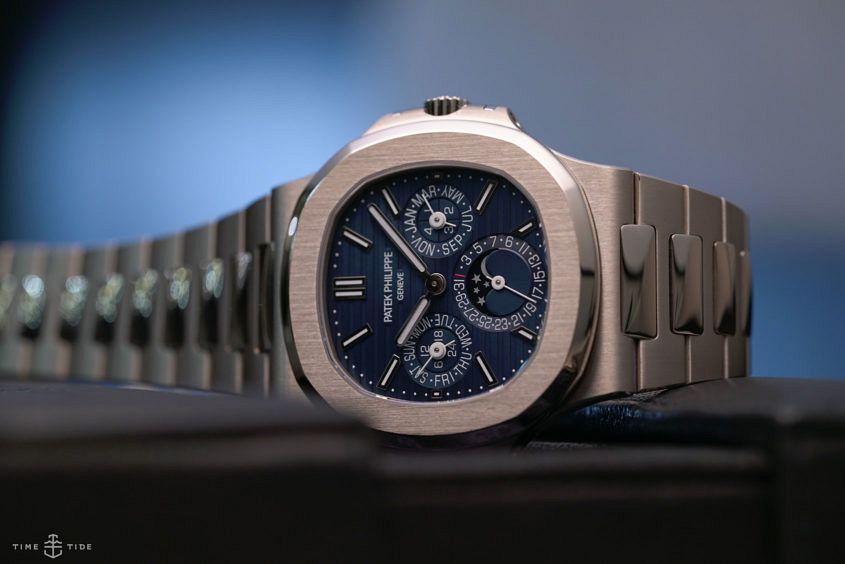 If I'm limiting myself to one watch, something that will look good now or in 40 years time, I have to go with a proven classic. So I'll pick the Patek Philippe Nautilus ref. 5740 — the just-released white gold Nautilus with a slim perpetual calendar thrown in. At 40mm, its a great size for me; it's sporty enough for the weekend, but easily dressy enough for work, weddings or whatever. Plus it's a bit stealthy and has all the complications you could ever need. Plus the Nautilus is just cool.
Felix's pick – ochs and junior perpetual calendar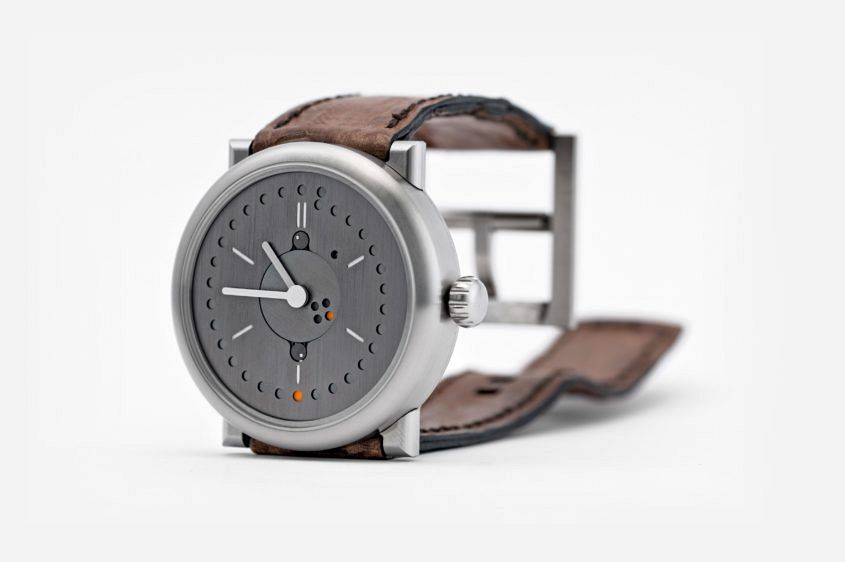 Funnily enough, I answered this question a while ago when Justin posed it for another publication he was writing for (damn you, Justin). Back then I opted for the ochs and junior perpetual calendar in titanium. My rationale then was a watch that you could safely wear all day every day for the rest of your life, something versatile, and something cool, with a bit of cred. And much as I probably should come up with something new — if only for the sake of variety — I think I'll stand by my choice. The ochs and junior is an excellent, and unusual watch. And, for bonus points, they're the sort of company where, if you sent it in, they could swap some of the dial components around, allowing you to mix up colours and materials.