Editor's Note: For all that the watch industry speaks about timelessness and classic design, it rides the winds of fad and fashion just like any other consumer-focused business. But that's not always the case; there are some models that remain impressively unchanged, and pure to their origins. Watches like this simple and sophisticated Grand Seiko Automatic Hi-Beat 36000.
The story in a second:
Grand Seiko's limited edition Hi-Beats are hot property, but the regular production SBHG005 is, not to overstate things in any way, a masterpiece of understated excellence.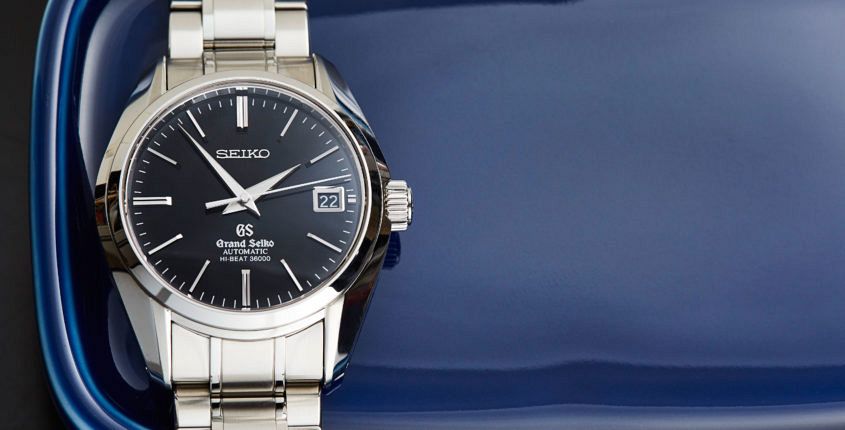 Most high-end watches are instantly recognisable as luxury objects. Your watch makes a statement about who you are and what you value. Rolex says one thing, IWC another. This is, of course, the point. Most people, upon spending thousands of dollars on a watch want you to know you've spent thousands of dollars on a watch. And then there's Grand Seiko. Grand Seiko is the Japanese watchmaker's premier line, and for years it was quite difficult to get your hands on outside of Japan. This rarity, combined with the line's often-conservative style and the ubiquity of Seiko's more accessible offerings meant that the statement you made wearing one was about rejecting the usual luxury trappings in favour of craftsmanship and quality. And even though Grand Seiko is now a global brand, they're still the ultimate anti-luxury luxury watch.
The case
With its modest proportions of 40.2mm across and 13mm high, the SBGH005 doesn't dominate the wrist. And even though many might find it a tad small, the well thought through proportions eminently suit the classical style. But for all its unobtrusiveness, the attention to detail on this case stands out. The swooping case profile, wide, clean angles on the lugs and the recessed crown are all examples of the care Seiko has put into designing this case. The overall effect is of a watch that looks good in any setting and can handle most situations – the screw-down crown and 100 metres of water resistance make it robust enough for an active lifestyle.
The dial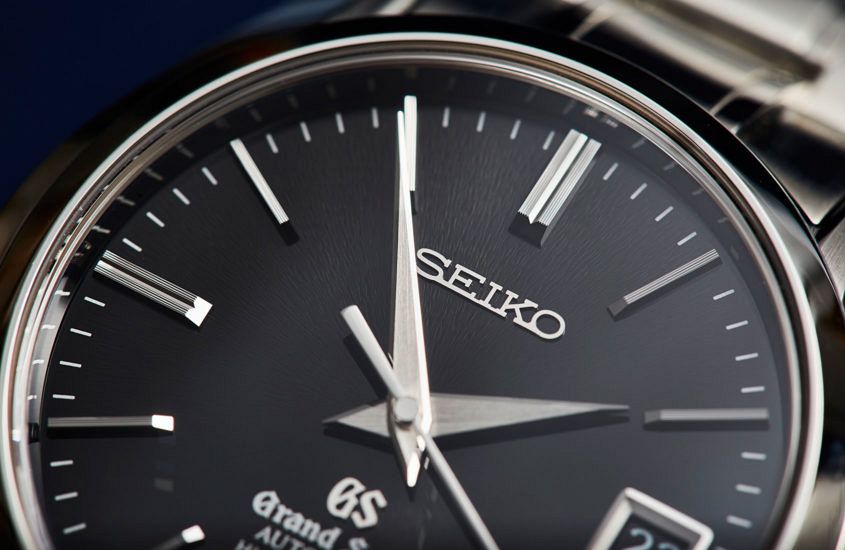 Seiko is famous for its dials, and this Hi-Beat is no exception. At first glance it looks like a plain black dial with applied details. Look closer and the quality becomes apparent. The dial isn't a flat black, but rather has been worked with some sort of Japanese magic to give it a glossy wide-grain starburst finish that needs to be seen in real life to be appreciated. The indices are ultra-precise mechanical engineering on a microscopic scale. Note the ridges on the top of each hour marker. The hands, in the classic dauphine style, are faceted and finished with a mix of brushed and polished finishes. All these reflective details mean the watch can look radically different depending on the light. There's an unobtrusive date at three, though some might find the lack of luminous material frustrating or impractical or both.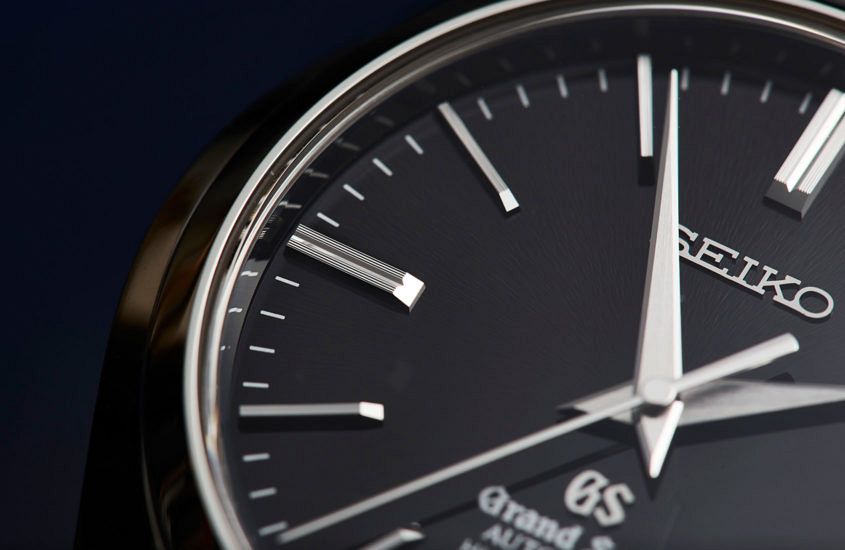 This high frequency also means that it requires more power to run. In car terms it's a high performance vehicle.
The movement
The Calibre 9S85 is a long way from the humble Seiko 5 automatic, both technically and aesthetically. Like it says on the dial, it has a fast rate of 36,000 beats per hour. This means that the watch is more accurate – it's rated to an impressive +5/-3 seconds a day in testing conditions – and -1/+8 in real world conditions. This high frequency also means that it requires more power to run. In car terms it's a high performance vehicle. But this movement is more than up to daily duties – with 55 hours of power reserve and finishing as good as anything (and we mean anything) out of Switzerland or Germany, you'll want to spend as much time peering through the sapphire caseback as you do at the oddly enchanting dial.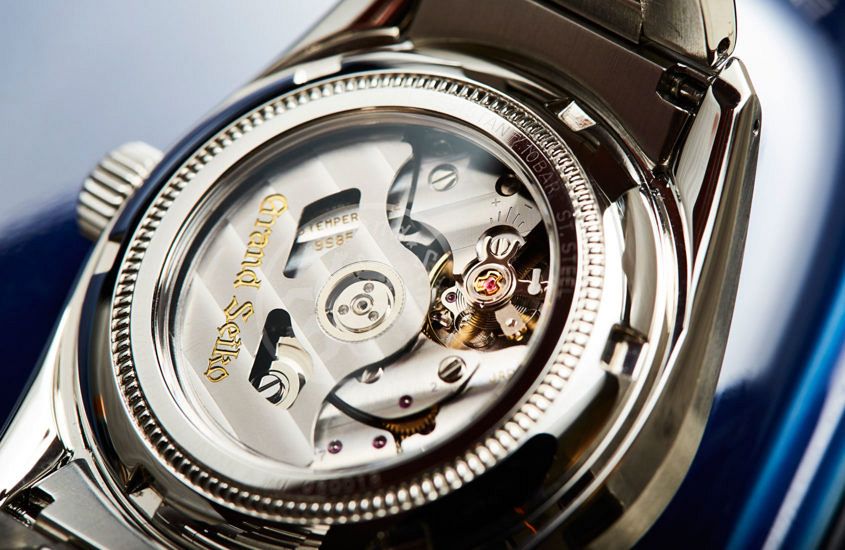 The bracelet
The steel bracelet, with its mix of brushed and polished links should be familiar to anyone who's browsed Seiko watches. Not the most original or innovative design, but, like everything else about this watch, the quality is exceptional and supremely functional. The classic looks of this Grand Seiko means that it also looks great on a wide range of after-market strap options.
The verdict
In many ways Grand Seiko is like Rolex: classical style, exceptional build quality, all born of an obsession with accuracy and robustness. However Rolex is one of the most known brands in the world, and, to be blunt, Grand Seiko isn't. What this means is that Grand Seiko ends up being a polarising brand –you either get what GS is about and think they represent some of the best horological value out there, or you can't help but think that for all the finishing it's still a Seiko, and you can get something that's 90% identical for 10% of the price (check out the SARB033 to see what we mean). In the end it really comes down to what you value in a watch.
Talking point
This isn't your typical Seiko, here, use my loupe…
Who's it for?
It's not for everyone. Some people can't move beyond their associations of name on the dial, and no amount of rational argument will convince them otherwise. However if you value quality and precision over a visible status symbol, then you should seriously consider Grand Seiko.
What would we change?
We'd be tempted to suggest adding some colour or something else to make the SBGH005 stand out, but that defeats the whole purpose of this watch (and there's other Hi-Beats out there that pop on the wrist), but the addition of some lume – nothing crazy mind you – wouldn't go astray.
Grand Seiko Automatic Hi-Beat 36000 (ref. SBGH005) Australian Pricing
The Grand Seiko Grand Seiko Automatic Hi-Beat 36000, reference SBGH005, $7500.
Images by Jason Reekie.