Editor's Note: Bell & Ross released a toned down vintage model this year, the first in their '3rd Generation' vintage armada, with a flatter case and a smaller diameter. It's a strong piece, with notable improvements to quality like screw-down chronograph pushers, but it's in a monochromatic rather than colourful mood. Which made us think of last year's blue-tiful BR126 Aeronavale. Judging by the reaction on social media and the site, it was a watch that changed hearts and minds about B&R's ability to do interesting things in the vintage field, with a fanatical attention to detail (those brushed applied indices, sigh…) and, honestly, it looks even better a year on.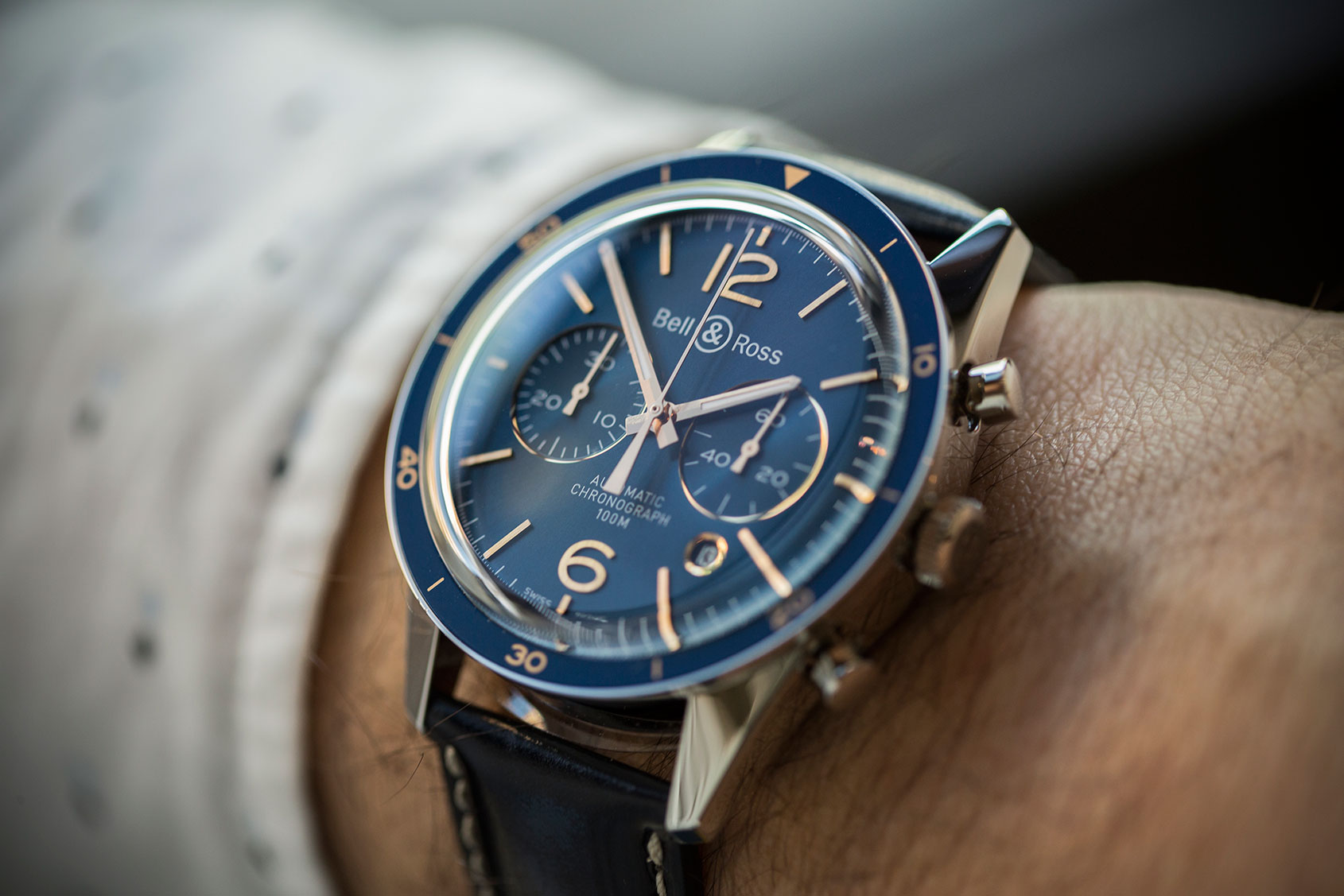 Bell & Ross has never been afraid of colour. And their bold, highly graphical square instrument watches are a natural canvas for creative experimentation. The brand's more traditional round watches are a little bit of a different story – inherently more conservative; B&R tend to play things safer with their Vintage collection.
Which is why the Aeronavale range is such a big old bolt from the blue – and boy, did the risk pay off. While the form of the Vintage BR 126 Aeronavale (and indeed the simpler BR 123) is the same as regular versions, the execution is simply stunning. Bell & Ross has managed to turn a 43mm steel chronograph, running off an ETA-based movement into a glittering jewel.
Key to this transformation is the rich blue starburst dial, with radial brushing. The twin subdials contrast nicely, thanks to the fine circular engraving.
Thanks to this ever-changing finish the watch already dances and plays in different lights, but when you add gold toned hands and applied hour markers you get a watch that doesn't stop. It looks incredible on the wrist. In low lights it looks dark, almost reserved, but as soon as you a stray beam catches it at the right angle – BAM! –the Aeronavale shows off its true colours.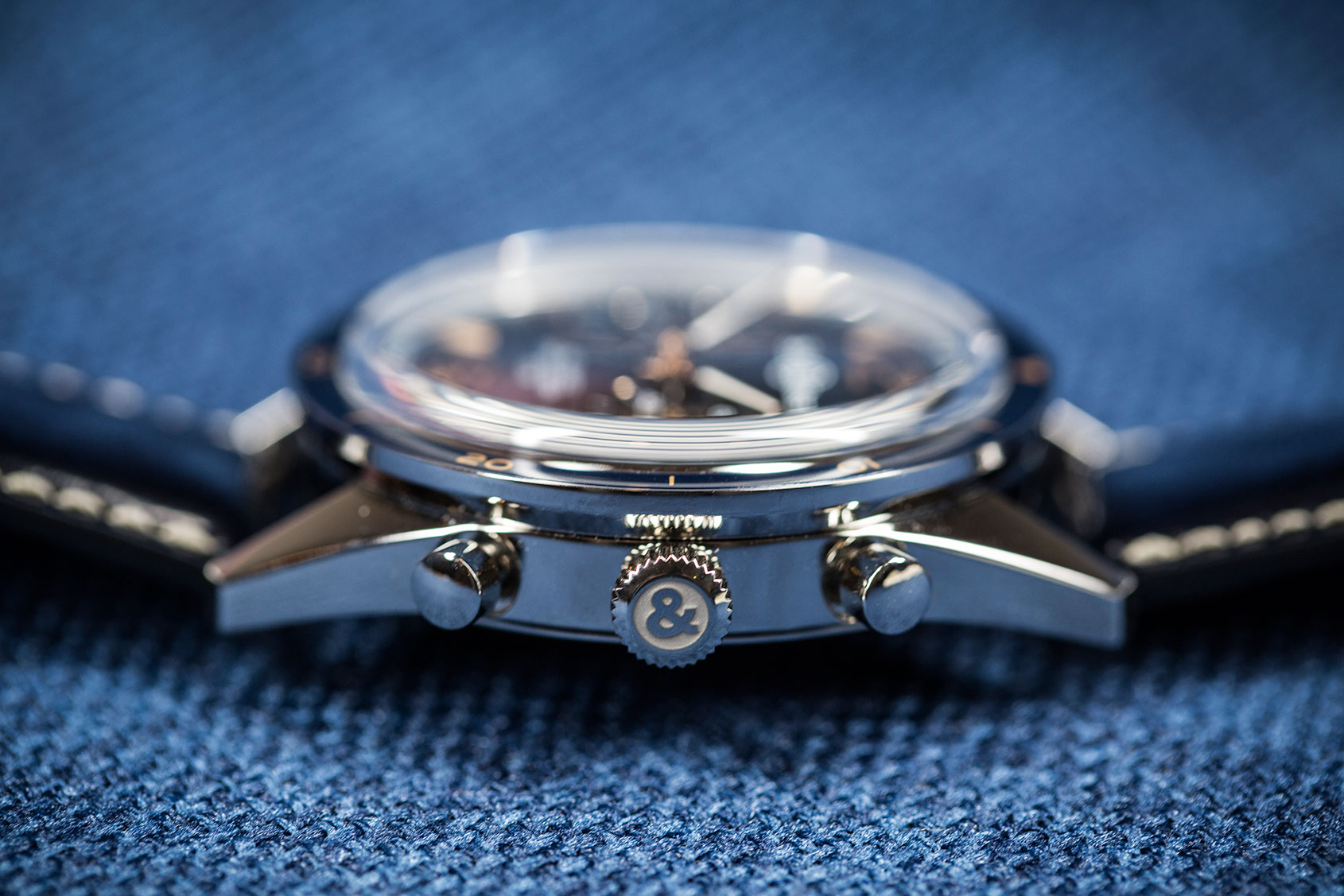 It's this clever use of complementary colours that makes the Aeronavale such a fun watch to wear, and one I found myself staring at more than was strictly necessary while it was on my wrist, perhaps even to the detriment of my focus at work. So, a quick caveat, if you're called into HR after drifting into an Aeronavale-inspired reverie during key meetings don't say we didn't warn you.

The other great part about this watch is the strap. On a watch at this price point you'd expect a 'nice-but-not-extraordinary' strap. Think again. The painted blue strap on this this watch definitely overdelivers. The padded calfskin oozes charm and character, with it's glossy finish showing the lighter blue in the centre, all offset by the chunky white contrasting stitch. We suspect it will only get better with age too.
Thanks to its smart use of colour and attention to detail, the BR 126 Aeronavale is proof that Bell & Ross doesn't just reserve all its creativity and panache for the squares.
Bell & Ross Vintage BR 126 Aeronavale Australian pricing
Bell & Ross Vintage BR 126 Aeronavale, on calfskin, $6500