When buying pre-owned watches online, there are two emotions that you feel after sending your money. The first is the heady excitement at the prospect of adding a new piece to your collection. The second is that queasy feeling in the pit of your stomach – a blend of terror and anxiety as you fear unboxing your watch only to discover what you've bought is a far cry from the real McCoy.
We've all been there. We've all gone to grab our credit card and punch in the numbers, only for a quiet voice in the back of our head to say: "Imagine spending all that money on a fake." And listening dutifully to that voice, you close the browser tab and try not to think about the fact that you'll now never strap that watch onto your wrist.
Much of this anxiety can be allayed when you buy watches on eBay, as the platform has just announced their Authenticity Guarantee program for all watches over $2000 US. Now, when you buy a luxury watch from eBay (only if from a seller with an Authenticity Guarantee badge) it will be sent from the seller to eBay's third-party authenticator, instead of directly to the buyer.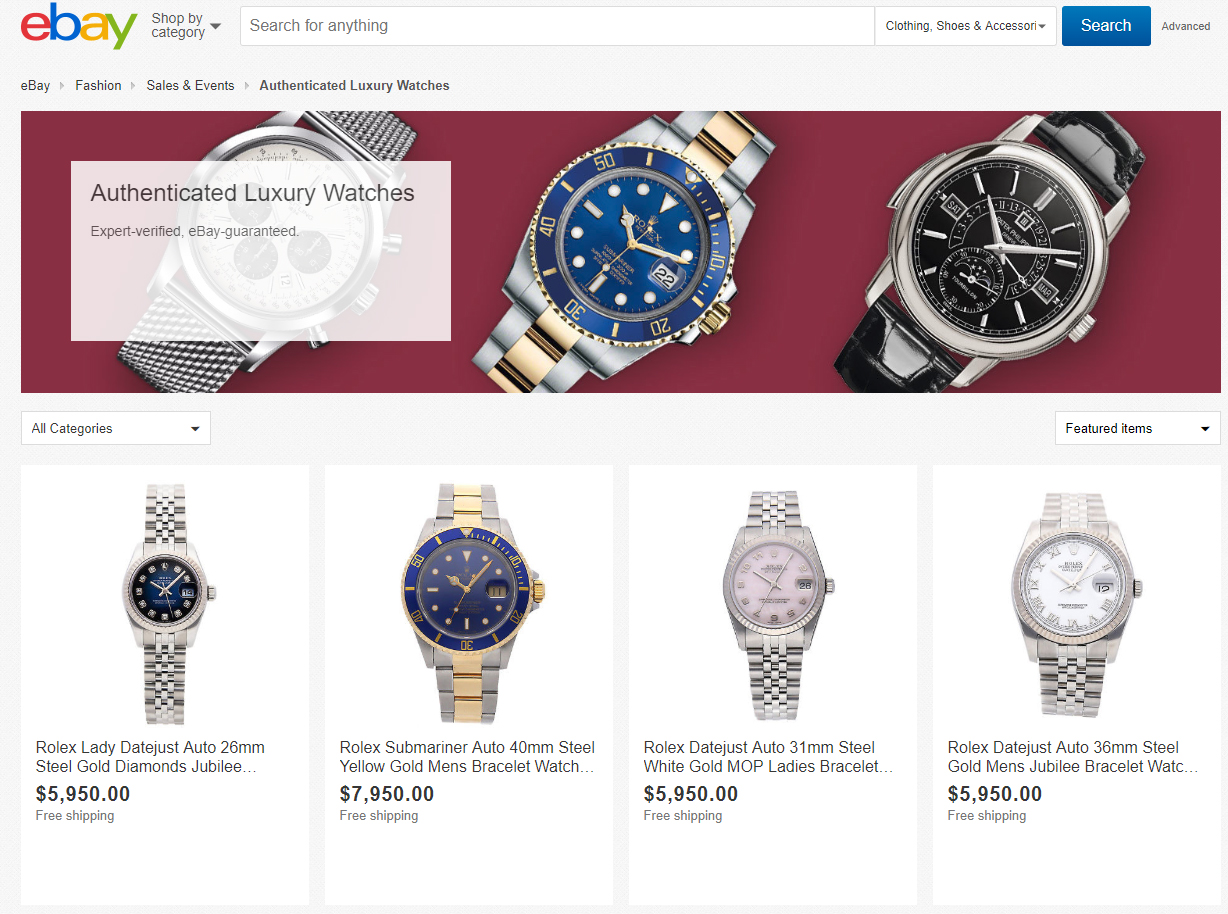 The authenticator will then check a number of different points on the watch to assess if it is legitimate, including the serial number, crown, bezel, case, dial, clasp, hands and end links. If it is assessed as being authentic, the watch will then be repackaged with an authenticity report card and sent on to the buyer, who will happily receive it in the knowledge that their new watch is authentic.
Despite the additional efforts required to authenticate a watch (a service that many established brick and mortar auction houses do not provide), eBay is not charging for this service. In addition, eBay will be offering an escrow payment service – which in layman's terms means that the buyer's payment is held by a third party and only fulfilled once buyer approval is granted – that is available to watch transactions over $10,000 USD. This offers even more peace of mind.
What I'm now curious to see is how the pre-owned/auction market responds. eBay are making a serious push into higher priced segments, and more aggressively trying to win the trust of both buyers and sellers. After all, eBay presumably has lower operating costs than traditional auction houses, who have to pay for catalogues, beautiful venues and a raft of infrastructure to hold a live auction. With the authentication and escrow service, two major barriers to trust are now removed and eBay stands to become even more of an attractive place to buy and sell luxury watches.
For more details, head over to eBay right here.
Made in partnership with eBay. However, the opinions expressed in this article are our own in accordance with our Editorial Policy.