While wandering the booths of Dubai Watch Week, any enthusiastic eye can spot Rolex, Patek Philippe and the rest of the usual suspects on the wrists of other attendees, but it was a surprise to see a flash of orange pass by one afternoon. Sure enough, after stopping and speaking with Julian briefly, I confirmed it was indeed a Doxa SUB 300, and that not only was it one of four in his collection but he was also a diver who happily used it while exploring the murky depths.
When did you first see/hear about it?
I first came across Doxa as a watch brand shortly after I decided to focus my small watch collection predominantly on dive watches. This made sense to me as I'm a scuba diver and this "DNA" for a collection had an authenticity that I liked. When reading up on the topic I discovered the very long and significant history of Doxa with dive watches. The fact that Doxa had both real credibility in the dive watch field (akin to Blancpain & Rolex) together with relative anonymity, even with "watch guys", was an irresistible combination.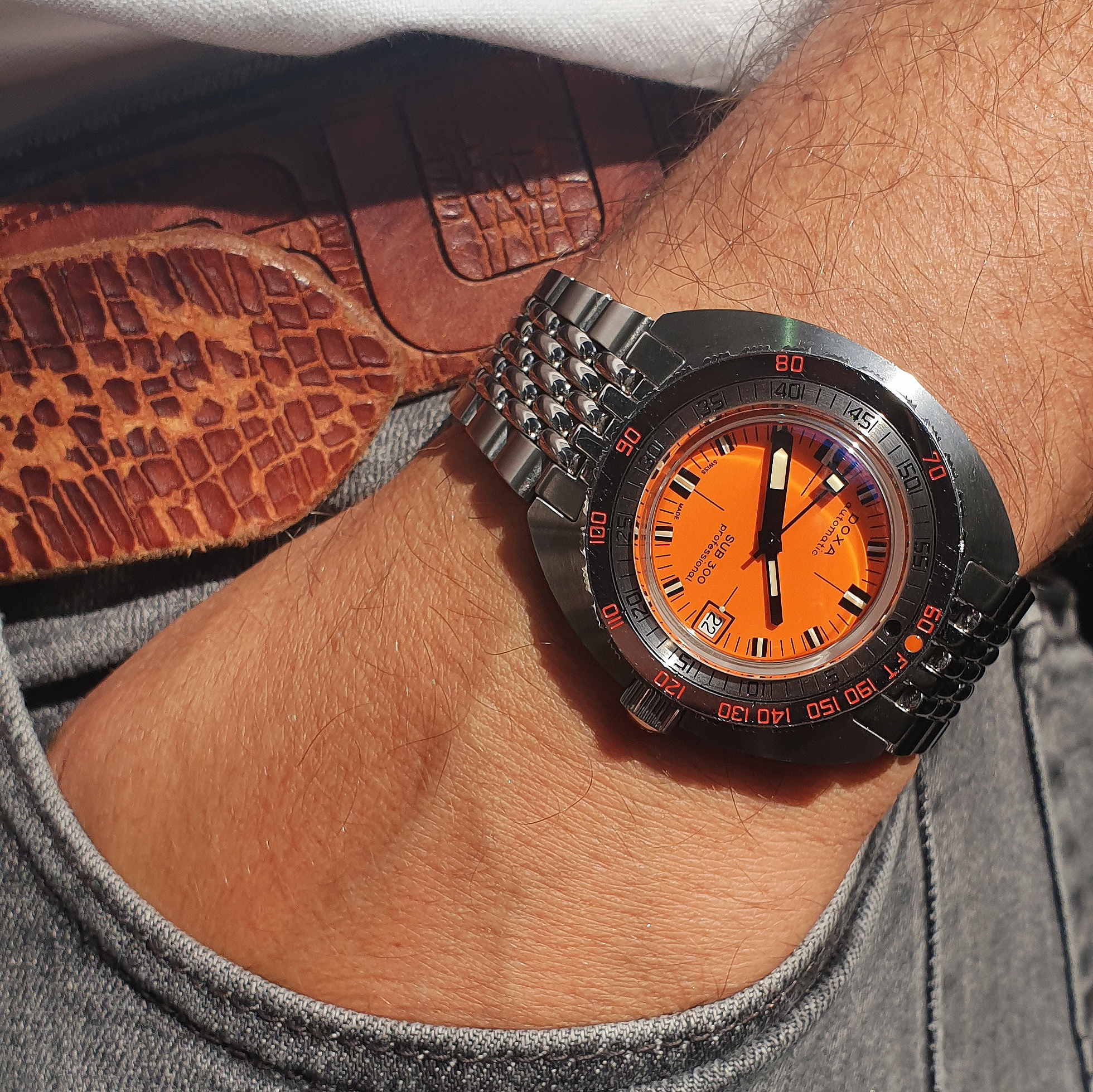 Any story behind the purchase, and the deciding factor?
I was initially somewhat sceptical about the purchase. There was no dealer network where I could try the watch on – it was only available via online purchase. If I'm honest, the old Doxa website wasn't the most user-friendly and as I had never bought a watch online I wasn't feeling very confident. What made me pull the trigger was the release of the SUB 300 50th anniversary reissue as a limited edition. I didn't want to miss out on this model, so I clicked and hoped for the best.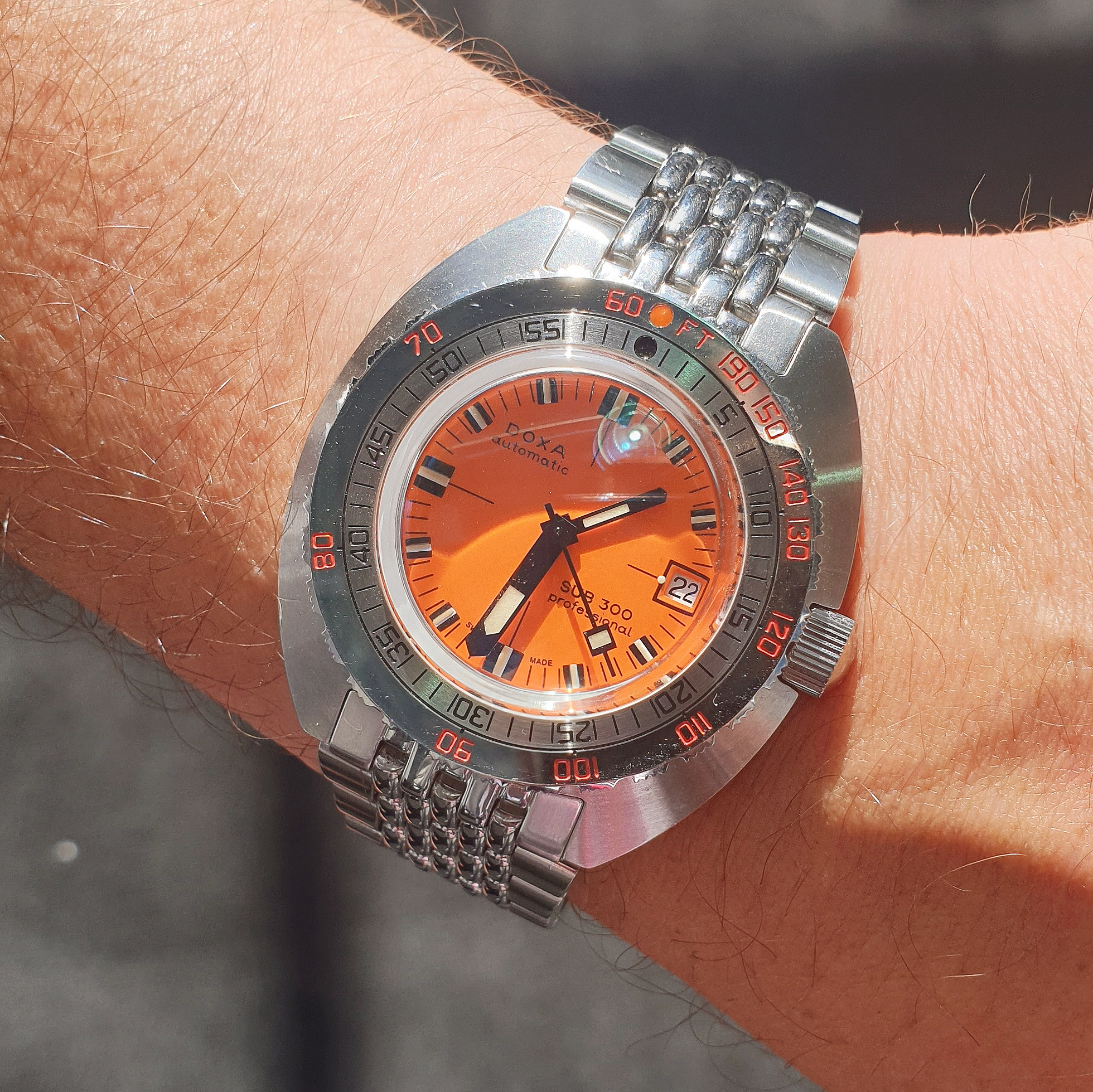 Any surprises?
There were a few surprises – mostly good. Firstly, the Doxa arrived, as promised, within four days. Given my initial scepticism, I was somewhat surprised that anything actually arrived.
Secondly, the build quality. From when I first lifted the watch from its packaging it was immediately apparent that the quality was right up there, even when comparing with much higher priced watches. The crispness of the bezel action in my opinion still has no equal in the industry. And then there is that orange dial, which is difficult to describe and best experienced in person. It is both matt and glossy at the same time and has a translucent depth that augments the feeling of quality.
Third, the packaging. The metal tube that serves as packaging was on point for this type of watch. It resembles a dive cylinder, so is in keeping with the diving theme, and it is also small. The latter feature is important (at least for me) as storage space for overly large watch boxes quickly becomes an issue for a growing collection.
Lastly, one small negative surprise. The spring bar tool that comes standard is really not great quality. I have three now from subsequent purchases and all three tips have broken during first use. Not a big thing, but I would rather not include it at all than supply a sub-standard tool that could detract from the brand's image.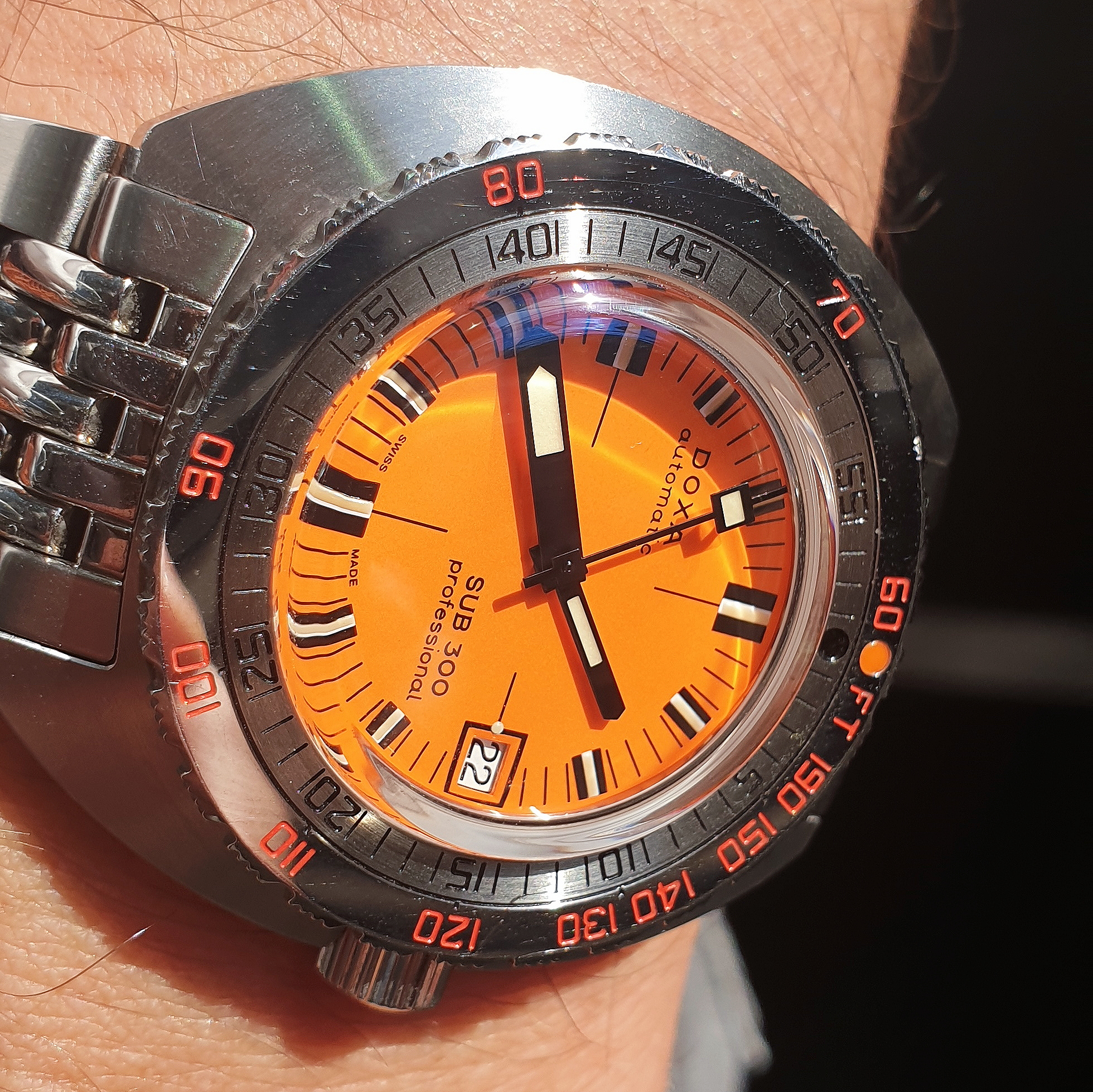 When do you wear it?
The SUB 300 Professional is easily one of the top three watches that I most often reach for. It is certainly a robust dive tool that I scuba dive, paddle board and swim with often. I wear it at weekends and to the office, even with a suit. It is slim enough to fit under a shirt cuff and frequently elicits positive comments when the bright orange face peeks out. As you will know from our chance meeting at DWW, a Doxa Professional is easy to spot.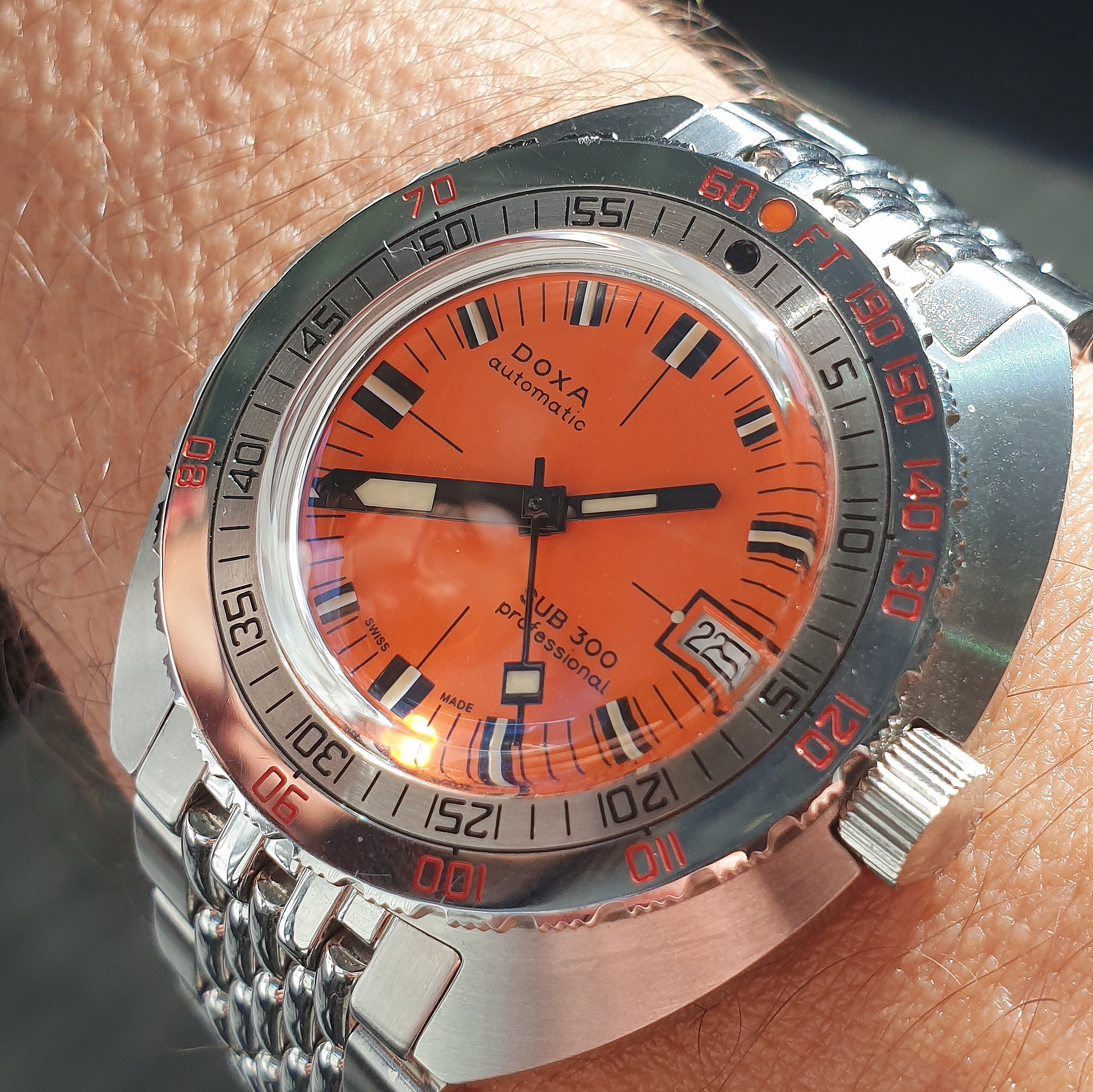 How does it feel on the wrist?
I can honestly say that the SUB 300 on the beads of rice bracelet is my most comfortable watch – no exceptions. Even smaller, lighter watches do not even come close. It seems to have the perfect combination of heft, slimness and wrist-hugging comfort. I have tried it on tropic rubber and NATO straps but keep coming back to the beads of rice for comfort and wearability. My little orange Doxa SUB 300 is functional, robust and reliable. But more so than any other aspect, it is a watch with great personality. How it feels on the wrist is more than just a question of physical comfort. It makes me feel like a member of an exclusive club – those who know, know. That is also why I felt supremely confident wearing my Doxa amongst the illustrious brands exhibiting at DWW.