Why the DOXA SUB 300 was the perfect one watch for me to take on vacation
Zach Blass
Last week I spent some time abroad with my family in Aruba, and before the trip, like any watch collector, I had to make the choice of which watch, or watches, I would take with me. I knew swimming in the ocean, time on the tennis court, and happy hour drinks would be involved, so it was clear that whatever I took with me would need to be up to the task. Personally, I prefer to keep things simple whenever possible so after much deliberation I decided to take my DOXA SUB 300 Carbon Aqua Lung US Divers Limited Edition along with me. And you know what, I don't think I could have picked a better watch for my week away. Here is why…
The deliberation…
I knew I wanted, at the very least, to bring a robust dive watch with me. Whether it was the pool or the ocean most of my day, if I was doing it right, would be spent in the water. So it only made sense that I bring a watch capable of being worn in those situations. I considered bringing a dressier watch on a strap, like my Kurono Mori, but I ultimately decided I didn't want to just leave a watch in my hotel room for the majority of the day – even if it was in a secure safe. Ideally, for peace of mind, I like to take a single watch on vacation that I have to remove as little as possible. This way there is far less worry of your watch being misplaced or stolen while off the wrist. While home, I can be like Jennifer Lopez at a concert – having several wardrobe changes in a given day (wardrobe in my case being my wrist wardrobe). But vacationing is about relaxation and ease of mind, so I decided one watch would be enough for me.
Looking in my watch box the immediate candidates were the Rolex Submariner ref. 114060, Grand Seiko "Spring" ref. SBGA413, Sinn U1 DS "Grinded Dial" Limited Edition, and the DOXA SUB 300 Carbon Aqua Lung US Divers Limited Edition. Each of the aforementioned watches have at least 100 metres water resistance and a screw-down crown, so all were qualified for the trip on spec – but through the process of arbitrary elimination I was able to limit it to one of the four.
I immediately removed my Submariner from the equation, worried that wearing a piece from the crown would draw too much attention to my wrist in a territory I had never been before. Next I decided against the Grand Seiko because I felt the remaining two dive watches in consideration were more fitting for what I would be doing while away and that, while the titanium surfaces of the SBGA413 are tough, why potentially risk scratching the Zaratsu finishes when it wasn't really necessary. The last of the four I ruled out was the Sinn. It is quite a heavy watch on the wrist, and knowing I would be swinging a racket on the tennis court I decided the lightweight carbon case of the DOXA SUB 300 was more appropriate. Again all would have survived the activities of the trip without issue, but I was determined to only bring one daily wearer. With the trip now over, I can say with 100% certainty I made the right call.
Why the DOXA SUB 300 Carbon Aqua Lung US Divers Limited Edition was the perfect one watch to take on vacation…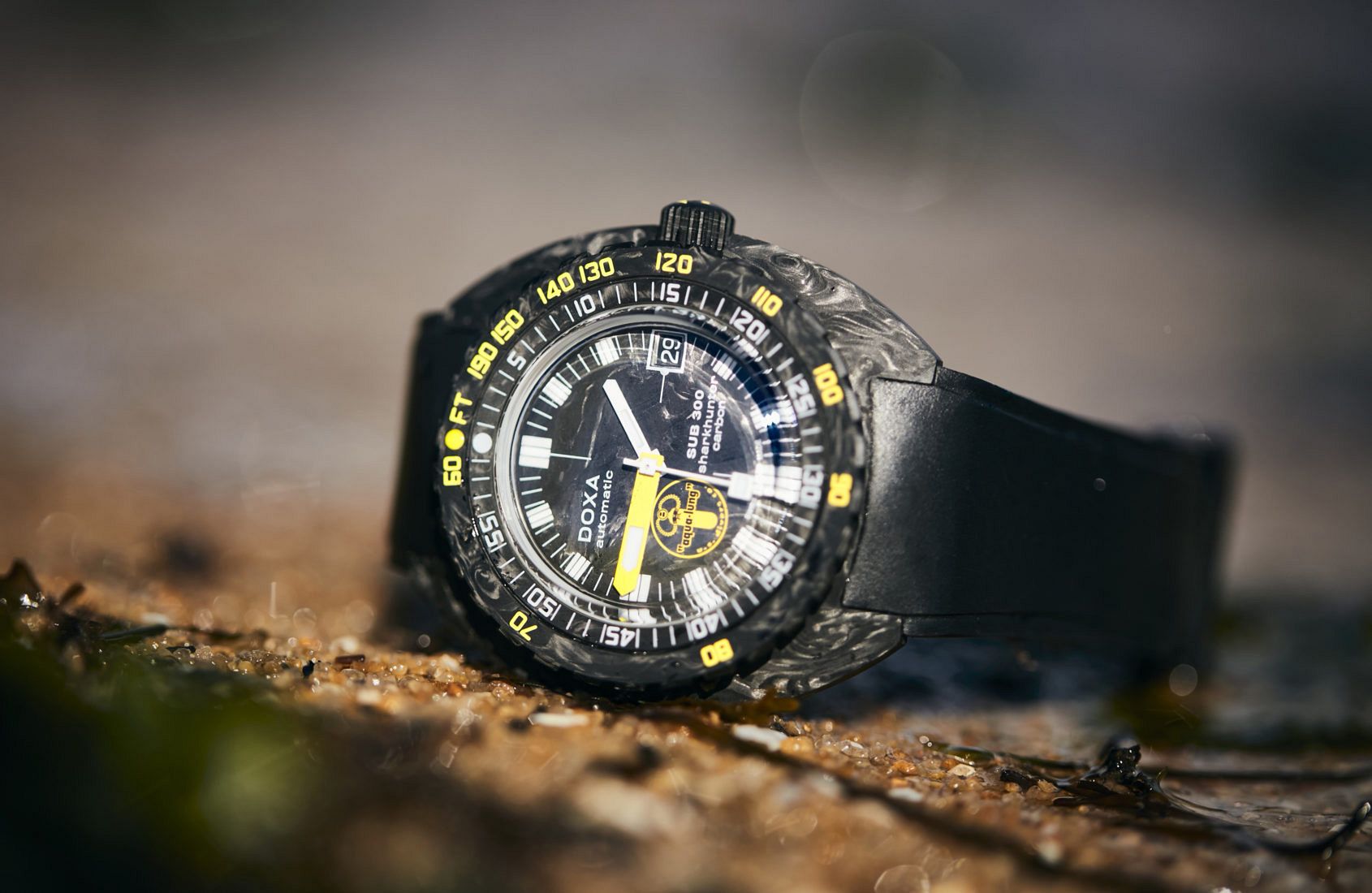 I am a total bracelet fiend. I love bracelets because they take moisture really well, whether sweat or water. Modern bracelets also don't wear over time, they don't have lifespans like leather or fabric straps where over the course of wear they may need to eventually be replaced. Many have looked to add rubber straps to their Rolex watches, but I am kind of a factory purist – so I avoid playing with aftermarket options aside from changing one leather strap for another. That being said, rubber has always intrigued me and the DOXA SUB 300 rubber strap is an absolutely fantastic first foray into the material. Its build is clearly tough and rugged, but at the same time flexible and refined. Once I had it cut to fit my wrist it became one of the most, if not the most, comfortable watch I own to strap to my wrist. Not only is it perfectly sized and situated to my wrist, but the dive extension in the clasp allows me to fine tune the fit if needed as my wrist swells during the course of a hot day. By depressing twin triggers on the clasp I was able to fine tune the fit as needed over the course of my vacation without any extra tools or hassle (one less thing to pack).
As I mentioned earlier, the carbon case is super lightweight, and unless exposed to extreme force is not prone to any danger. It doesn't scratch. In an extreme scenario it could chip, or worse crack, but after a week of playing tennis for at least an hour each day while wearing it, I can say it is able to get physical. By no means was I playing intense matches or diving for balls like Gael Monfils, but I have been playing the sport for decades so I am not simply pushing the ball back over the net while rallying and hitting around. Being so lightweight, it didn't hinder my motion in any form or add any burden to my swing. I could forget that it was on my wrist while in the zone, keeping my eye on the ball and concentrating on my strokes – not am I going to break it? Am I going to break it?
The stealth aesthetic also made it the perfect under-the-radar watch to wear, offering the utmost performance without any fear of someone trying to rip this GPHG nominee off of my wrist. Speaking of performance, I found seven days later, after setting my watch once before leaving for Aurba, that my watch had gained a total of 35 seconds – which averages out within COSC parameters at +5 seconds per day. As you can see above it also totally fit my vacation wardrobe and was the perfect inverse match for my Yonex tennis racket (which Aussies will be pleased to know I bought years ago due to my admiration for Lleyton Hewitt's skill on the court).
The last thing I'll say is that the watch does not wear hot on the wrist, the carbon does well under the heat and the rubber strap is of course perfect when it comes to any moisture or sweat. Each day I left the beach or pool I would gently rinse the watch off to clean off any salt water and remove any sand or other particles, and now home the watch returned in the exact same condition I left with it in.
Genuine from-the-heart recommendation: if you're looking for a value-driven and robust summer daily wearer, I fully endorse looking into a DOXA SUB 300, whether carbon or steel, as a fantastic option.