The GPHG-nominated DOXA SUB 200 has succeeded in capturing the watch world's attention since its unveiling at Baselworld 2019, what with its vibrant dial options, 200 metres of water resistance, and fetching, vintage-inspired 42mm stainless steel case. There was just one niggling issue for some — the beads of rice bracelet was perhaps a tad cumbersome on the wrist, especially in the warmer months. What it really needed was a rubber strap. Black, yes, but also on vibrant colours to give it some pop. Check them all out in our marketplace, now.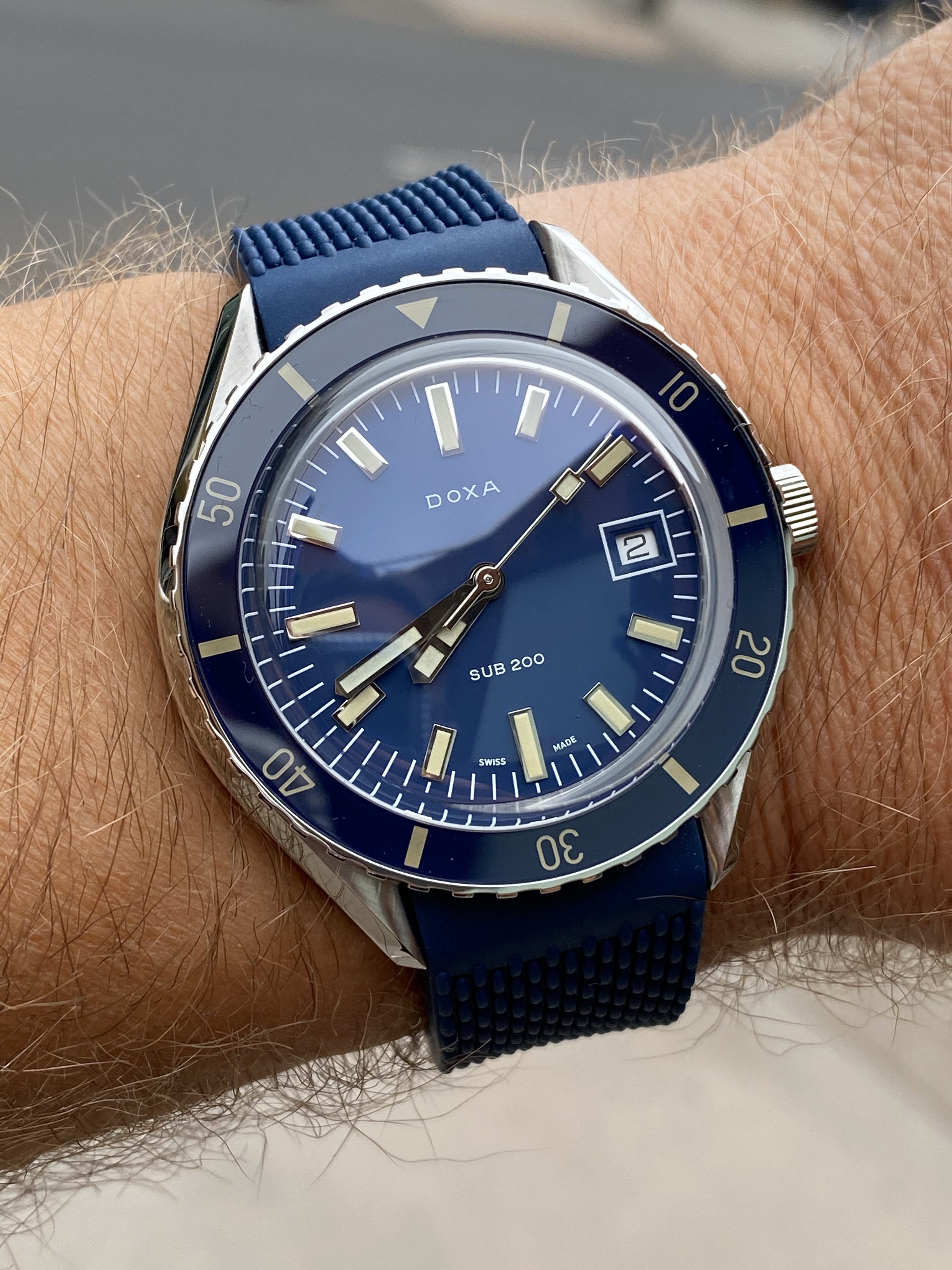 The intrepid product development team at DOXA obviously held the same sentiment, because the entire SUB 200 collection has just dropped for a second time with a brand new rubber strap, and it is good. Very good. Let me count the ways.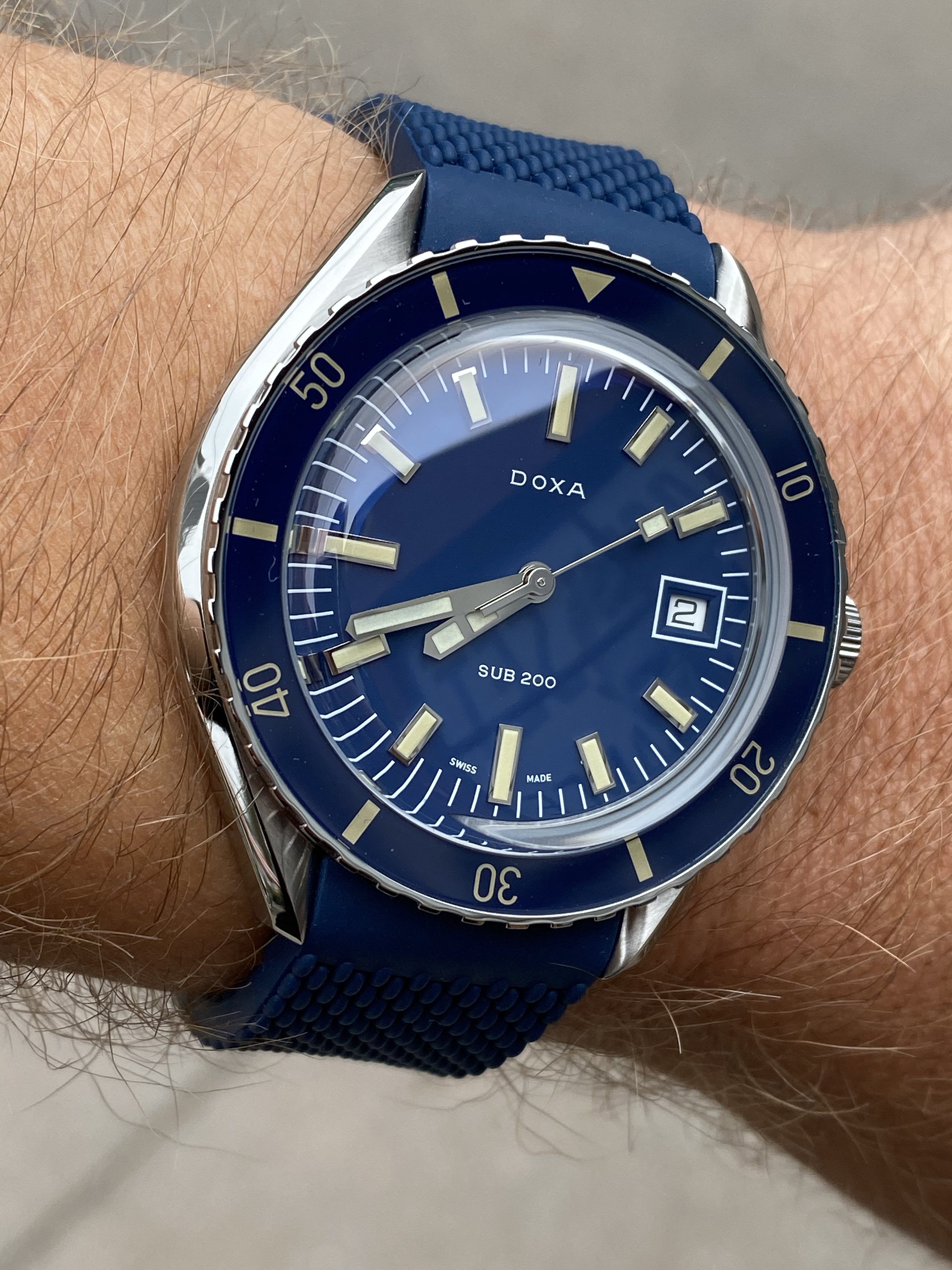 From the moment you fasten the new rubber band to your wrist, it is obvious that this is an item that DOXA has poured A LOT of attention and, more importantly, money into. It does not feel cheap.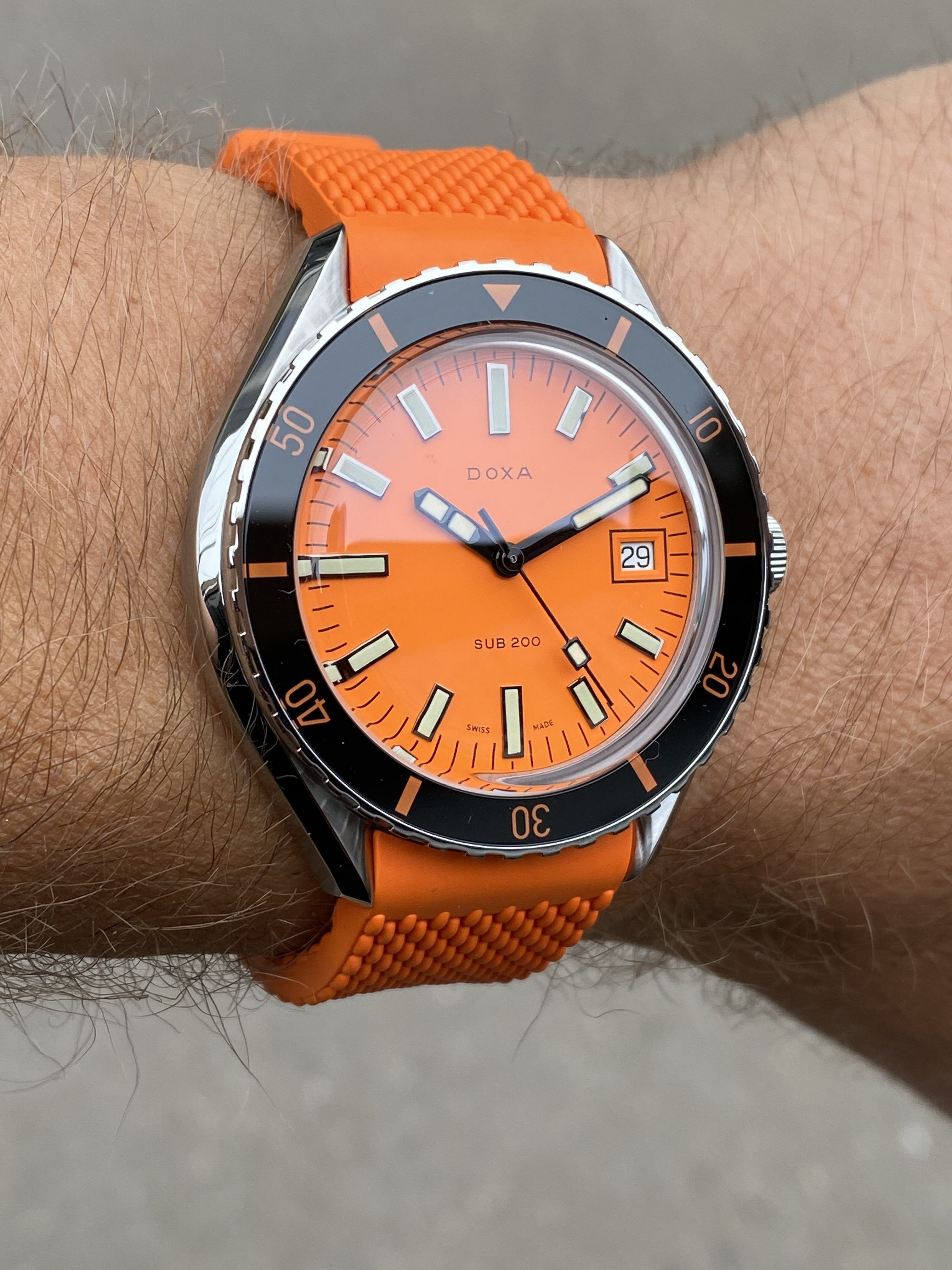 The Milanese-style pattern, for example, is intricate and smaller than you'd expect, especially when compared to other watchmakers' implementations of a Milanese rubber band (think Longines Legend Diver or Breitling Superocean). I'm not usually the biggest fan of textured patterns on rubber, but DOXA has made it work by ensuring a thickness in complement to a tasteful tapering – it is both substantial enough to not let the watch down, and comfortable enough to be infinitely preferable to steel as a casual, or hot-weather option. But more on that later.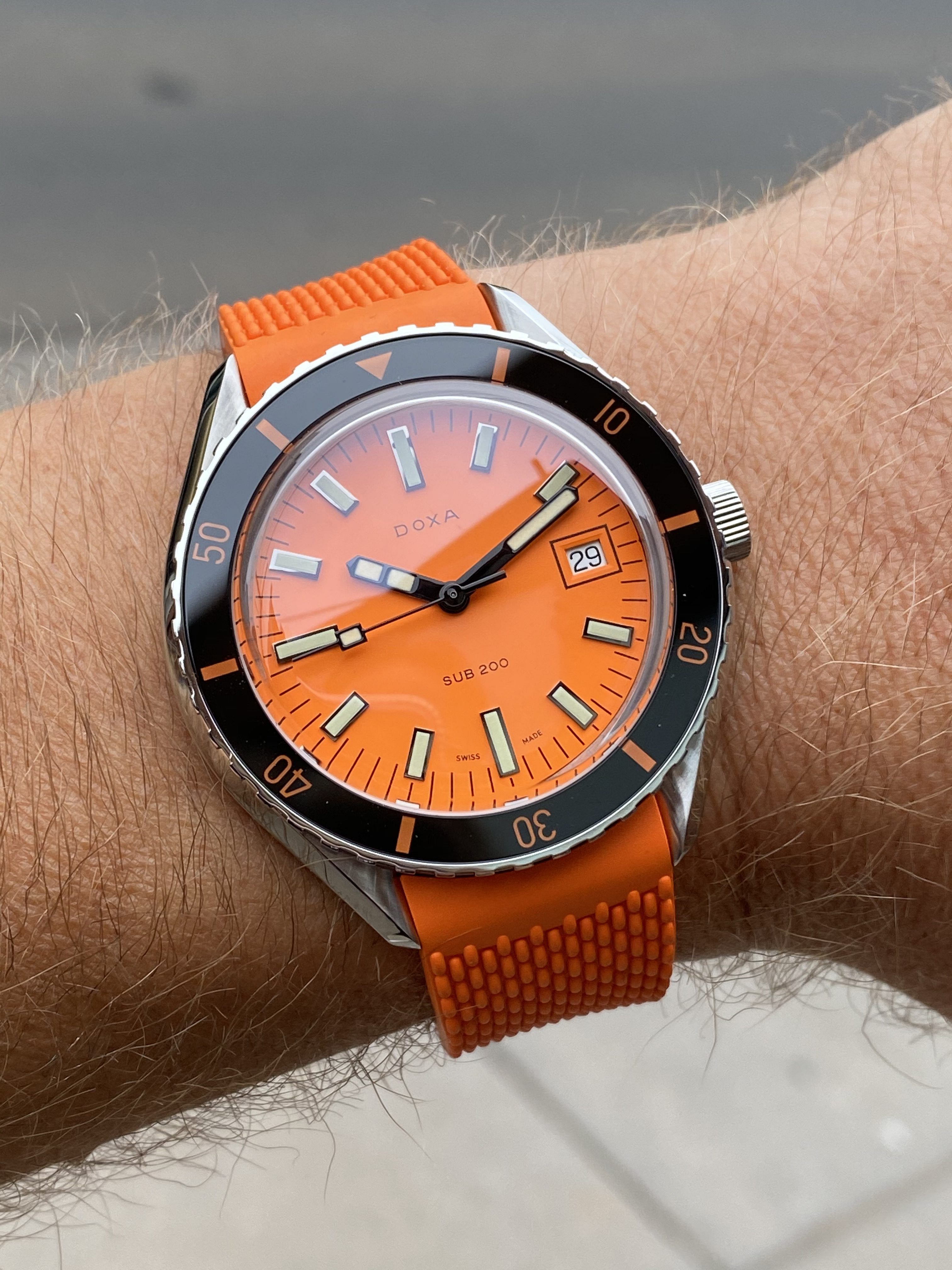 The keen-eyed among you may have also noticed another big positive about this band compared to some of its contemporaries — the rubber strap is truly integrated; it extends all the way up between the lugs and nestles itself against the case. There are no gaps, it integrates perfectly and, as a result, it looks like a cohesive package. As though the SUB 200 was designed from the outset to always have the option of a rubber band. And there's a very good reason for that … because it was — it has been in development for a long time.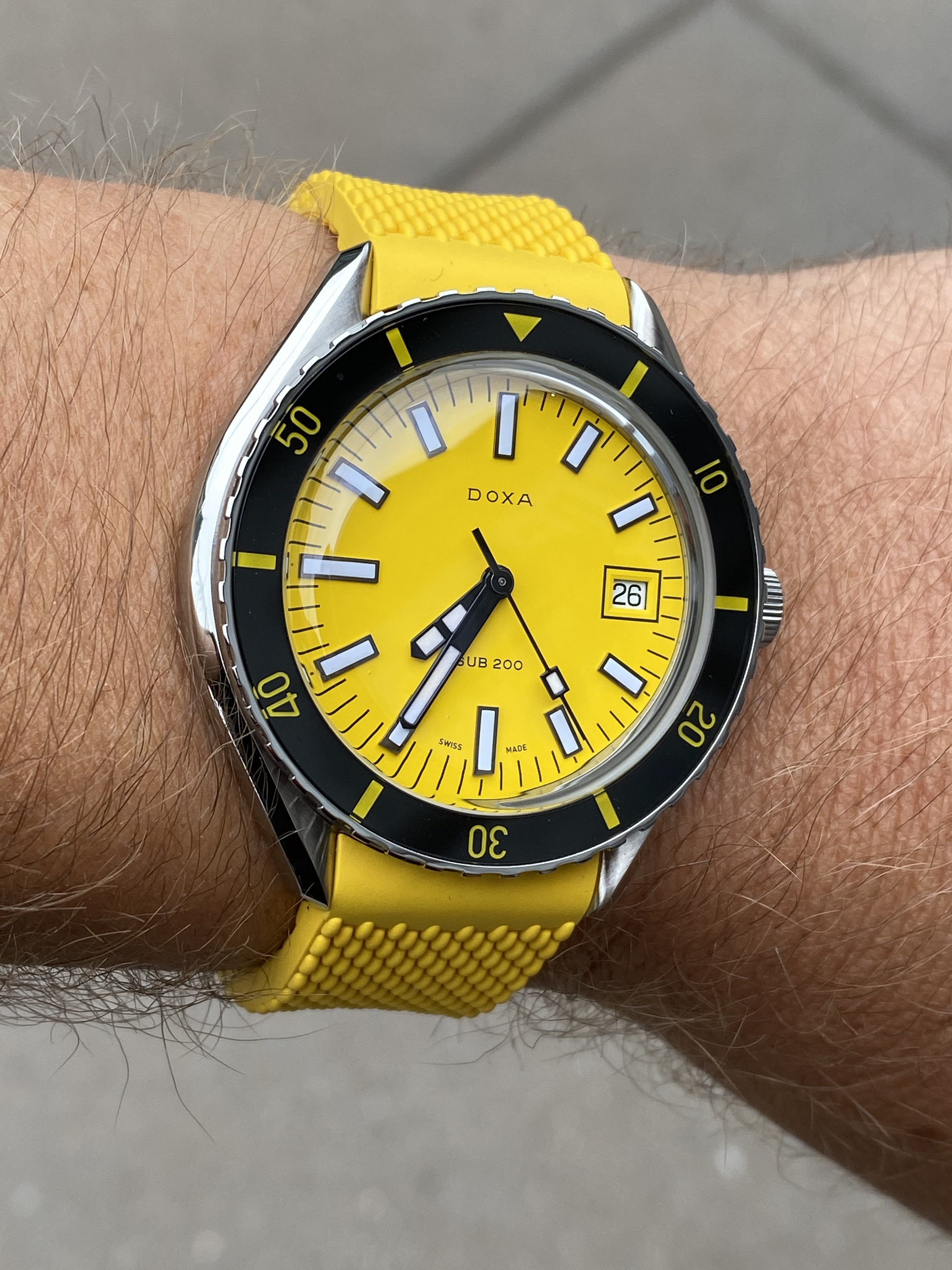 The attention to detail continues along the flanks of the rubber band, where you'll find "DOXA" lettering imprinted into apposing sides. And, on the underside of the textured band, you'll also find "DOXA" lettering, as well as the watchmaker's fish insignia. Details matter, even on a component as straightforward as a strap, and both of these styling cues are nice touches. They contribute to it feeling on the wrist like a quality item.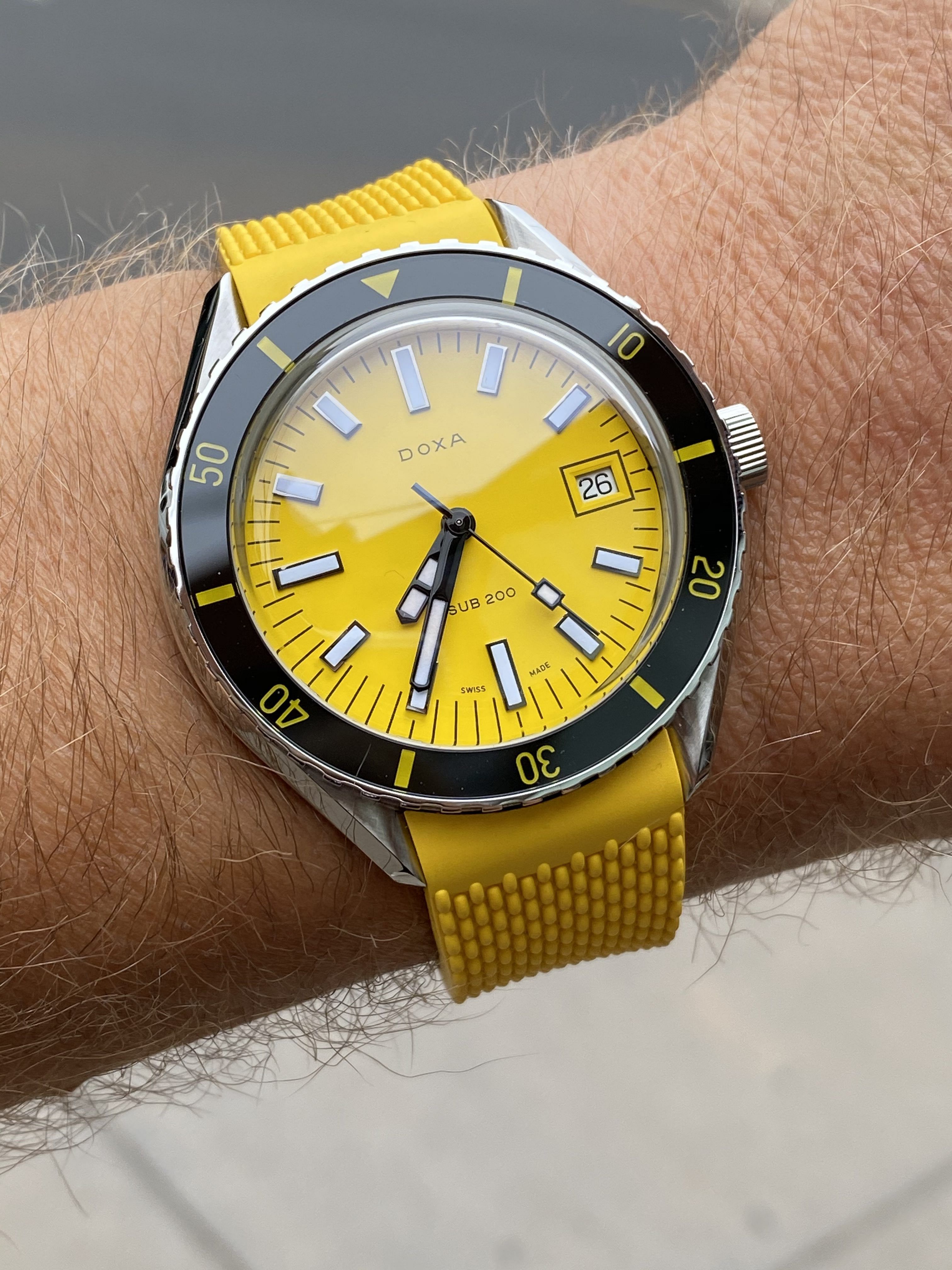 Taking the rubber band on and off is a doddle, too, thanks to it being fitted with a no-nonsense, brushed stainless steel pin buckle, which feels tactile and solid. The buckle also features an engraving of DOXA's fish insignia.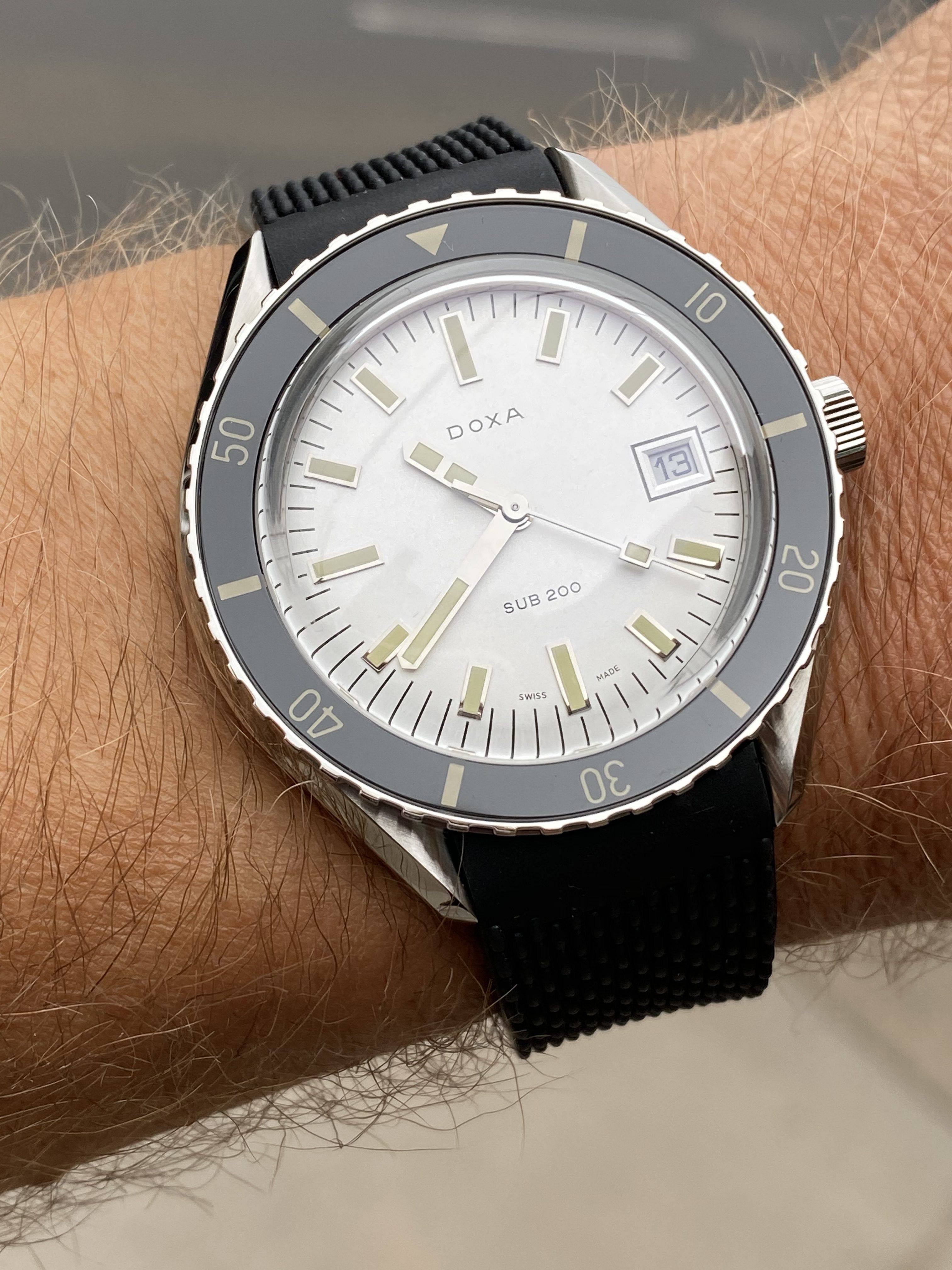 The width of the rubber band is also noticeably thinner than that of the beads of rice bracelet — 2mm to be precise. It's difficult to comprehend what removing a mere 2mm can do, but the slimmer proportions have a profound impact on the way the watch feels on the wrist. It's more more balanced and certainly more comfortable than the bracelet, especially when the thermostat is hovering over 30 degrees.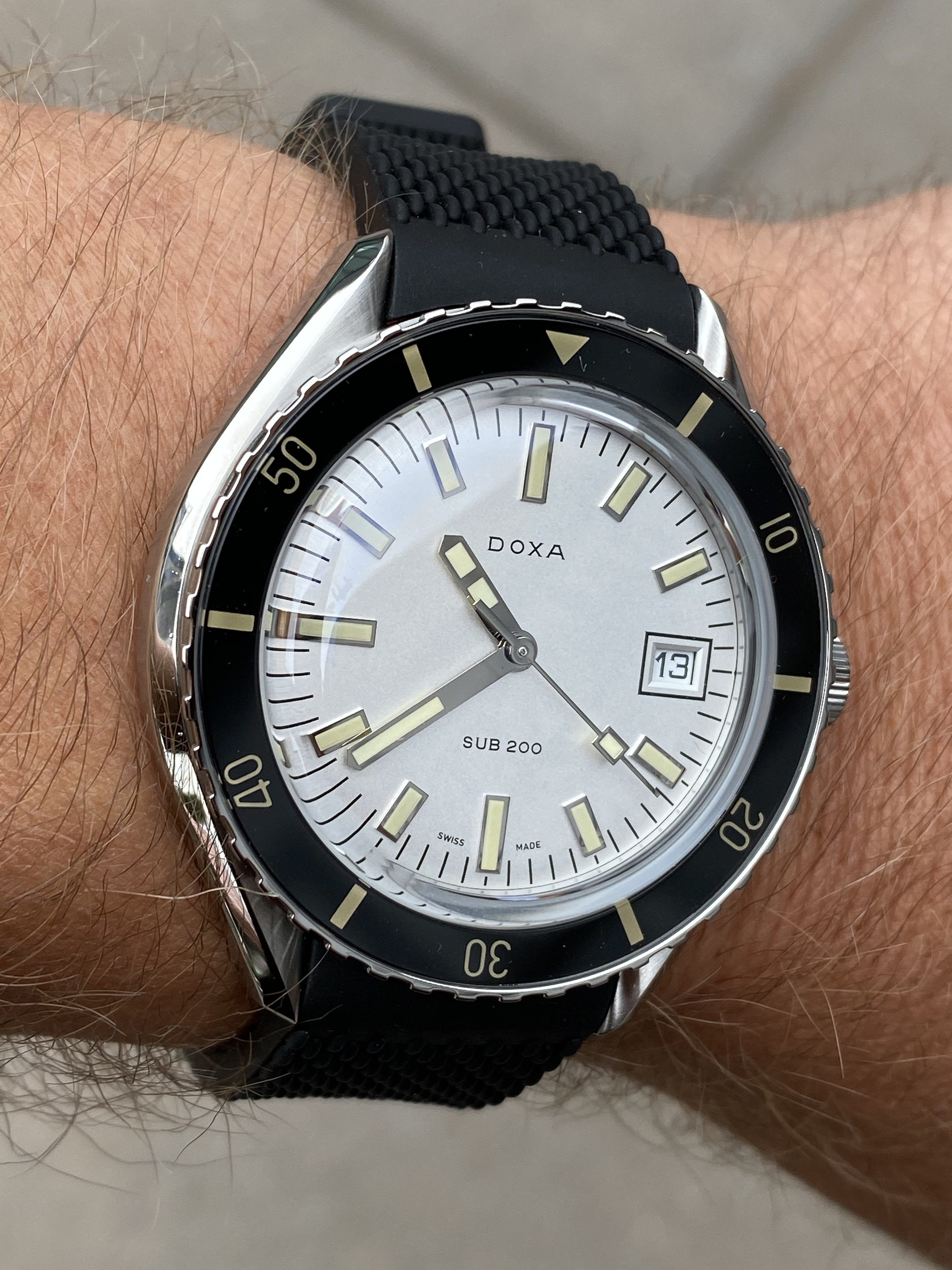 In fact, I'd go so far as to say that the entire personality of the watch has changed … there is definitely a different dynamic. And perhaps the biggest compliment I can pay is that after wearing the SUB 200 with rubber strap for anything more than a few minutes, I had forgotten I was even wearing a watch.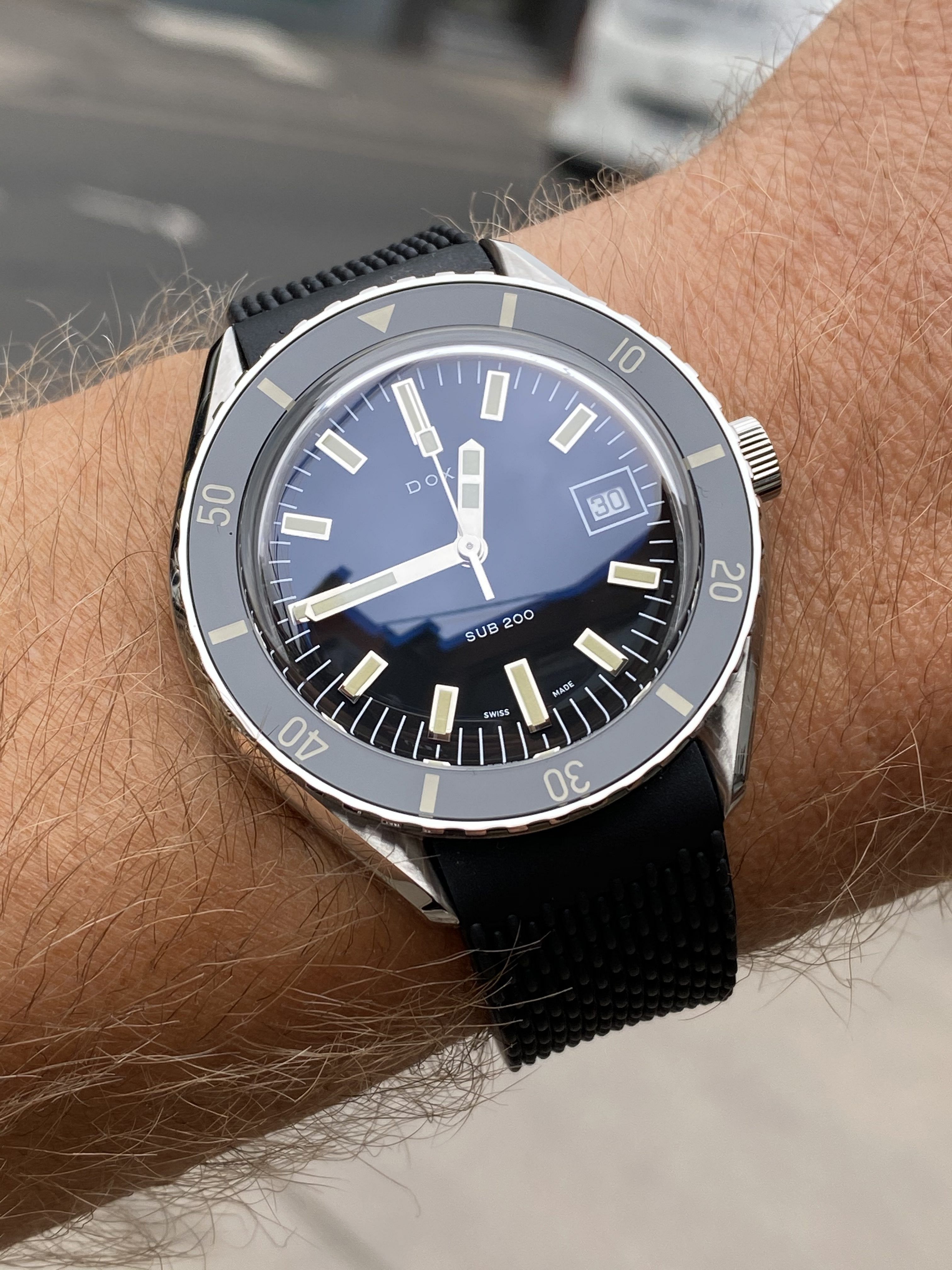 Criticisms? Well, if I'm really nitpicking, I would've loved to have seen the rubber band come with a brushed stainless steel deployant clasp rather than a pin buckle, as I feel that it would've elevated the overall product to another level again. But, that said, for me there's a practical charm to a good pin buckle, I can deal.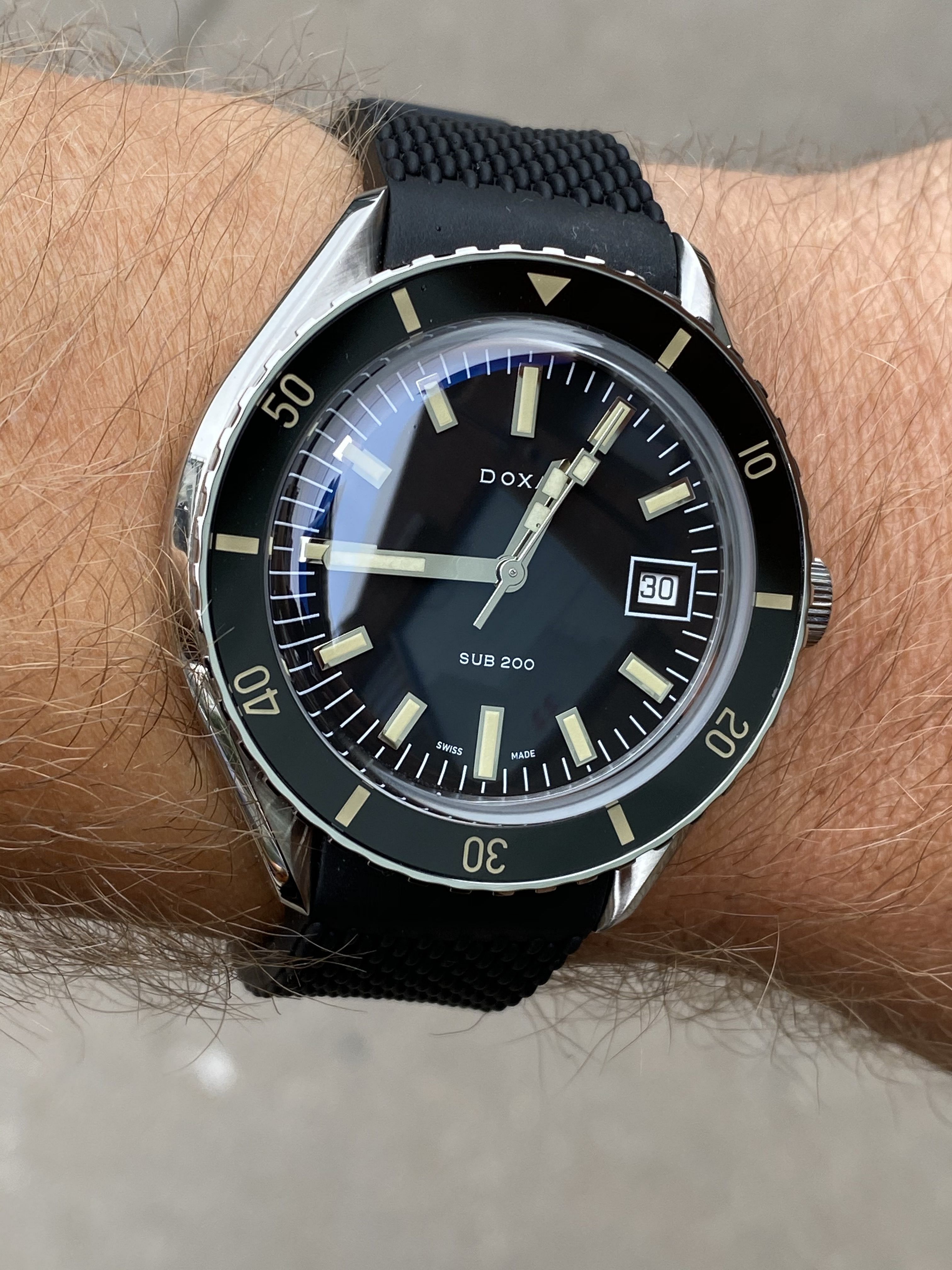 The DOXA SUB 200 and all six of its dial colours are now available with this matching coloured rubber band, with an Australian retail price of $1550. You'll also be able to purchase the textured band separately in the not too distant future, and we'll update this article with pricing when it does become available.
If you already own a SUB 200, this band is a no-brainer. And if you haven't pulled the trigger on a SUB 200 yet, the time is now, because this seemingly simple textured rubber band has transformed the whole timepiece into what it should have always been — a great summer watch. Currently, straps are not available for individual purchase, but we will be receiving stock very soon.