Don't Miss This: Our team debates the best watches under $1,000 USD
Zach Blass
Recently, Ricardo penned the story "The Collector's Crossroads: Can I call myself a collector if I've never owned a Rolex?". In it, he  tackled the question of whether or not a Rolex watch is a required piece for any self-respecting watch collector. After promoting the story on our Instagram profile, we, expectedly, received some interesting feedback from our readers. We love reader engagement, as the stories we write each week are truly for you. Always feel free to shoot us your thoughts and feelings because, often, we put together story follow-ups based on your responses. But today we are not just following up with a story, but a new series, based on a prompt we received from known watch enthusiast and collector R.J. Kamatovic (@rjkama). R.J left us an intriguing comment, which has become the basis for our new series "Don't Miss This", where the team will explore watches for every level of collector budget.
The team was therefore challenged to nominate a watch, within or under a given price point, that they believe serves as a gateway benchmark for a collectors' hunt within that price segment. All the time I have friends ask me what watch they should buy within a given budget parameter, so this is kind of a "captain obvious" subject to tackle.
To be considered, each nominated watch must prescribe to the following rubric and tick multiple boxes. These include:
Value for price visually and technically.
Excellence in aesthetic – great case shapes and dimensions, high wearability and ergonomics, well executed finishes. Intriguing dial textures and tones or power in simplicity (nailing a timeless classic look).
Robustness – up to the task of daily wear. with a high degree of scratch-resistance, shock-resistance, resistance against magnetism, and water-resistance.
Thinness/elegance – if a dress watch, how is the watch compelling enough to divert the gaze away from sportier pieces.
Movements – in house versus mass produced, level of decoration/finishing, accuracy, balance cock versus bridge, length of power reserve, level of complication.
Emotional connection – heritage-driven quality that speaks to iconic designs collectors love
To make an analogy, what we aim to accomplish is kind of like how Apple has "essentials" playlists for various artists. Instead of curating songs, we are qualifying why someone approaching a given price point needs to consider a given watch as a benchmark for the beginning of their hunt. Let's kick things off.
Luke's pick: Baltic Aquascaphe
Baltic don't just give you bang for your buck here, it's more like a nuclear explosion. For under a grand you get a classic diver with a gently retro edge. The dial is clean and comfortable, blending pad-printed lume with a sandwich construction. The polished appearance is further elevated by the sapphire bezel insert – a highly scratch-resistant material not usually found in bezel inserts at this price point – alongside a double-domed sapphire glass to drive home the vintage inspired aesthetic. All this is served up on a solid "beads of rice" bracelet, too. What's not to like? Well, the only thing I can question is that irritating "h" in the name. In other words, this watch is pretty much faultless.
Price: €579.17 (excl. VAT) ~ $670 USD

Ricardo's pick: Tissot PRX Powermatic 80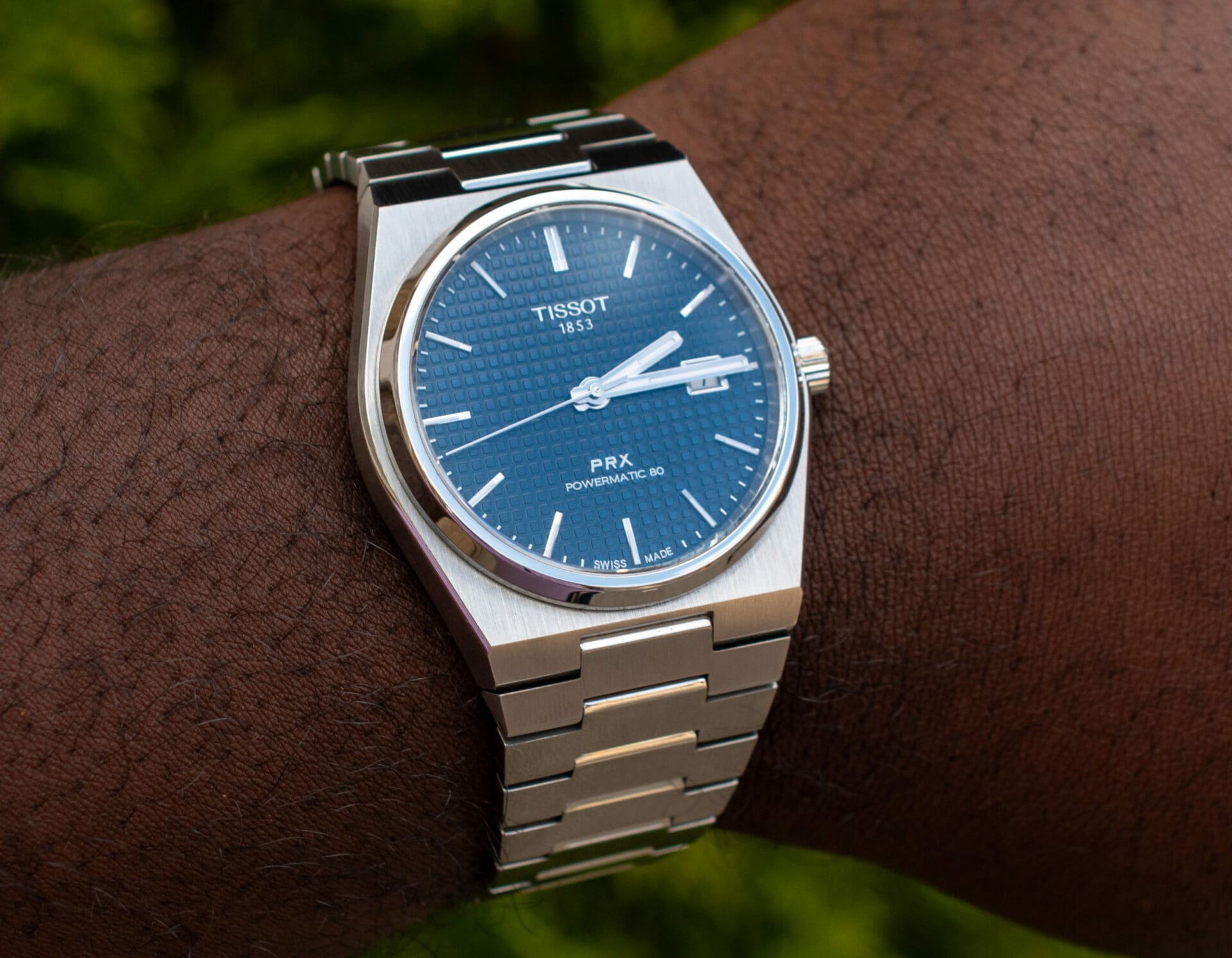 If we had done this any other year, a microbrand, a Hamilton or a Seiko would have been my nomination. Those brands have been dominant mainstays in the sub $1,000 USD for years. But in 2021, you would be doing yourself a huge disservice by not experiencing the Tissot PRX Powermatic 80. The value that this watch brings can never be overstated. 80 hours of power reserve. Reasonable 40mm sizing. Major backing of a large company in Swatch. Choice of three dials. One hundred metres of water resistance.
Yet just as you think you're about to break the bank, the PRX Powermatic 80 snaps you back with a maximum price of $675 USD. If what I've listed still doesn't make the case for it, also realize this watch allows you to ride the integrated bracelet craze. Every collector out there should experience one at some point or another in their lives without having to refinance their home to do so.
Price: starting at $650 USD
Zach's pick: Seiko Prospex 1959 Sport Watch Reinterpretation SPB241
The Seiko Prospex 1959 Sport Watch Re-Interpretation collection released earlier this year presented a strong trio of references that reimagine Seiko's first sports watch – built to meet the robust demands of mountain climbers. Collectors consider the vintage watch the Japanese parallel to the Rolex Explorer, an Eastern take on adventurers' sports watches of the era. For the modern collector looking to get a quality timepiece under $1,000 USD, there is a lot to like about the Seiko Prospex 1959 Sport Watch Re-Intereptation ref. SPB241.
Its timeless cream dial is a versatile colour tone that speaks to tastes past, present, and likely the future as well. The strong dauphine-shaped hands blend the aesthetic cues of sporty and elegant, fittings considering the creamy backdrop that allows this watch to work well in both adventurous and formal environments. All three central hands and applied hour indices are filled with LumiBrite, allowing visibility in darkness, but their sharp faceted profiles also work to further dress up the watch as well. For those who find the lack of a date complication a deal breaker, you have a well placed calendar aperture at the 3′ position.
In terms of specifications, the numbers further reveal the attractive and competitive nature of the offering. Its stainless steel case, faceted and elegant with well-executed mixed finishes, is a more classic 38mm in diameter, 12.9mm thick, and 46.2mm lug-to-lug – very wrist approachable measurements. You also have a 200 metre depth rating secured by a screw-down crown and an in-house 6R35 movement that offers 70 hours of power reserve to further showcase the high-performance of the timepiece.
Price: $750 USD / $1,150 AUD