Don't Miss This: Our team debates the best watches from $15K-$20K USD
Zach Blass
We've debated some of the best watches under $1,000 USD, from $1,000 – $3,000 USD, from $3000 – $5000 USD, from $5000 – $7,000 USD, and from $7,000 – $10,000 USD, and $10,000 – $15,000 USD. Today, in our next installment of the Don't Miss This series, we are stepping up the increment again – tackling some of the best watches from $15K-$20K USD.  To recap: the mission of this series boils down to each team member nominating a watch they believe a prospective collector should definitely consider if they are looking within that specific price budget. While our nominees are some of our personal favourites at the price point, it is less about us selling you our pick than it is about showing you what benchmark qualities or specifications we believe you deserve. (You can see the full criteria at the bottom of the piece).
Luke's pick: Czapek Antarctique Passage de Drake
Earlier this year, I was chatting to Rob Nudds, the Managing Editor of Fratello and a man who knows an awful lot about watches. Right now, he insisted, we were living in a golden age of sports watch design.  "For me, the Czapek Antarctique, the H. Moser & Cie Streamliner and the Bulgari Octo Finissimo are the modern holy trinity of sports watches," Rob said. "I would put them in direct comparison with the Royal Oak, the Nautilus and the Overseas."
It's a big call and admittedly, Rob had skin in the game having just overseen the creation of the Fratello x Czapek Antarctique Passage de Drake Viridian Green Limited Edition. But I could see where he was coming from with the Antarctique (in case you're wondering, the Drake in the name refers to the British explorer Sir Francis, not the similarly monikered hip-hop titan).
A quick history lesson: watchmaker Franciszek Czapek was the original partner of Antoni Norbert de Patek (yes, that one) and together they founded the company Patek, Czapek & Cie in 1839 before going their separate ways six years later. Patek, of course, would go on to work with a certain Adrien Philippe in a double act that would become one of the most venerable watch brands of all time. But Czapek didn't do too shabbily himself. Founding Czapek & Cie, he became recognised as one of the greatest watchmakers of the nineteenth century.
After lying dormant for many years, the Czapek brand was revived in 2012 and one of their pieces, the Czapek Genève, promptly won the public prize at the Grand Prix d'Horlogerie de Genève in 2016. But the Antarctique is another cracker.
Its measures up at 40.5mm in diameter, 11.3mm thick and 45mm lug-to-lug across the wrist. Water-resistant to 120 metres, its stainless-steel case is largely satin-brushed with only the conical sloped bezel on its front mirror-polished. The integrated bracelet is also primarily brushed but enlivened with mirror-polished, C-shaped centre links.
Aesthetically, there are two stand-out details. The first is the dial that's sexed up with flinqué guilloche, a chequered pattern that brings oodles of depth and shimmer. Then there are the scalloped case flanks of the watch that imbue it with a futuristic edge. Really though, from the colour-matched date window to the in-house caliber SXH5 with its 60-hour power reserve, the Antarctique is a serious sports watch that, depending on the exchange rate hovers on the very brink of our $20,000 price limit. Plus, unlike certain other unobtainable integrated bracelet pieces, this is a watch you can genuinely snap up.
Ricardo's pick: Glashüette Original PanoReserve 1-65-01-04-15-30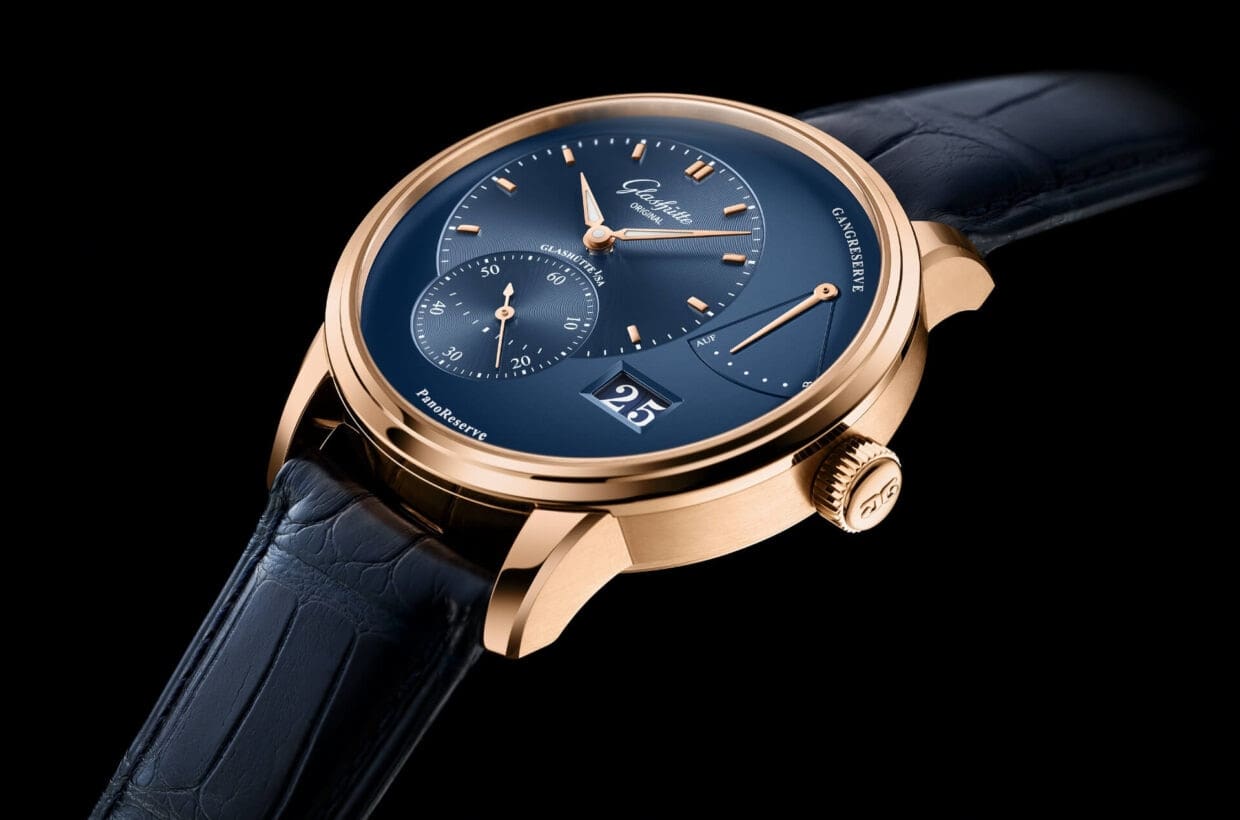 Once you hit the $15,ooo USD price point, you've officially reached the realm of precious metals and highly finished watches. With that being the standard, one of the first things you should look at is what is coming out of Germany. Their no-nonsense approach to watchmaking leads to some spectacular watches. One of their brands that excels at this while still presenting relative affordability is Glashütte Original. And the model I want to highlight here is their Panoreserve.
The Panoreserve is a beautiful dress watch with a classic look. The 40mm case has multiple finishes, from brushed sides to a polished bezel, all made of gold. When combined with a blue dial featuring a big date and an off-centre time display, the watch exudes high-end watchmaking.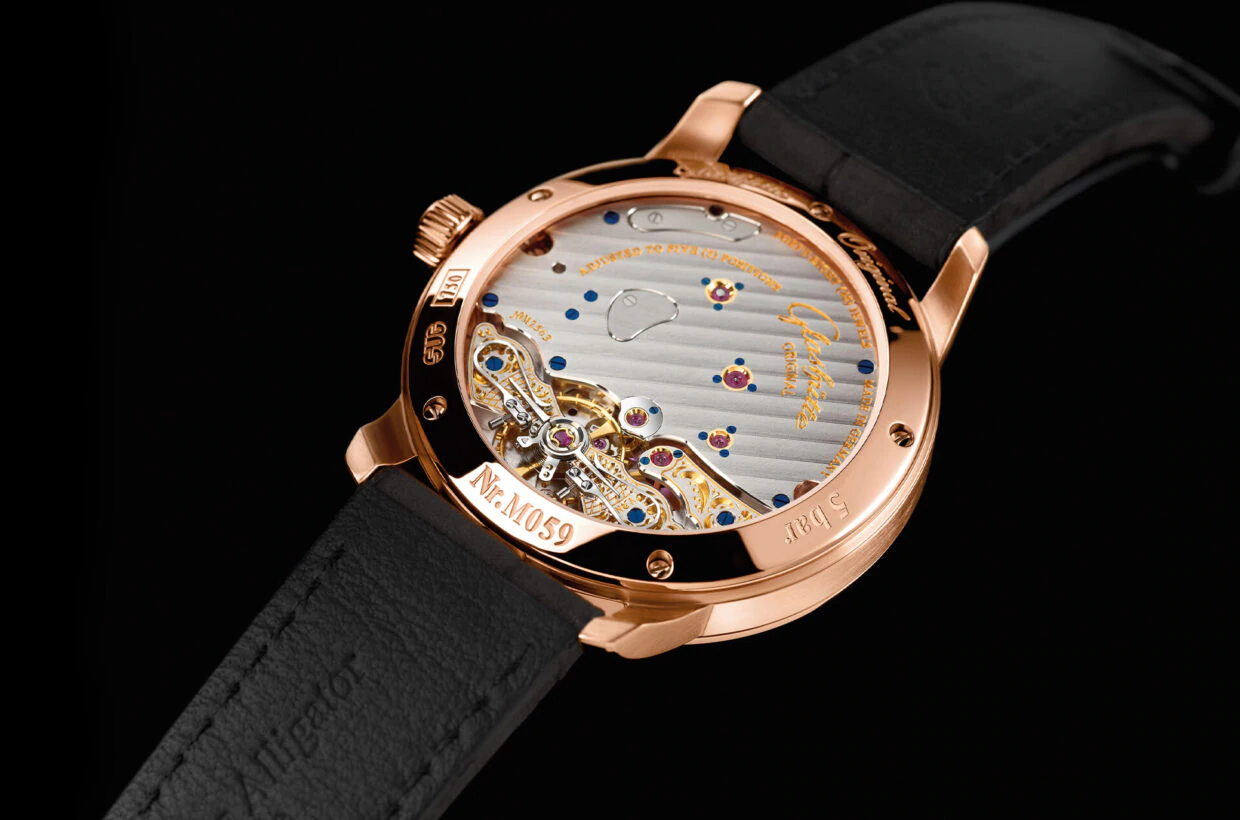 Now before you start to drool at the front, I suggest you turn the watch over. Beating inside and displayed through a sapphire crystal display caseback is Glashütte Original's Calibre 65-01. It's a manual-wound movement beating at 28,800 bph with 42 hours of power reserve. It features a Geneva striped three quarter plate. Below that you'll find a Duplex-swan-neck regulator. The finishing here is just astounding.
Overall, the Glashütte Original Panoreserve is a great example of German watchmaking. Legibility and a simple aesthetic are prioritized over flash. Furthermore, the quality, attention to detail and craftsmanship displayed here make it a great example of what you should demand of any brand at this price point.
Price: $18,700 USD
Zach's pick:
When you reach this price bracket, you can afford to snag a watch from a heavy-hitting and horologically driven brand. Known by many to be the German answer to holy trinity watchmaking, A. Lange & Söhne makes one hell of a watch. Each of their timepieces are crafted with the utmost respect for German watchmaking tradition, offering top-tier finishes and architectures distinct to the brand. I personally have the pleasure of owning a Lange watch, so I know first-hand, in the metal, the joys of strapping one to your wrist. The Saxonia is an elegant three-hander that presents one of the best dress watches in the market, at a highly competitive price proportional to what it offers. Let's be clear, it is every bit fantastic, if not more, as a Patek Philippe Calatrava 5196 – but it is also nearly $6,000 USD less expensive.
The Saxonia ref. 216.027 is a watch almost entirely made of precious metal. Its 37mm x 7.8mm x 43.2mm case is fashioned in 18K white gold, its dial made of solid silver, and the hands rhodium-plated gold. What I like about the ref. 216.027 is its monochromatic look. While its design is very traditional, the all-grey aesthetic of the case, dial, and hands gives it a stealthy and futuristic vibe. Most would not necessarily realize you are packing some precious horological heat unless they really knew their watches. The top of the case and all sides of the lugs are mirror polished to a very high standard. But what really draws me in is its brushed caseband, its texture one of the richest brushings I have personally ever encountered. Working our way to the dial, the alpha hands are stunning in form – like two elegant spears denoting the hours and minutes. They sit above the grained portion of the main dial, its matte-like texture catering to its less-is-more appeal. The sub-seconds register at 6′ introduces contrasting texture with fine concentric rings that result in a subtle sunburst effect.
If you think the externals look fantastic, flip the watch over and it only gets better. The in-house caliber L941.1 is hand-finished to the nines, with circular graining to the mainplate and a German pocket watch style 3/4 bridge plate decorated with exquisite Glasshütte stripes, manually blued and black-polished screws, jewels set in chaton, and glistening anglage/bevels. Even the swan-neck balance regulator is black polished, and the balance cock is free-hand engraved (making no two exactly alike). For those who enjoy patina, Lange distinctly offers calibers made of a German silver alloy (nickel, copper, and zinc) which over the course of ownership develops a more and more intense yellow golden hue. The 21,600 vph caliber offers 45 hours of power reserve, and as a manually wound caliber you will need to hand-wind it to keep the power up. But fortunately it is a charming and intimate moment between you and a very precious timepiece.
Price: $18,800 USD
Criteria
To be considered, each nominated watch must prescribe to the following rubric and tick multiple boxes. These include:
Value for price visually and technically.
Excellence in aesthetic – great case shapes and dimensions, high wearability and ergonomics, well executed finishes. Intriguing dial textures and tones or power in simplicity (nailing a timeless classic look).
Robustness – up to the task of daily wear. with a high degree of scratch-resistance, shock-resistance, resistance against magnetism, and water-resistance.
Thinness/elegance – if a dress watch, how is the watch compelling enough to divert the gaze away from sportier pieces.
Movements – in house versus mass produced, level of decoration/finishing, accuracy, balance cock versus bridge, length of power reserve, level of complication.
Emotional connection – heritage-driven quality that speaks to iconic designs collectors love.