Fresh and unfiltered – why Dimepiece could be the shake-up that watch culture needs
Luke Benedictus
If you want youthful edge and attitude, watch marketing is probably the last place in the known universe that you're going to find it. Brands invariably take a strait-laced approach, heaping laboured emphasis on their luxury credentials, heritage and technical prowess. All of which is pretty dull. But it also risks turning off an entire generation.
Brynn Wallner is the mastermind behind @dimepiece.co – an Instagram account with plans to evolve into something much bigger. The launch-pad for all this happened in 2019 when she spent a year working with the Sotheby's editorial team in New York and was tasked with creating content to connect with a younger audience. As part of this, Brynn produced a series called G.O.A.T on the greatest watches of all time. "At the time, I didn't know anything about watches," she admits. Undeterred,  Brynn sourced a specialist watch writer and dived into the process, taking responsibility for all the production, image research, fact-checking and editing.
As a result, she received a crash course in brand histories, movements and references. "It was this whole new world that was totally foreign to me," Brynn tells Time+Tide over Zoom. "I had to learn about it pretty quickly in order to do my job. And in doing it, I felt myself just really intuitively interested. I was immediately thrilled by it all."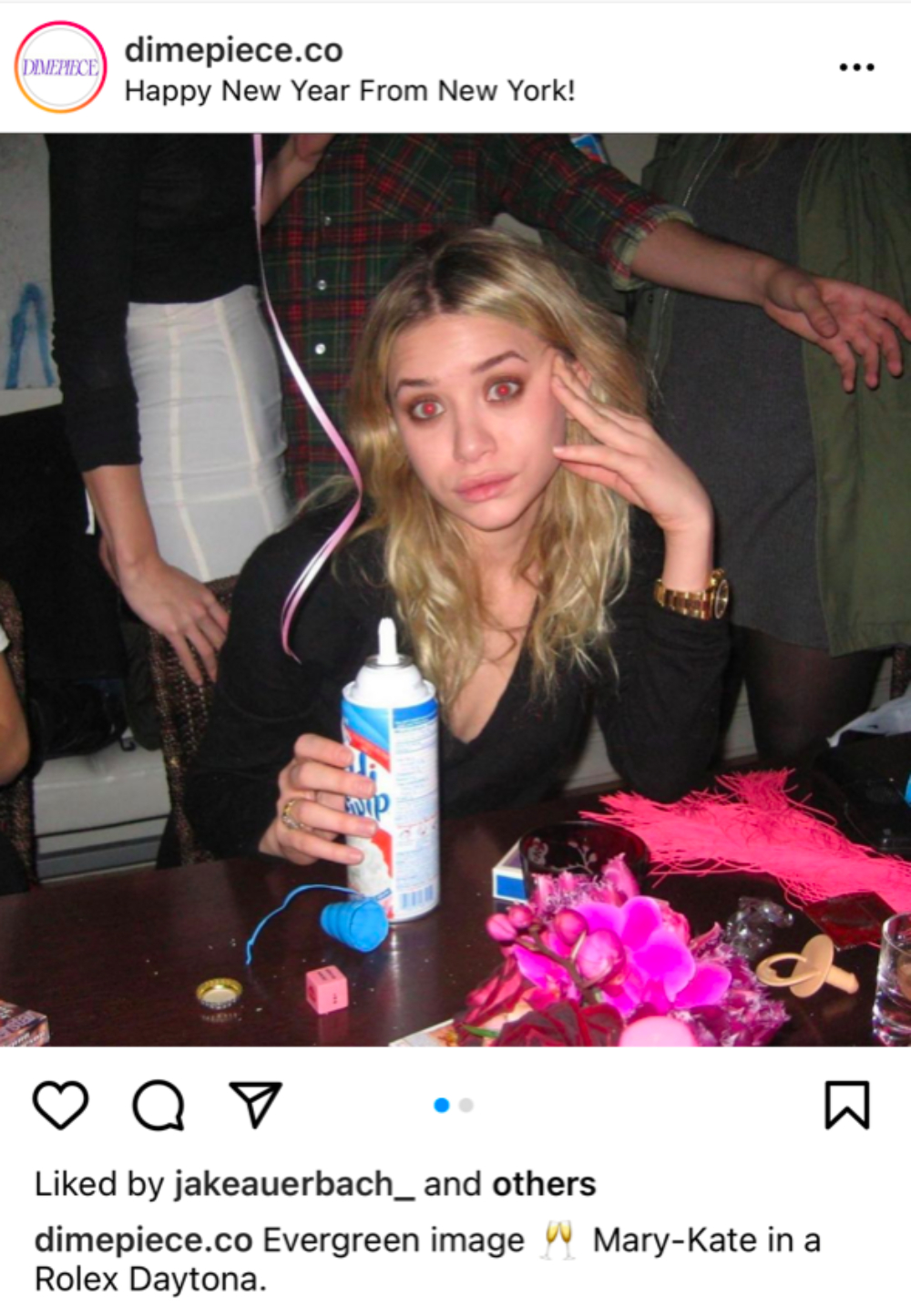 Brynn quickly fell down the horological rabbit hole, an experience that she now describes as being "watch pilled". Today, whenever she spots someone wearing a watch she finds herself compulsively peering closer to identify the brand and model. "I can't 'unsee' watches," she says. "It's a blessing and a curse! So when I'm watching Sex and The City, I'll be like: "Oh my gosh, Charlotte is wearing a Cartier Tank. Of course she is, she's such a WASP and that's so her."
But as her interest in watches snowballed, Brynn began to question why this world was, in fact, so alien to her.  As a 30-year-old working in the New York media, her circle of girlfriends was broad. "But no one I really knew was wearing watches," she says. "And, I think it's just because the marketing has been so cheesy. It's just missing the mark in terms of my generation that wants to wear, like, Air Force 1s."
In part, Brynn suggests, this cultural disconnect is caused by the narrow focus of female-skewed watch ads on "very dainty jewellery" pieces that seem more targeted at men as gifts for their partners. Yet the whole thrust of female watch advertising also felt off-beam and ill-conceived to Brynn. "It's too unattainable, too slick, not approachable enough," she says. "It's like you don't have to try so hard to push the luxury message because everybody already knows that you're luxury."
The result of this is that a sizable demographic is missing out and not being catered to. Brynn's experience at Sotheby's had effectively given her a backstage pass into the horological universe. Wowed by what she'd discovered and recognising her good fortune, she now wanted to make it accessible for more women just like her.
Her Instagram account dimepiece.co was the first step. Essentially, it posts images of prominent women in pop culture and identifies their watches as a way of putting their timepieces into a more relatable context. What's notable about the pics chosen is that most of them are unstaged. As a result, they feel raw and unfiltered, possessing that crackle of energy that you might get in a Dazed & Confused fashion shoot. Many of the shots like Mary-Kate Olsen holding a can of whipped cream or singer Dua Lipa flipping the finger at a paparazzi photographer are irreverent and fun. Subsequently, they feel like the welcome antithesis of standard watch imagery.  "I like the ones that feel very spontaneous," Brynn says.
The reason she trades on the star power of celebrities is partly because that's what helped in her own journey to become familiar with different watches. "I was like, 'Oh, okay. Bella Hadid is wearing a Panthere – maybe I could wear a Panthere. Maybe it's not so out of my league'."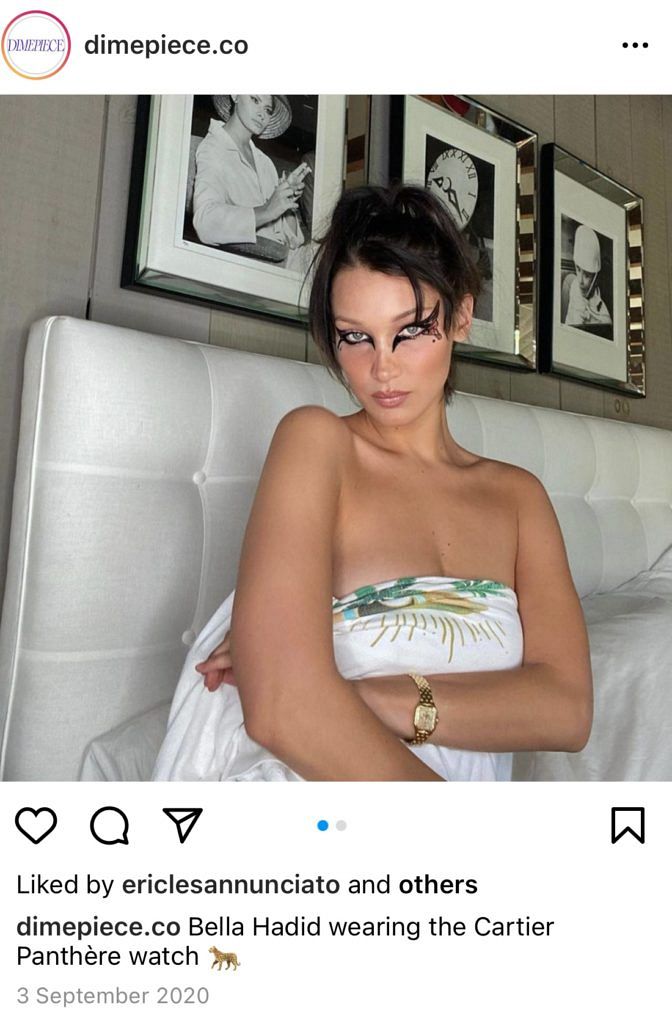 The Instagram feed is just the start. A website has now tentatively launched that aims to cover watches for women in a form that genuinely resonates. Dimepiece.co will offer interviews with movers and shakers, recommendations for different budgets, as well as demystifying watches by explaining the terminology and jargon. "I just want to make fully loaded content that is at once inspirational and also educational," Brynn says.
It all feels long overdue in an industry that has always felt too pale, stale and male. It's early days, but hopefully Dimepiece can become part of the process that moves the dial in a more interesting direction.
The only slight downside to all this? Bitten by the bug, Brynn is predictably now obsessed and itching to secure her first "proper" watch.  "My 31st birthday is coming up and I really want a Cartier Tank Francaise, a two-tone," she says.
Editor's note: This Monday is International Women's Day.  Follow @dimepiece.co (because it's great)  and check out Sandra Lane here on the controversy surrounding the "women's watch" category.