Did Rolex just leak their own Watches & Wonders 2023 releases?!?
Zach Blass
Rolex is notoriously secretive about their releases, keeping their novelties completely under lock and key until the moment the embargo lifts. Sure, people constantly put together prediction videos or claim to have leaks in social media posts. But these often turn out to be figments of the imagination rather than reality. It is quite ironic that a brand, known for incremental updates rather than overhauls, can be at times unpredictable. Anniversary years give more insight into updates that are much more probable, but nobody can truly predict with absolute certainty the full extent of their novelty drop each year. Earlier today, however, Rolex posted an Instagram reel that teased their releases for Monday at Watches & Wonders and some of the flashing imagery in the teaser was not so subtle to the trained eye. Therefore, we can rather safely infer at least a few of their new watches. On the other hand though, are these truly intentional teases or leaks from Rolex? Or absolute red herrings? Let's dive in.
View this post on Instagram
As I expected, a Yacht-Master in RLX Titanium seems certain
This is not a new prediction, as I expressed as much in our team predictions for 2023 roundup. There is zero chance Rolex would invest in creating their own titanium alloy and stop at the standard production Deepsea Challenge watch. It is a huge beast of a watch at 50mm in diameter, so it is not the most wearable creation by any stretch. For wide adoption, it eventually needs to make its way into more of their wrist-friendly designs. After spotting the prototype on sailor Sir Ben Ainslie, it seemed the first titanium Rolex model would have been the Yacht-Master as they had already made one. But, alas, the Deepsea Challenge came first. Surely, the Yacht-Master would have to be next then right? Well such a suspicion has all but been confirmed due to the above image from the reel. After displaying a yacht racing through the water, it then cuts to the above where you can just make out a timing bezel with a matte ceramic insert and raised numerals – signatures distinct to the Yacht-Master design. In terms of the case, and by extension the bracelet, being made in titanium. If we learned anything from the Deepsea Challenge and Ainslie's prototype, RLX titanium has more of an emphasis on brushed finishes and vintage-inspired bevels to the lugs – exactly what we are seeing above. So an RLX titanium Yacht-Master appears to be imminently debuting.
An RLX Titanium Rolex Explorer? Now that would be out of leftfield
If you had asked me at any point up until today whether or not a RLX titanium Explorer was in the cards, I would have said it was extremely unlikely. But, to see a case, situated with a frosty backdrop (think polar, Mt. Everest, and exploration), that has the aesthetic codes now associated with RLX titanium and a dial that clearly displays the Explorer-style applied Arabic numeral at 6′, this teaser makes it a solid possibility. At first, it seems like a totally crazy notion that has you doubting your sanity. For one of Rolex's most conservative collections, to find out it will become one the earliest adopters of a new material seems absolutely wild. But, when you think about it further, Rolex recently discontinued the 39mm Explorer leaving only a 36mm model in the current catalogue. Many praised the return to its original 36mm diameter, but there was certainly a large contingent that lamented the Explorer no longer having a modern diameter. Considering novelties are years in the making, and the result of strategic planning, perhaps the 39mm Explorer in steel was discontinued to make room for a 39mm or larger Explorer watch in RLX titanium? I honestly have goosebumps just thinking about it, and if it comes to fruition it will definitely be watch internet-breaking.
Another icy blue anniversary Daytona?
Like the imagery of a yacht racing through the water before the shot of the Yacht-Master, and the polar frosty backdrop of the possible Explorer, prior to this clip of a Rolex watch with an icy blue dial, footage is shown where a road is rapidly moving (like a drone racing above a highway with a camera on its bottom). This leads me to associate whatever we are seeing above with racing, and racing signals Daytona. Further enforcing this connection is the fact the brief clip of the icy blue dial watch in question races across the outer perimeter of the dial and inner bezel (like a race car going around a circular track). It even seems like you can make out tyre tracks above right? Or a white line splitting a track. The only thing here is that we already have had an anniversary Daytona in platinum with an icy blue dial (which is usually limited to the watches cased in the noble precious metal) that was introduced for the 50th anniversary of the Daytona. Now, 10 years later, it is the 60th anniversary of the Daytona, so it would make sense something special is inbound. The question: is it simply a slightly tweaked or refined take on the 50th anniversary model? Or, could we possibly see this potential icy blue anniversary Daytona pairing the limited dial colour with RLX titanium. Again, internet-breaking if the latter were to happen.
A new gold-incorporating GMT Master II looks certain, but with a new cerachrom bezel colour?
The applied indices suggest yellow gold, and the bezel scale and arrow-tipped hand suggest GMT Master II. Is this cerachrom bezel using a new shade of grey? Or is it just the effect of the render simulating light hitting the bezel? Not a lot to go on here, and no case shot to get a sense of what metal it is in. So, really, all the above indicates is yellow gold. Just how much of it is used is the key question.
More of, or the return of, stone dials? Enamel dials?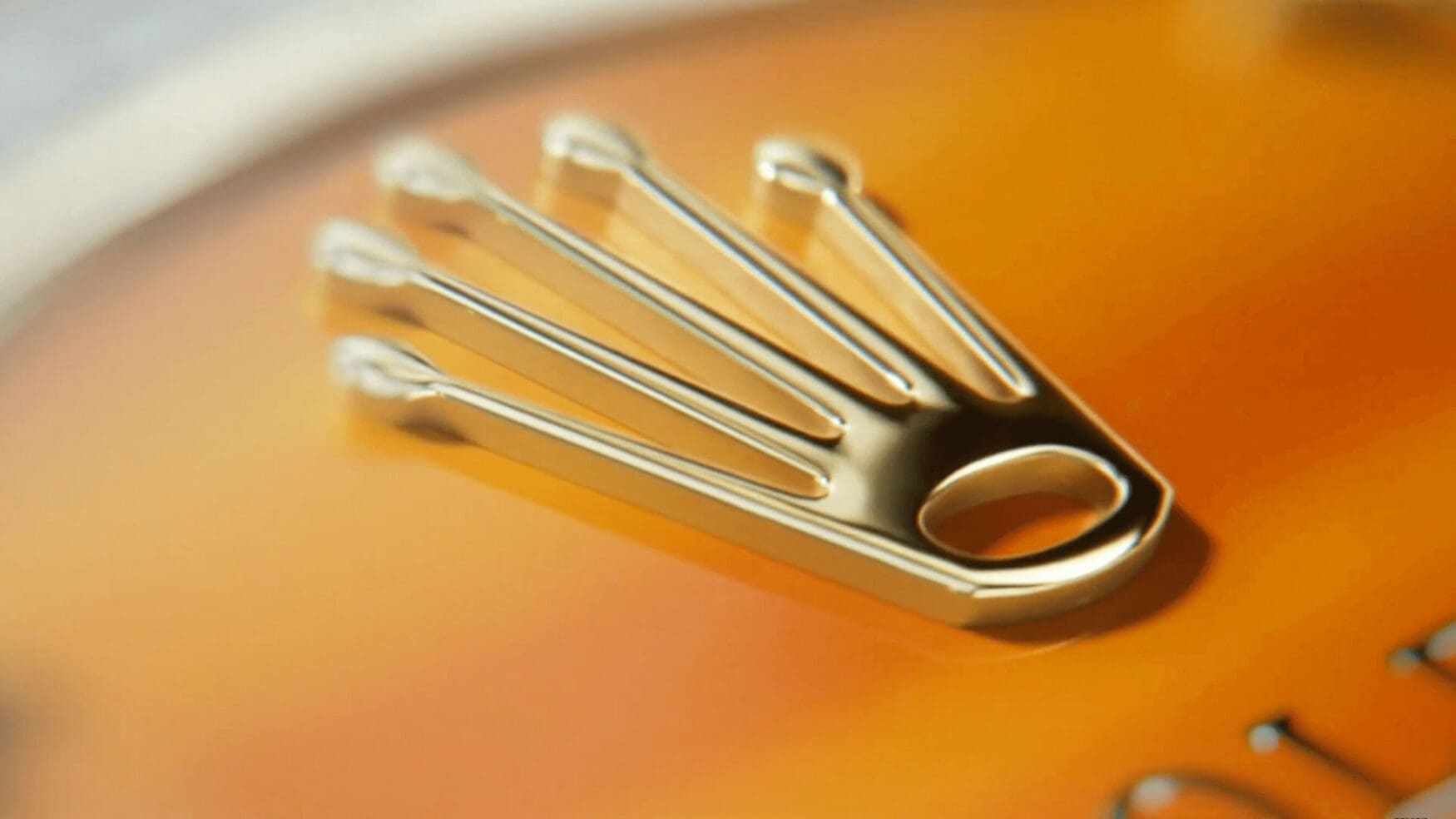 From here on out things get more vague. Rolex splits their current collection into two segments: classic (Oyster Perpetual, Datejust, Lady-Datejust, Day-Date, Sky-Dweller, Cellini) and professional (Submariner, Explorer, Explorer II, Yacht-Master, Yacht-Master II, Daytona, GMT Master II, Air King). The above does not really suggest anything other than it must be a "classic" model – as only the "classic" models use an applied coronet (the Daytona and Milgauss the only current exceptions to the rule). The footage preceding this appeared to be a sort sandy powder, which could suggest the potential for enamel. The gradient hues above though make me think tiger's eye or stone dials. Ultimately, it would be fair to assume in the wake of the crazy-hot and in-demand lacquered Oyster Perpetuals that Rolex may continue to inject colour, playfulness and bolder aesthetics into the classic segment of their watches.
Cellini appears to be getting some sort of update
Based on the thin fluted bezel, and crown profile, the above image is highly likely to be a Cellini. Can't say much more beyond that prediction wise, but it is great to see Rolex's most under-appreciated collection potentially getting some sort of facelift.
Ok, likely a classic model. But which?
The dial hue is very intriguing, and the hue of the gold hand and applied indices and coronet suggest Everose gold. But the only thing certain here is this is a classic model due to the applied coronet. The lack of Oyster Perpetual branding beneath the Rolex name, which appears to be engraved versus printed (has this been done before?), could suggest this is a snapshot of a new Sky-Dweller, but there is no way to be sure.
Oddly no teaser-related news on the 70th anniversary Submariner front
Unless I missed something, there was no imagery involved in the teaser reel that suggested anything about a new Submariner. Bit of a shock really, but hopefully that means it is just too good to spoil.
A lot of speculation, and educated guesses here. Who knows what will really happen. The good news is that all will be revealed on Monday, March 27, so the wait will be over soon.