IN-DEPTH: The Zelos Watches Mirage 2 marks a step up from microbrand to haute horology
Thor Svaboe
Bravo Elshan! I'm happy to say I have been a (small) part of the rise of Zelos Watches, with two of their tough tools previously in my collection, the Hammerhead and Eagle. Through the sheer determination and creative drive of owner and designer Elshan Tang, Zelos Watches have enjoyed a sharp rise from their 2014 origins. They're still tool and diver's watch focused and offer inspiring proof of what a microbrand can achieve.  But now the Zelos Watches Mirage 2 steps the enterprise up a serious notch.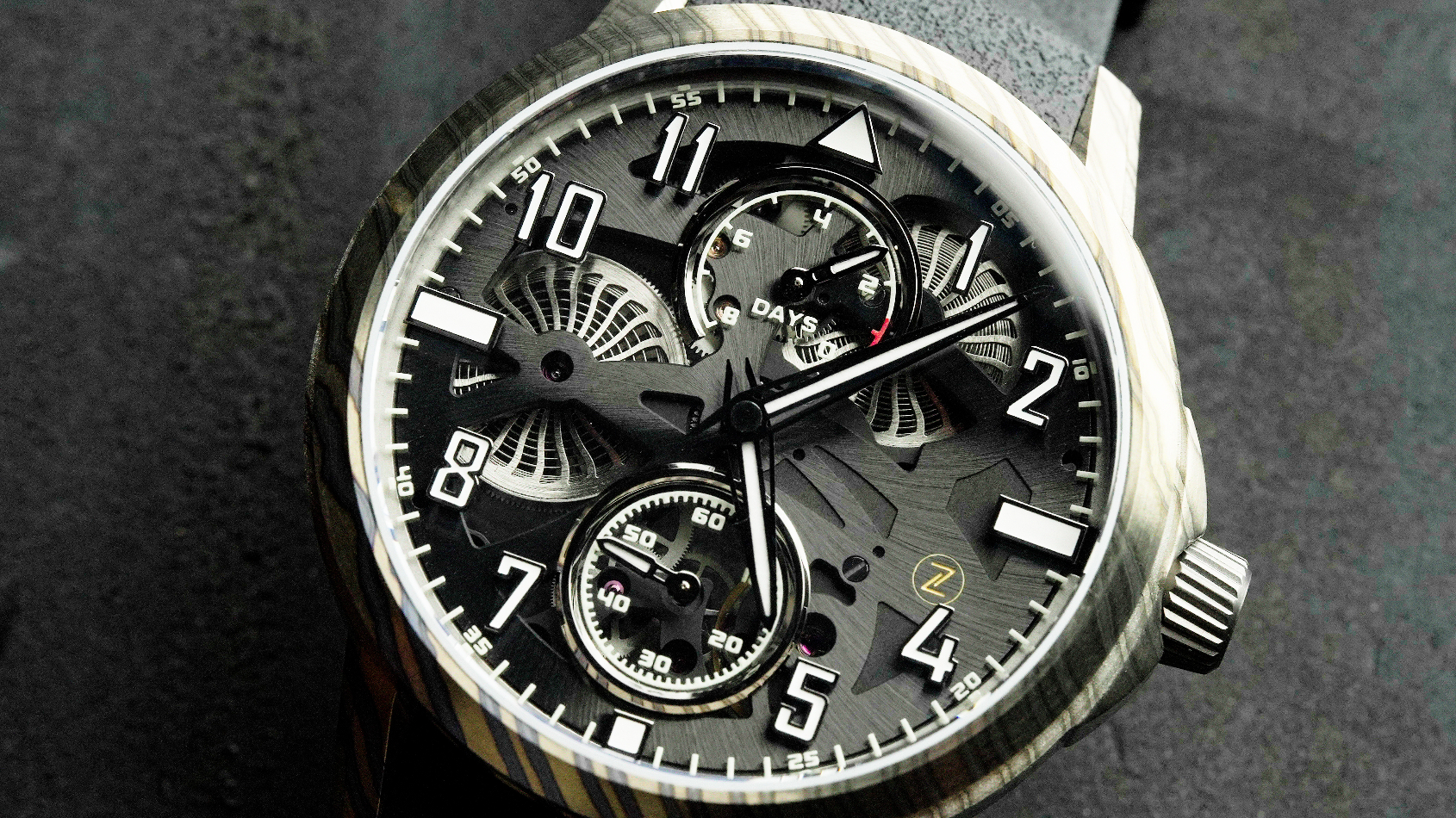 The Singapore brand have released more than 20 different models and become a mainstay on the scene, but last year Elshan stepped up his game with the Mirage, and yes, it had a tourbillon. Now Zelos, still a microbrand, is well and truly straddling an invisible boundary, increasingly feeling more like a small independent atelier, with a wide range of movements within their cases, from the Seiko NH35s to a custom manual calibre from La Joux Perret. In 2020, Zelos literally stunned us, with a 41mm case of metallurgical striped wonder, and a tourbillon-inhabited openworked dial. For less than $12,000 USD, this was one of the best value tourbillons on the market and with a tempting 10-piece production run.
This month, the Mirage 2 is here, with an eight-day hand-wound bespoke calibre from the same specialist Citizen-owned movement manufacturer in La Chaux de Fondes. As a follow-up to last year's Mirage, this tips the scales from microbrand to haute horology, and the result is a 42mm pilot's watch, but not as we know it. The Mirage 2 comes across as vintage-sprinkled, twin-register pilot's watch teleported back from a distant future, and the case is a show-stopper, too.
Elshan's quest for unusual and eclectic materials and a love for metallurgy, lifts an already individual choice to a much higher level,  with an unusually colourful sheen to the case. Catch a slight reflection, and the Mirage 2 case will draw you in, its alien-like wood grain shimmering while creating a unique organic pattern that seems well, otherworldly, for a lack of words. The look of bronze-yellow tinged metal is like nothing else I've seen, and its based on a technique akin to the ancient art of forging swords. The future-tool aspect is strengthened by a soft, case-hugging rubber strap that fits the dark aesthetics of the Zelos.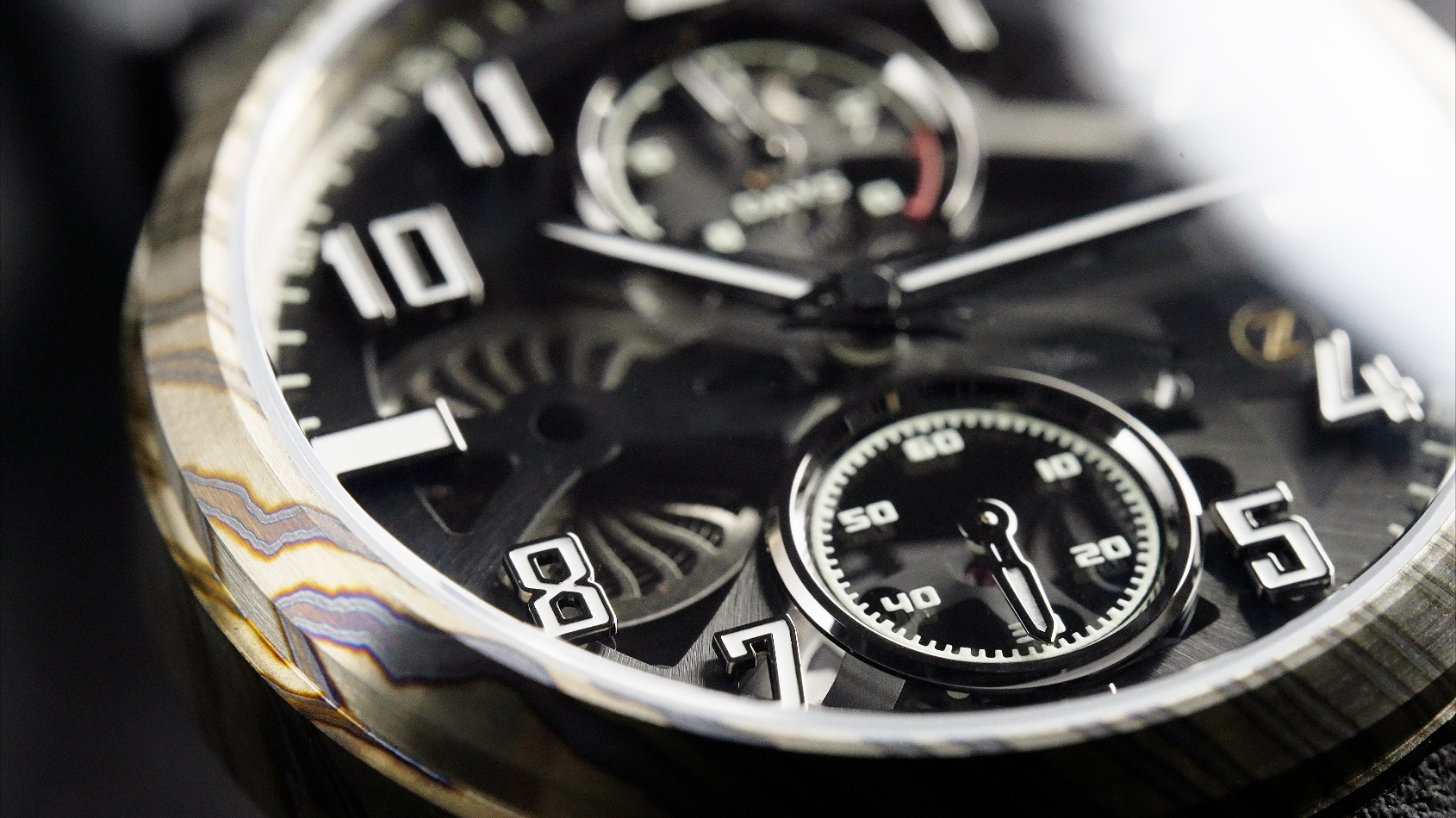 Zelos was the first manufacturer to feature a watch case made from titanium damascus, a labour-intensive process resulting in every case being a unique metallurgical piece of art. Zirconium and titanium layers are laser welded, then repeatedly folded to obtain the wave-like woodgrain pattern of the short lugged case. This frames a conceptualized vision of traditional Swiss craftsmanship, with a contemporary open-worked movement behind floating indices and registers.
Perfectly juxtaposed to the sweeping patterns of the case and in keeping with the future-tech theme, the dark, twin-barrelled movement is visible through a sapphire dial with applied lume-filled classic arabic numerals, and a bold sword-shaped hand set.
The edgy font of the indices are polished, large applied interpretations of the pilot's vibe we know from Zenith and IWC, three rectangular quarter batons and a 1 o'clock triangle completing a balanced layout.
The dial has a dark edge to it, with its vertically opposed registers for power reserve and running seconds, almost out-scored by the steampunk-infused huge turbines that decorate the twin barrels within. The angular indice font underlines the vibe of a pilot's watch re-imagined for a futuristic new age.
The movement by La Joux Perret offers a vast eight-day power reserve, clearly visible through the large twin barrels within the dark architecture of the calibre. Its bridges are brushed black PVD with discernible striations and a few delicious pops of colour. A gold-filled Zelos logo at 3.30, and a red crescent marking the last day of the eight-day power reserve
With a limited run of 25 or 50 pieces per colour, the Mirage 2 represents not only the pinnacle of Elshan's vision for Zelos, but a big step for the company, and to be perfectly honest, exemplary value for what is a unique, darkly sexy eight-day calibre within a skeletonized pilot's watch. What is clear is that the future is now, and it's forged from titanium damascus with a 48mm lug to lug, and a 14mm thick case. As a final note, I will add that Zelos will release a full sapphire case model for less than $9,000 USD – possibly the best priced sapphire case in the world today from a renowned brand. 
The Zelos Watches Mirage 2, price and availability:
The Zelos Watches Mirage 2 is priced at $3,900 for the Titanium model, $ 4,900 for Zirconium / Titanium Damascus or Tantalum models, and $8,900 for a sapphire cased version
For more details, visit Zelos Watches right here.
Made in partnership with Zelos Watches. However, the opinions expressed in this article are our own in accordance with our Editorial Policy.