IN-DEPTH: Remembering the OG Seiko Samurai 'Save The Ocean' SRPC93K
Time+Tide
Editor's note: The Seiko Samurai 'Save The Ocean' feels like it's been around forever. It probably has claims, as much as practically any other modern watch, and certainly on any other diver, on being something of a modern icon with its striking 'ventral pleats' horizontally striping the dial, and its top to bottom blue graduation designed to emulate the ocean. It has seen many variations on a theme that is perfectly set out with the SRPC93K. This was first published midway through 2018, and boy, does it look as good as ever two years later.   
The story in a second: Same great watch, brand new dial.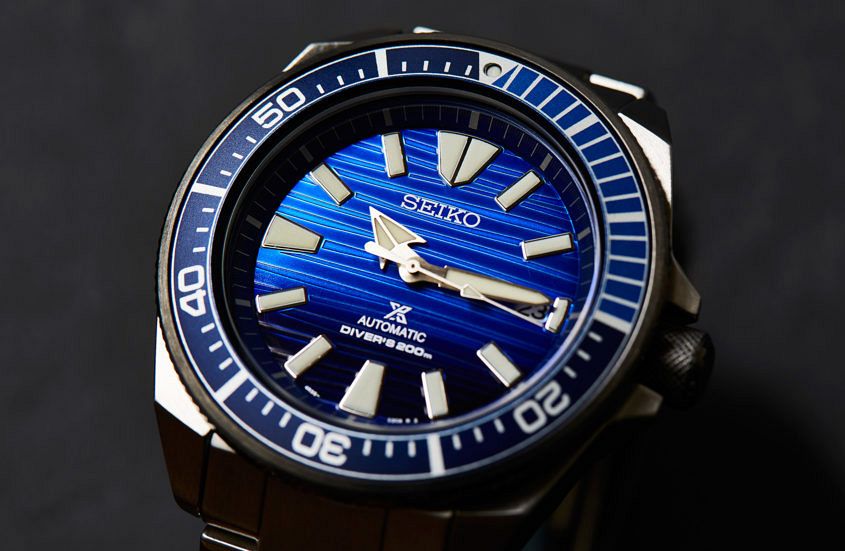 The centrepiece of Seiko's 2018 Prospex collection is, without doubt, the brand new and very blue 'Save The Ocean' series, offered in Turtle, Samurai and solar variants. It follows on from the recent Black Series and Blue Lagoon. But while last year's limited edition was purely a cosmetic update, the Save The Ocean release has an element of social responsibility. Seiko has teamed up with Fabien Cousteau (grandson of Jacques-Yves Cousteau), who is himself a marine conservationist, to raise funds and awareness for Cousteau's Ocean Learning Centre. Part of this awareness-raising involves prominent displays of what healthy and not-so-healthy marine environments look like in several Australian cities. So, not only do these watches look the part, they also do their part.
The case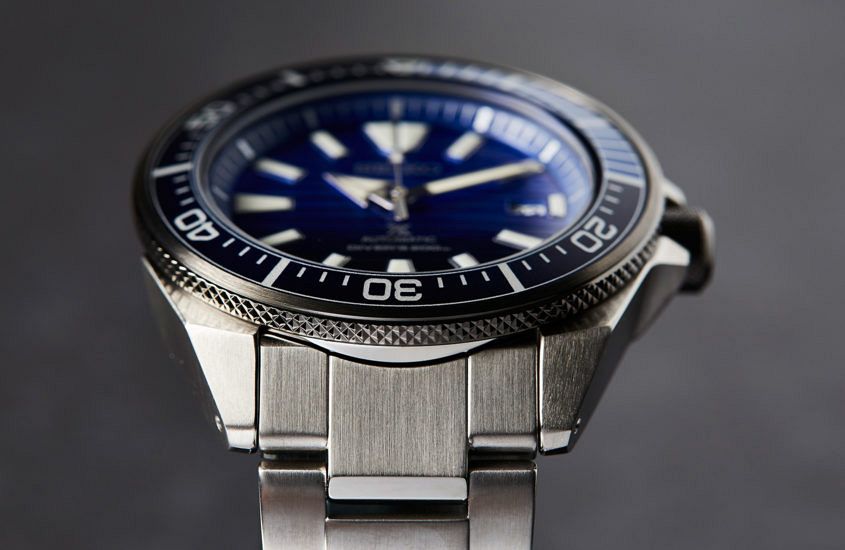 First up, aside from the dial and bezel, this watch is pretty much identical to its regular release brethren. So, you're getting the same angular, slightly blocky steel case, with solid proportions of 43.8mm across and 12.82mm tall — with a neatly knurled crown at three and fairly pointy guards. One point of difference between this and the regular Samurai models is that the grippy bezel and crown here have been given a black treatment, which is a nice touch. At this point I think it's worth addressing the difference between this watch and the Turtle, which is also offered in a Save The Ocean variant (SRPC91K). Both look — at an initial glance — quite similar, but the overall mood of the two is quite distinct. The Turtle is a design that looks to the past. It's softer, rounded and more classic. The Samurai, in contrast, is much more modern in feel. All sharp edges and straight lines. And while they both represent different sides of the same coin, to my mind the Samurai is the more conservative, and arguably the more versatile offering.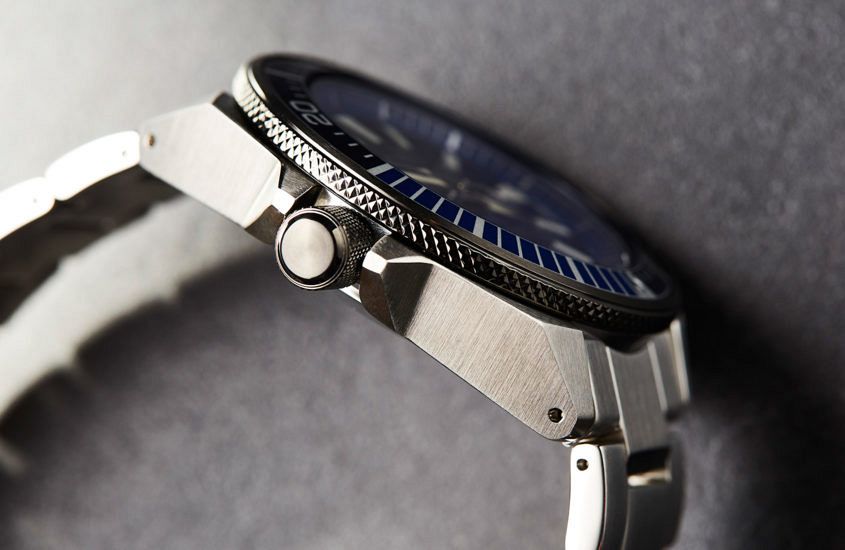 The dial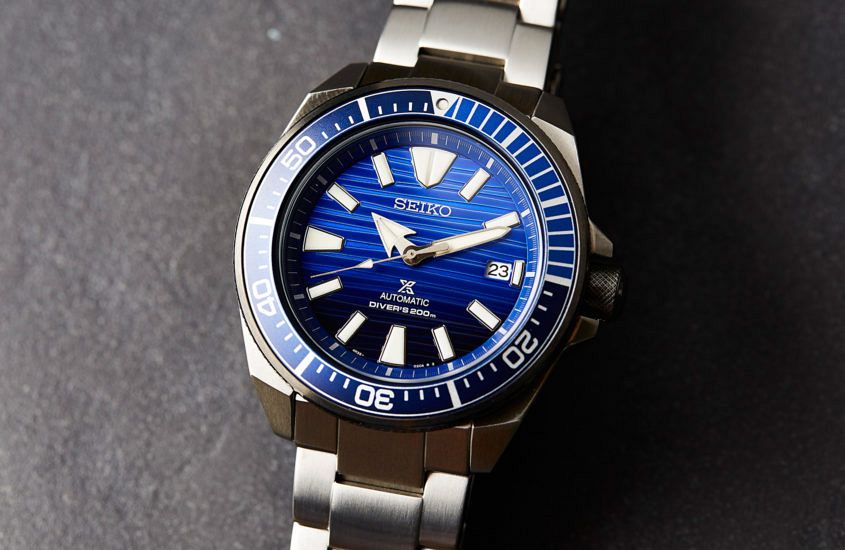 Here's where it starts getting fun. As far as Seiko's limited-edition dials go, this one is pretty out-there, in the best way possible. It's a graduated bright-aqua-to-almost-black dial, evoking how the sea changes colour the deeper it gets. On its own, this is a strong enough look, but Seiko has added some distinctive, organic, horizontal stripes that resemble waves or the distinctive ventral pleats on the jaw of a mighty blue whale. These marks add depth to the richly lacquered dial. The large applied hour markers and hands are chock-a-block full of Seiko's own luminous material, Lumibrite, and is ready to glow at a moment's notice; in the dark (or even the shade) this green glow adds to the aquatic feel. The aluminium bezel is of a matching blue to the dial, predominantly dark blue, with the first 15 minutes of hash marks a lighter shade. This is a special dial. Perhaps a bit too bold for some tastes, but a real beauty.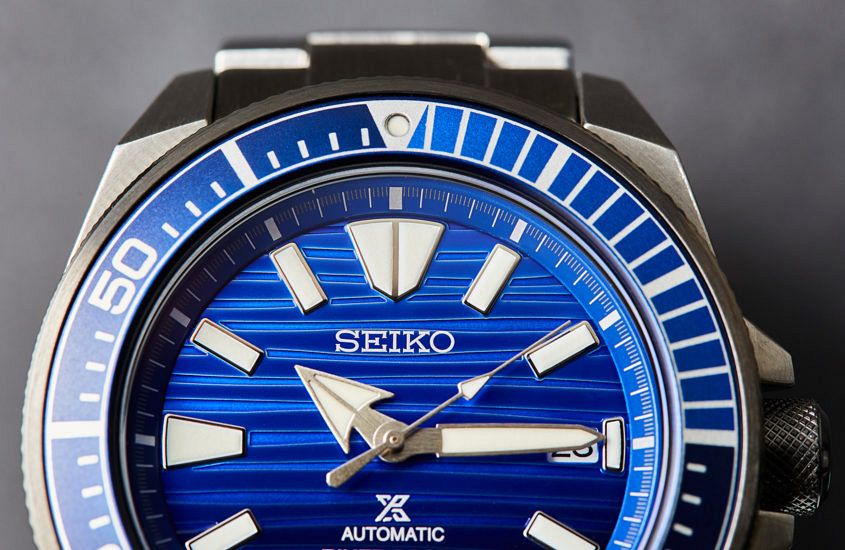 The movement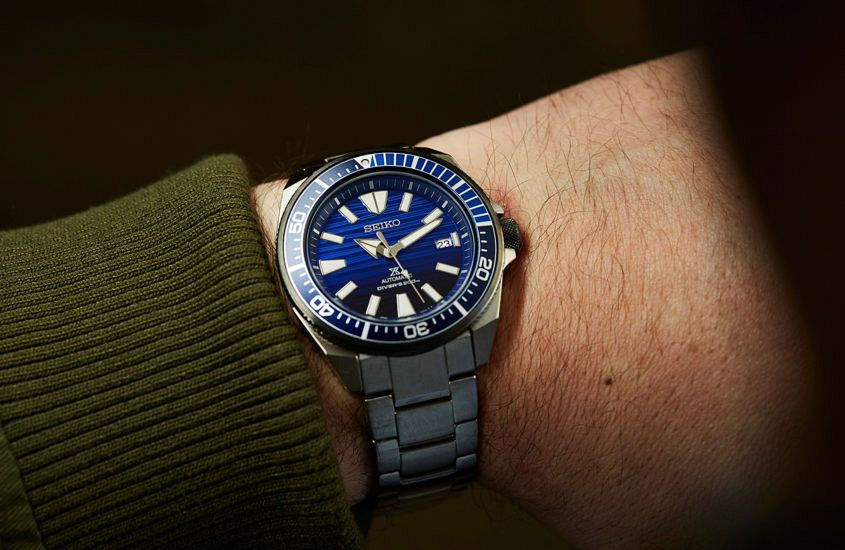 Hidden away behind the solid, screw-down caseback is Seiko's 4R35 — a hackable, hand-winding automatic with 41 hours of power reserve and an official accuracy range of +45 to -35 seconds per day (which, as with all Seiko's accuracy ranges, I've found to be quite conservative — real world accuracy tends to be much tighter). It's not the most exciting movement out there, but it's proven and rock solid.
The bracelet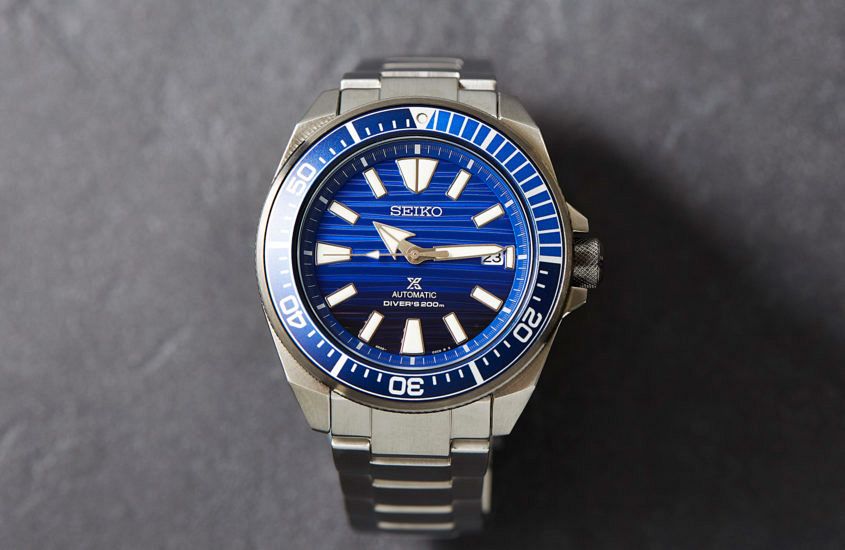 Adding to the SRPC93K's overall sense of heft is the 22mm steel bracelet: brushed, utilitarian, with a secure clasp and dive watch extension, in case you actually wear it over a wetsuit. The bracelet is perfectly fine for the price point, but if I owned this watch, I'd be popping it on something fabric or rubber, to offset the weight more than anything. I love the fact that any strap changes are comparatively simple, thanks to the drilled lugs.
On the wrist
The Samurai has alway been (in the best possible way) a tank on the wrist, and this Save The Ocean edition feels no different. But it does look different. It's one of the funnest modern Seiko watches I've worn (certainly in the Prospex family), and it has that quality that makes you smile when you check the time. As I said above, it's not the most under-the-radar look, but why should it be?
The verdict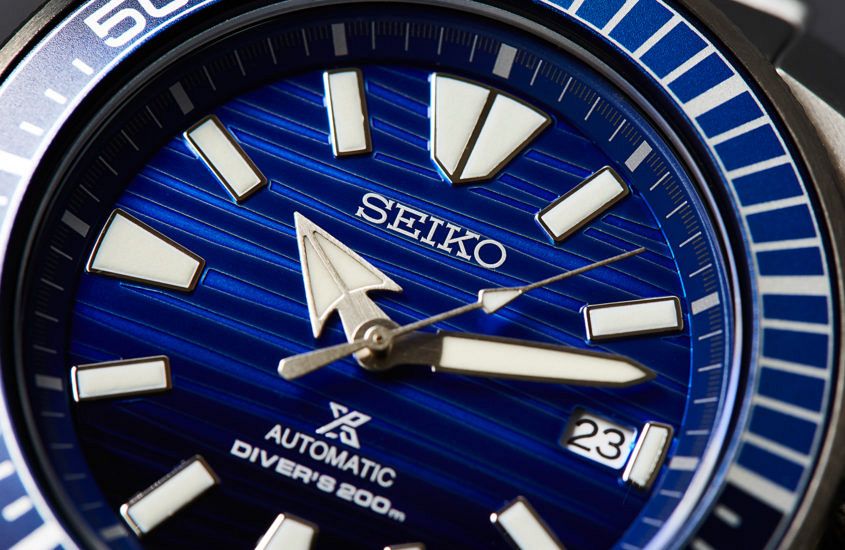 This watch has managed to capture the spirit of summer. The combination of stylish, knockabout body and bright blue, hypnotising dial makes for a watch that begs to be worn in the water, and thanks to the strong price point, actually wearing it for the purpose it was intended is something you should have no qualms about.
Talking point
Do you know what ventral pleats do? No? Well, see this dial …
Who's it for?
Seiko dive watch fans, which is pretty much everyone at this point.
What would we change?
Not too much to be honest. At this price it's a pretty solid package. One thing that might have been cool (but perhaps OTT) would have been to have blue-tinted hands and markers.
Seiko Samurai 'Save The Ocean' SRPC93K Australian pricing
Seiko Samurai 'Save The Ocean' SRPC93K, $799