Delugs introduces their new CTS rubber strap line-up
Borna Bošnjak
The brand follows the success of their PRX straps with a new Delugs CTS Rubber Strap line
Ensuring minimal bulk, the straps are cut to size for a custom fit
Leaf spring butterfly clasps eliminate the need for buttons and complex mechanisms
Delugs have an excellent track record when it comes to various executions of leather straps, as well as beating Tissot to the punch in creating the very first rubber strap for the PRX. Following their previous successes, Delugs presents a range of new cut-to-size rubber options, complete with a new leaf spring deployant clasp. We got to test all the colour variants of the Delugs CTS Rubber Strap ahead of their launch and had some thoughts, with a variety of strap monsters to pair with.
The low-down
Delugs' main driving forces behind creating the CTS line are simple design, ease of use and quality construction. The first of those is obvious from the get-go, without a distinct pattern on the surface of the strap that most rubber variants normally feature. Instead, Delugs opted for a light grained pattern that is sure to match most dial variants. For example, the navy blue is an excellent pairing with our Doxa SUB 600T Pacific Limited Edition, as it lets the ever so lighter colour of the dial shine as the main focus.
To address the second focus, Delugs equips all of the straps with quick-release spring bars which makes them that much easier to take on and off. It is worth pointing out, however, that the nubbins of the quick-release system are quite short, so you might have a little bit of trouble getting the strap in and out. A spring-bar tool expedites the job, and while it alleviates the risk of scratching the lugs, using one would defeat the purpose of the quick-release in the first place.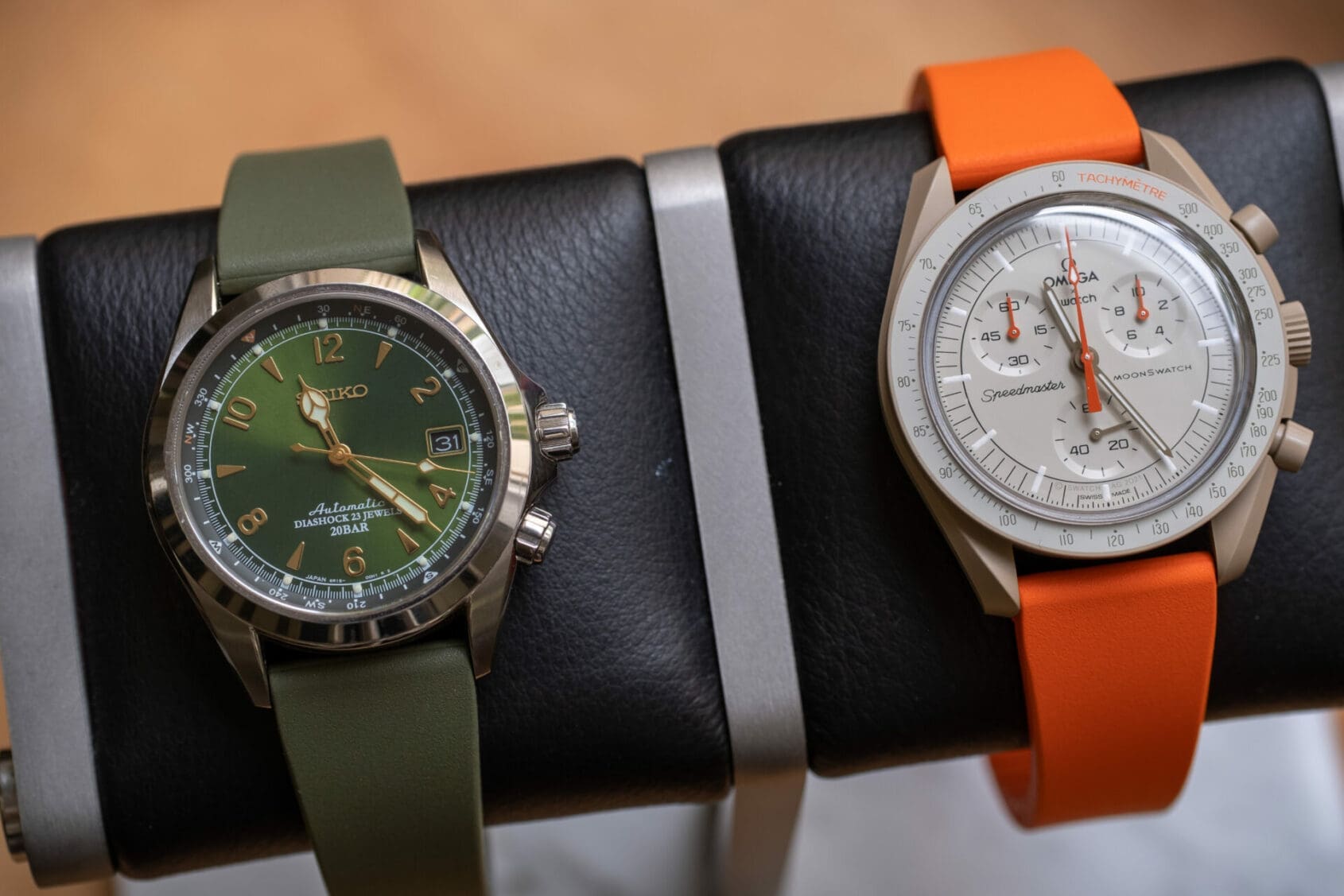 Finally, and for most the deciding factor, is the quality of the straps themselves. Many will be familiar with lesser rubber straps' tendencies to pick up dust and grime easily, especially if heavily textured, or an inherent stiffness that doesn't soften with time. Thankfully, the Delugs FKM rubber options strike a perfect balance between softness, flexibility and apparent durability. Admittedly, I haven't put one through any sort of torture test, but the orange number that's been living on my Black Bay 58 for the past 10 days has lived up to the rigours of everyday life with no issues whatsoever. The clasp also adds to the air of quality and luxury due to its design.
Luxury hallmarks
To complement the smooth, texture-less look of the rubber, Delugs paid a lot of attention to the clasp. While it would've been easy enough to go with an OEM manufacturer of quality double-action, double-pusher clasps and call it a day, they decided to create one that would match the overall look better. The small visible portion features a mostly brushed finish, with nicely polished bevels, and can easily be swapped out for steel, gold, rose gold or black PVD colours.
The real magic of the clasp is in its operation. Rather than adding bulk and complexity with a pusher system, Delugs engineered it with two leaf springs that snap open and closed. It's an exceedingly elegant and compact solution, and though it took me some time to get used to, actually made a lot of sense for an every day strap.
The back of the butterfly clasp is curved to better conform to the wrist, and Delugs got the tightness of the curve spot on for my 6.15in (15.5cm) wrist, though I believe larger wrists won't struggle with it either.
On the wrist
What was quickly apparent before sizing is that these straps are likely to fit everyone – they're, frankly, huge. This would be a major issue had these straps not feature the cut-to-size design, thanks to which all excess bulk is completely eliminated.
Included with each strap is a QR code that takes you directly to Delugs' quick start guide, and this attention to detail is an aspect I've gotta give them huge props for. Not only is the sizing guide thorough, with a lot of images and detailed descriptions helping you get the right fit, but they also include an extra strap piece in case you need to re-do the sizing, or possibly have a different watch that requires a different length of strap.
While there is a possibility that you'll need to cut the sides at uneven lengths to get the perfect fit, I didn't experience such trouble, and got the perfect fit when paired both with my 39mm BB58 and 42mm MoonSwatch. As mentioned before, it took some time getting used to the resistance of the leaf spring clasp, though once I did, it was a comfortable process.
One area where I see a potential caveat is in rigorous activity. By swinging my arm around quite hard, I did manage to swing the clasp open – so I probably wouldn't recommend wearing these at your next tennis practice. Having said that, I wouldn't recommend swinging your delicate mechanical timepiece to the extent it required to open the clasp, either, both for fear of damaging the watch and/or looking like a twat.
Delugs CTS Rubber Straps pricing and availability:
The Delugs CTS Rubber Strap line-up launches on the 10th of February on the brand website. Price: US$145