Matthew Miller first came to our attention with his ingenious take on a street style blog, which he calls the 'Daily Fashion Project'. Rather than just photograph his daily subject, Miller, under the nom de plume 'Sunflowerman', actually paints them in simple watercolour portraits.
Epitomising the notion that less can be more Miller manages to capture the nuanced nature of identity using a spare number of broad-strokes. He shows, for example, how the way you hold yourself, and the way you pose for a portrait, can express your style as much as your outfit.
There is, however, a problem with this exquisite minimal style of painting for lovers of the wristwatch. You can never quite identify the timepiece on the daily model. Miller has redeemed himself in spectacular fashion with the '100 Watches' project. He requested that people send wristshots of their favourite watches and, for a small fee, he would paint them and send back a signed copy.
Miller will now publish all 100 micro-portraits, along with a short story about each wearer or collector in a book titled 100 Watches. Time+Tide spoke with Miller to find out what makes this talented artist tick.
T+T: Why did you do the 100 Watches project in the first place?
MM: At first, I just wanted to do something kind of cool and interesting. I knew a little bit about how interested people are in watches and I thought it would be a good topic. But the more I delved into it, the more I discovered this intense culture around wristwatches. What fascinated me the most was not the watches themselves, but how passionate their owners are about them.
T+T: What is your personal story with watches?
MM: It is a short story. I only just purchased my first watch very recently; a very, very humble watch. I picked it up at a street market in Portugal. It has a wooden bezel, the face is really simple. I'm a fan of round watches. It was gorgeous to me. My collection has only just begun, though I like to think that my paintings kind of work as a part of my collection.
T+T: In that case, your collection is magnificent! Speaking of the 100 Watches gallery, from an artist's point of view, which models were the most exciting to paint?
MM: That's a great question. I did do one MB&F watch, which was really exciting because it was different. I'm not sure if I'm going to say this right, but the Panerai watches, if that's how you pronounce it, are also beautiful to paint.
T+T: There is an impression, from your work, which is so lovingly detailed, that you're a watch fan, but you seem really new to them…?
MM: It's true. I really don't know anything about watches, my focus is almost purely aesthetic. I like a watch for its shape, colour, sheen or texture. All these different aspects that I think most watch collectors don't necessarily consider.
T+T: Did you have any idea the project would become something of an internet phenomenon?
MM: Man I had no idea that it would be as effective or successful as it has been. No idea. I didn't really care in the beginning anyway. I'd decided I was going to do it whether people wanted to participate or not.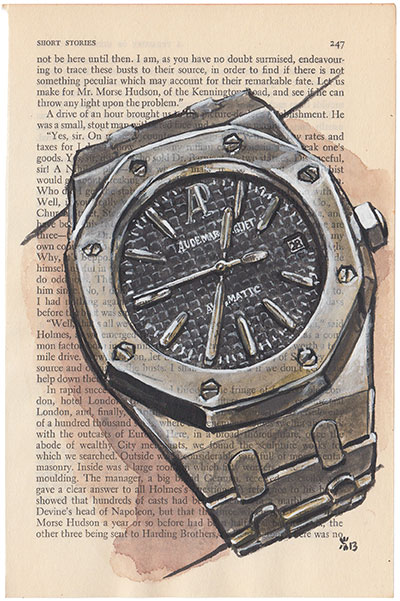 T+T: The paintings are each so unique, they must have been a lot of work. Was there ever a time when you regretted committing to doing 100?
MM: After about 20 I realised that this was going to be much harder than I first imagined. And then after 50 I thought, my gosh, there are still 50 more! And I sat down every day, and I love painting, but after a while it did feel a little bit like work. I felt like I'd got in a little over my head. But once I finished watch 100, I was exhausted but really excited being able to look back on all the watches. It was just fantastic. It makes me happy.
T+T: As it should, we love this project. Why did you paint on the pages of an old novel?
M: That started a couple of years ago, sort of as an accident, just as I was really beginning my men's fashion journey. I was doing a lot of quick gestural drawings and I was running out of this paper I was using. But I wasn't ready to stop. So I picked up this old book that was falling apart and I used the pages from that. Right away people responded. It adds some context to a painting that doesn't exist if it's just a plain white background.
T+T: Are the pages all from the same book?
MM: Yes, actually. They're all Sherlock Holmes stories. Which to me, is a perfect context for men's fashion in particular, because Sherlock Holmes tends to be this quintessential man's gentleman who is educated and he goes out and gets things done. I think as a whole, our culture looks up to him and holds him up as an icon.
T+T: What is the secret ingredient to your work?
MM: I like to pull a little bit of humanity into each painting. Even with the watch portraits, I try to make sure that it carries a story with it; the story of the person who owned it or created it.
T+T: Having interviewed 100 people about their favourite watches, are you any closer to knowing why people love them so much?
M: One common thread were stories of posterity. Often, people receive their watches from parents or grandparents. It came down from history and it ended up being in their possession. That's one of the more powerful aspects of the stories that came through in the project.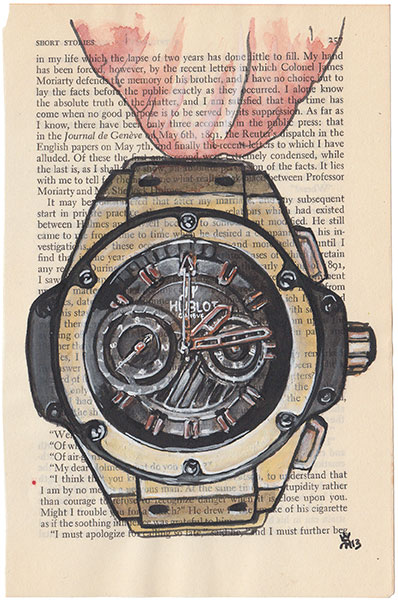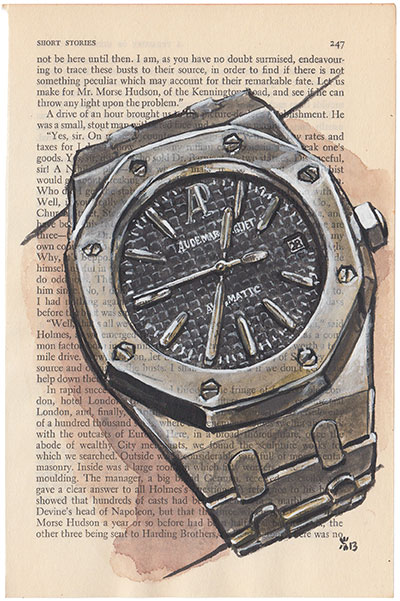 The 100 Watches Book will be available for purchase by mid-April via sunflowerman.com. It features the stories of 100 watches and their wearers / collectors.