Seeing ghosts with Creux Automatiq
Time+Tide
Editor's note: When we're talking about fine watches, our eyes are typically drawn to Switzerland and (to a lesser extent) Germany and Japan. But occasionally you can find some quality closer to home. That was the case when the Creux Automatiq Ghost Explorer landed on my desk around this time last year. The quality (especially in the case) is up there with the mid-tier Swiss guys, and the look is a little less cookie-cutter than what you typically get from your average upstart offering. Read on … 
Given that T+T is an Australian-based site, I've spent a fair amount of time over the years looking at watches from local brands. And I've got to say, I haven't seen a single offering as all-round impressive as this Creux Automatiq Ghost Explorer.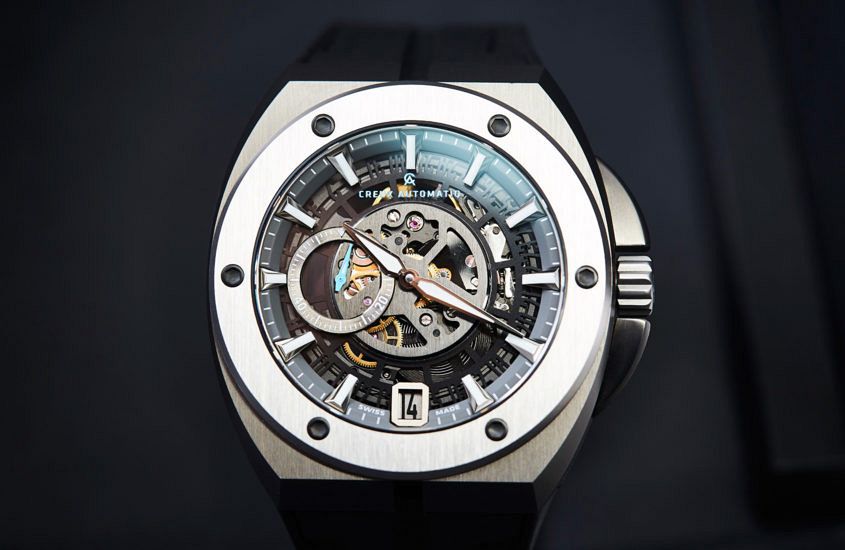 What I was most impressed (and surprised) by with the Ghost Explorer was the overall build quality. But I'll get to that in a bit. First, let's look at the bigger picture. Creux launched in 2016, the passion project of Kiwi rapper-cum-jeweller Dane Rumble. And what initially separates these watches from the rest of the indie/micro/Kickstarter pack is the look. Creux have opted for a more modern aesthetic, a style that owes inspiration to  Richard Mille, Audemars Piguet, Hublot et al. The exaggerated tonneau shape, the skeletonised dial, exposed bezel screws, and sporty rubber strap is familiar, but not derivative, or a homage in the pejorative sense.
In and of itself, this style is a bold move, enough to instantly set the young brand apart from the majority of its round, dressy or heritage-inspired peers. Not for everyone, sure, but honestly, if this style is your jam, you won't find much else at this price point. This watch retails for $3100, which is where the quality comes in. As soon as I opened the cardboard box containing the review unit, the quality became apparent. It shipped in a handsome, matt grey lacquer box, with all the trimmings. Picking up the watch sealed the deal. It's large (45mm across by 50mm high and 12mm tall), solidly made from 316L steel, with sapphire crystals on both sides, and a nice rubber strap, with a very nice single-fold deployant.
The case is very neatly finished, mostly in brushed grey-ish PVD, with vertically brushed steel bezel and crown. The edges are sharp, and it's obvious that corners haven't been cut in production. The dial and movement match the style of the case. Hour markers are attached to the outer chapter, except at six, where the date sits. There's a small seconds at nine (with a nice blue hand), and the main hands, in the dagger style, are perhaps the most traditional part of the watch (and the one bit I'd change).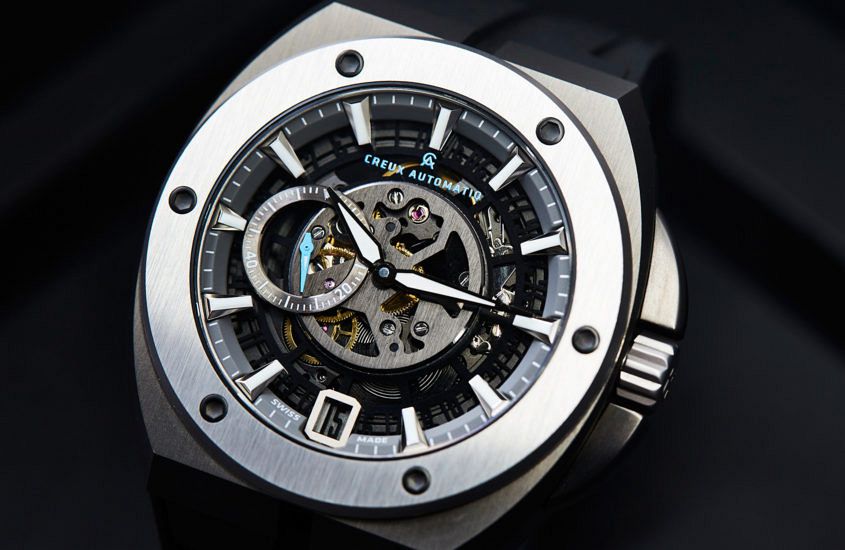 There's not a lot of clarity on the movement, but it, like the rest of the watch, is made by Swisstech, and is nicely skeletonised and with black bridges. Specs-wise, it runs at 28,800 bph, and has 36 hours of power reserve, so on par with ETA et al. I really liked the skeletonised rotor, with the Creux logo — a very street-style rendering that wouldn't look out of place on a baseball cap. Interestingly, this is the only watch currently on the market with this particular movement. Again, if you're looking for a watch with a modern, skeletonised style, I think you'll be hard-pressed to find anything comparable at this price.
What really stood out to me after spending time with this watch is the attention to detail and care, both in the design and manufacturing. It's well-finished, thoughtful and comfortable, avoiding the typical pitfalls that new watch brands fall into. But more than that, it feels good on the wrist, and punches well above its price tag. Can't wait to see what Creux do next.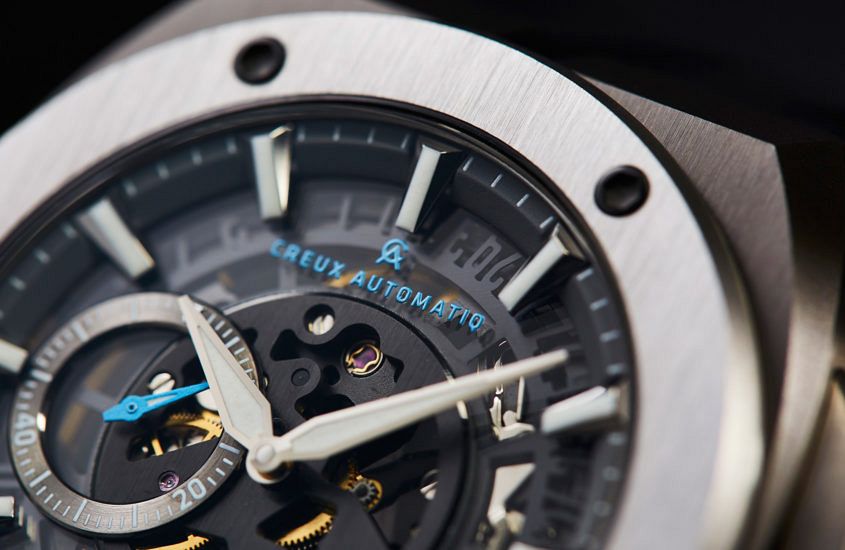 Creux Automatiq Ghost Explorer Australian availability and pricing
Creux Automatiq Ghost Explorer, limited to 50 pieces, $3100