Crazy Rich Asians just hit Netflix, watch it for the Newman that had its own bodyguard on set
Andrew McUtchen
Editor's note: Crazy Rich Asians is a cracking film. It's fresh, funny and ridiculous. For all but the 0.01% of real life Crazy Rich Asians that it – apparently – very faithfully depicts. All of that Rotten Tomatoes validation aside, it also has a watch in it that was borrowed from a collector; and came onto the set with its very own bodyguard. Such a cool story. And props to Kevin Kwan for caring so much about the #details. One of us, for sure.  
In case you've missed the news, a new rom-com, Crazy Rich Asians, is coming to a screen near you. The film adaptation of Kevin Kwan's bestselling book series has received huge praise since its premiere, notably for the way it's challenging stereotypes of how Asians are represented in major Hollywood films.
The film concentrates on a young Asian-American couple making the journey back to Singapore to meet the family. Of course, the plot twists when the woman travelling to meet her boyfriend's family finds out they are one of the wealthiest in Singapore. Without spoiling anything, the film naturally explores how Singapore's 0.01% spend their wealth, featuring a dazzling assemblage of luxury homes, cars — and watches.
Filmmaking aside, Crazy Rich Asians caught our attention for another reason: its props, or more specifically, a very specific prop. Before we dive into the detail, it's important to note that Kwan had a very deliberate hand in choosing the props for the film. We recently got word that Kwan insisted on using a specific Rolex 'Paul Newman Daytona' (reference 6263) for a particular scene in the film. Multiple sources have since established just how important the use of this specific watch was to Kwan, and in a recent interview with EastWestBank:
The scene consists of Astrid, one of the more affluent, beautiful and elegant characters in the book, gifting her husband a watch. "He asked me, 'Would Astrid really give her husband this watch?' And I said no, absolutely not," says Kwan. "She would get him a Paul Newman Rolex Daytona from the 1960s, so we went on the hunt and found the right collector with that exact watch, and Jon [director Jon M. Chu] got it flown across the world with its own bodyguard, just for this one-second scene."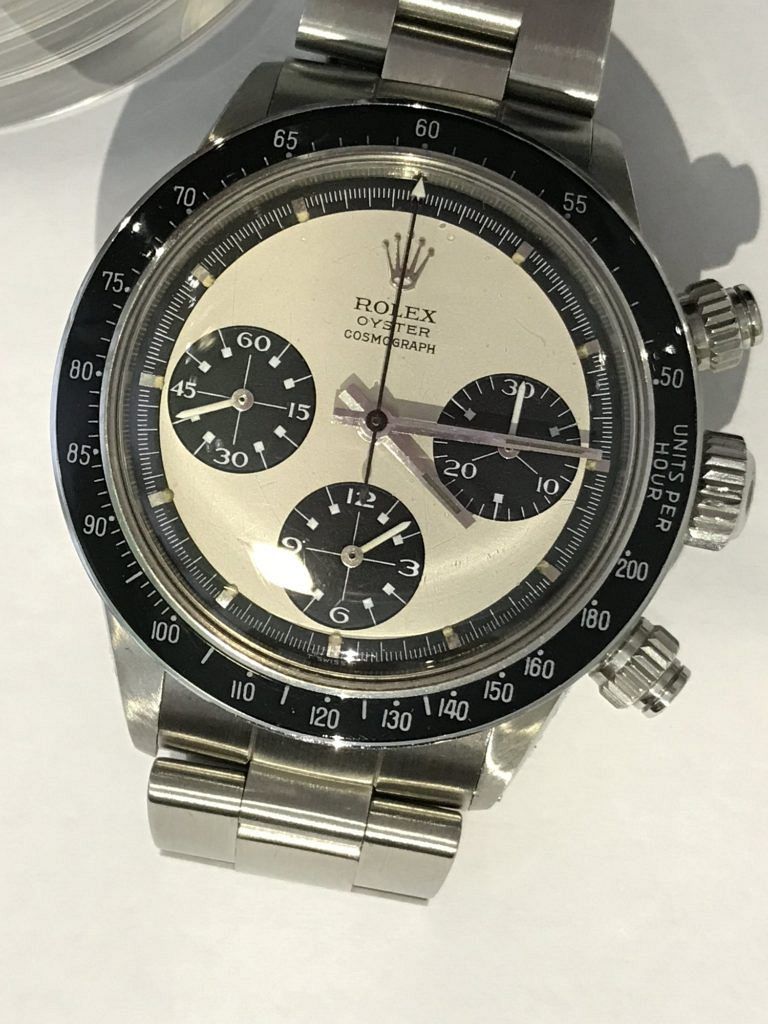 Adding to the buzz, the character receiving the watch, Pierre Png (who plays Astrid's husband Michael Teo), was even recently quoted in Forbes, stating that aside from meeting Kwan, wearing the Paul Newman Daytona was a highlight of filming.
Now, to answer the question everyone's thinking: yes, the watch is authentic! The influence of prop masters in Hollywood is well documented, and it's common practice to use replicas and homage pieces. After all, the risk of damage or theft on a major motion picture is presumably quite high. As Kwan stated to EastWestBank, the watch was accompanied by a bodyguard around the clock, which makes sense. After all, aside from the significant foot traffic on a major motion picture, so much of the watch's value rests in its condition. With current trajectory of Rolex Daytonas (and most vintage Rolexes, for that matter), it's actually quite impressive to see a collector willing to hand over their watch.
But how did such a specific, valuable, and arguably rare watch find its way into this film? Well, it turns out a familiar face helped source the watch — Eric Wind, of Wind Vintage (and former auction house expert) and friend of Kevin Kwan, located the Panda Dial Paul Newman Daytona, reference 6263, in a matter of hours. After being tasked with finding a crazy rich watch, Wind and Kwan quickly enlisted the help of renowned watch dealer and famous collector Eric Ku who happened to have a client in Singapore with some suitable watches, and who (luckily enough) was a fan of the books. Ku spoke to his client, who was happy to loan his Paul Newman 6263 for filming (no doubt assisted by the competence and ironclad insurance assurances of the film's prop master Justine Dunn).
It's refreshing to see a legitimate watch used outside of a branded deal or sponsorship. From all accounts, substantial work was involved to ensure the watch included was not only authentic and high quality but protected. In the greater scheme of the film, it may seem like a small, trivial detail, but it's details like these that watch collectors love to find. After all, it's got us talking.
I'd highly suggest reading Eric Wind's full account on his site – it provides a fascinating insight into how props decisions are made in major movies.
With thanks to Eric Wind.