Coronavirus chaos as Bulgari pulls out of Baselword 2020, and Australian boutique openings cancelled
Andrew McUtchen
The Bulgari booth is among the most grand at the Baselworld fair. Opposite TAG Heuer at the entry to Hall 1, it is a glittering sentry to what was only a few years ago the highlight of the yearly calendar for the world watch industry. Peak glamour. Peak PR. Peak hype.
As of this morning, it – like so many other brands – will no longer be there in 2020. The move will continue to literally change the face of the fair, which in 2019 had an open space where the enormous, central Omega booth used to be. Organisers will have another major void to fill in a short space of time. In a statement this morning, Bulgari has cited concerns around the spread of Coronavirus as the reason for the late move. The CEO of Bulgari, Jean-Christophe Babin, has not, however, ruled out participation in 2021.
"We are obviously disappointed not to participate in 2020, but as told already in past, we remain open for 2021 onwards to continue with Baselworld and we will take our decision by June 2019 once Baselworld 2021 concept, dates and costs will be clarified. We also wish to continue to collaborate as much a possible with LVMH Watch Division from fairs to roadshows of events such as we did In Dubai this year."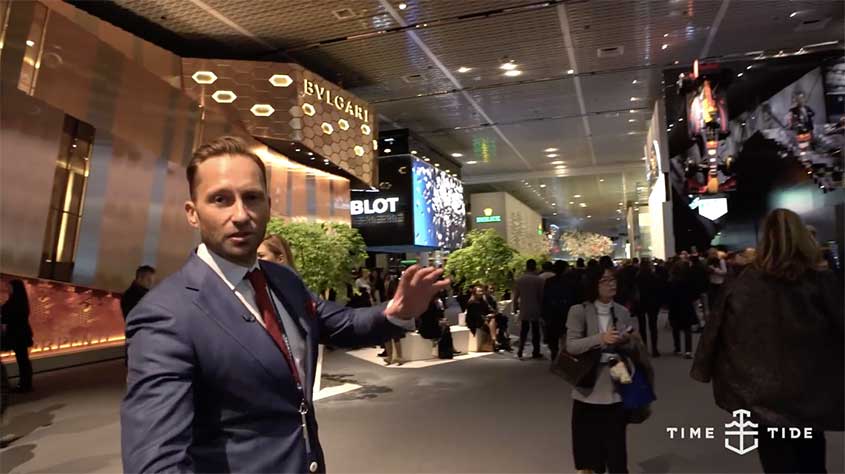 In the same statement, Baselworld were quick to point out that the three other watch brands in the LVMH Watchmaking Division, TAG Heuer, Zenith and Hublot, will remain for 2020. They quote the head of LVMH Watchmaking Division and CEO of TAG Heuer, Stéphane Bianchi, as saying:
"The Watchmaking Division of the LVMH Group with TAG Heuer, Hublot, and Zenith remains committed to Baselworld in 2020. We believe in the importance of a major event for the Swiss watch industry and look forward to a successful fair, both in terms of image and sales, for our three Maisons."
This follows a string of global and recent local cancellations. The Swatch Group have also cited Coronavirus as the reason for the cancellation of 'Time To Move', their premium brands fair, launched in 2019.
Locally, Grand Seiko Australia have cancelled the grand opening of their first standalone boutique in Sydney, which was scheduled for next week, with a string of new boutique openings – Jaeger-LeCoultre, IWC and Hublot, also scheduled to take place next month. These remain vulnerable to recent and worrying developments around the virus.
In a Guardian story, published yesterday, the toll for Australian tourism is summed up by Cairns tourism operator Ben Woodward: "As an industry, we've come through crisis situations before, there's been SARS, there's been the GFC, there's been the pilot strike, but it is looking like one of the worst crisis situations we've encountered as an industry … The following couple of weeks are supposed to be the busiest weeks for Chinese new year, and it's just completely dropped off … Anywhere from 40 per cent to 60 per cent down [on last year]."
More developments to come.
To see Baselworld in its heyday, with the Bulgari booth on proud display at the entrance, watch this throwback video, which now serves as a historical document for an officially bygone era.