Editor's note: Conor McGregor, the biggest name in UFC history, looks set to come out of retirement a mere six months after announcing he was done with the sport. While nothing official has been confirmed, "The Notorious" is strongly rumoured to be squaring off with Dustin Poirier within the next six months, with UFC President Dana White today saying, "He's been offered Dustin Poirier on Jan 23", and adding, "It's a yes or no answer."
So the ball's in Mac's court … we can only hope he accepts what would inevitably be a bloody brilliant bout. All this talk about the Irish fighter has also got us thinking about his incredible watch collection, and one watch in particular – the Patek Philippe Annual Calendar Chronograph 5905P-014 Weir & Sons Edition. Made to celebrate the Irish watch retailer's 150th anniversary, this gorgeous green stunner was limited to just 25 pieces in total, with an eye-watering price tag of close to $200,000 AUD (and A LOT more in the second-hand market). McGregor bought number 12 in the limited run as a nod to his highly successful Irish Whiskey company – Proper No. Twelve – which sold more than $40 million dollars worth of product last year.
We can only imagine what McGregor will buy if he defeats Poirier … we haven't seen the Mac rocking an RM recently, so maybe that's next on the cards. Who knows? Whatever it is though, it's going to be a hard act to follow this green Patek.
Irish-born mixed martial artist and boxer Conor McGregor is known for his time spent in the Ultimate Fighting Championship (UFC), where he was the featherweight and lightweight champion. He also fought boxer Floyd Mayweather Jr, which drew 4.3 million pay per viewers, the second most in history.
During these uncertain times due to the COVID-19 pandemic, everyone is practising social distancing and isolation, which means no events, and unfortunately for me, no photographs of attendees. But McGregor provided us with a new watch unboxing today.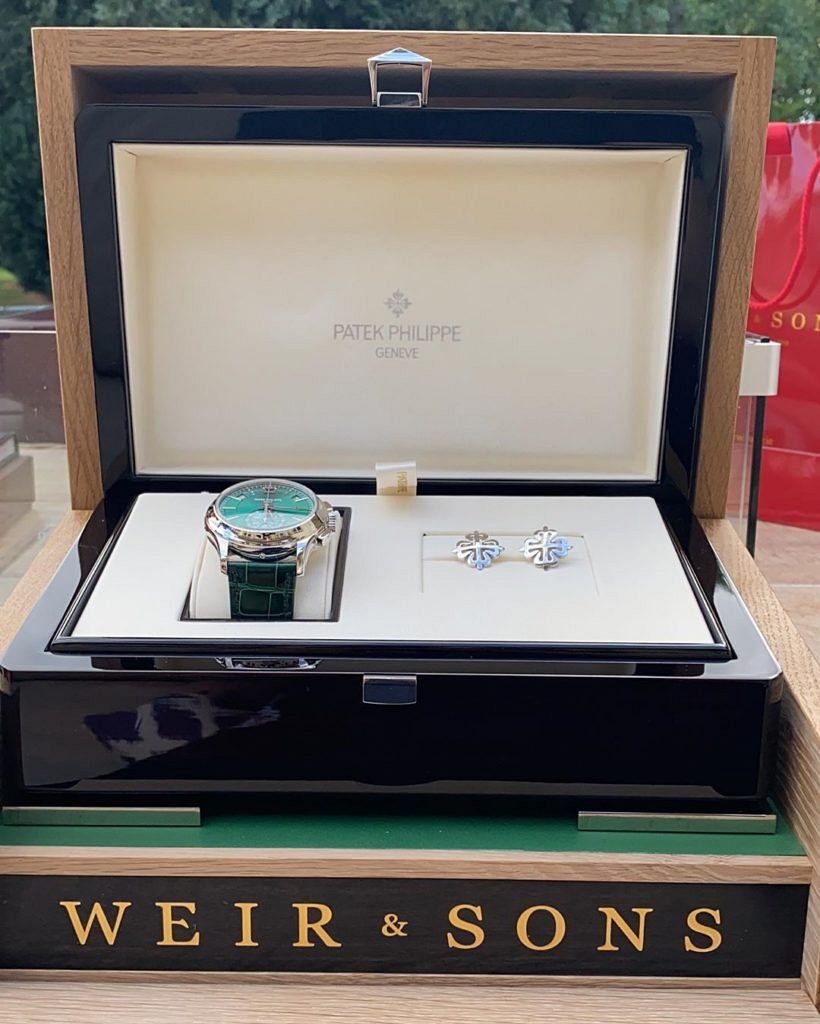 We know McGregor is a watch guy, having in the past worn numerous pieces from Audemars Piguet, Patek Philippe and Rolex, in various guises from blinged-out models to more restrained pieces in precious metals.
McGregor on his Instragram account this morning showed his newest acquisition from Patek Philippe. He unboxed a new Patek Philippe Ref 5905 Annual Calendar Chronograph in platinum and matching cufflinks. His new watch has an Irish twist.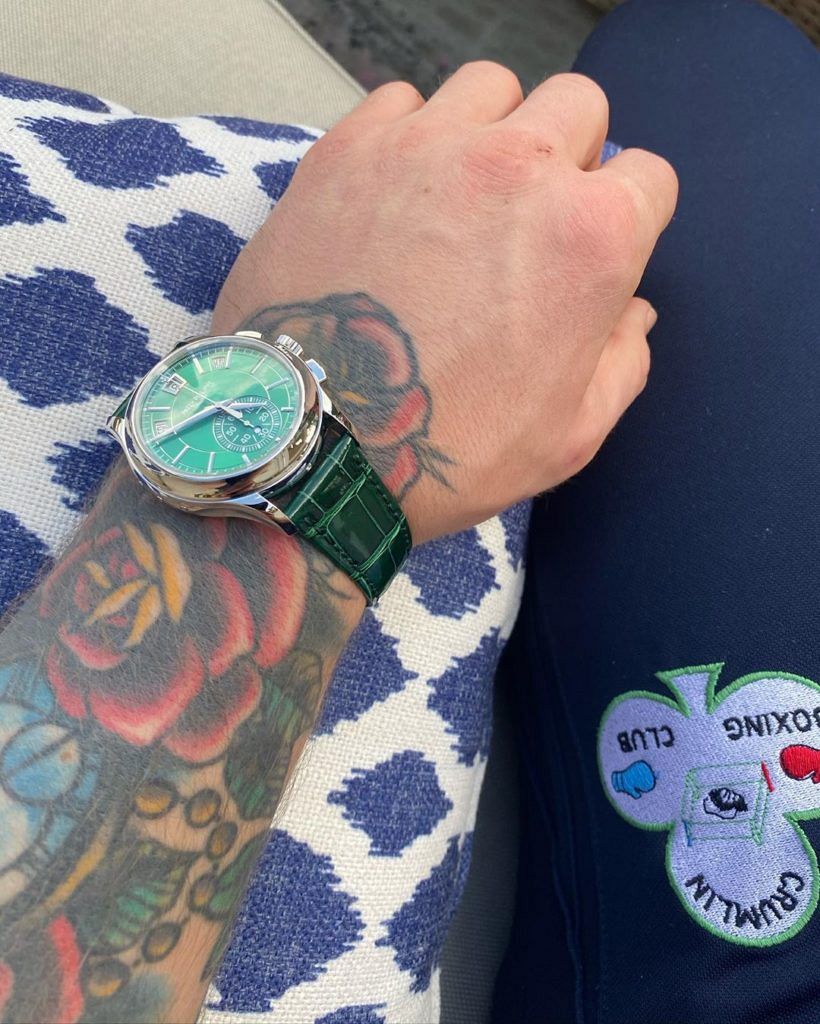 He explains in his post that the watch is a limited edition of 25 pieces made for Irish jeweller Weir & Sons and that he got number 12. Weir & Sons was established in 1869 and last year celebrated their 150th Anniversary. They are an authorised retailer for Patek Philippe and Rolex. As McGregor mentions, Weir & Sons have a long-standing relationship with Patek, which led to this piece being created.
The thing that makes the watch pop immediately is the emerald green dial and dark green alligator strap. You don't often see many watches with a green dial, and this one would certainly make a statement on the wrist.