Conor McGregor drops £2.2M on Jacob & Co. watches including one with an X-rated twist…
Zach Blass
Conor McGregor is a larger-than-life personality within the world of MMA. When you're as successful as the "The Notorious" Irishman, you can not only afford to strut your stuff in the manner he does, but also spend ludicrous sums of money on watches. Yesterday, McGregor shared a window into his extraordinary life, filming his visit to a Jacob & Co. boutique to purchase not just one watch but two! The brand's watches by no means come cheap, incorporating high jewellry and horology into wildly original and creative timepieces. With an already knockout watch collection, McGregor spent nearly £2.2 million on a Astronomia Tourbillon Baguette in rose gold and a Rasputin Diamond Erotic Minute Repeater – both brazen choices to match his bold personality.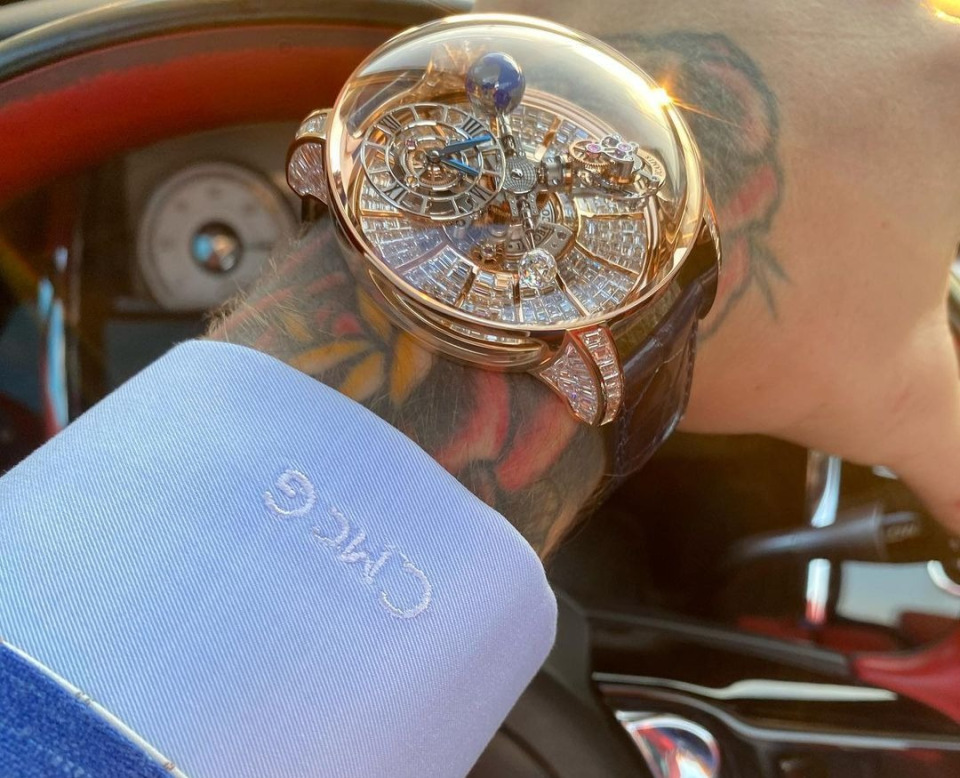 Jacob & Co. Astronomia Tourbillion Baguette in rose gold
View this post on Instagram
We spoke with Jacob & Co. about McGregor's visit. "We recently welcomed Conor McGregor to our boutique, where he purchased his latest Jacob & Co. timepiece, the Astronomia Tourbillon Baguette in Rose Gold," says Keith W. Strandberg, Chief Content Officer for Jacob & Co. "A legend in the UFC and MMA, Conor McGregor also has great taste in watches. He already has several Jacob & Co. timepieces, and he just added this piece, which uses the Astronomia triple-axis tourbillon movement and adds baguette-cut white diamonds to the base dial and the lugs of the rose gold case. It looks great on him, and he can certainly pull it off."
The Astronomia watch from Jacob & Co. is a very intricate and complex mechanism that results in a very distinct and beautiful watch. There are four arms that rotate beneath its domed globe like sapphire crystal – making a full rotation every ten minutes. The four "satellites" on the arms are comprised of a gravitational triple axis tourbillon, a magnesium earth globe that makes a full rotation on the arm every thirty seconds, a faceted diamond moon that also fully rotates every thirty seconds on its arm, and a sub dial to display the hours and minutes which also rotates to ensure the dial is always in the proper 12/6 orientation.
It is definitely not a timepiece for the faint of wrist or wallet, coming in at diameter of 50mm and a price tag of £730,000. At 25mm thick, this is not a watch that slips easily underneath a shirt cuff – but considering the price and aesthetic would you really want it to? According to Jacob & Co. the Astronomia watch has has a "total of 342 invisibly set, baguette-cut diamonds" on the backdrop and a further "80 invisibly set, baguette-cut diamonds" inset within the lugs. The dial base has a 133 triangle-cut white diamonds, totalling 16.8 carats embedded within it alone. People don't always understand the incredible expense of luxury timepieces, but it's pretty clear why this one is so pricey.
Jacob & Co. Rasputin Diamond Erotic Minute Repeater Watch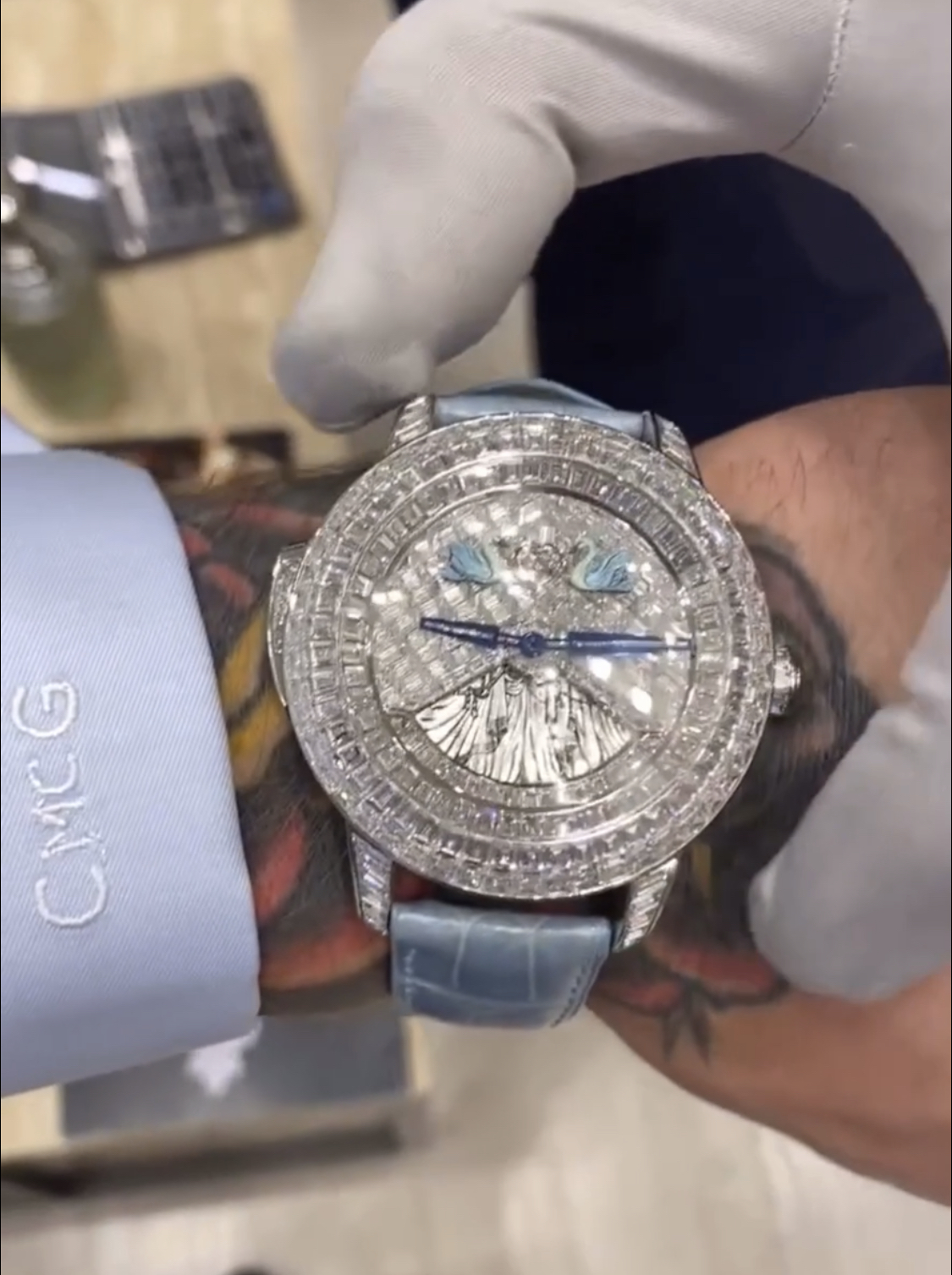 If you thought the Astronomia would be hard to top, you would be right in most instances – but not when it comes to Conor McGregor. The fighter also shared his indulgence in another Jacob & Co. timepiece with some very discreet but complex complications. The Rasputin Diamond Erotic Minute Repeater watch is a rare series of five watches that are priced at £1.5M. The case and dial are fully covered with diamonds – a total of nearly 30 carats throughout. The case is quite large, but smaller than the Astronomia at 47mm in diameter and 17.9mm thick.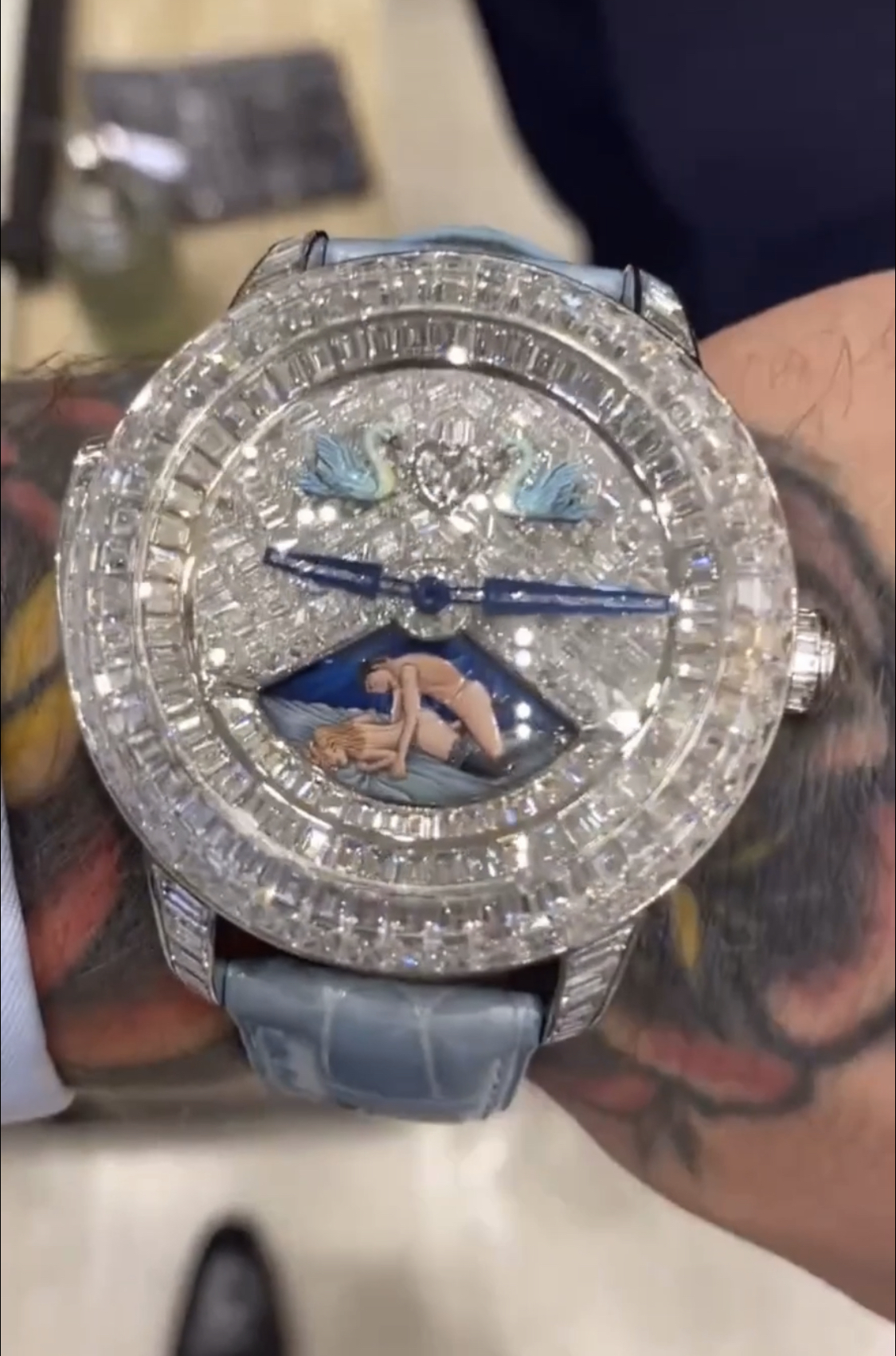 If you ever get a chance to view the watch in the metal, you're in for quite a surprise. Not only will you hear the exquisite chimes of a minute repeater, and find yourself blinded by the brilliance of the fully diamond watch. You will also notice the hidden erotic mechanism of the watch that reveals a couple having sex when the slide of the minute repeater is activated. While many erotic watches display the "naughty" complication on the back of the watch, Jacob & Co. has developed a nice compromise for owners of the watch by having an activated window on its front. It makes sense when you consider the price of the watch. It's not a timepiece you'd want to take off in the club to have a laugh about with your buddies.
If luxury were a competition this week, I think its fair to say Conor McGregor won by knockout this week – picking up £2.2M worth of Jacob & Co. watches in his new Rolls Royce. KO, Checkmate, whatever you fancy.