This collector has a different Omega Speedmaster for every day of the year, and has even made 'Speedy Suspenders'…
Zach Blass
Editor's note: This is a story that focuses on two things, being the collection and story of the man that almost certainly owns more Speedmasters than any other collector on earth, Mr Bhaskar Eswaran. It also leads into a description of the new Omega Authentication service for watches more than 30 years old. I am lucky to have had my beloved Omega Ranchero authenticated by Omega, and can say the service is exceptional, and the cherished red envelope that the official information arrives in is akin to receiving a Top Secret dossier from James Bond. More on that in another story.
Each day when a watch collector wakes up, they have the first-world problem of having to decide which lovely timepiece to strap to their wrist. For all watch owners, there's usually some sort of system or method when picking the watch of the day. What clothes am I wearing? What have I already worn this week? Now imagine you had enough watches, where theoretically, you could wear a different timepiece every day without wearing the same watch twice for an entire year. Bhaskar Eswaran does not have to imagine this conundrum, he lives it every day with likely the world's largest collection of privately owned Omega Speedmaster watches. Very few individuals, if any, could claim they love the Omega Speedmaster more than Mr Eswaran.
So, how and why did Mr Eswaran come to own hundreds of highly desirable Speedmaster watches? Bhaskar's passion for outer space began in his early childhood in Australia. He was enamoured by television series such as Thunderbirds and Star Trek, but nothing could top the real deal. When he was six years old, the live TV broadcast of the Apollo 11 moon landing in 1969 was a turning point in his very young life. Mr Eswaran explains to Omega, "Seeing the coverage at the time left an indelible impression. Unlike fictional TV characters, these were real-life superheroes who had redefined the frontiers of human endeavour." This was the rocket fuel that initiated the fire inside to become more familiar with all things related to space.
Surprisingly, the connection between the moon landing and Moonwatch was not immediately apparent to Mr Eswaran. In fact, it wasn't that long ago he began to amass his collection of hundreds of Speedmaster watches. What was his first? Only 12 years ago did Mr Eswaran discover the Omega Speedmaster when he noticed a model of the lunar rover in an Omega Boutique window in Singapore.
For whatever reason, the relationship between Omega and space exploration did not immediately register over the years, but once the door was open there was no turning back for Mr Eswaran. A year after his initial encounter with the 50th Anniversary Moonwatch in Singapore, he finally had a Speedmaster to call his own – and his collection only grew exponentially from that moment on – including a 105.003 Ed White, Project Alaska, Silver Snoopy, and vintage Ultraman models.
With so many watches, you might think Mr Eswaran would be concerned with authenticity and originality of all of his timepieces – and you would be correct. With a collection so large, not all pieces can be modern – and, as well, vintage pieces are not always available in a full set. This is where the new Omega Certificate of Authenticity program steps in, a key asset for Bhaskar and other Omega collectors around the world.
According to Omega, "Our expert assessors have encyclopaedic knowledge and access to extensive historical production records and servicing policies. Upon examining the current state of your timepiece they can establish and document its authenticity. The Certificate of Authenticity will be given to an authentic Omega timepiece that is older than 30 years."
This sets a new precedent for archival assistance from a watch brand. Brands such as Patek Philippe will provide an extract of the archives upon request for a fee, but the disclaimer of the document is that it merely matches the watch to one sold within the archive – it does not serve as an authentication document in any official capacity. Omega, on the other hand, is providing a true certificate of authenticity that will further provide comfort to Omega owners, or those looking to bid on vintage pieces up for auction.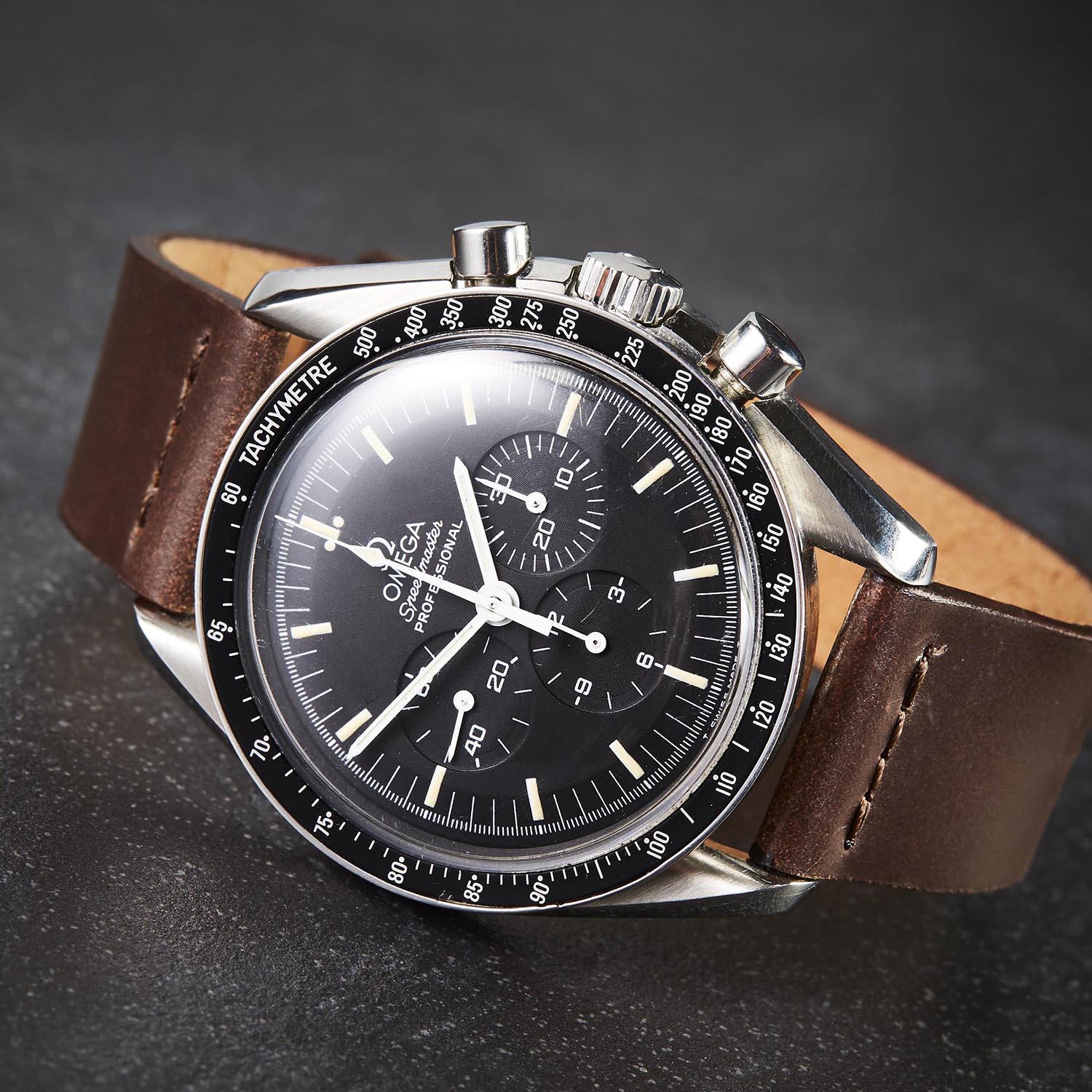 Omega holds Mr Eswaran in the highest regard, considering him one of the brand's closest friends and an integral part of the online Speedmaster fan community. He has helped support Speedy Tuesday events worldwide – creating a safe space where collectors come together, geek out, and share their appreciation for the brand and Moonwatch. He even had the generosity to exhibit 175 of his most captivating watches at the Omega Boutique in Sydney in 2019 to celebrate the 50th anniversary of Apollo 11. Mr Eswaran still hunts for more Speedmaster watches today, itching to add the 2915 and certain 2998 models to his collection. It is clear his love for the watch and its community of admirers propels him to continue to hunt for iconic references within the collection. It is a pursuit that brings him pure joy and happiness. Mr Eswaran puts it best when he says, "Certified for use in space, guaranteed to make friends on Earth!"
For more information on the Omega Certificate of Authenticity service, click here.