Editor's note: This year at SIHH we were treated to another look at the stunning Cartier Révélation d'une Panthère, and the 2019 version was helpfully explained to us thus: "Last year it had 900 gold beads forming the face. This year it is 650 diamonds. We had to redevelop and re-engineer everything. Diamonds and gold are not the same materials: one is heavier and the diamond is a bit thicker, which meant changing the size of the cavities in the panther head. It was a good challenge for us. The diamonds are brilliant shaped and they can move in three dimensions. We engraved cavities and developed a fluid that ensures the diamonds move slowly. The diamonds are effectively floating in the fluid and then they fall slowly into the cavities. The entire watch is filled with fluid. One of the challenges was that this fluid must also be invisible. It must be completely transparent. It took five years of development." Impressive stuff. For more, here's Sandra's take on the 2018 version …
Over the past decade, while earning its chops as a serious technical watchmaker, Cartier has demonstrated time and again its mastery of the artistic crafts – métiers d'art in the Francophone world of watchmaking. It has taken traditional techniques and gone further – for example, using straw and flower petals for marquetry. It has also remastered 3000-year-old techniques that were virtually extinct, including granulation – a manner of creating surface texture using tiny gold beads.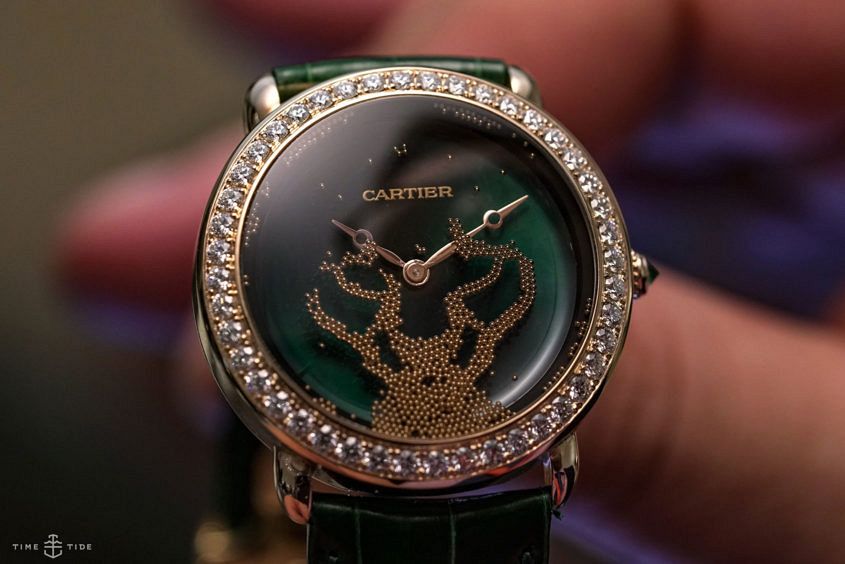 As a result, we have seen a series of achingly beautiful dials – exquisitely detailed, a celebration of human skill. Beautiful they are, but quite serious. Cartier is not one to fool around. So, who could have guessed that the most fun watch of SIHH 2018 would have come from the grand Parisian Maison?
Looking at the photographs of the watch outside Cartier's booth, I could only think, "Huh? What's going on here?" A watch with a panther's face on the dial – so far, so Cartier. Pictures of a slightly pixelated or deconstructed panther's face? Strange.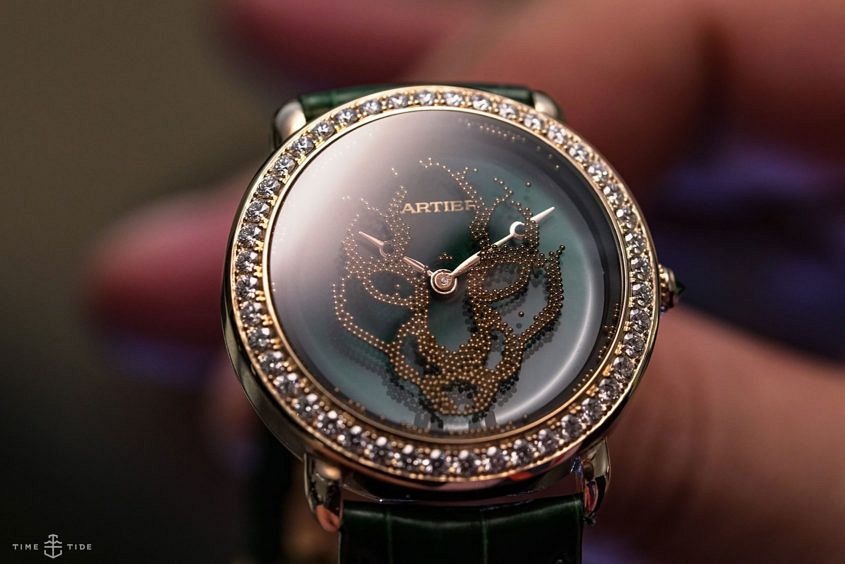 You need to see the watch in reality (or at least a video) to make sense of it. It's confounding. It's delightful. It's like watching a magic trick. As you turn your wrist, the blank dial starts to fill with tiny gold beads, flowing from top to bottom to form a stylised panther's face. Moments later, the image collapses as the beads flow out the bottom at 6 o'clock. Where do they go? Who knows. They're hidden below the dial somewhere, waiting for the next wrist-flip. Beautifully bonkers in the best possible way. And I can tell you, watching that panther appear and disappear is addictive — the lovely Cartier people had to drag the watch off my wrist.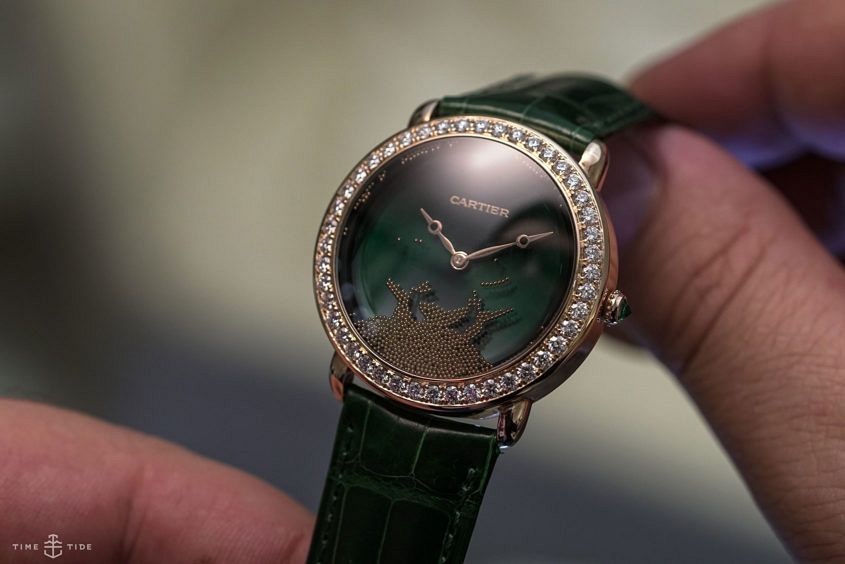 When I mentioned blank dial I didn't mean nothing. The lacquered colours are stunningly rich and deep, a choice of black, green (a vivid emerald) or red (the exact red of Cartier's boxes). The apple-shaped (also seen on the Ronde and Rotonde lines) have enough presence to balance the panther. The diamonds on the bezel are, well, bien sûr, Cartier.
Of course, we can't help but wonder how the magic is done. And, of course, like any magician, Cartier is not about to give away its secrets. The gold beads (made the same way as for granulation, I'm guessing. And that, I can tell you, is a whole story in itself) are suspended in a viscous liquid. I figured out that the panther's face is defined by invisible sapphire cloisons (tiny dividers, as in cloisonné enamel) that guide the bead-filled liquid. Logically, there must be a sealed layer between the back of the dial and top of the movement that allows the liquid to reposition itself ready for the next wrist-roll. But, y'know, while it's all well and good to satisfy the geek, do we really need to know? Let's not spoil the fun.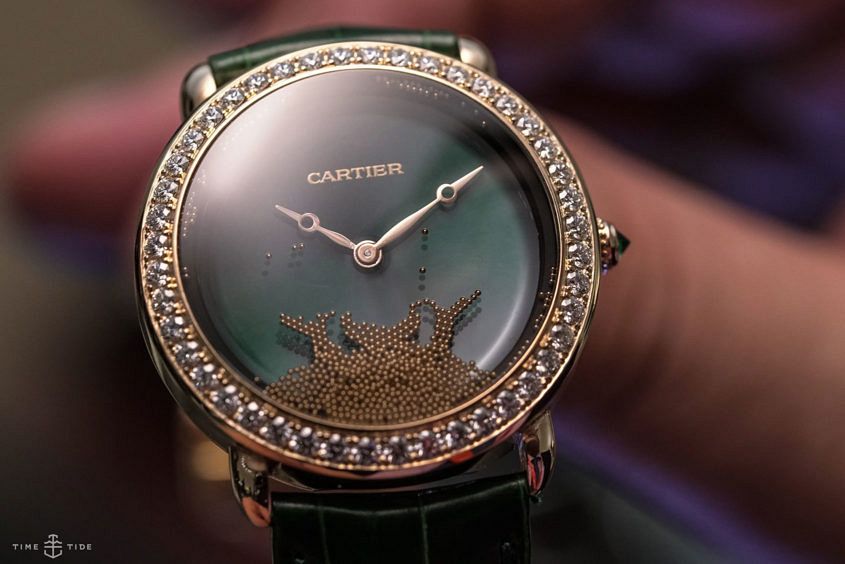 Good news for those of us who think a quartz movement is a bit of a cop-out in artistic and jewellery watches: Cartier has chosen its hand-wound mechanical calibre 430 MC, an ultra-slim movement that we've previously seen in the Drive and Santos collections.
Aside from its overall awesomeness, I think two things about this watch are worth noting. One: until now, the only use of liquids in watches has been in the technical-breakthrough work of Ressence and HYT. For the first time, we are seeing liquids put to artistic use. Two: Cartier — beautiful, serious Cartier — has shown us that it has a sense of humour. Fun, fun, fun in the service of art.