The Mondaine Official Swiss Railways stop2go BackLight has a couple of party tricks ready for your sleeve, and it's in our shop now
Thor Svaboe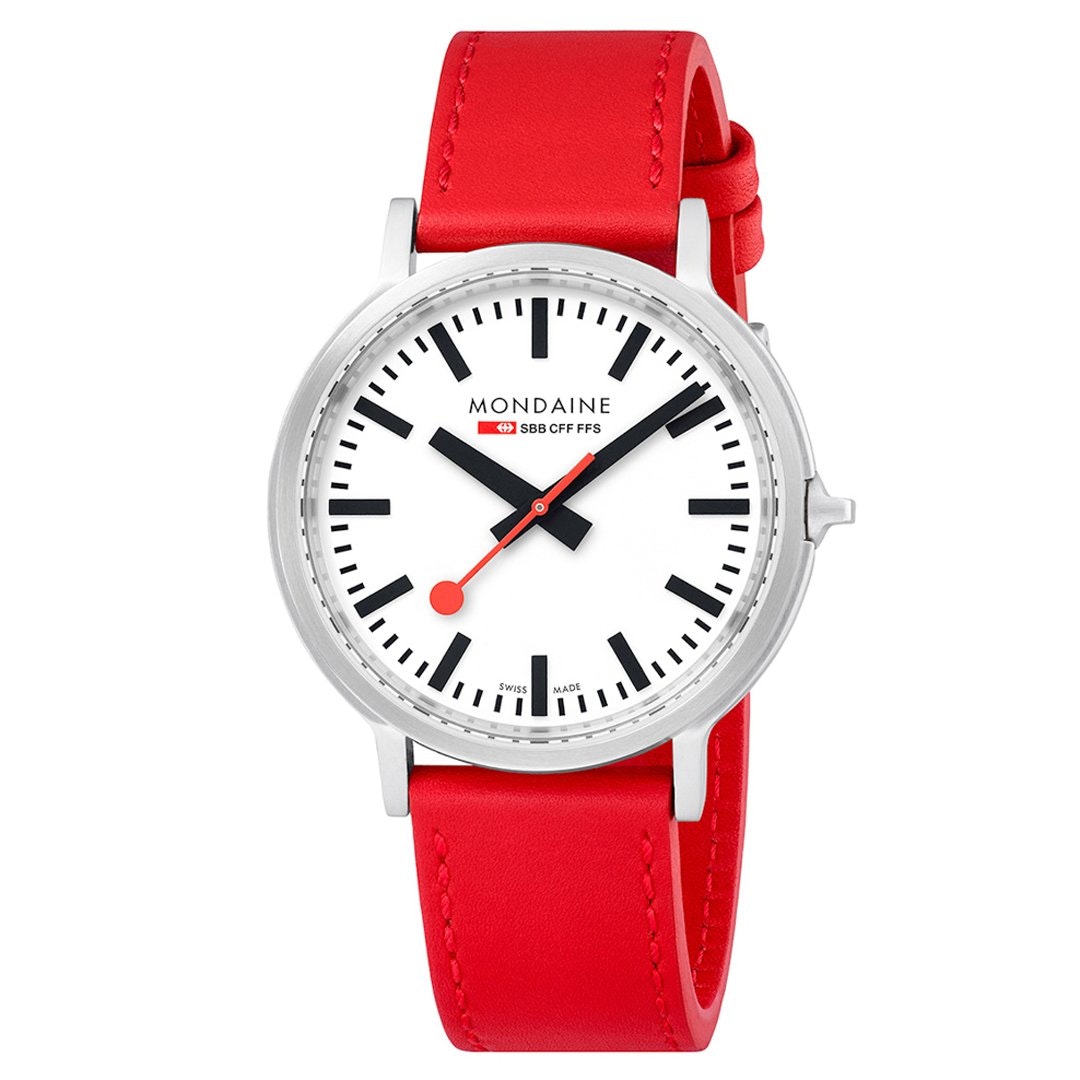 The Mondaine Official Swiss Railways stop2go BackLight is indisputable proof that Swiss precision timekeeping is more than mere wristwatches. At first glance this might seem like a great example of mid-century modern, or even Bauhaus-inspired design minimalism, in a utilitarian case. You will only understand fully if you've been to one of the pristine Swiss railway stations and glanced up at the eerily exact station clock before your train to Genève arrives four seconds early, never late, and leaves on the second.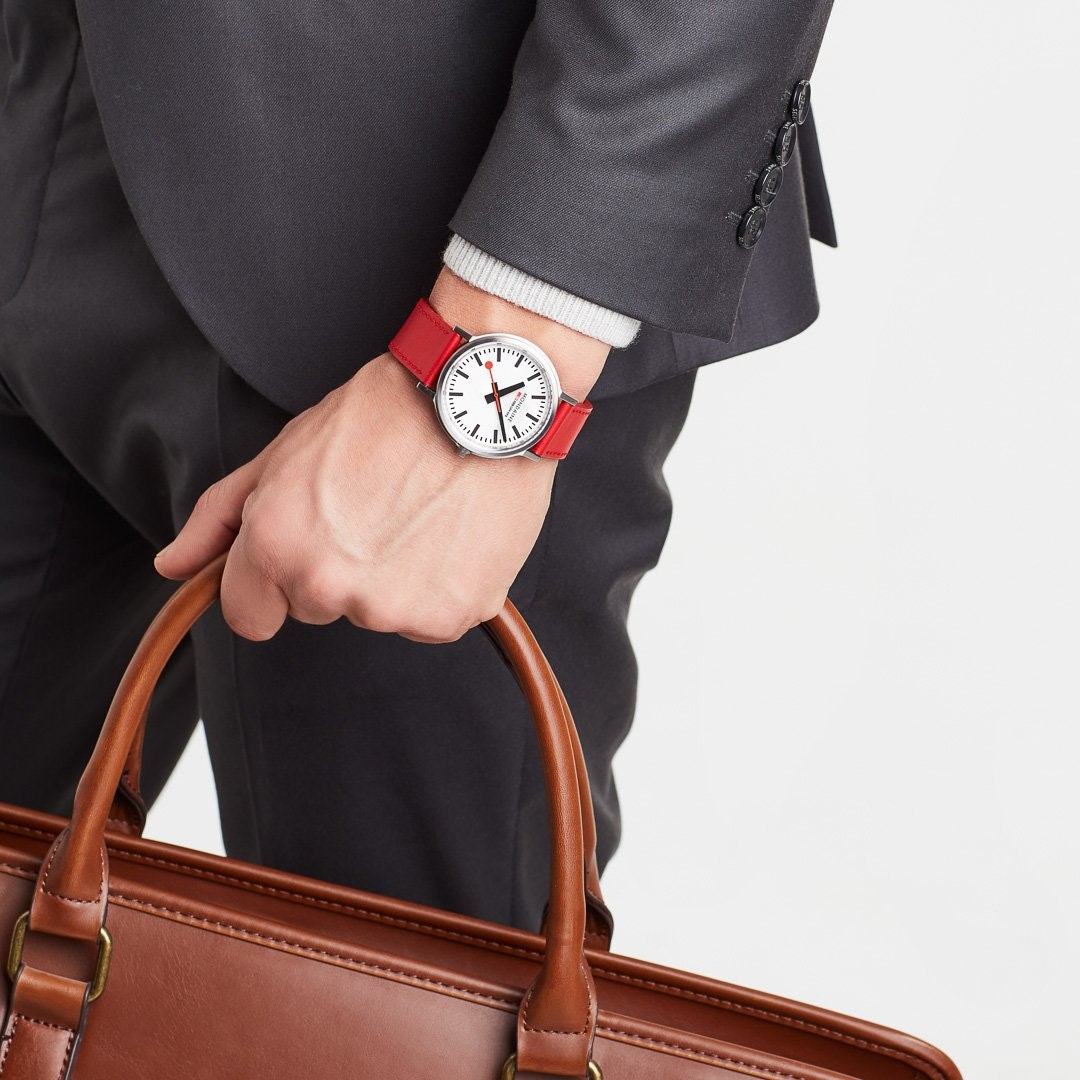 This very same crisp white face is present on each model from Mondaine, intensely legible in monochrome – if you were asked to draw a watch dial, chances are it would look like this. Large blocky printed indices and Arabic numerals leave you in no doubt as to the time of day, while the bright red chunky lollipop seconds hand pops off the dial together with the red Swiss Railways logo. So, this is dependable quartz, it has an interesting history and failsafe legibility, but what makes this 41mm functional steel watch special?
As darkness descends and you might be worried that the non-lumed hands will fail to keep you informed, you're in for a quiet surprise. Fascinating help in the form of a unique ghostly light that doesn't seem to fade appears underneath the hour and minute hands. This is lume applied to the back of the hands – which is charged during the daytime by the reflection of light from the dial, and also has a self-charging effect at night by a constant and fascinating recycling of its own emitted light.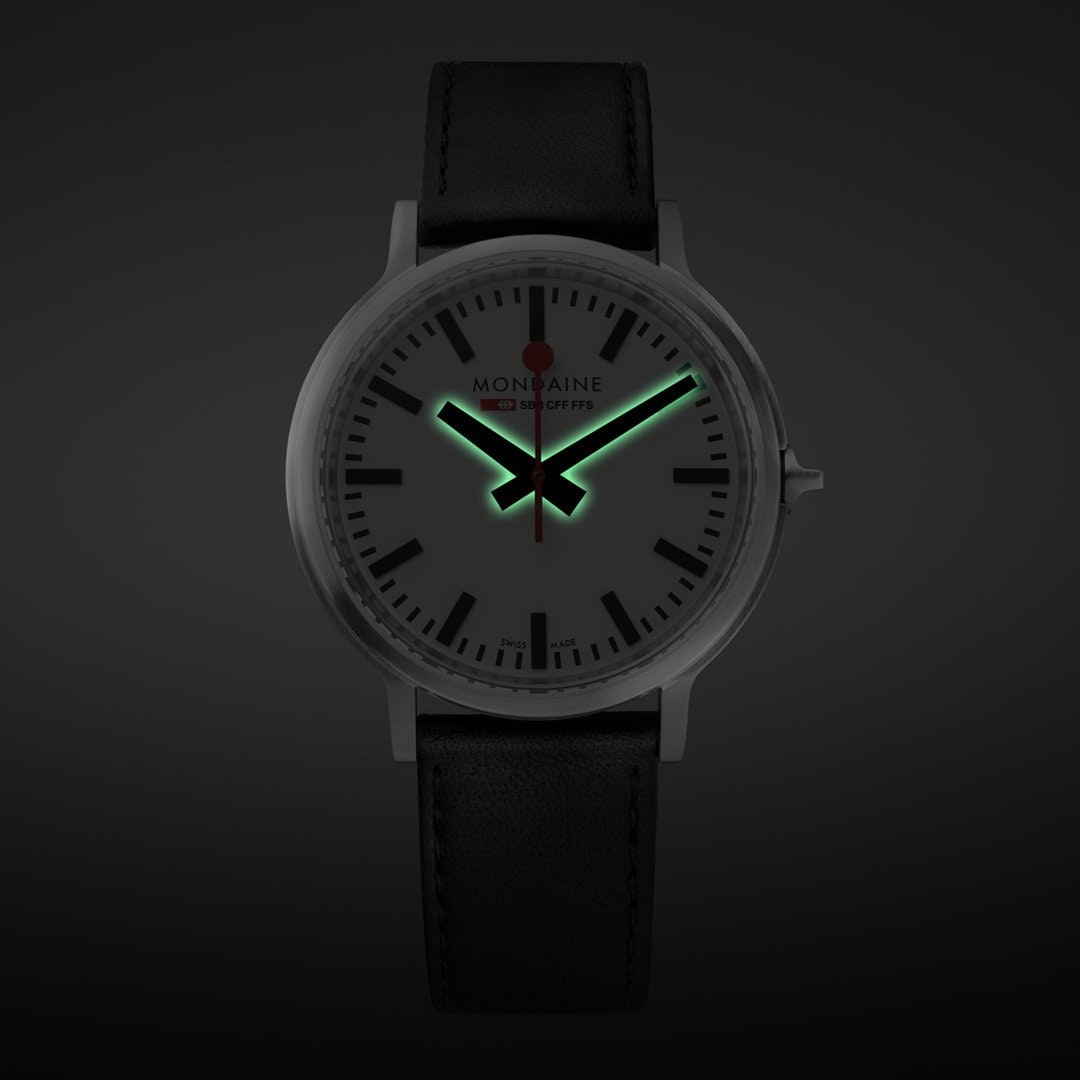 For Mondaine's next party trick, this is a quartz movement unlike any other. The Swiss Railway clocks are designed for smooth and absolute precise departures, so the second hand stops at 12 after each minute for 2 seconds before moving into the new minute in perfect unison with the minute hand – and of course the train. This precision quirk necessitates two motors in the movement, one to turn the seconds hand – and one drives the hour hand while inducting the minute hand jump every 60 seconds.
In addition, the movement is geared to make the seconds hand move four little paces each second, making it almost as smooth as a mechanical watch, instead of the normal sharp tick. Mechanical prowess all in the name of authenticity, and a salute to the iconic Swiss Railway (SSB) Clocks.
All of these details amount to a high-tech quartz watch of optimum legibility, representing a rich and fascinating heritage. But we're not finished, there is also a final pièce de résistance in the crown. The reason it looks more like switch than a traditional crown is exactly that, setting the hands electronically by toggling it – another detail in this perfect example of a strong European functional aesthetic bereft of decor but making up for it with an unexpected tour de force.
The Mondaine Official Swiss Railways stop2go BackLight, pricing and availability:
$1099 AUD, with the choice of a black or red leather strap available from our Marketplace.