Editor's note: The Ball Engineer Hydrocarbon AeroGMT II USA-only edition is available now in the Time+Tide marketplace, alongside the Ball Engineer Hydrocarbon Original, a vintage-styled diver with some similar muscle.
The Ball Watch Company is a brand founded on the principles of practical and robust solutions to timekeeping problems. They were established in the United States in the late 1800s after a series of tragic accidents on the country's quickly expanding railway networks. There was no standard time that trains ran to, meaning that a deviation of a local train station's clock could result in a train leaving too early or late, causing an accident. After one head-on collision between two trains in Ohio, Webb C. Ball founded the Ball Watch Company to comply with the newly established "Rail Road Standard" time that aimed to solve the problem.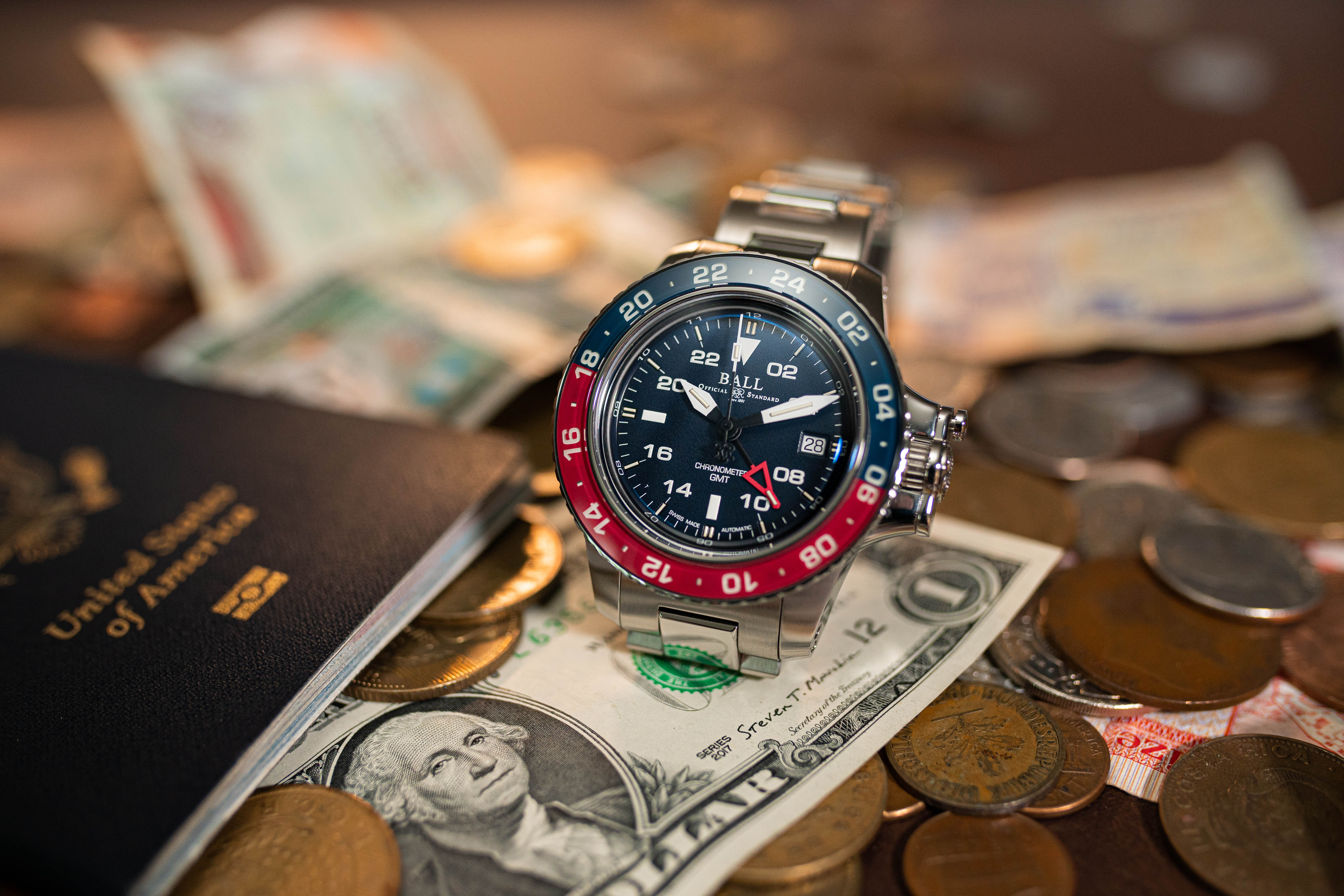 Today, Ball Watch Company continue to make watches in this ethos, prioritising legibility, accuracy and durability. The Ball Engineer Hydrocarbon AeroGMT II is one such watch that embodies this ethos, built as a practical modern tool watch. The 42mm steel case is built to withstand a lot, be it water intrusion, magnetism or shock. The case is specifically designed to be able to handle 7500 g-forces, as well as 4800 A/m of resistance against magnetism.
The closed caseback and lockable crown protect the watch against water entering the movement, and is guaranteed to 100m of water resistance. The lockable crown also offers a key point of visual interest in the watch, with the oversized crown guards offering significant protection against shocks as well as adding some heft to the profile of the watch. By the numbers, it certainly isn't an overly large watch at 13.85mm tall, but the swivelling crown guard certainly still catches the eye.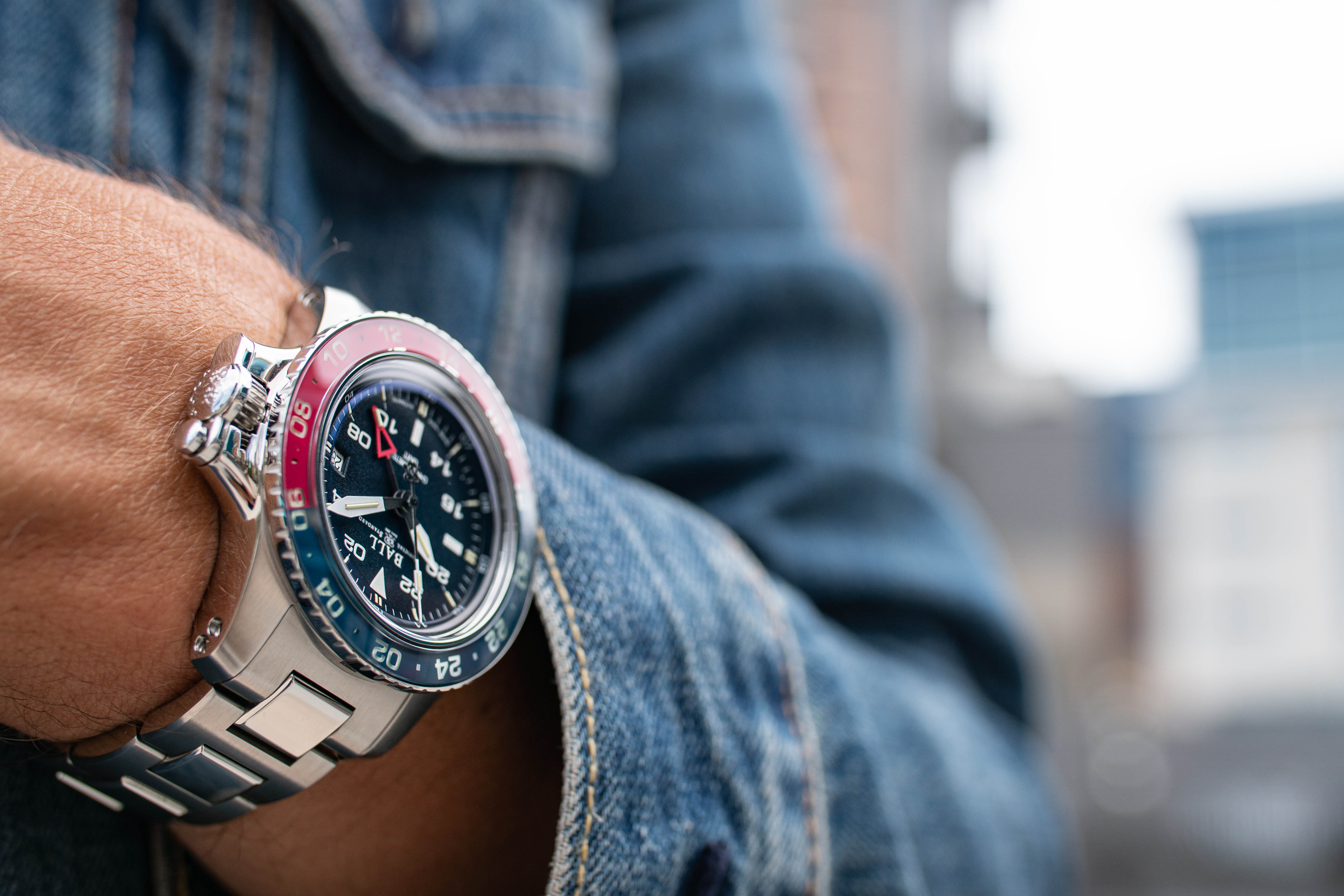 Additional functions of the Ball Engineer Hydrocarbon AeroGMT II are of course the blue and red "Pepsi" bezel and the red GMT hand, clearly aiming this watch at the international traveller. Another feature of this watch, and one that Ball Watch Company as a brand are known for, is the particular way that the dial is illuminated in low-light conditions. Instead of the typical luminescent paint that almost all other brands use, Ball Watch Company employ tiny transparent tubes filled with tritium gas that emanates a soft glow. The 43 small gas tubes in this watch have the benefit of not needing to charge up from another light source, and maintain an intense glow.
Powering the Ball Engineer Hydrocarbon AeroGMT II is the Ball RR1201-C automatic GMT caliber, which also boasts chronometer certification. You'd expect nothing less from a brand with such a rich and proud history in offering accurate timing services.
The watch is offered on a robustly made tapered steel bracelet that is finished with polished centre-links while the rest of the bracelet is brushed. The bracelet is well designed to offer a comfortable fit for everyone, with half-size links to make small adjustments, as well as a fold-out extension, and it clicks securely shut with a two-button folding clasp.
All things considered, it is a complete package as a well-made traveller's tool watch. It is built to take a beating without missing a beat, conveniently tracking a second time zone and really looking like a modern tool watch. All that with the charming blue and red tones of the bezel, and it is well worth considering if you're in the market for a contemporary daily beater that comes with a heritage as rich as Ball Watch Company. Learn more at the listing on the marketplace.