The first watch I saw at Baselworld 2019 was the Bulgari Octo Finissimo Chronograph GMT Automatic. I saw it at a preview dinner before the fair proper, and honestly, it kind of ruined me for other watches at the fair.
The Bulgari Octo Finissimo Chronograph GMT Automatic is just so impressive. Not only is it the world's thinnest automatic chronograph (ever, no fancy caveats needed), measuring 6.9mm for the full watch, and 3.3mm for the BVL 318 movement alone. But (and more importantly for me) it looks and feels good on the wrist and is exceptionally user-friendly.
For me there are two big points in favour of this watch. One, the form is flawless, unmarred by obvious, ugly pushers. One of the genius moves of the Octo's angular design is that it allows for the near seamless integration of geometric pushers that extends the existing look, rather than adding some clunky lumps to one side. The other real user-friendly feature is the addition of a GMT feature. Bulgari deserve massive props for this, simply because they didn't need to do it. But they did (because they can), and it's great. The second time is displayed in the little subdial at three — which is in keeping with the chronograph layout, and the wearer using the pusher at nine (bet you didn't even notice it there) can adjust local time in one-hour jumps. Useful, especially considering that the sort of person likely to buy an ultra thin piece of horological art like this might also fly frequently.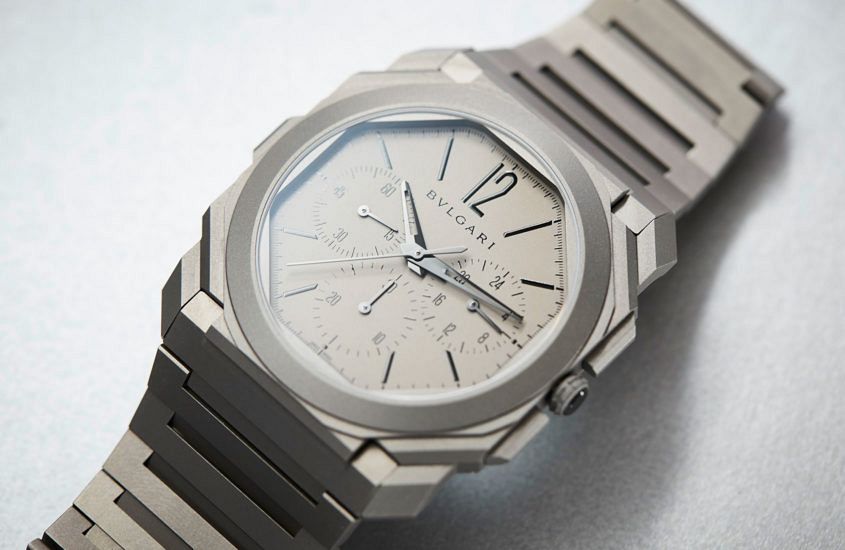 And finally there's the on-the-wrist factor. This watch does feel a little more present than the regular automatic Octo Finissimo, and that's a good thing. On the time-only version it's hard to distinguish between bracelet and watch on the wrist. With this watch you can tell the one from the other. It feels barely there, but in a substantial way, if that makes sense. It's also, as far as these things go, a solid value proposition. It's priced at just under $25K, which is firmly in the same ballpark as a bunch of other (albeit thicker) luxury chronographs. A solid watch, and definitely a contender for one of 2019's best.
Bulgari Octo Finissimo Chronograph GMT Automatic price
Bulgari Octo Finissimo Chronograph GMT Automatic, $24,900 AUD
Made in partnership with Bulgari. However, the opinions expressed in this video are our own in accordance with our Editorial Policy.