LVMH's Dubai Watch Week may have been only seven months ago, but it genuinely feels like it could've been last century. Cast your mind back those long, long … long seven months, though, and there seemed to be a general consensus among punters and professional hacks alike that there was one novelty that eclipsed all else. I am, of course, talking about the TAG Heuer Carrera 160 Years Silver. Kudos to TAG, it is a brilliant timepiece. T+T founder Andrew McUtchen even said that it "might be the perfect watch".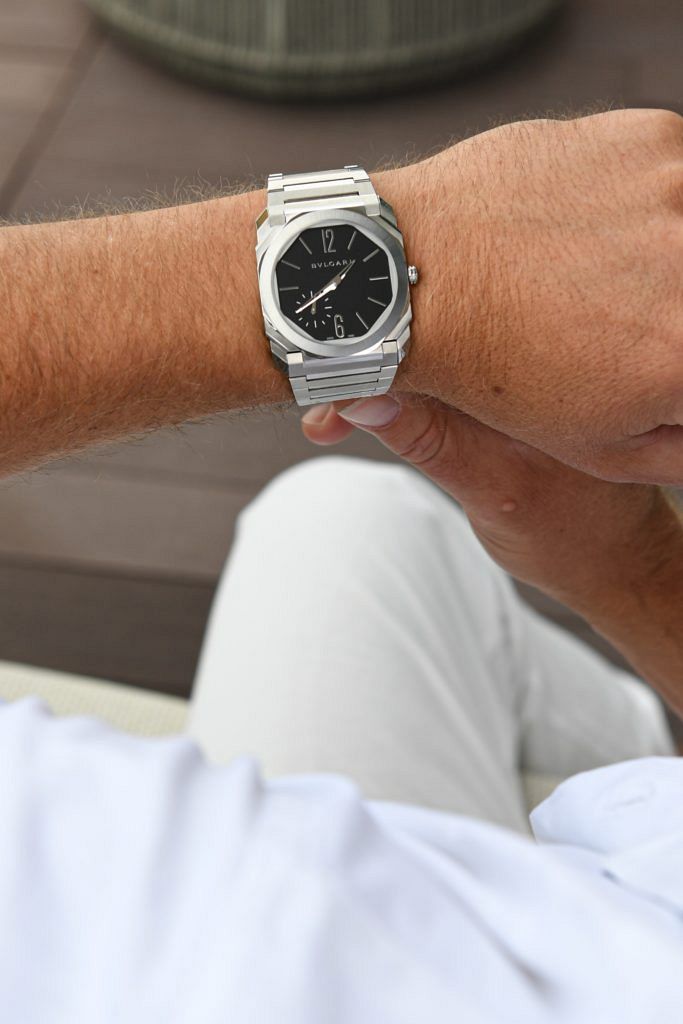 Thing is, though, it wasn't the best watch unveiled at the boojee event in the desert. Contrary to popular belief, the real MVP was Bulgari's Octo Finissimo in satin-polished stainless steel. The words "game" and "changer" get thrown about quite a bit in the editorial and marketeering worlds, but mark my words, this watch, cliché or not, is exactly that. In fact, I'm shocked that more folks in our world weren't shouting from the rooftops upon its unveiling.
Here is a luxury steel sports watch with an integrated bracelet, gorgeously finished manufacture movement with a platinum micro rotor and a blend of archetypal visual cues with a real, truly unique design language. Oh, and it's got a retail price in Australia of $17,800 … or roughly half what you'd pay for Audemars Piguet's Royal Oak Ref.15500 and less than a quarter of what you'd pay for a Patek Philippe 5711.
Needless to say, I've been slightly more than an admirer of this Bulgari, and desperate to get my hands on one, so I might be able to prove to myself, and any of the watch's naysayers, that it is as good as I thought it would be. Luckily, a little while ago, I was able to slide its slender form over my wrist for the very first time, and initial impressions are as follows.
The case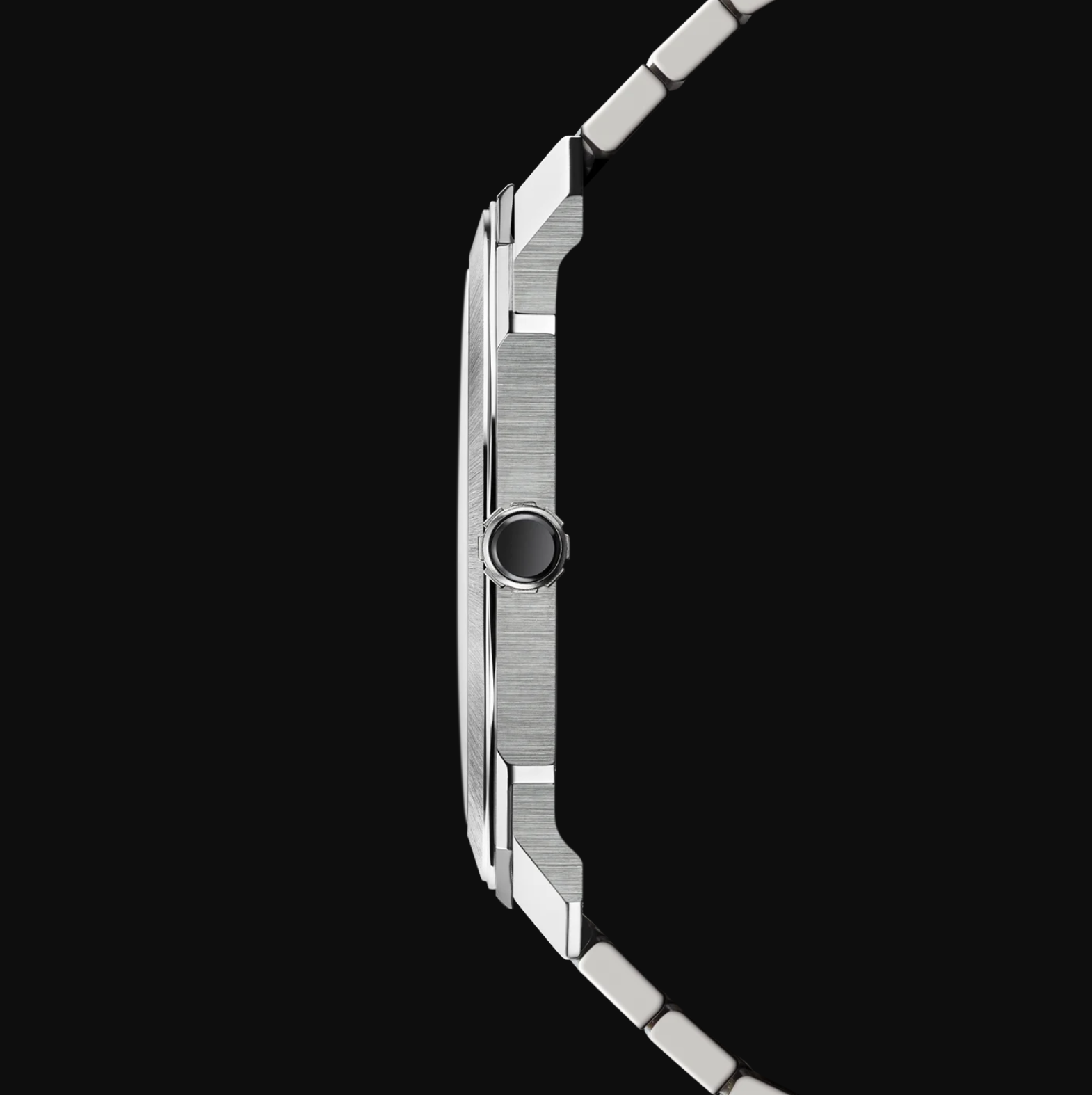 The name Gérald Genta should be instantly recognisable to anyone who's paid more than a month's salary for a watch, or spent more hours online staring at timepieces than working to earn said remuneration. But for the three people reading this who haven't heard the name, Gérald Genta is largely credited as being the most important wristwatch designer of the 20th century. The Swiss-born visionary famously designed the Audemars Piguet Royal Oak in one evening, and then went on to create perhaps the greatest luxury stainless steel sports watch of all time – the Patek Philippe Nautilus.
As well as working for several other watchmakers and cementing his name as the pre-eminent watch designer in the world, Genta also started his own watchmaking company, Gérald Genta Watches. And, to cut a long story slightly shorter, Genta sold the company that bore his name to Bulgari in 2000, which meant that the opulent Italian jewellery manufacturer now owned not only Genta's company but also his patents and designs. So, if you, like I, look at the Bulgari Octo Finissimo in satin-polished stainless steel and think it looks a touch like something Genta would've designed, now you know why.
History lesson over, I've got to immediately say well done to Bulgari – the case of this watch is nothing short of a chef-d'oeuvre. Where to begin? Well, it measures a very bandwidth-able 40mm across, which is definitely something to celebrate. But it's not the case's magnum opus. No, the thing that really makes it so special is its width, or rather, lack thereof. The Bulgari Octo Finissimo measures just 5.25mm thick, and I know what you're thinking: "But the old Octo Finissimo was 5.15mm."
Yes, this is true, but unlike the old steel, titanium and gold variants of the namesake, this new Finissimo is, for the first time, water resistant to 100 metres and also utilises a screw-down crown. This means that it's instantly night-and-day more practical, and therefore a much more attractive proposition as a daily timepiece. Then there's the way the new satin-polished finishing looks. Deary me, it's beautiful to behold in the metal, and far more appealing, in my opinion, than the older sandblasted steel iteration. The way the metal presents this cool, chic and luxurious aesthetic is quite inimitable. I'm also very, very happy that the case is capped in sapphire crystal — it means that legibility is fantastic and, more importantly, that I can just gaze, almost lecherously, at the movement.
The movement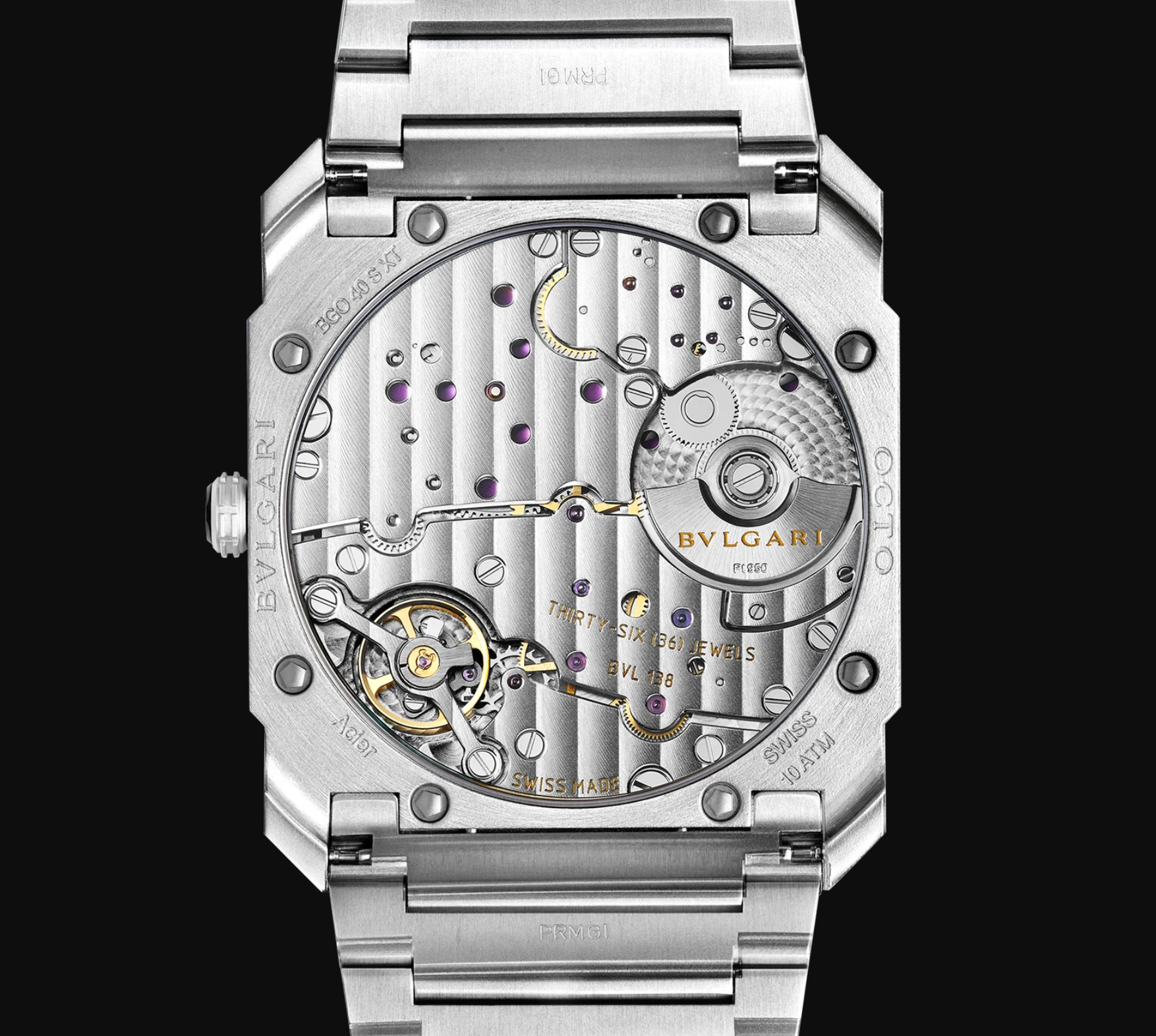 If ever you needed convincing that Bulgari was serious about Haute Horology, go and look at the back of this watch. Calibre BVL 138 is an ultra-thin tour de force of high-end watchmaking. Measuring just 2.23mm thick, this manufacture movement master class features an aforementioned micro rotor in solid platinum, chamfered balance bridge, gorgeous finishing and attention to detail, an operating frequency of 21,600 vph (3Hz) and 60 hours of power reserve. Calibre BVL 138 can more than adequately hold its own amongst its contemporaries and, all things considered, I reckon this movement alone makes the watch an indisputable bargain.
The dial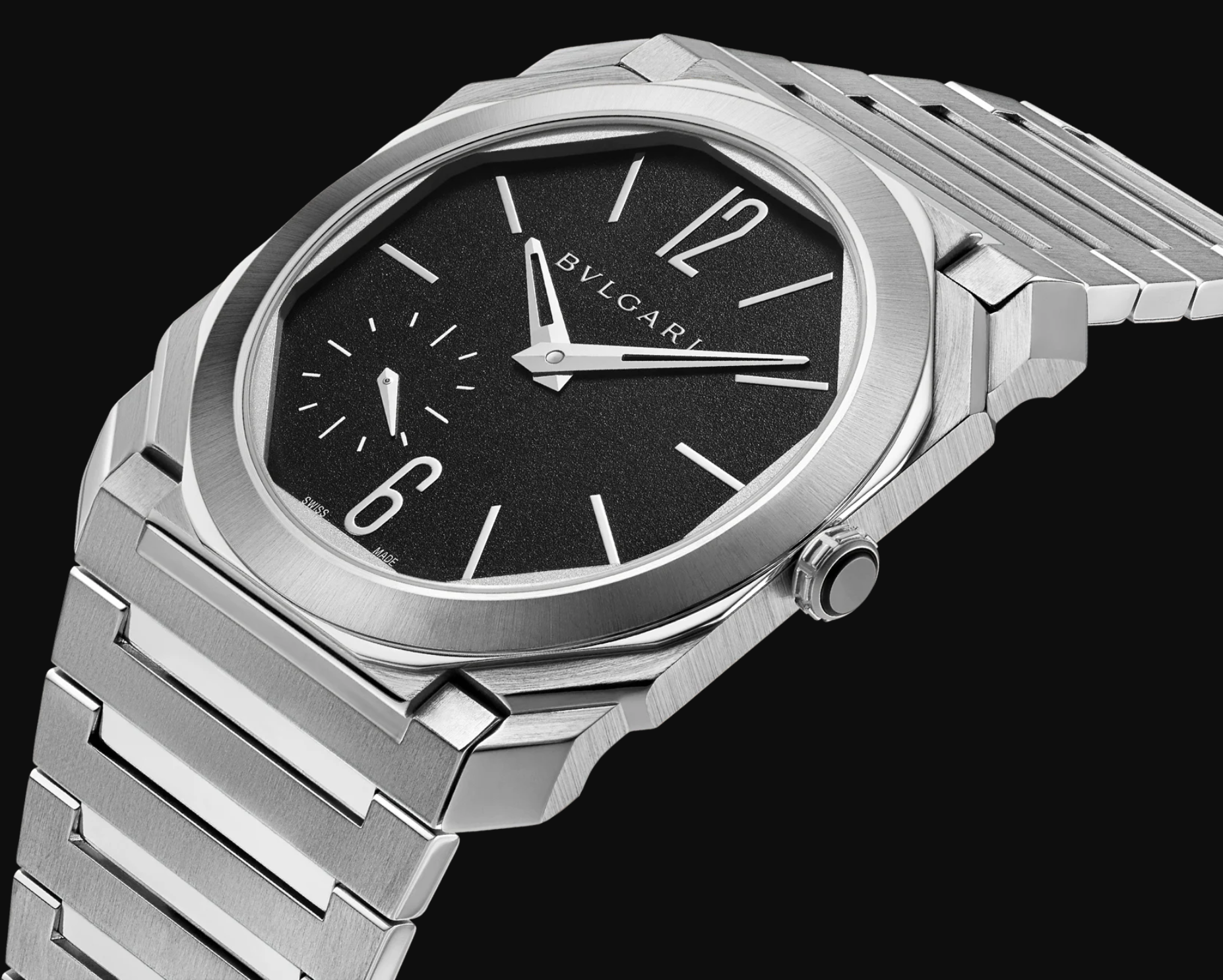 The black granularity of the dial – which is extremely subtle, and solid black most of the time as seen below – in conjunction with the iridescent polished numerals, indices and handset, creates an arresting juxtaposition that only further enhances the visual appeal of the Octo Finissimo. There's a pared-back, almost Spartan vibe to this dial that feels, like the rest of the watch, resoundingly contemporary. Once again, Bulgari should be applauded for the design – it can't be easy making a simple three-hander with small seconds display feel completely novel, but that's exactly what the watchmaker has done. Some will gripe about the location of said small seconds, as the off-centre location sitting between seven and eight o'clock is sure to set off some folks' OCD, but — and I hate to say it — if you don't like the dial of this watch, it's because you're boring.
The bracelet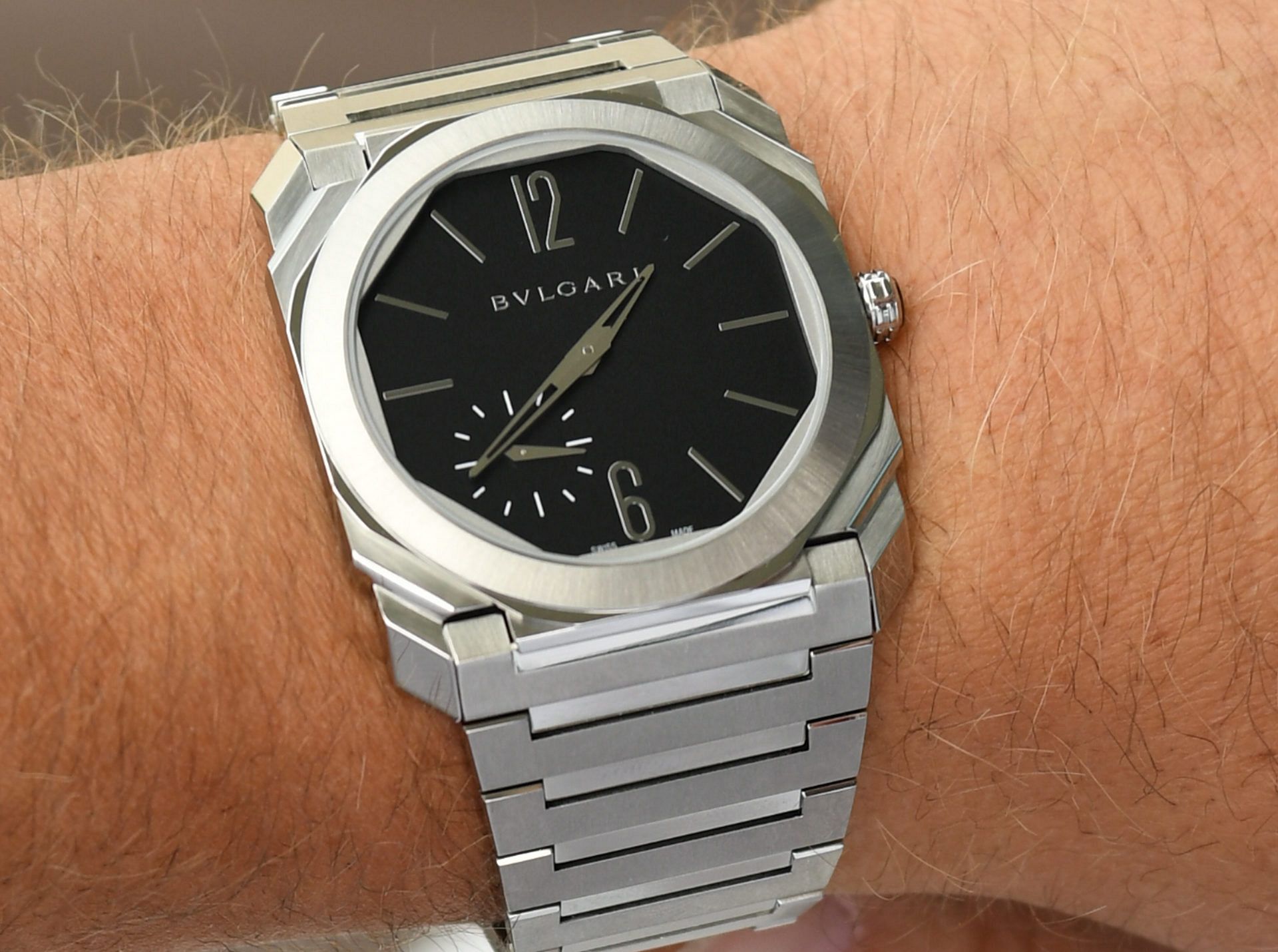 When done right, there's nothing quite like an integrated bracelet … they just work. And believe me when I say, Bulgari has done it right on the steel Octo. Whether it be the perfectly judged tapering, surreptitious and unobtrusive butterfly-style deployant clasp, multifaceted finishing that sees the top and bottom of each link satin polished and the flanks glossily polished, or just the way it looks and feels on the wrist, there are few bracelets that are as good. The cohesion of design that effortlessly blends the head of the watch to the bracelet is masterful, the continuity akin to a seamlessly sublime melody composed by one of the greats.
On the wrist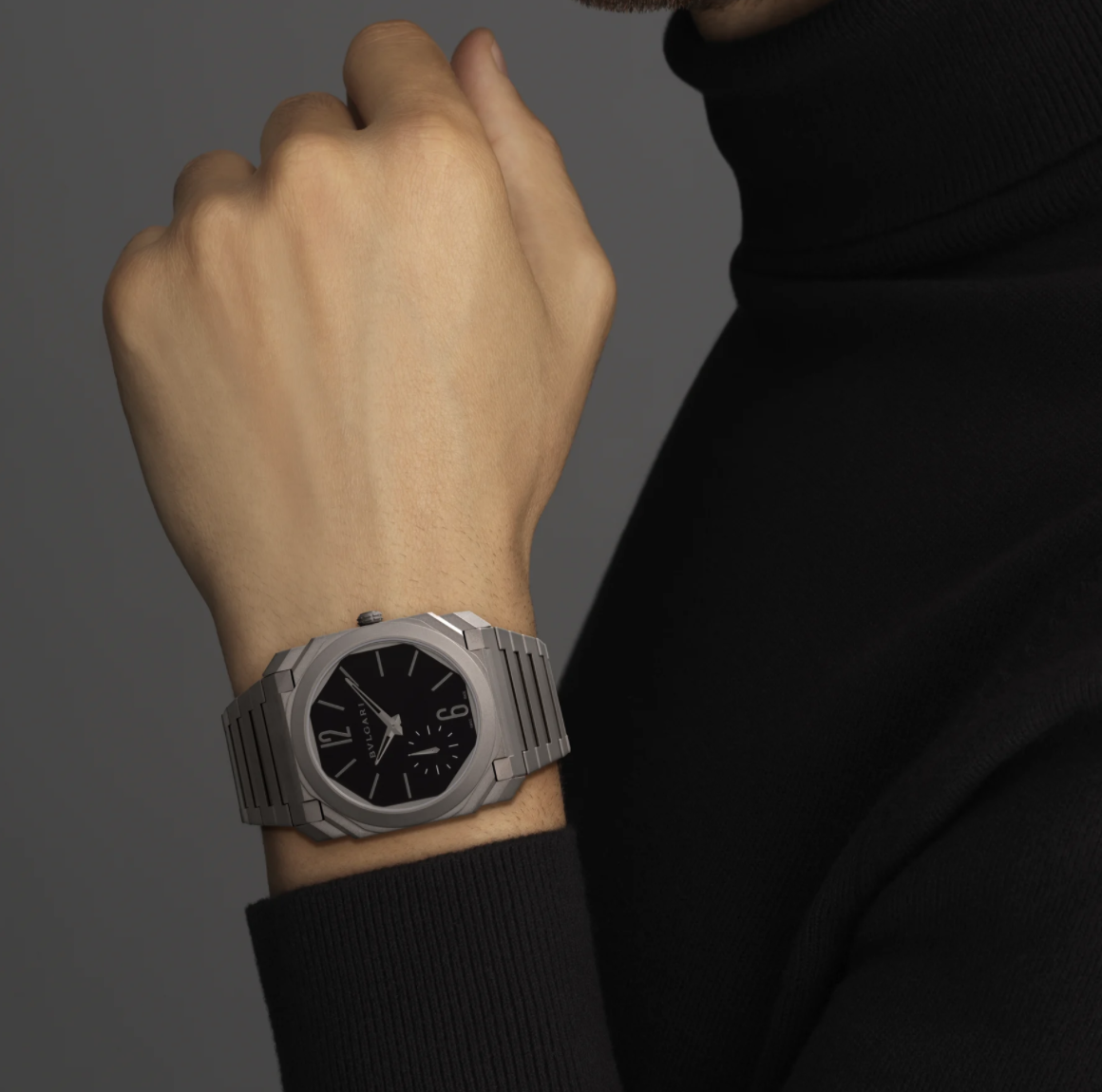 For lack of a better adage, on the wrist, the Octo Finissimo in satin-polished steel feels like a million bucks … which is really annoying. Why? Well, as you'll no doubt be reading in a couple of days, I'm rather keen to move on my Rolex Air-King, and find its replacement in my collection. I've had an inkling that the Octo would be the Rolex's successor since I first glimpsed images of it all the way back in January. Now, having had it on my wrist, it's almost a certainty — it's just that good. The extra heft that the steel provides, as opposed to the titanium variants, gives this watch a completely different personality altogether, and nothing against titanium, but it just feels right to me. I can imagine that pretty much anything would pair well with this watch, whether it be T-shirt and jeans, suit and tie … hell, even boardies and a Bintang singlet would look great with this watch attached to your wrist. RIP bank account and any semblance of savings.
The verdict
The Bulgari Octo Finissimo in satin-polished steel Ref. 103297, for the money, is nonpareil. Bulgari should be commended for their devotion and efficacy to haute horology, because a fashion watch the Octo Finissimo is not. What the Octo Finissimo in satin-polished steel is is pure, unadulterated genius.