$2.5K can buy you quite a lot in this world – an economy plane ticket to just about anywhere on the planet, a car that's probably (definitely) going to have questionable reliability or, if you're so inclined, a really, really nice bottle of wine.
And for us watch enthusiasts out there who already have a varied and sizeable collection, $2500 is enough to access a veritable cornucopia of brilliant timepieces from dozens of different manufacturers.
But what if you're a budding horological enthusiast and you don't have any watches yet? Is it possible to create a great watch collection that covers all the contextual bases for less than a bottle of Penfolds Grange or a clapped-out 2001 Mitsubishi Magna?
The short answer is … yes, it is possible, and here are the five watches that can do it:
Tissot Heritage Visodate – The Dress Watch
Any good watch collection needs a timepiece that you can don when the double monks and the double-breasts come out to play, and this Tissot Heritage Visodate, complete with its well-proportioned and cuff-friendly 40mm stainless steel case, is a great example. The Visodate's understated silver opalin dial ensures versatility with most outfits, and thanks to the use of simplistic polished numerals and indices, legibility is a breeze. And, as a result of being powered by ETA's Calibre F06.111 quartz movement, reliability and accuracy is assured. $500
Seiko 5 Sports SRPD53K1 "Pepsi" – The Daily Watch
We've said it before and we'll say it again, the Seiko 5 Sports is a great daily timepiece that offers an exceptional amount of value for money. This is a watch that benefits from an automatic movement, day and date complication, 100 metres of water resistance, unidirectional bezel, clear case back, and a level of build quality only to expected of the Japanese watchmaker. And all of these features can be had for less than $500 bucks … well, one dollar less. $499
Casio G-Shock GA2100-4A – The Weekend Beater
Mountain biking, rock climbing, big-wave surfing … these are just some of the many extreme activities that you can get up to on any given weekend. These are also hobbies that we traditionally wouldn't recommend you do while wearing a wristwatch. Unless, of course, that watch happens to be a G-Shock, because as we all know, when it comes to timepieces that are nigh on bombproof, the Japanese marque takes the cake. This particular G-Shock is the new GA2100-4A "Octo", and it's actually the thinnest G-Shock ever made, measuring just 11.8mm thin. That hasn't hampered the Octo's hardwearing credentials, however, as the case of the bright-red watch is made from a blend of high-strength resin and carbon fibre. $249
Citizen CA7001-87L – The Chronograph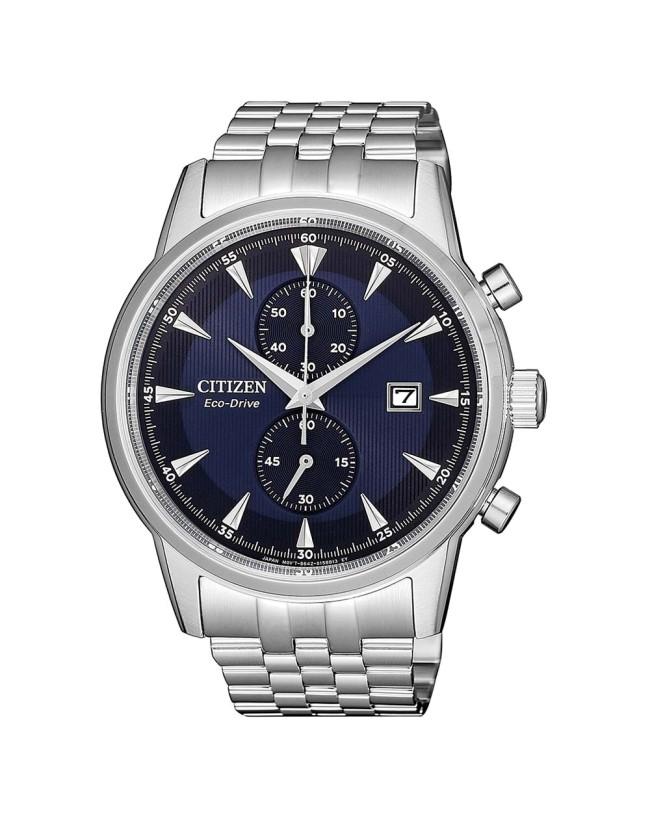 Hosting one of the more practical and important complications a wristwatch can possess – a chronograph – the Citizen CA7001-87L is quite a handsome wristwatch, thanks largely to a fetching navy blue dial with contrasting polished hour, minute and second hands. The 42.5mm steel case houses Citizen's impressive Calibre B642 Eco-Drive movement, and in addition to the aforementioned chronograph complication, the CA7001-87L also features a date aperture, located at the three o'clock position, and the timepiece is also water resistant to 100 metres. $499
Apple Watch Series 4 – The Smart Watch
OK, we know this is a controversial one, but whether you want to admit it or not, the Apple Watch is capable of doing some pretty amazing things. For example, the Series 4 and Series 5 variants have been credited with saving multiple lives this year alone, thanks to its "fall detection" feature, which utilises the watch's gyroscopic and accelerometer sensors to detect the hard impacts. Aside from this pretty amazing feat, though, it's just a very handy thing to have attached to your wrist, and I personally fully condone "double wristing". Now, the brand new Series 5 Apple Watch is a tad too expensive to make it into this list, but you can purchase a new Apple Watch Series 3 for $319. However, for the same $319 you can also purchase a refurbished Series 4 directly from Apple; this one, for example, replete with its 44mm Space Gray aluminium case with black sport band is just $319.