MICRO MONDAYS: Briston Watches & the Clubmaster Diver
Bruce Duguay

Editor's note: It's somehow Monday again, and while that would normally mean feelings of malaise and discontent, since this pandemic shifted into top gear and lockdowns now rule the lay of the land, Mondayitis isn't really a thing anymore. Which is good, because the start of the working week also means it's Micro Monday, and that's always worth a smiley-faced emoji. This week we're taking a closer look at Briston Watches, a French outfit that are looking to shake things up in the sub-$1000 watch market. Headed up by Brice Jaunet, who cut his teeth at some some of the biggest marques in the game, the Gallic watchmaker focuses on high-quality design, functionality and bang for buck. Briston make a number of exciting timepieces, but today we're going to be examining their fit-for-purpose dive watch – the Clubmaster Diver. It's a good-looking device, and the French brand are certainly on the up and up. Vive la Briston!
There are several areas where the watch world is taking advantage of economies of scale and available synergies. Since the pace of information and collaboration has picked up in the internet age, we have seen a resurgence and proliferation of smaller brands that rely on some technology from larger companies who seem happy to share, for a price, while embracing their own design path and new ideas.
This is where Briston Watches come in. There is plenty of collaboration and a general melee of worldly input going on here. The brand itself is French, which in itself is not particularly unusual. Credibility comes by way of its founder, Brice Jaunet, who has a resume that reads like a high-end watch collection anyone would be proud of: Zenith, Raymond Weil, Cartier and a couple of other very notable marques. His mission is to create a brand that embodies a British "sport-chic" ethos with a premium accessible position in the world. Jaunet also realised that to maintain customer satisfaction at the sub $1000 price point, a reliable source of quartz and mechanical movements could be found in Japan via Miyota and Seiko. All in, it sounds like a recipe for success, a French brand combining British style with Japanese powerplants.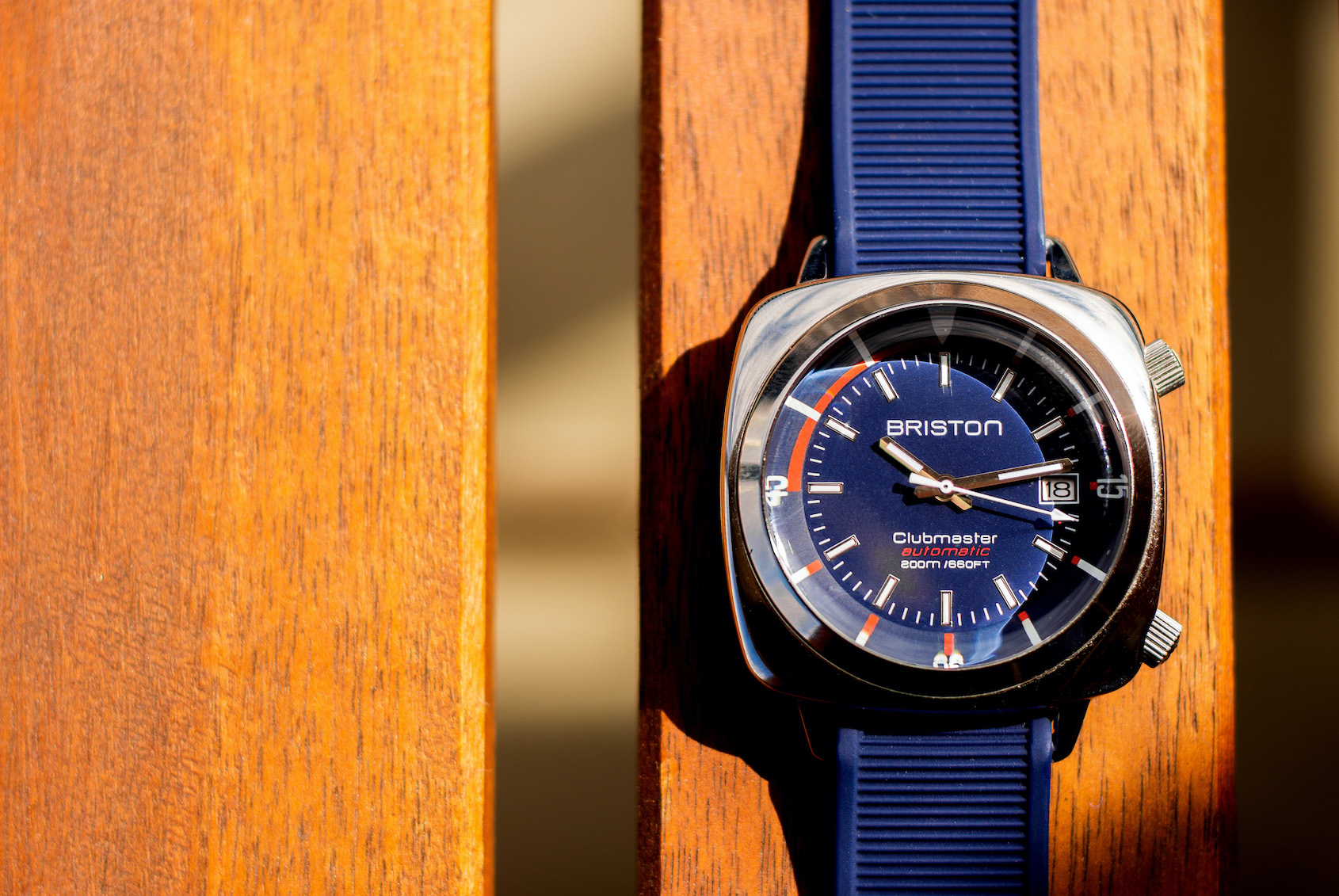 My subject for evaluation here is Briston's dive watch, the Clubmaster Diver. Some might argue that it is difficult to make a successful dive watch without aping the classic Submariner/Seamaster layout recipe. Briston, being French, doesn't want to be another styling also-ran and therefore forges its own path by combining a mostly square cushion case and sequesters the rotating bezel within the domed mineral glass crystal. You heard that correct, folks, the bezel is on the inside of the watch and rotates by turning the upper crown. Clearly Briston intends the Clubmaster to be enjoyed more often poolside than overboard as the bezel rotates bi-directionally with legibility taking a back seat to novelty. Despite only the lower crown being screw-down, Clubmaster retains a respectable 200m of water resistance.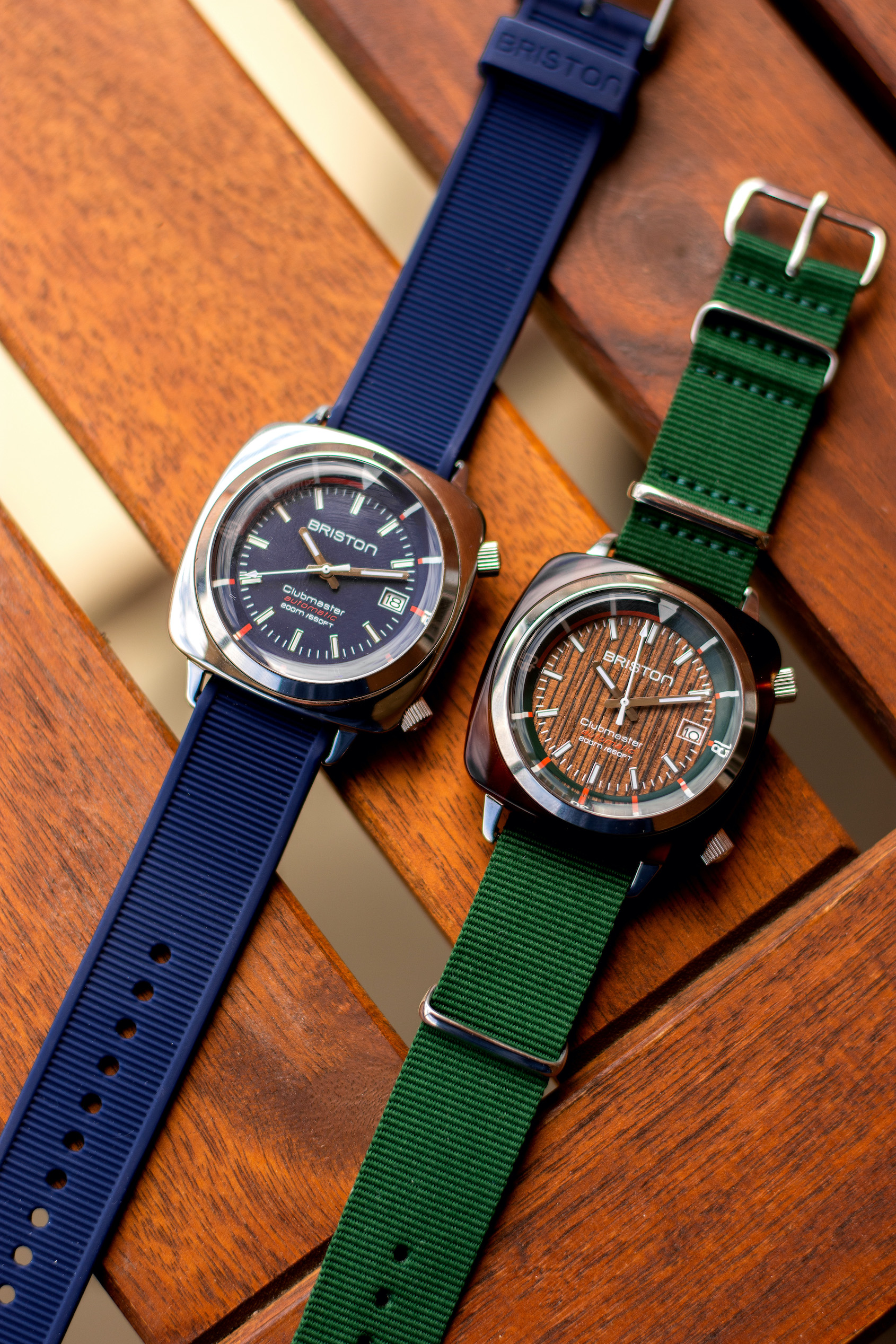 Briston also differentiates itself in the available case materials. The Clubmaster that I spent the most time with was the steel variant with the blue dial which would be the safe bet for versatility. One of the most visually daring Bristons is the acetate case Clubmaster Diver combined with a wood grain dial. The warm-toned acetate case would pair perfectly with tortoiseshell framed sunglasses by the aforementioned pool deck. The 42mm square cushion case is comfortable on the wrist and is smooth enough to wear with little shirt cuff drama. Since the Clubmaster is offered with your choice of many different rubber or NATO straps, it doesn't suffer from any extra bracelet bulk, which would also take away from the case's star power.
Inside the Briston Clubmaster Diver is an automatic Seiko NH35 movement with a 41-hour power reserve and date function. It seems perfectly suited to this application at the $610 USD price point, while providing that all-important second hand sweep.
To say that the Briston Clubmaster Diver knows its target audience would be right on the money. The brand crosses streams between fashion and function while being brash, innovative and, most importantly, accessible. There are plenty of dive watches that exude that old-world charm and follow the expected pattern, but Briston instead embraces the expressionist left-field with a watch that is sure to stir up conversation, particularly poolside in the French Riviera.