INTRODUCING: The Bremont H-4 Hercules 
Felix Scholz
The history of aviation is full of famous planes. For better or worse, planes like the Spirit of St. Louis, the Enola Gay and the Southern Cross are landmark machines in the evolution of the flying machine. But few vehicles loom larger in popular culture (or indeed reality) than the epic H-4 Hercules, popularly known as the Spruce Goose. 
With a wingspan measuring an incredible 97.5 metres across, the H-4 Hercules is the largest flying boat ever built, and a result of the passion (some would say obsession) of aviator, engineer, film director and billionaire Howard Hughes. Originally conceived as a World War II heavy-lift transport, delays meant that the plane wasn't completed until after the war ended. But the scale of the H-4 Hercules cannot be understated. In addition to its massive wingspan, the tail was as tall as an eight-storey building, and powered by eight radial Pratt & Whitney engines generating 24,000 horsepower required to lift the 400,000 pound, fully loaded plane. What's even more remarkable is that, to keep the weight down, the entire plane was built around a birch (not spruce) frame. Numerous other innovations were developed to deal with the scale of the Spruce Goose, including the first hydraulically actuated control system. 
The plane was eventually completed in 1947, and, after successful taxi trials, flew at a low level for under a minute. It never flew again and is now enshrined in the Evergreen Aviation & Space Museum in Oregon, safe, thanks to its national treasure status. 
Which brings us to the watch. The Bremont H-4 Hercules limited edition (300 in steel, 75 in rose gold, 75 in platinum) isn't as large as the plane it's inspired by, but it's not small, at 43mm across and 14.4mm tall. An attractive pilot (with a brown dial in platinum or gold, black on the steel), with a GMT and a small-seconds at nine. Powered by the automatic BWC/02, with a 4-bladed rotor resembling a propeller, and one that contains the heart of this watch — slivers of wood from the fuselage of the plane, removed during restoration. It's a special piece, and a fitting tribute to one of the greatest planes to ever (however briefly) fly.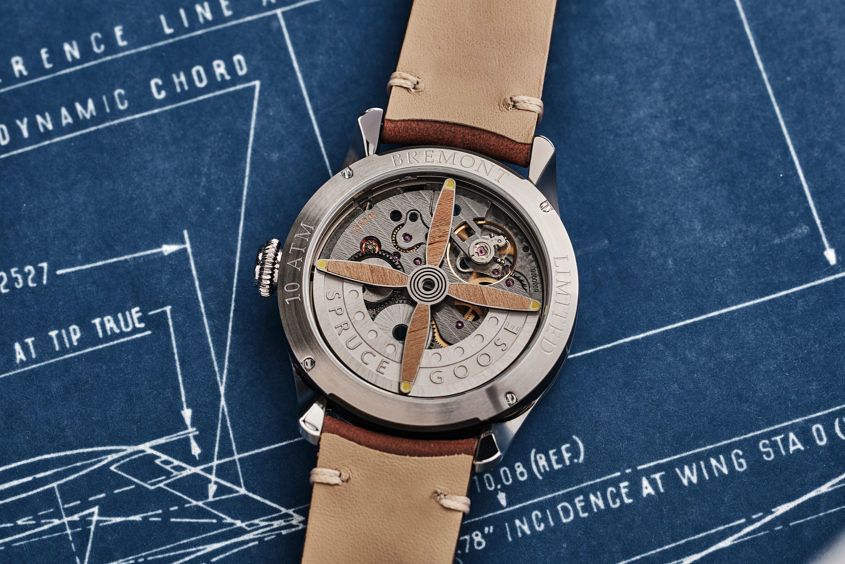 Bremont H-4 Hercules Australian price and availability
Bremont H-4 Hercules, in steel, $16,995 AUD; in rose gold, $31,995; in platinum, $44,595. Available from Bremont's Melbourne boutique.