INTRODUCING: The Breguet Classique Tourbillon Extra-Flat Skeleton 5395
Felix Scholz
Last year, Breguet introduced a stunningly simple, surprisingly asymmetrical addition to the Classique family, the Tourbillon Extra-Flat. This year, at Time to Move, they've premiered the next chapter. It's still a Classique Tourbillon, but it's been dramatically skeletonised. Meet the Breguet Classique Tourbillon Extra-Flat Skeleton 5395. 
First things first – the fundamentals: 41mm across by a truly slender 7.7mm thick, offered in platinum or rose gold cases. The dial is sapphire, to show off the movement. The hands are (obviously) Breguet. On paper, the 3mm thin movement, designated 581SQ (for squelette, or skeleton), is the same as the existing 581. But in reality it's a completely different beast, and absolutely beautiful.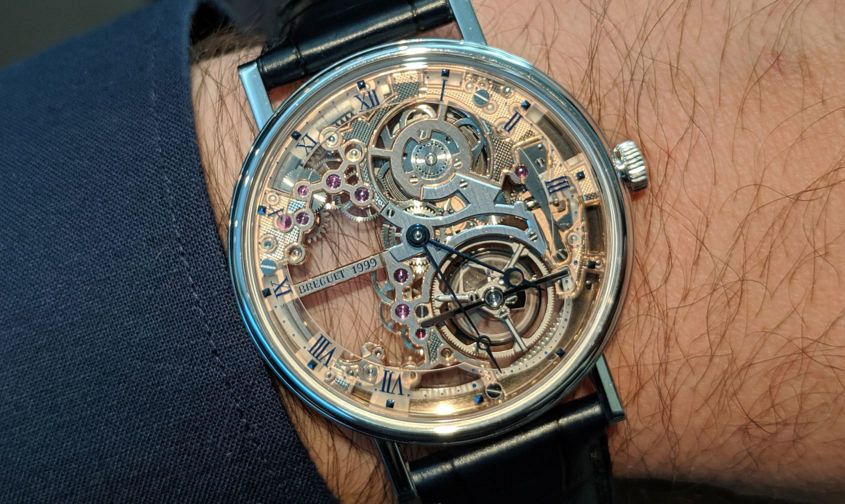 Firstly, and most obviously, the closed dial is gone, leaving the inner workings of the watch exposed. And those inner workings have been significantly stripped back, with about 50 per cent of the mass of the movement removed, leaving a fine tracery of extensively hand-worked bridges. These bridges are made from a specific red gold alloy that is harder than usual, so as to effectively support the weight of the movement. Not much of that weight is coming from the off-centre tourbillon — the titanium and silicon carriage weighs in at 0.290 grams.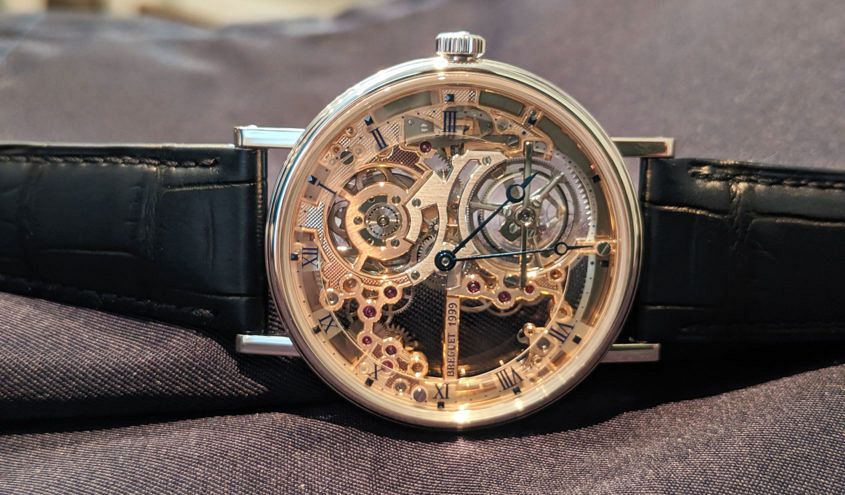 Aside from the on-trend, contemporary skeletonised look of the watch, the finishings are pure Breguet. The bevelling on the movement takes some 120 hours alone, and then there's the hand-engraving and (of course) guilloche. But not just any guilloche. For the first time, Breguet has employed a micro guilloche technique, using a diamond-tipped tool. According to Breguet, this micro-guilloche is such a delicate process, it has to be performed underground, as the vibrations caused by passing heavy vehicles impacted on the precision of the finish. It might be hard to see with the naked eye, but definitely worth the effort. 
The Classique Tourbillon Extra-Flat Skeleton 5395 is both pure, classic Breguet, while still being quite modern in overall aesthetic. It's a technically and visually stunning watch that packs a punch far greater than its slender frame would suggest. 
Breguet Classique Tourbillon Extra-Flat Skeleton 5395 price
Breguet Classique Tourbillon Extra-Flat Skeleton 5395 in platinum, $309,100 AUD
[tt_in_content_assets]
[tt_in_content_assets_2]