OWNER'S REVIEW: a month in with the Kurono Anniversary 朱鷺:Toki
Zach Blass
At this stage in my collection I look for variety. Truth be told, I have already ticked a lot boxes: a stainless-steel professional Rolex, a high-horology watch with exquisite hand-finishing, divers, GMTs, chronographs etc, so it is hard for me to justify buying more and more of the same. One example: I love the new SLGH005 White Birch from Grand Seiko, but as an owner of the SBGA211 Snowflake, the disciplined collector in me feels that it may not be the best fit for my existing collection. So what would it take for me to buy a Grand Seiko Series 9 9SA5 powered watch? A new dial shade, perhaps. I am okay with buying new takes on familiar formats, but do I really need a Tudor Black Fifty-Eight in black/gilt if I already have a Submariner? I offer this context because I believe this is where Kurono truly excels, re-inventing their Art-Deco designs in new flavours – all while maintaining their approachable price points. Owning the previous anniversary watch, the Kurono Mori, you may think adding a second watch with the same design language would make me hypocritical. But the vibrant new coral-vermillion shade of the Kurono Toki was exactly what I was looking to add to my collection, it's salmon-adjacent colour high up on my collector's bucket list.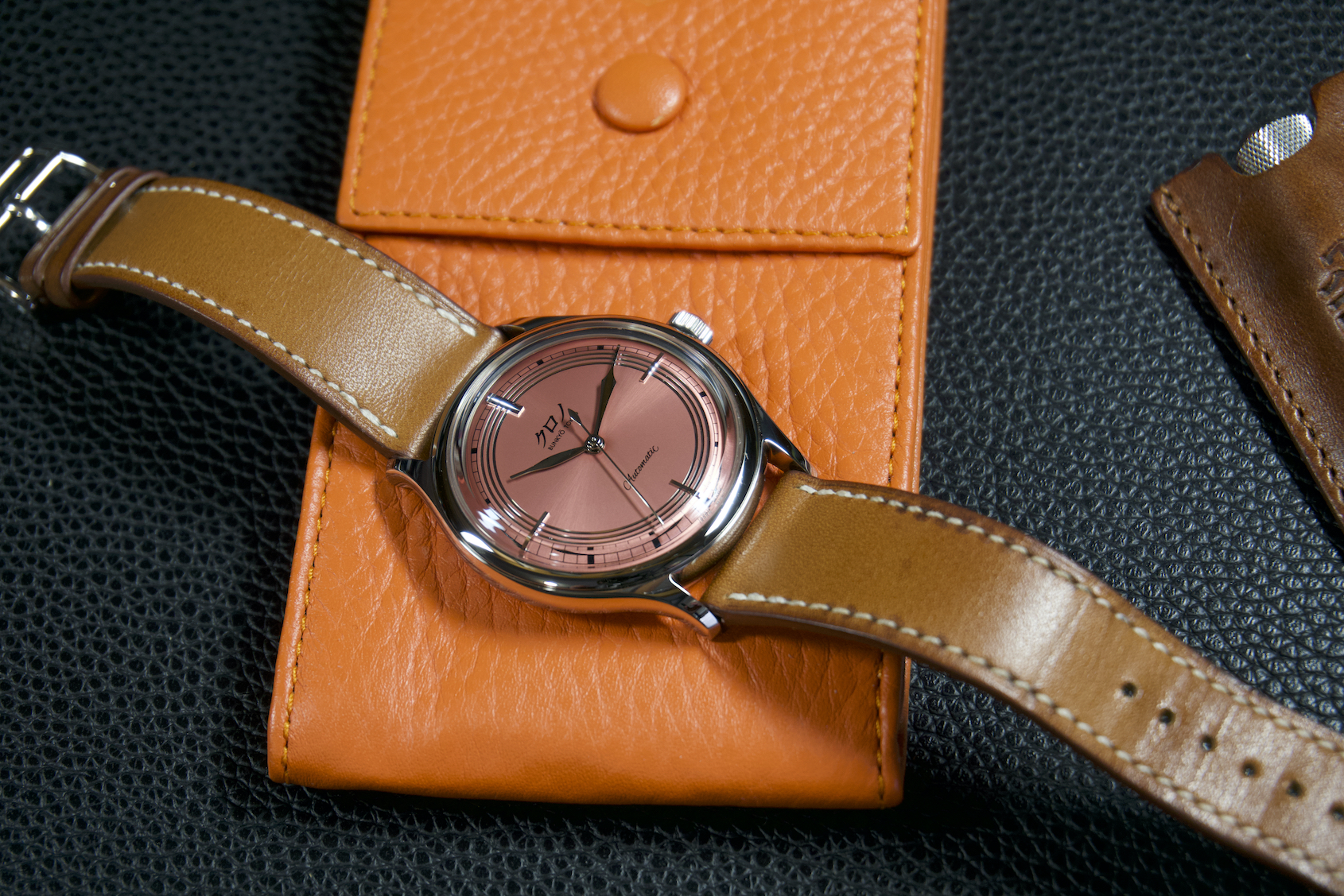 The Kurono Toki case retains the classic format my wrist truly appreciates, coming in at 37mm in diameter and slender enough to slide under a cuff with absolute ease. The fully mirror polished finish is executed really well, the case practically going black under direct light. When photographing the caseband of the watch, you have to be cognisant of your background because the reflection is so clear it practically reveals a panoramic shot of what is behind the photographer. Its curvaceous case and thin lugs have a timeless appeal, and I feel confident in saying that those uninitiated in the world of Kurono could probably be fooled into thinking it's a vintage watch.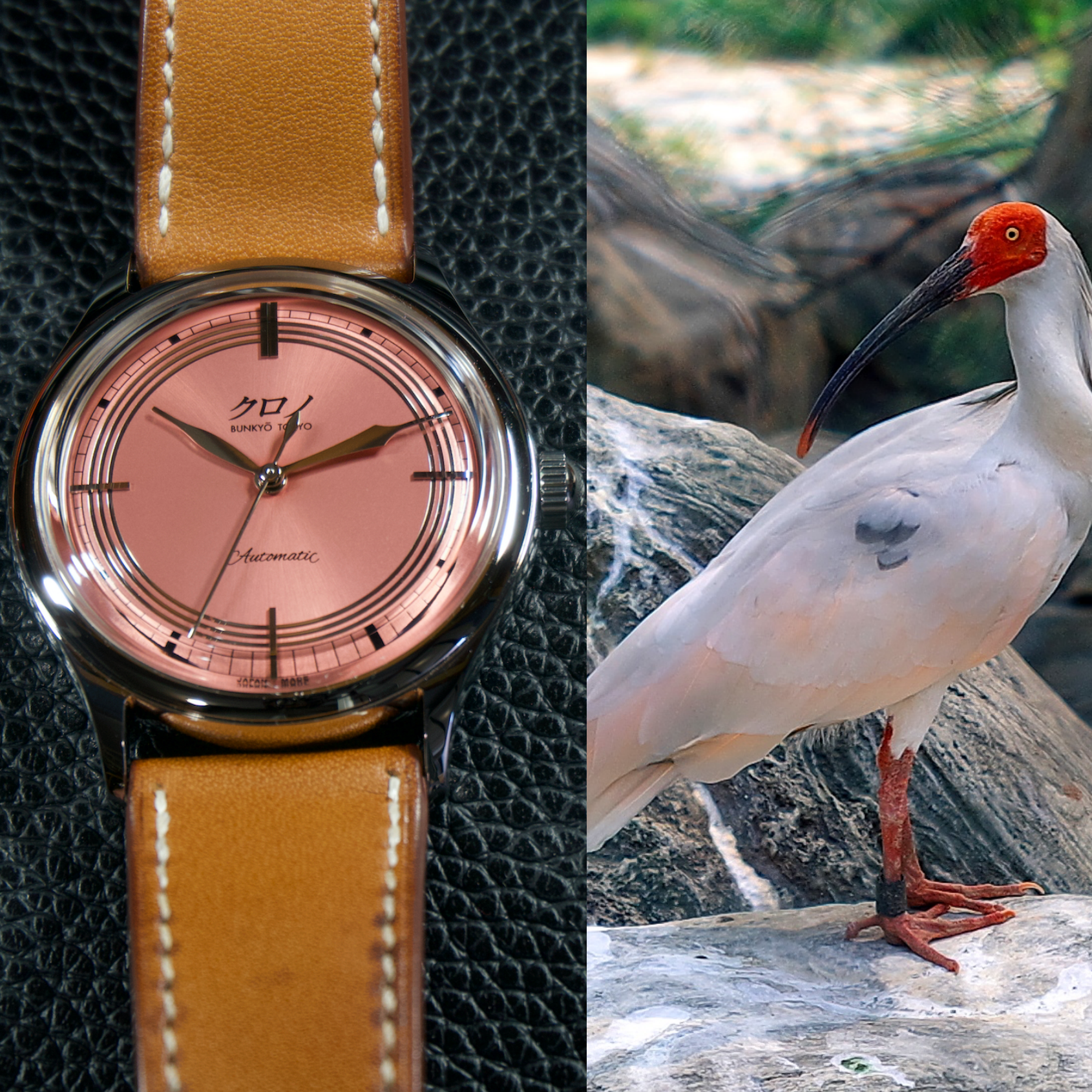 The dial is every bit the same as the Kurono Mori and other classic models that have preceded it. You have the same gorgeous handset, sunburst finish, concentric metal rings, and railroad minutes track and yet the Toki is also very distinct. This is due to the painstakingly selected coral-vermillion color, meticulously prototyped until the perfect shade was achieved. Its tone pays homage to the feathers of the Japanese crested ibis – 朱鷺色(Toki-iro) – known for its peach-colored hue as it flies overhead.
It is yet another example of Japanese design influenced by nature, which is why I feel guilty at times simplifying its richly rooted design to what the western world may perceive as a salmon dial. The truth is it is not really a salmon dial by conventional standards. The hint of orange is far more subtle than what you would find in say a 5270P from Patek Philippe. What you have instead is a very dynamic dial that conveys aspects of pink, purple, red and orange depending on how the light kisses the dial.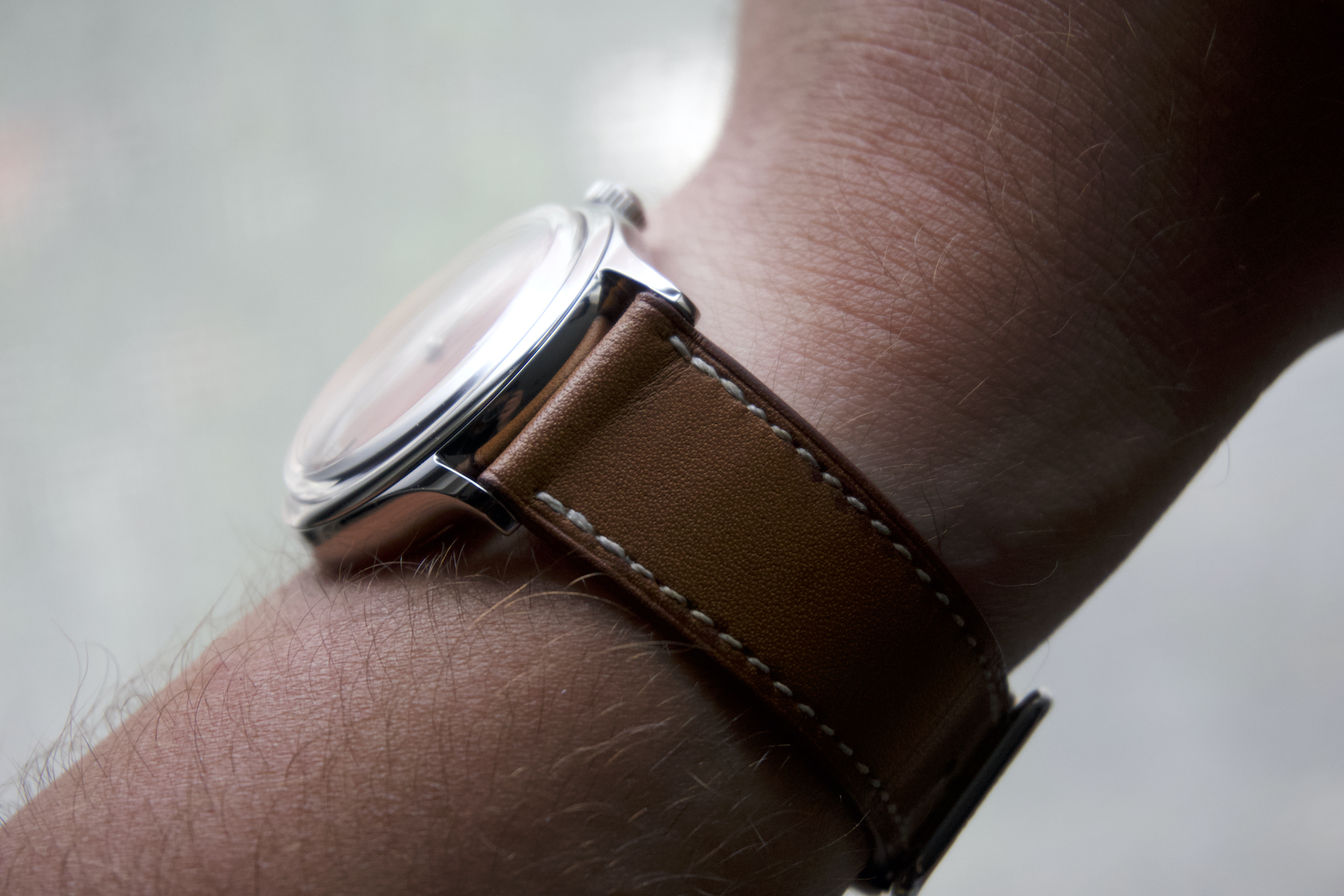 When I saw the first images of the Kurono Toki, I knew that if I bought it I was going to outfit it on my spare Barenia brown Hermes strap – which would, as silly as it sounds, fill a gap of having a dressier watch that would pair well with brown shoes and a brown belt. I like to match my accessories, resulting in a more tied together look. I think the peachy pink hue of the coral-vermillion color pairs really well with the rich brown of a Barenia Hermes strap, so while the black factory strap is very nice the swap, in my opinion, elevated its aesthetic even further.
What surprised me the most, upon receiving the watch, was how accurate it is when keeping time. My previous Kurono watches all effectively ran at +15 seconds per day, and I had no qualms with that performance from the automatic Miyota 90S5 movement within. My Kurono Toki, however, has been running at COSC-chronometer standards – within -4/+6 seconds a day.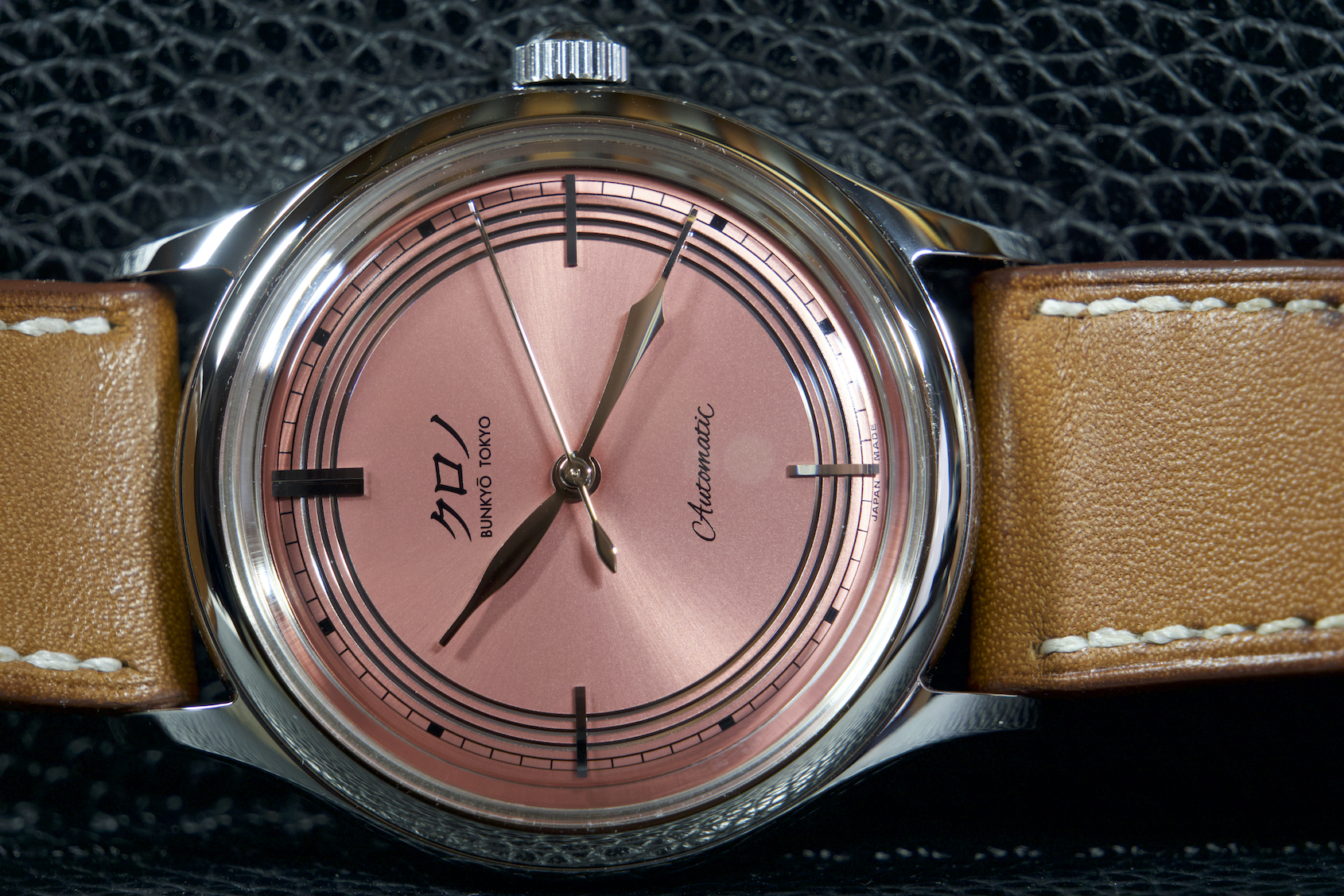 Over almost the course of a month of wear, I have found it running as well as +2/3 seconds per day. This is borderline superlative chronometer standards for a watch that is really more known for its elegant smart-casual meets formal Art-Deco aesthetic. I cannot promise that all Toki's shipped will maintain a similar level of timekeeping, but it's fair to say the watchmaker who assembled and regulated my watch was having a good day at the bench.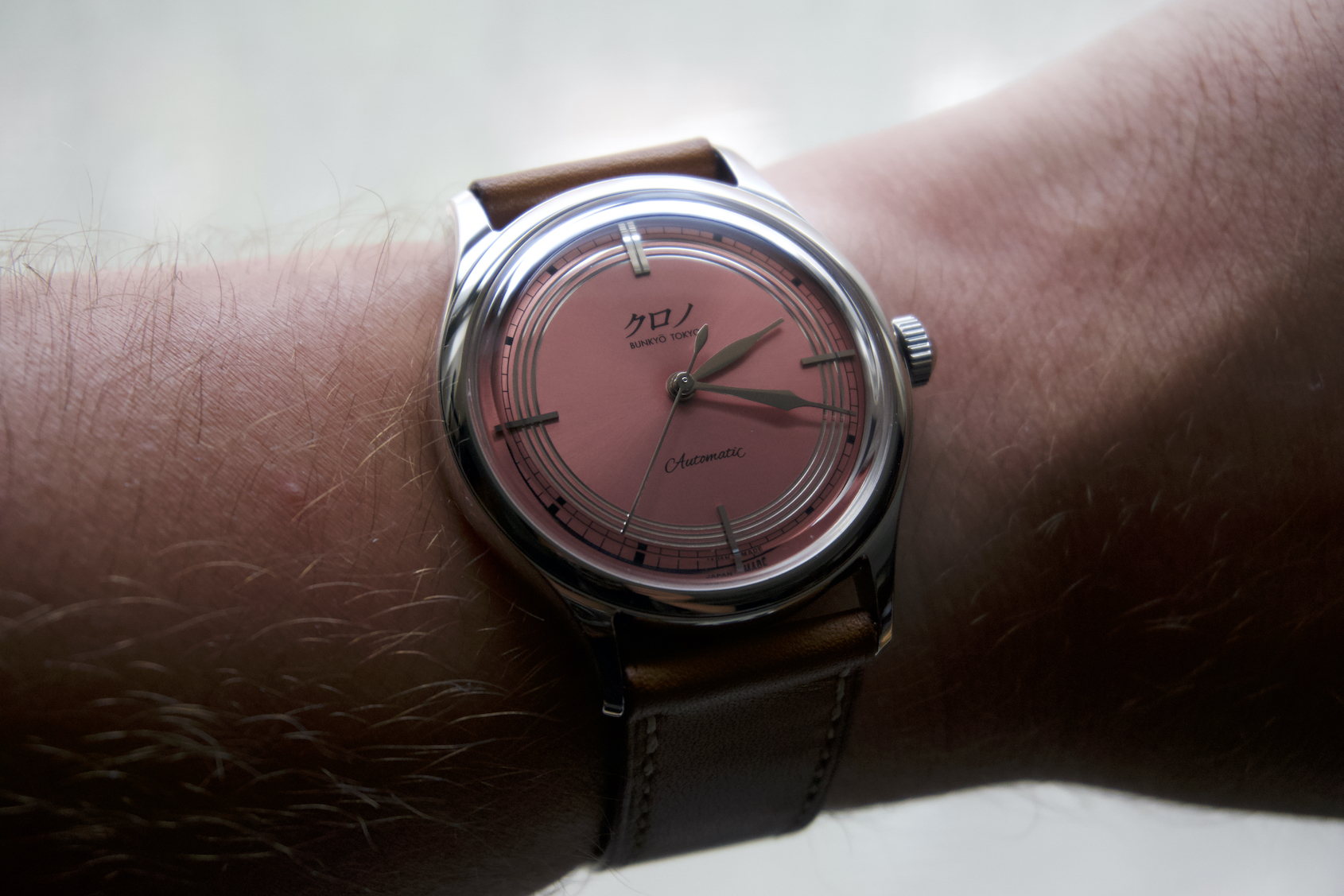 It is hard for me to deny that, if the product and funds were readily available, I would buy an Explorer, GMT-Master II,and a Daytona for my collection. But that's the thing: it is just not feasible. It is also rather boring as each are predominantly black dialled offerings (at least in stainless steel), so you are effectively buying an Oyster Perpetual with a different bezel and complication. I have enough sports watches, watches I all truly love to wear so throwing another into the mix would make my arbitrary choice each morning of what to strap to my wrist that much harder. So I try to envision, with each new purchase, how a watch would fit into my collection and wear-roster. Thankfully Kurono continues to excite me with their distinct design DNA annually reinterpreted to introduce colours that you would be hard pressed to find from other brands – or at the very least at its price point of $1,738 USD.